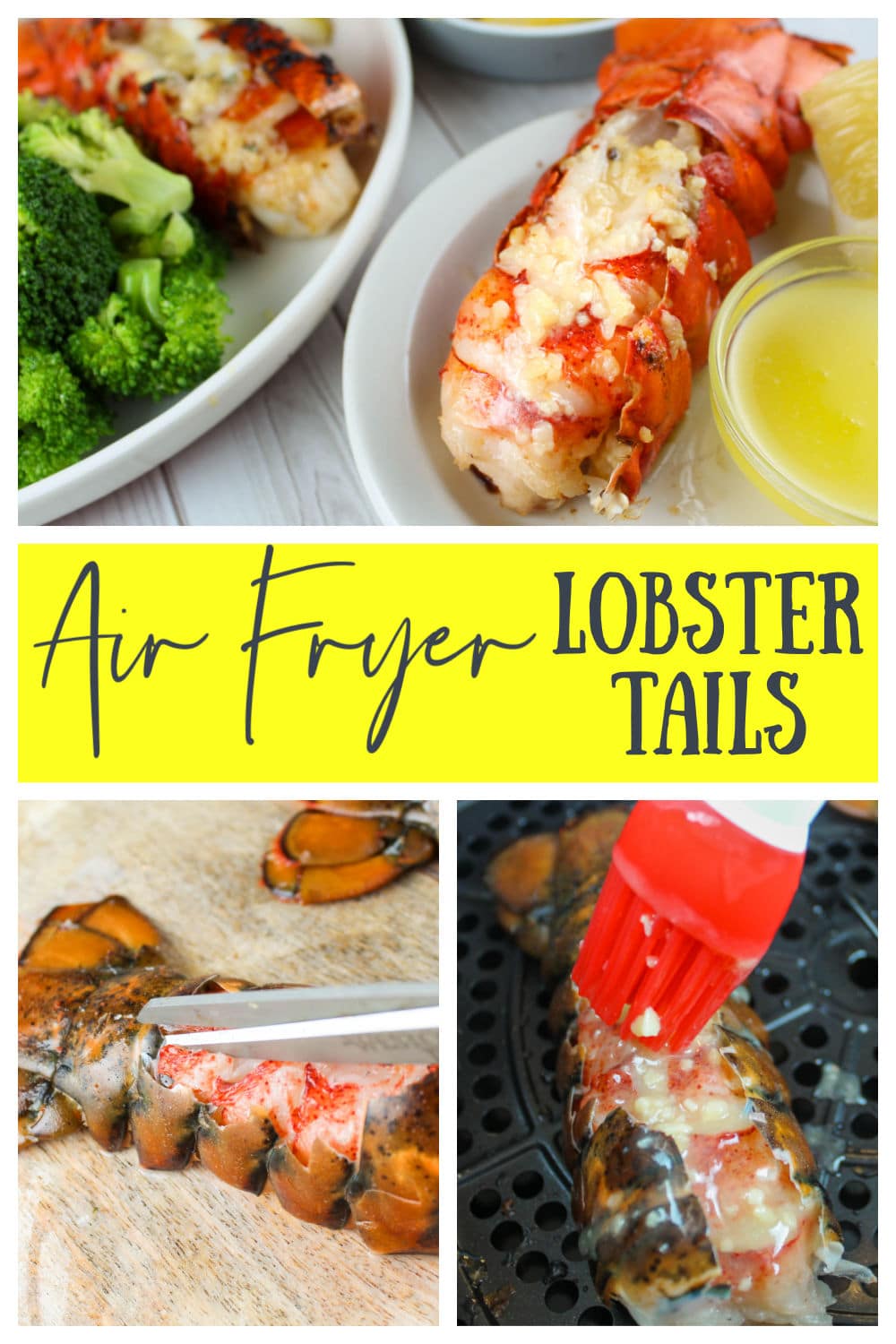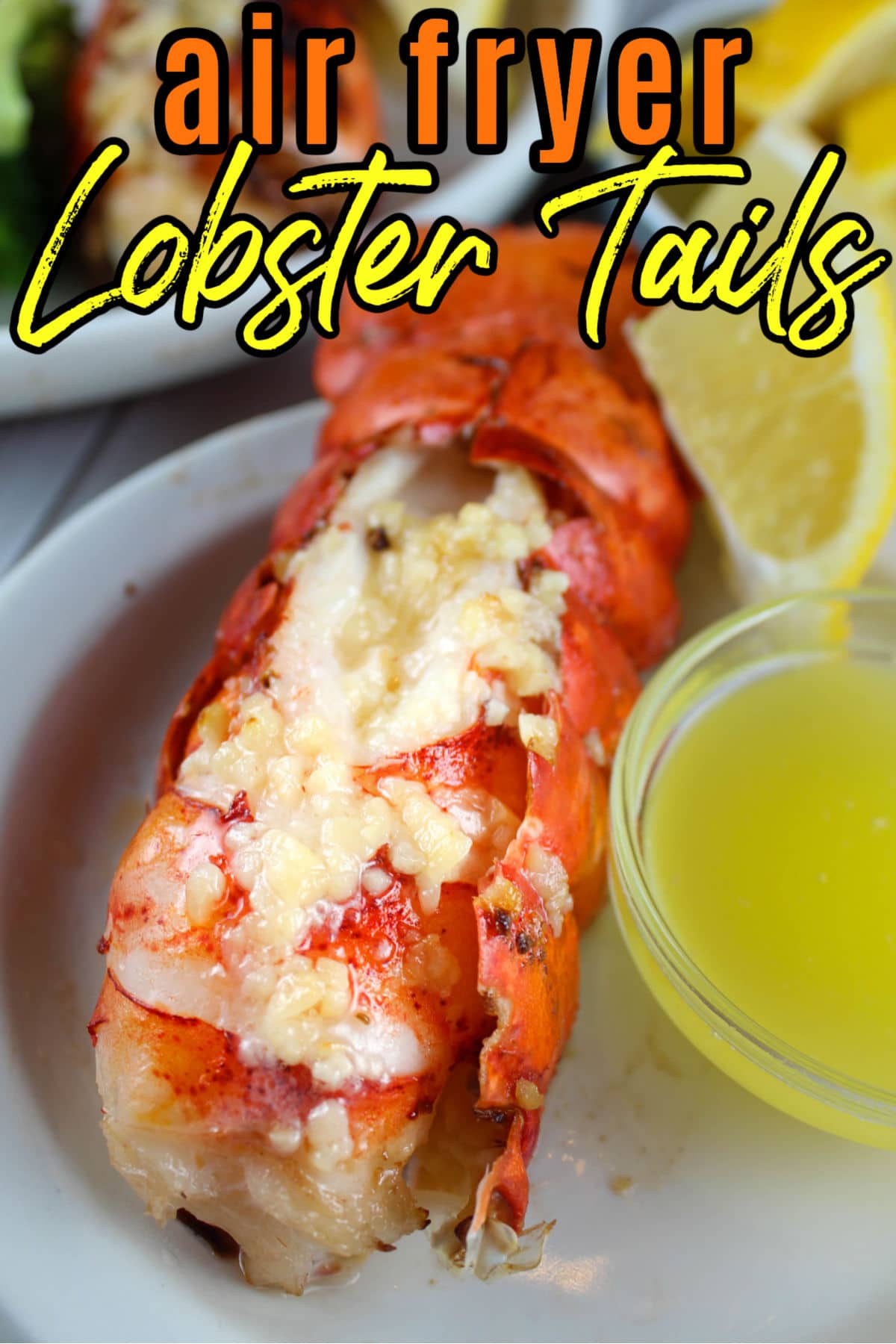 Air Fryer Lobster Tails are a new favorite in my house! I never knew it could be SO SIMPLE! I always thought of Lobster as such a fancy dish – I just never realized it was simple! Plus – it's on the table in under 10 minutes!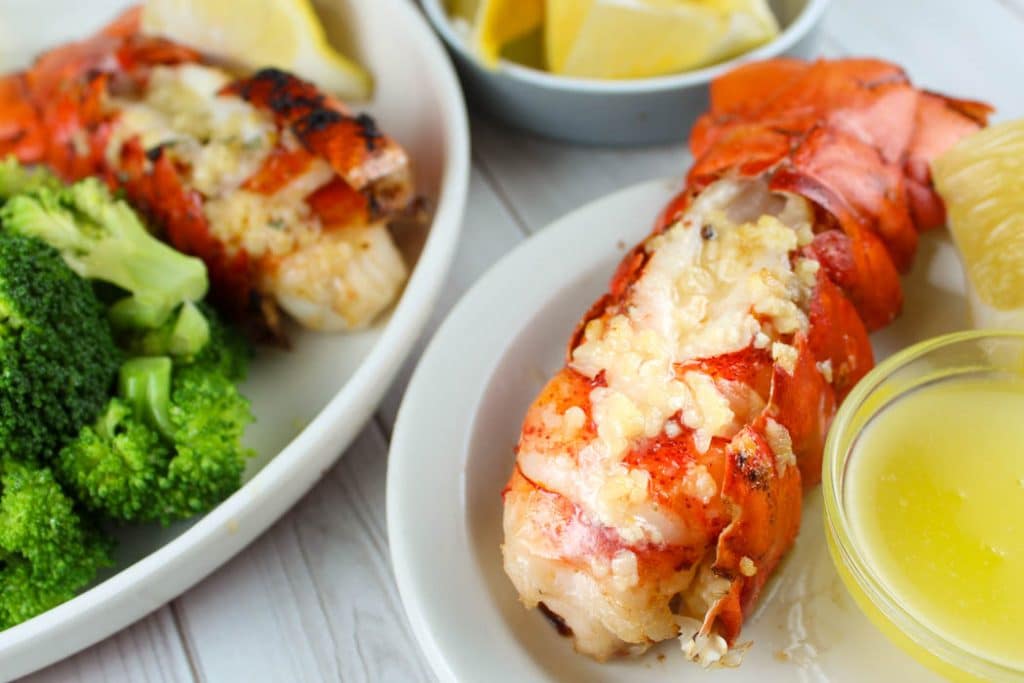 What You Will ❤️ About Air Fryer Lobster Tails
Fast! These lobster tails are ready in just 10 minutes!
Simple! Once you learn how to cut & open – you'll be surprised at how easy they are to make!
Fancy!!! There's no fancier way to impress someone than to make them lobster tail
This post contains affiliate links which I make a little money on purchases. Thanks in advance! I am an Amazon associate as well as a member of other affiliate programs.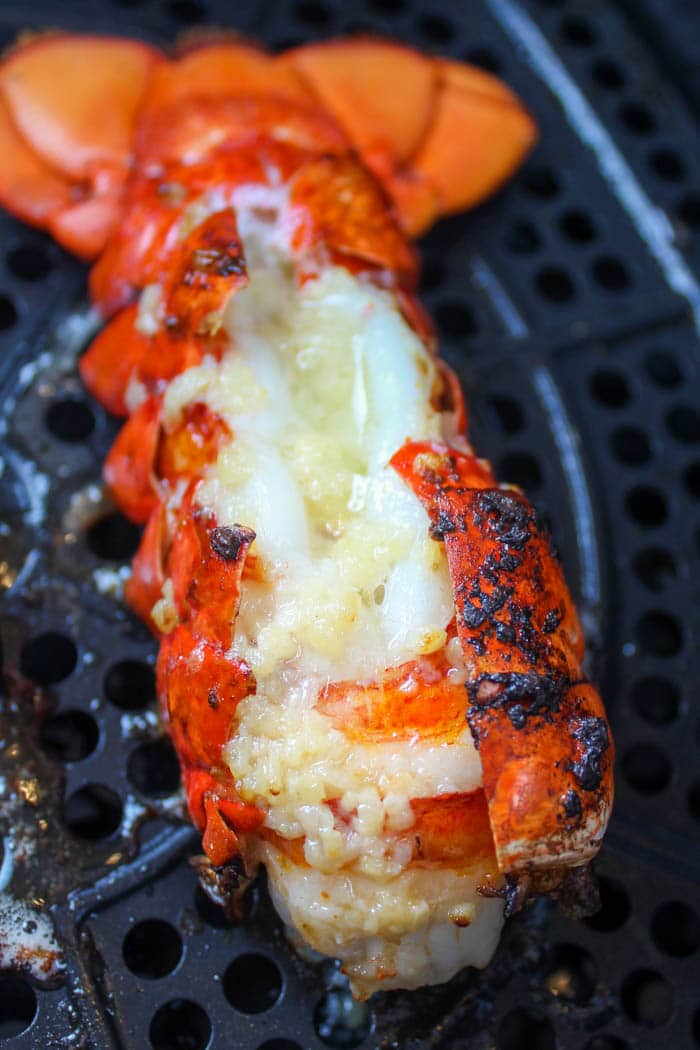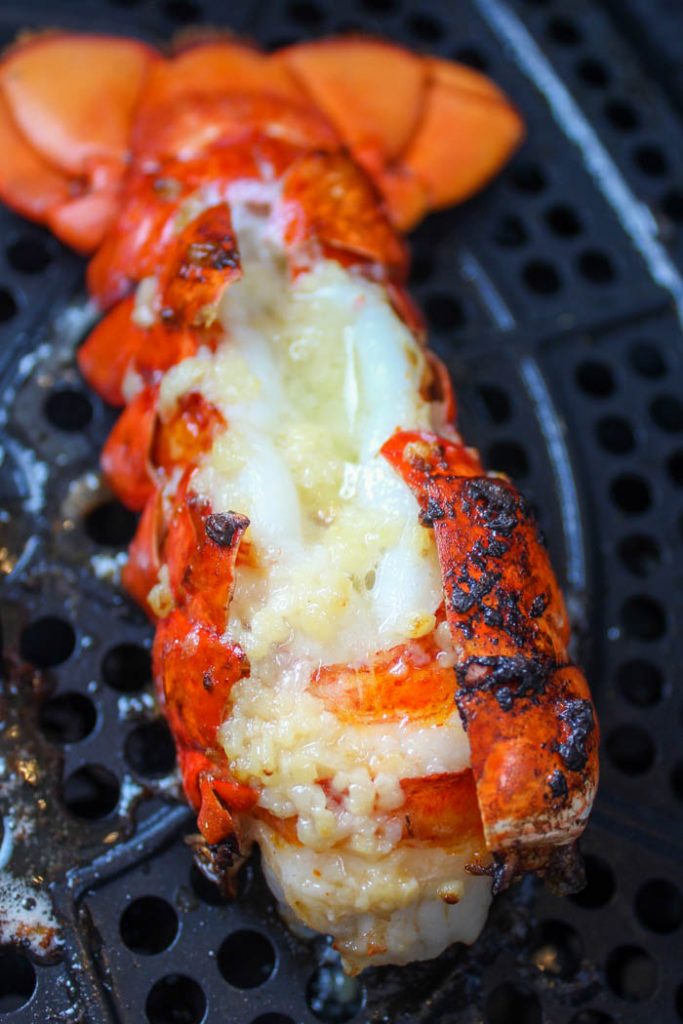 Air Fryer Lobster Tail Recipe Ingredients
Lobster – Frozen lobster tails are delicious – I would recommend at least a 4 oz tail and preferably 6-8 oz.
Butter – fine to use salted butter for this as it adds to the flavor!
Garlic – jarred minced garlic or fresh works for this
Lemon – garnish with a squeeze of fresh lemon juice
Can Lobster Tails be cooked in an air fryer?
Yup! This would be a short post if the answer was no! They are done in less than 10 minutes!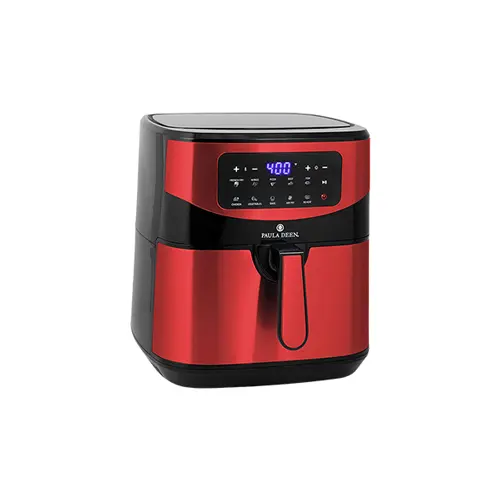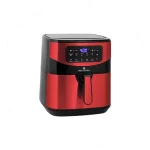 This recipe was made using the Paula Deen Air Fryer.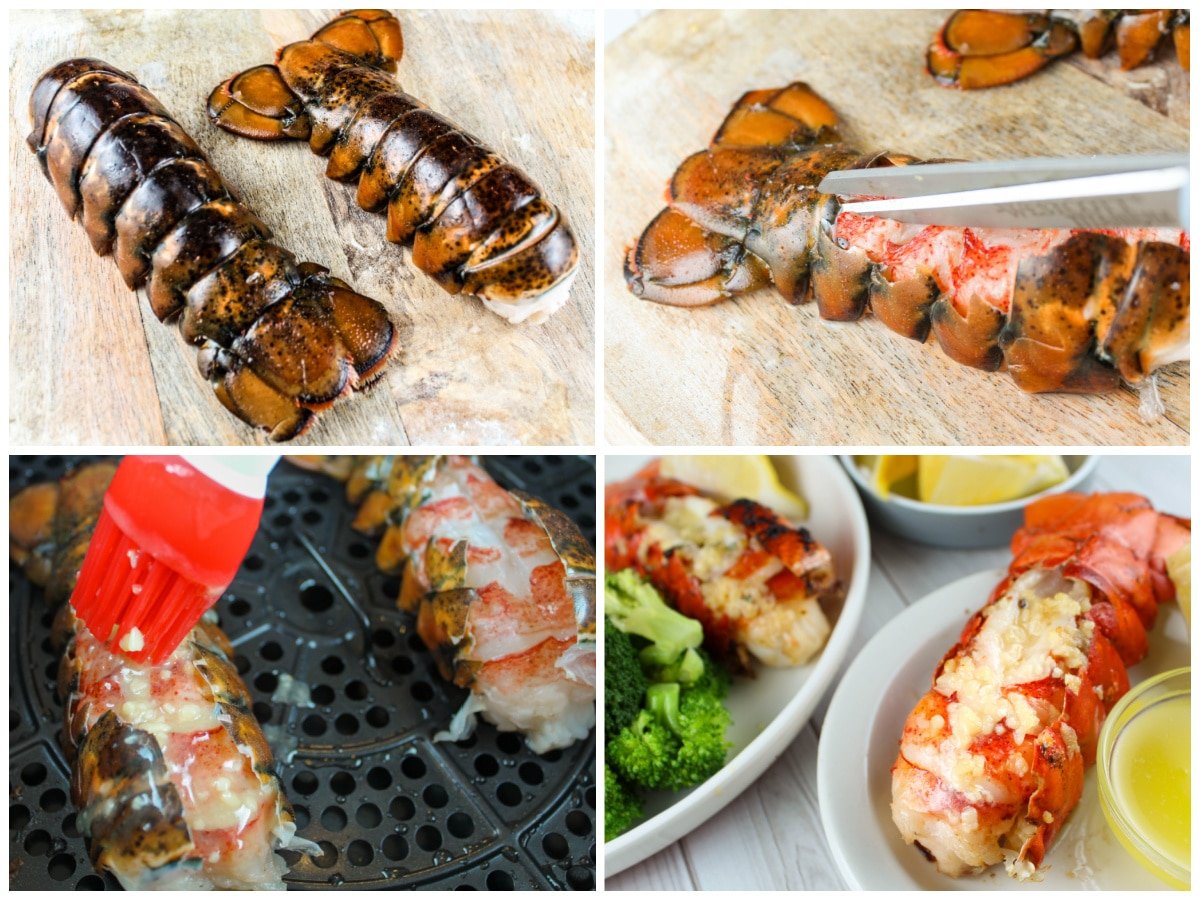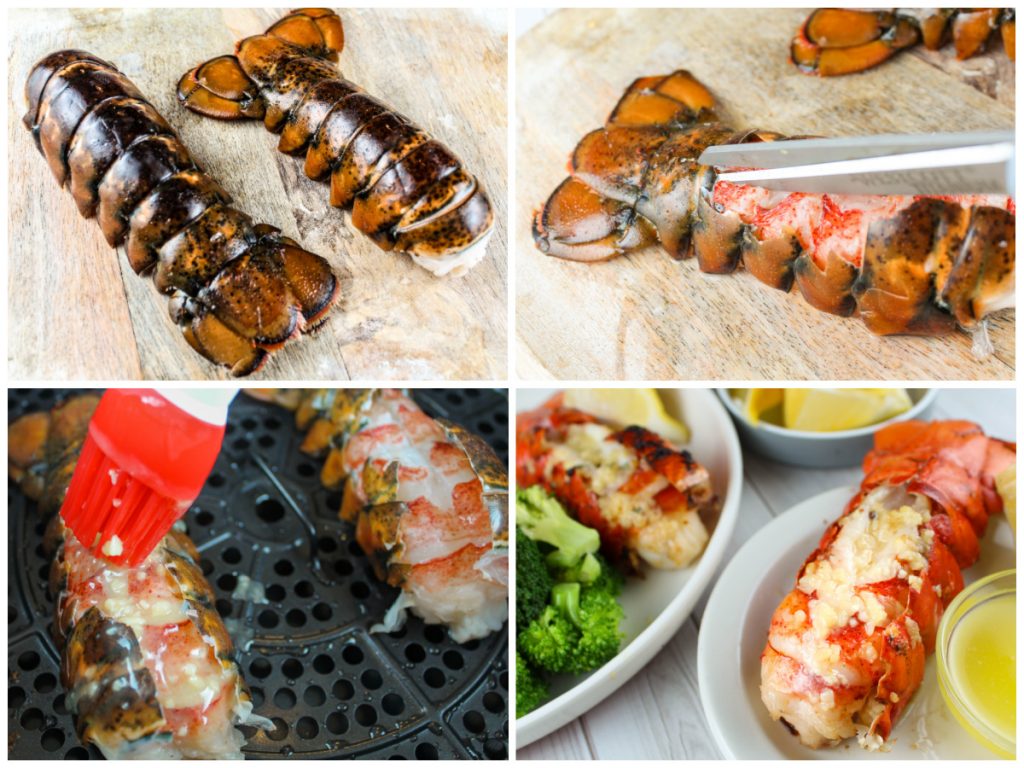 How do you prep a lobster tail?
I was shocked at how simple it was! I just used kitchen scissors – but shears work a bit easier.
If lobster tails are frozen, seal in a ziploc bag and place bag in cold water for 30 minutes
Start at the open end of the tail and snip up the center of the tail to the base of the tail – but NOT through the tail. (top right photo)
Pull the shell open a bit so the lobster meat is exposed.
Pull out the meat – leaving it attached at the tail – and rest it on top of the shell.

I chose to leave it in the shell and just open it up a bit.
How do you air fry lobster tails?
Butterfly lobster tails by cutting through the shell to the tail as noted above.
Prepare butter mixture by placing 2 tbsp butter, salt and garlic in a glass bowl. Microwave for 45 seconds until melted. Stir. (You can also use a small saucepan)
Place lobster tails in Air Fryer basket, open side up and baste with melted garlic butter sauce. Cook lobster tail at 360º for 3 minutes
Open air fryer and baste again, cook for an additional 3 minutes

If tails are larger than 3-4 oz, you will want to add 2-3 minutes for every few ounces

While tails are air frying, melt additional butter in microwave.
Remove cooked lobster tails from air fryer, pull open shell with fingers and pull out lobster meat. It's basically only "attached" at the base of the tail – slip your fingers underneath and it pulls out easily
Serve with drawn butter, sprinkle of fresh parsley and a squeeze of fresh lemon juice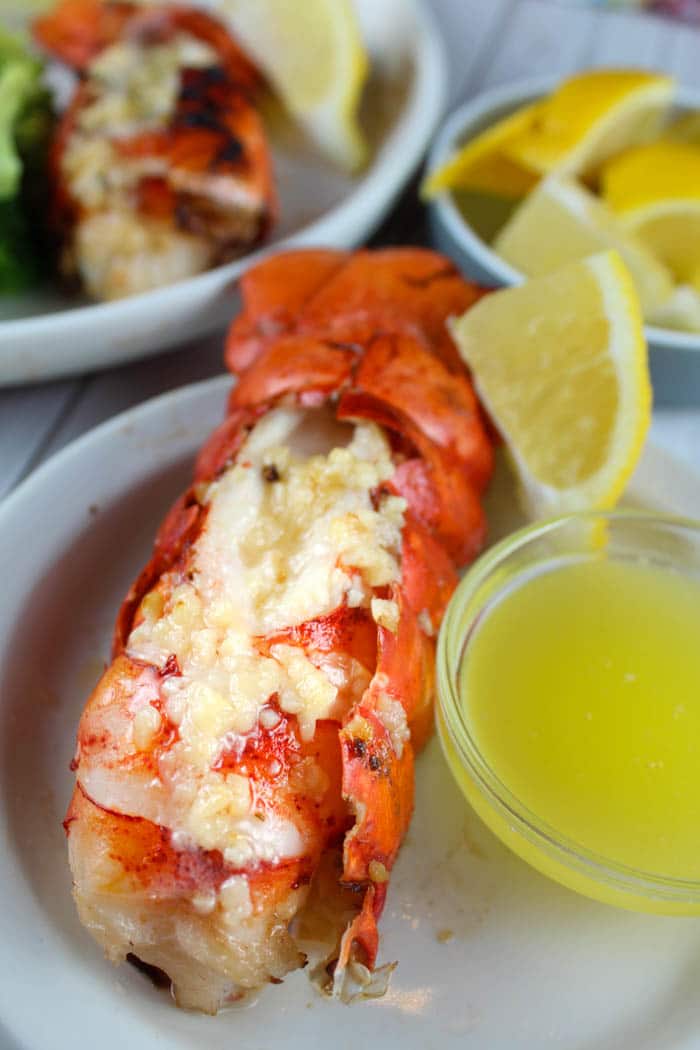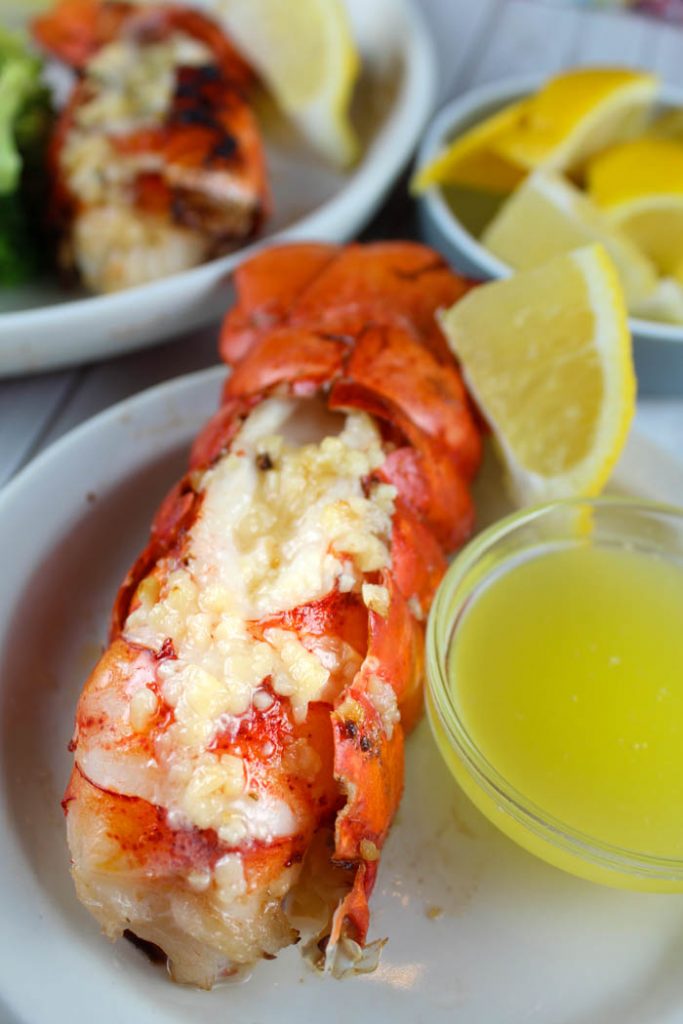 Tips & Tricks
Can you cook the lobster tails from frozen?
I would not recommend it. You need to cut open the shell so the meat is easy to access and that is much easier to do when thawed.
How can you quickly thaw a lobster tail?
Put your lobster tail(s) in a ziploc bag. Then place the bag in a bowl of cold water. They'll be thawed in about 30 minutes!
When are lobster tails done?
Similar to shrimp, the flesh should turn from clear to an opaque white. The shells will be bright orange as well! It's so cool to see the change in just a few minutes. You can also use an instant read meat thermometer and place into the thickest part of the meat. The lobster meat should be 140º when checked with thermometer.
Can you make lobster tails in the oven?
Yes, bake at 350º and cook lobster tails on baking sheet for about 5-10 minutes.
What is drawn butter?
For "drawn" butter – melt butter in microwave and pour out "clear" portion of butter into dipping bowl and stop before the cream comes out. Or you can spoon the cream off the top.
How do you store and reheat leftover lobster tail?
I highly recommend just eating all the lobster. It's going to get tough when you reheat it. But if you have leftovers, store in an airtight container (I like these glass storage ones) in the refrigerator for 1-2 days. Reheat in the air fryer at 350º for 3-4 minutes. (Or add to pasta!!!)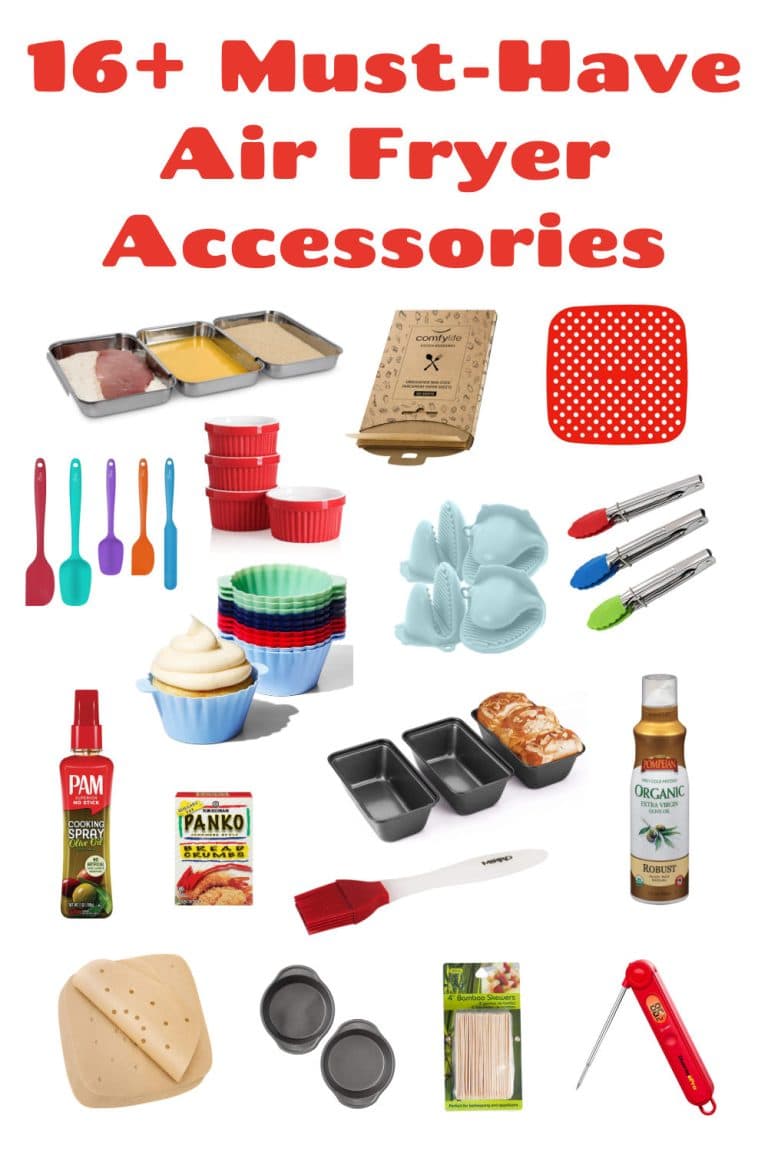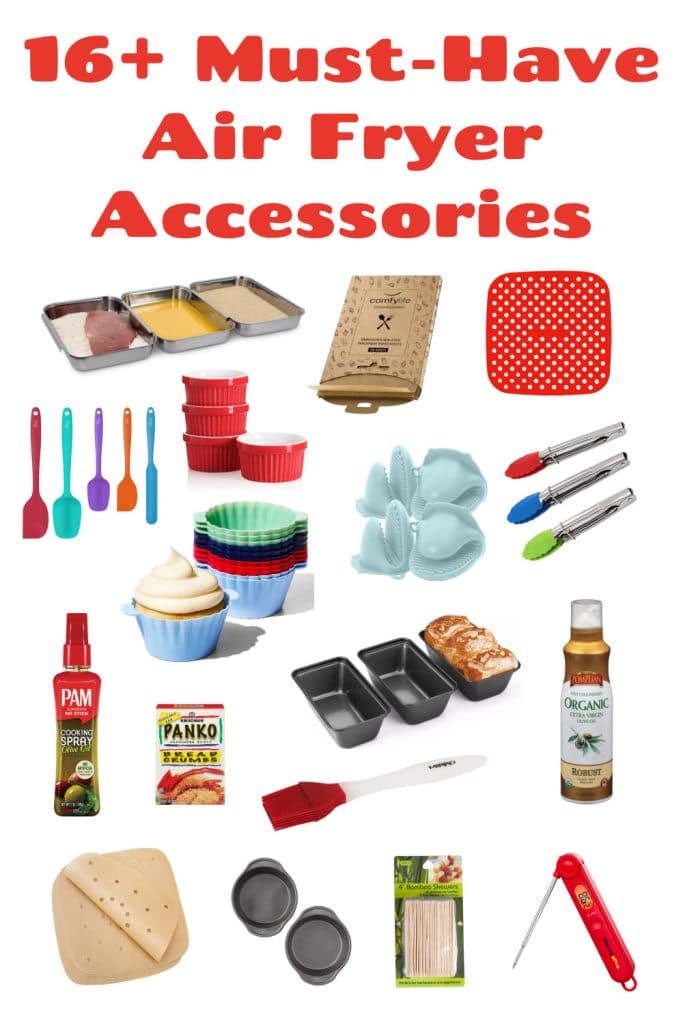 Best Air Fryer Accessories
Here's my ultimate list of best air fryer accessories – whether you have a basket- or oven-style! I've also included a price guide as well as my favorite recipes for those accessories.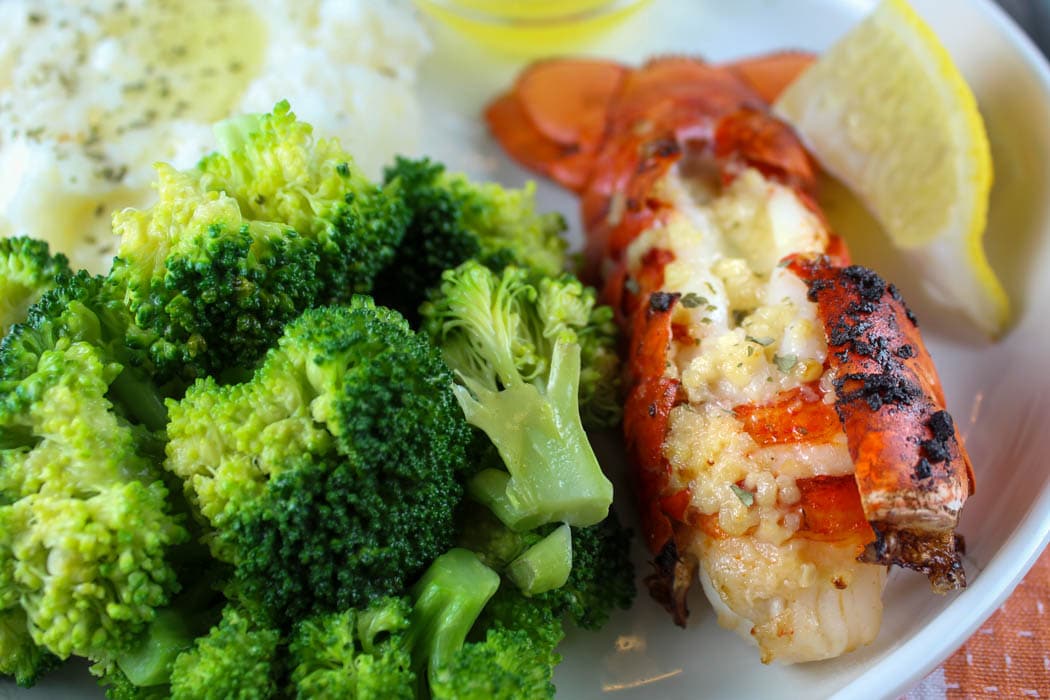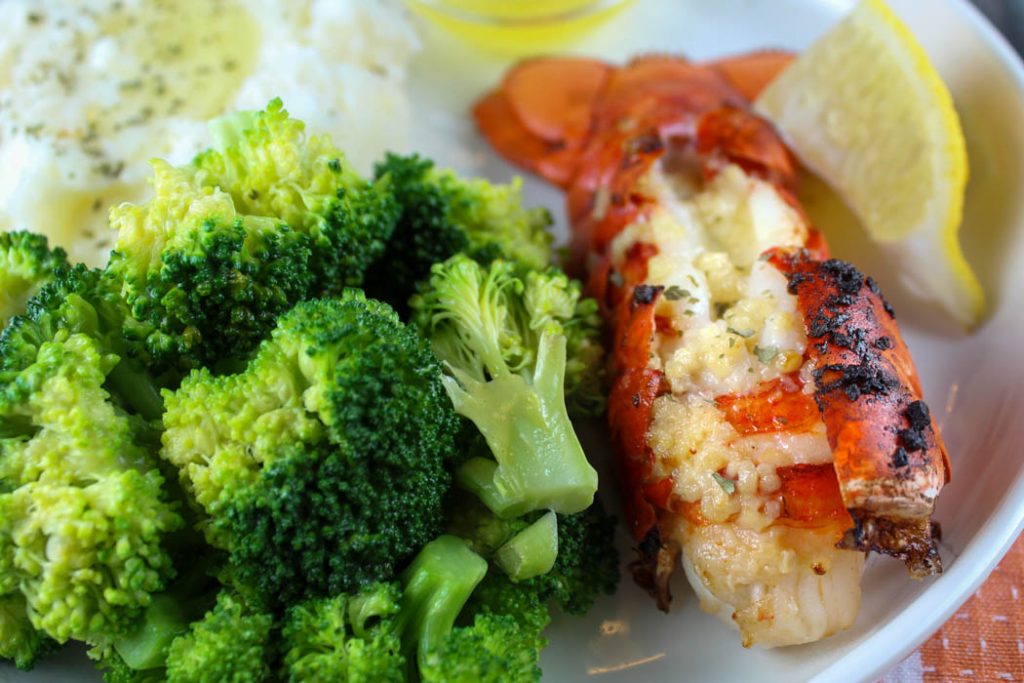 What goes with lobster tails?
Of course you can make a big juicy steak for a Surf & Turf meal – but if you're looking for side dishes, here are some favorites:
If you have a big enough air fryer – you can also make your side dishes in the air fryer! Just be sure that if your veg takes longer – you start it first. You can have them in together!
Air Fryer Seafood Recipes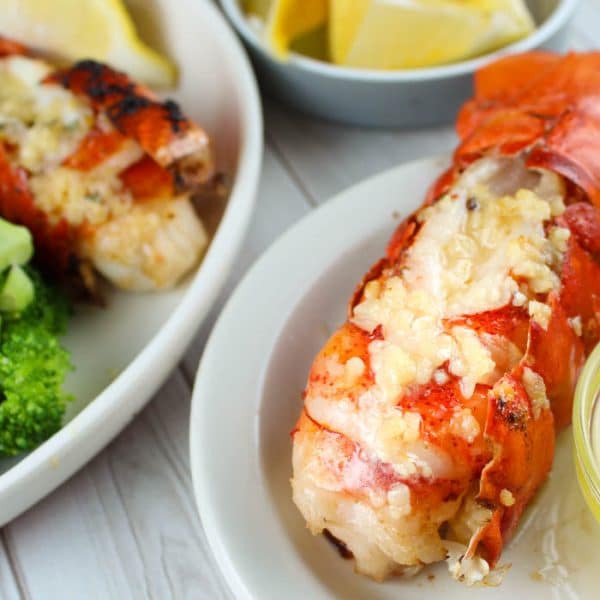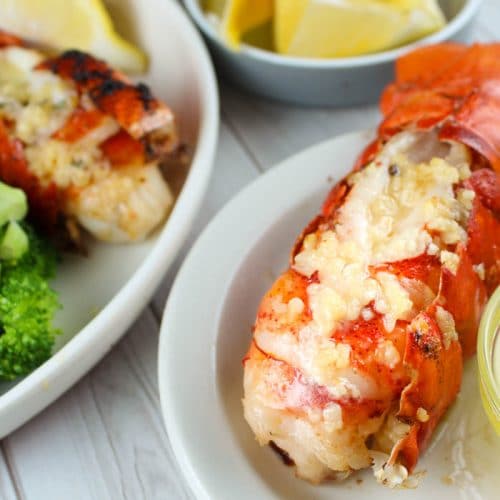 Air Fryer Lobster Tails
Air Fryer Lobster Tails are a new favorite in my house! I never knew it could be SO SIMPLE! I always thought of Lobster as such a fancy dish – I just never realized it was simple! A little snip snip – then a little butter and garlic – air fry and done! Plus – it's on the table in under 10 minutes!
Instructions
If frozen, seal lobster tails in ziploc bag (squeeze out air) and place bag in cold water for about 30 minutes.

Butterfly lobster tails by cutting through the shell to the tail (but not through the tail. Pop open parts of the shell to expose the lobster meat. You may have to break off parts of the shell to open it up a bit.

Prepare butter mixture by placing 2 tbsp butter, salt and garlic in a glass bowl. Microwave for 45 seconds until melted. Stir.

2 tbsp salted butter,

1 tsp salt,

1 tbsp garlic

Place lobster tails in Air Fryer, open side up and baste with melted garlic butter

Cook at 360 degrees for 3 minutes

Open air fryer and baste again, cook for an additional 3 minutes

If tails are larger than 3-4 oz, you will want to add 2-3 minutes for every few ounces

While tails are air frying, melt 2 tbsp butter in glass – for 45 seconds in microwave. For "drawn" butter – pour out "clear" portion of butter into dipping bowl and stop before the cream comes out. Or you can spoon the cream off the top.

Remove tails from air fryer, pull open shell with fingers and pull out lobster meat. It's basically only "attached" at the base of the tail – slip your fingers underneath and it pulls out easily

Serve with drawn butter and lemon wedges

2 tbsp salted butter,

2 wedges lemon
Notes
**We are not dietitians and recommend you seek a nutritionist for exact nutritional information. The information in the nutrition box are calculated through a program and there is room for error. If you need an accurate count, I recommend running the ingredients through your favorite nutrition calculator.**
Nutrition
Serving:
1
tail
Calories:
311
kcal
Carbohydrates:
1.4
g
Protein:
22.1
g
Fat:
24
g
Saturated Fat:
14.8
g
Cholesterol:
226
mg
Sodium:
1878
mg
Potassium:
285
mg
Fiber:
0.1
g
Sugar:
0.1
g
Calcium:
125
mg
Iron:
9
mg