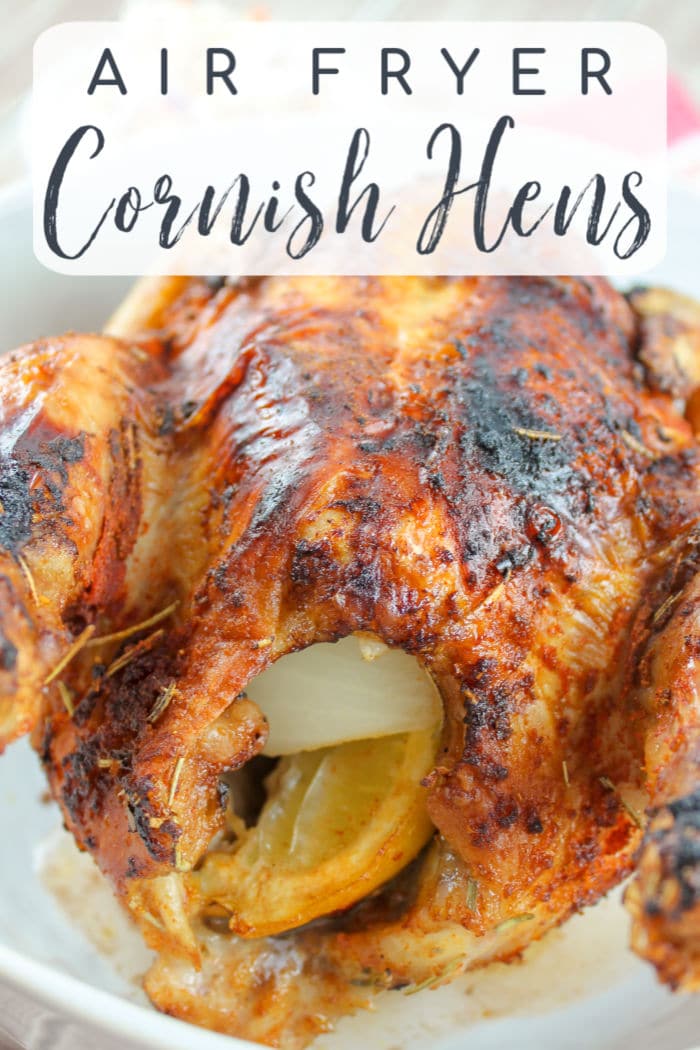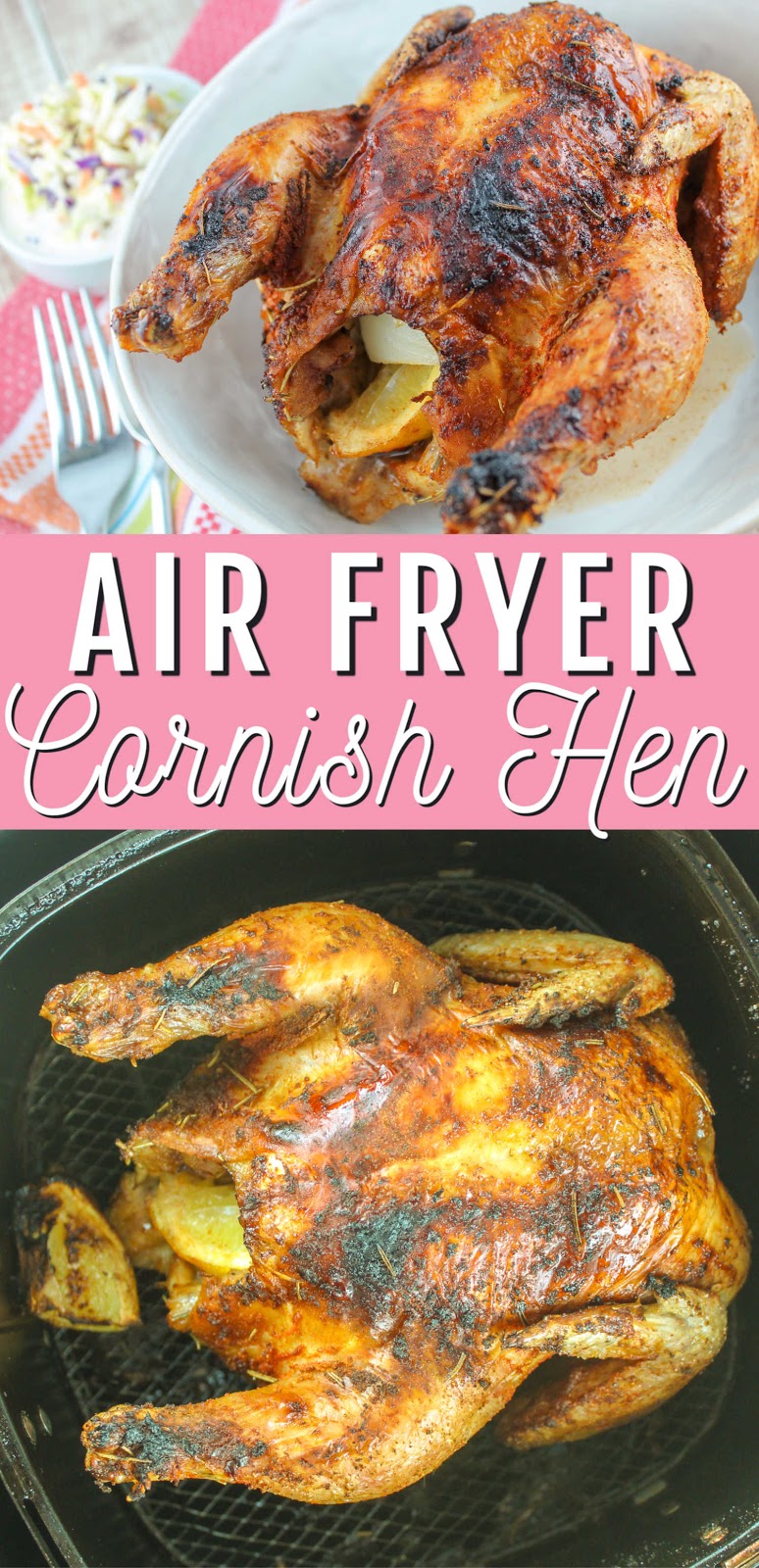 I love roasted chicken – but when cooking for 1-2 people – a whole chicken is a lot of food! Air fryer Cornish hens are delicious, juicy roasted little chicken that are done in less than 30 minutes of cooking time! They're great for a weeknight dinner but also a little fancy if you've got a special occasion dinner!
Jump to Recipe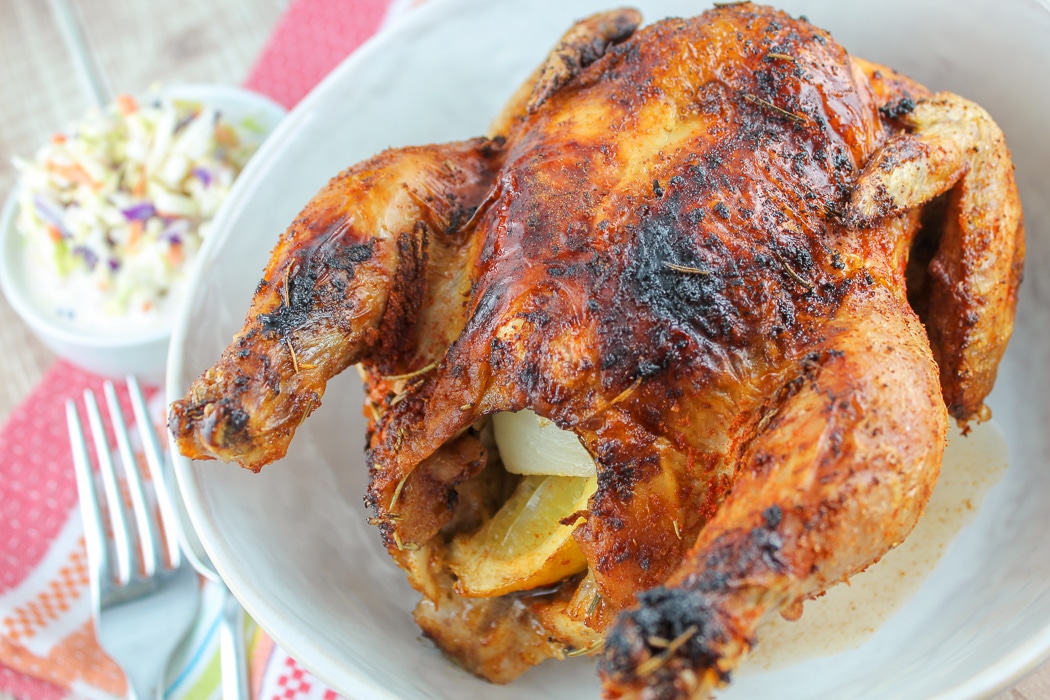 What is a Cornish Game Hen?
This air fryer Cornish game hen recipe is so easy and delicious! You can find Cornish Hens in the freezer section of grocery stores. There you'll find an individually wrapped miniature chicken! If you were wondering – the only difference between Cornish Game Hens and a regular chicken is the size! A Cornish hen is about 2 pounds whereas chickens are double that. So – they're basically just small chickens!
Ingredients to make the Best Roasted Cornish Hen
I use my favorite seasonings blend from my Whole Chicken in a Crock Pot recipe – just in a smaller batch since a cornish hen is half the size.
Cornish Hen – I can fit one in my air fryer basket or two in my air fryer oven
Dry Rub Mix
1/4 onion large chop
1/2 lemon
What's the best way to thaw a frozen hen?
I always take my Cornish hens out 24-48 hours before I'm cooking. Then I keep it in the refrigerator to thaw in a slow manner. If you need to speed up the thaw, you can put it in a large bowl with cold water and change the water every 30 minutes. They should thaw in a couple of hours.
How to cook a Cornish hen in the air fryer?
Look at the crispy skin on this air fryer cornish hen from this super easy recipe! And there was no olive oil on this either! The skin on the hen just crisps up beautifully in the air fryer. It's almost like you're making mini rotisserie chickens! Here are the simple steps to a perfect dinner with this easy air fryer recipe:
Remove Cornish hen from package, rinse and pat dry with paper towel
In a small bowl – mix together all spices (salt thru rosemary)
Rub spice mix all over Cornish hen
Stuff onion and lemon chunks in the cavity of each hen
For best results, place hen in air fryer basket breast side down
Air fry at 400 for 25 minutes – turn chicken over halfway through

Check with an instant read meat thermometer in the thickest part of the bird to be sure the internal temperature reaches 160 degrees. Let the hen rest for five minutes and the internal temperature will rise to 165 degrees.
The reason I went for the Cornish hen is that I have the Philips XL air fryer and it's kinda small! A whole cornish hen serves 1-2 people – but it won't fit a whole chicken – but it's perfect for a Cornish Hen!
How do you store and reheat leftover chicken?
After cooking a chicken, I always pull all the meat off the chicken and store in an airtight container in the refrigerator for up to a week. If I'm going out of town – I just pop it in a freezer bag and keep it for up to three months. For reheating, I usually use the leftover meat in a recipe where I'm heating it in another way. If you're reheating to make a sandwich, the microwave is the best way to reheat – it's quick and won't dry out the chicken. Just heat, covered with a damp paper towel, for 1-2 minutes.
What to serve with Roasted Chicken
This is the perfect main dish – but what should you have with it? Here are my favorite side dishes:
Leftover Chicken Recipes
I was actually able to have two delicious meals from this air fryer cornish hen recipe! I had a nice roasted hen dinner one night and leftover juicy meat for my salad the next day. (I love the dark meat – so good on a salad!)
More Yummy Air Fryer Recipes
If you're looking for other delicious air fryer recipes – I've got you covered! Here are some of my favorites:
Join my Facebook group for air fryer recipes to get all my latest recipes!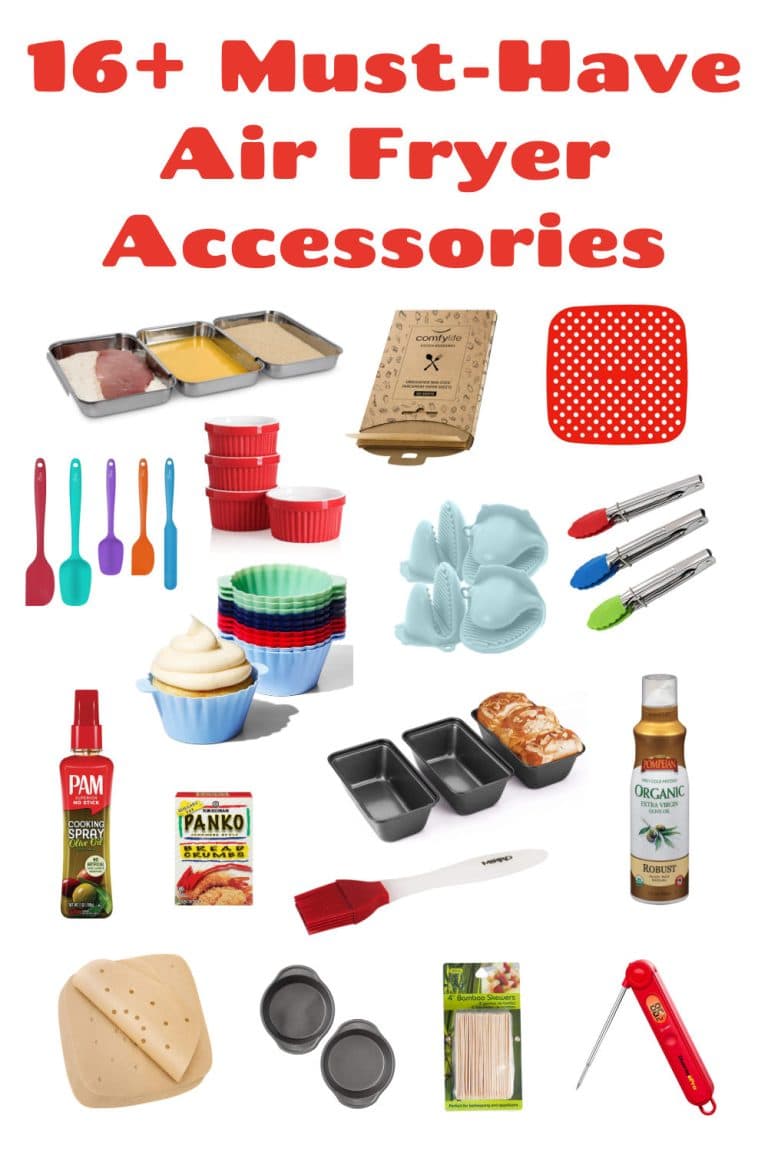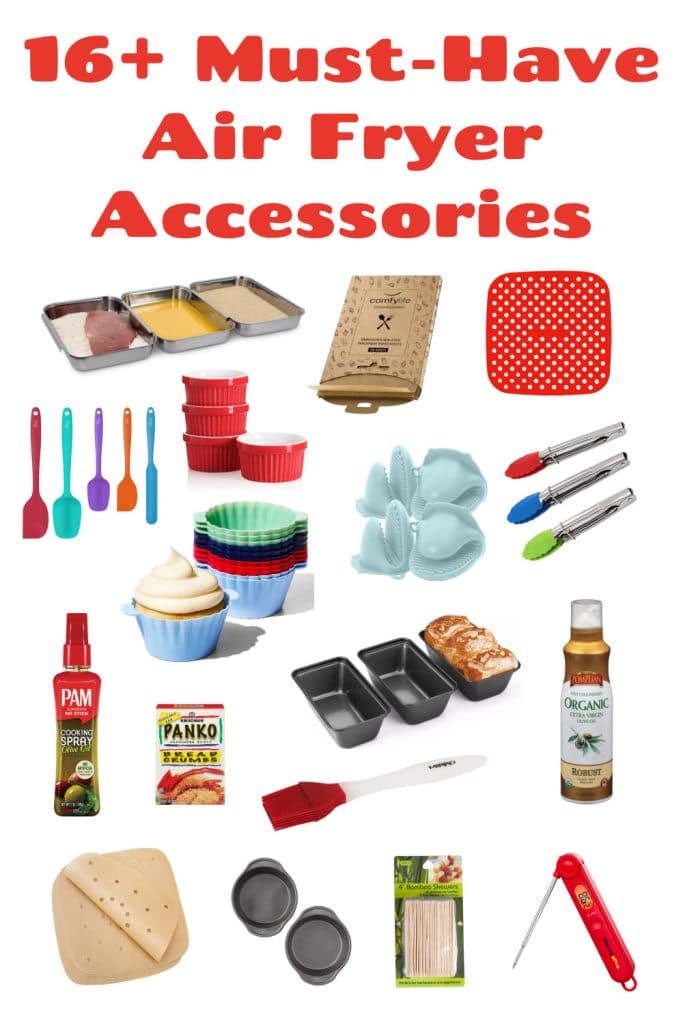 Here's my ultimate list of best air fryer accessories – whether you have a basket- or oven-style! I've also included a price guide as well as my favorite recipes for those accessories.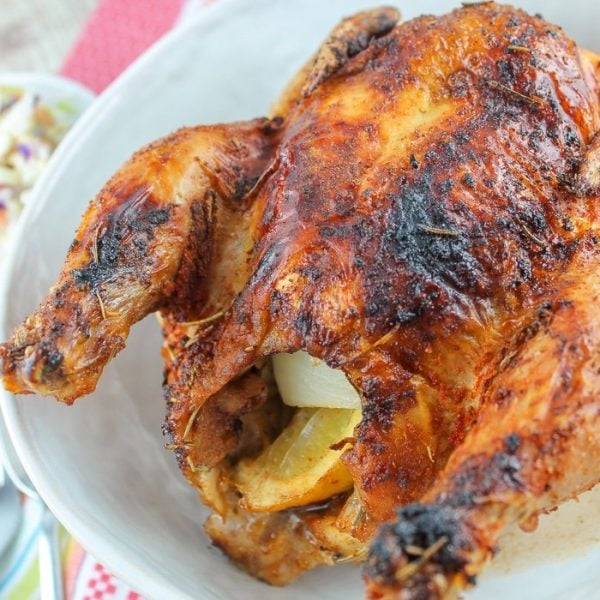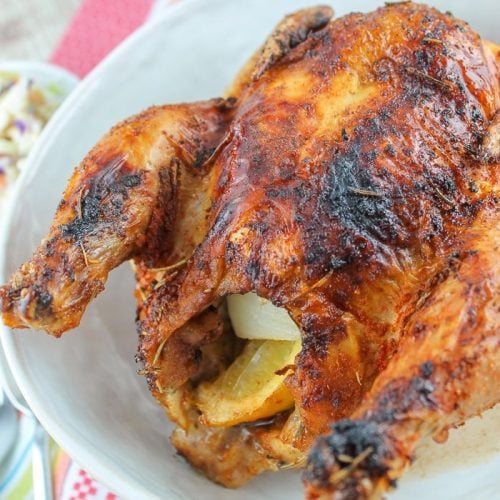 Air Fryer Cornish Hens
I love roasted chicken – but when cooking for 1-2 – a whole chicken is a lot – air fryer cornish hens are delicious, juicy roasted chicken in less than 30 minutes of cooking time! They're great for a weeknight dinner but also a little fancy if you've got a special occasion dinner
Ingredients
1

tsp

coarse sea salt

1

tsp

paprika

dash

red pepper flakes

1/2

tsp

cayenne pepper

1

tsp

onion powder

1/2

tsp

white pepper

1/2

tsp

garlic powder

1

tsp

crushed rosemary

1

Cornish Hen

1/4

onion

large chop

1/2

lemon
Instructions
Remove Cornish hen from package, rinse and pat dry

In a bowl – mix together all spices (salt thru rosemary)

1 tsp coarse sea salt,

1 tsp paprika,

dash red pepper flakes,

1/2 tsp cayenne pepper,

1 tsp onion powder,

1/2 tsp white pepper,

1/2 tsp garlic powder,

1 tsp crushed rosemary

Rub spice mix all over Cornish hen

Stuff onion and lemon chunks in the hen

Air fry at 400 for 25 minutes – turn halfway through
Nutrition
Serving:
0.5
bird
Calories:
171
kcal
Carbohydrates:
5.7
g
Protein:
26.5
g
Fat:
4.7
g
Saturated Fat:
1.2
g
Cholesterol:
117
mg
Sodium:
1235
mg
Potassium:
380
mg
Fiber:
1.8
g
Sugar:
1.7
g
Calcium:
39
mg
Iron:
2
mg