Making a whole chicken in the air fryer is super simple and makes the juiciest, most delicious chicken you'll ever have. It's great night one with mashed potatoes and veggies – but the leftovers are even better! They're perfect for sandwiches, casseroles and more!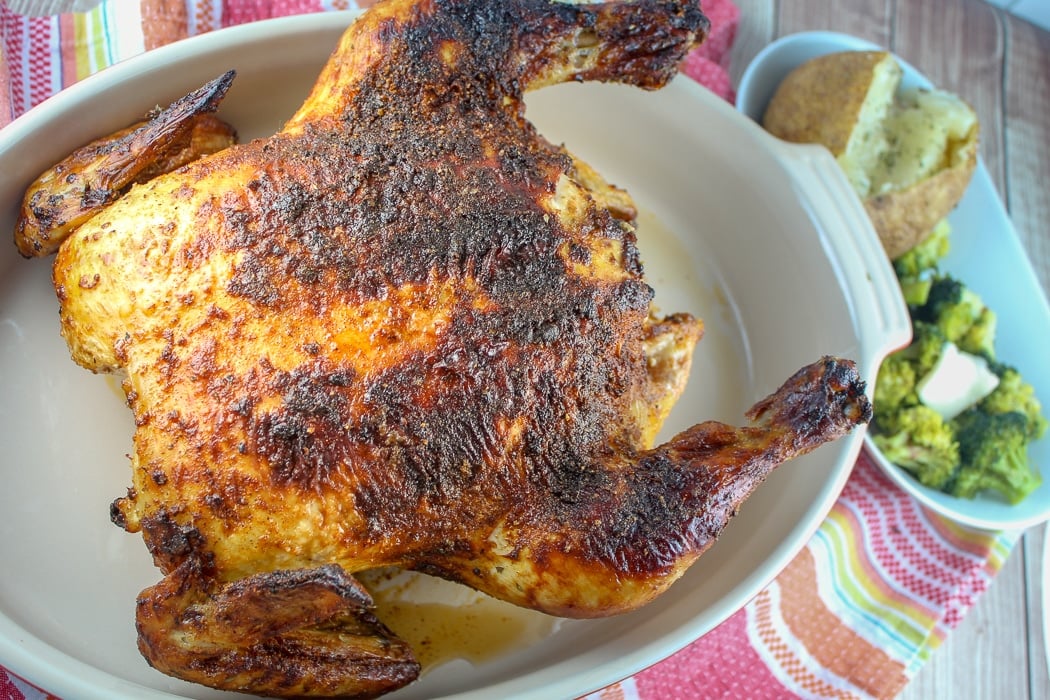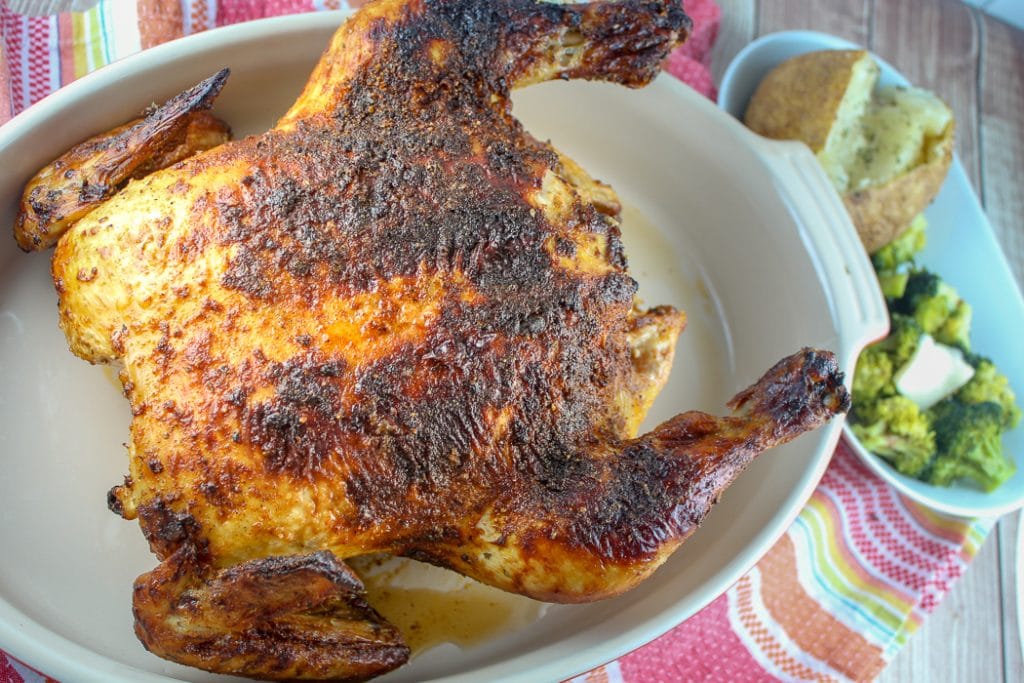 I loved this recipe and the best part is – you can have the chicken in your air fryer in just a few minutes! Make up a quick spice blend (or use one you already love) – rub it all over the bird and put it in the air fryer.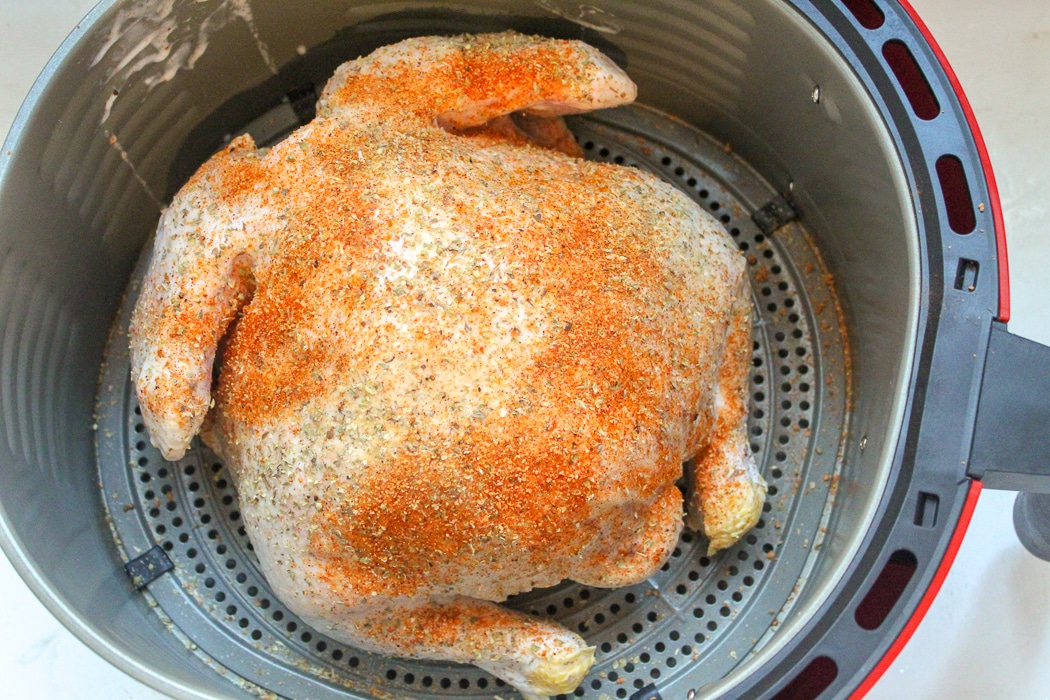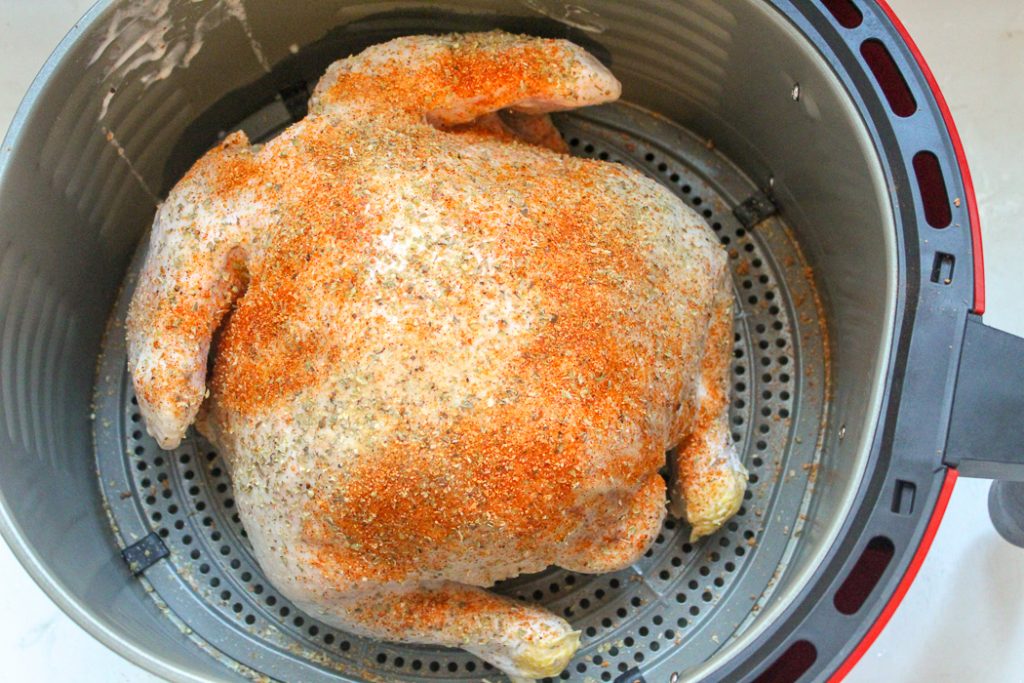 How do you air fry a whole chicken?
First thing you need is an air fryer that fits your chicken! I have two air fryers – and my Philips XL is small – so it was great for air fryer cornish hens. I ended up with a chicken the size of one of a small dog and had to use my Paula Deen Air Fryer. That air fryer can hold anything – including this ginormous bird!
As far as the recipe goes – I marinated the chicken overnight in a mixture of buttermilk and hot sauce. I learned that tip in a fried chicken class I took – I'm not exactly sure what it did but it was magical!
Then mix together your favorite spice blend and rub it all over the bird. Then pop it in the air fryer for 30-60 minutes – depending on how big your bird is.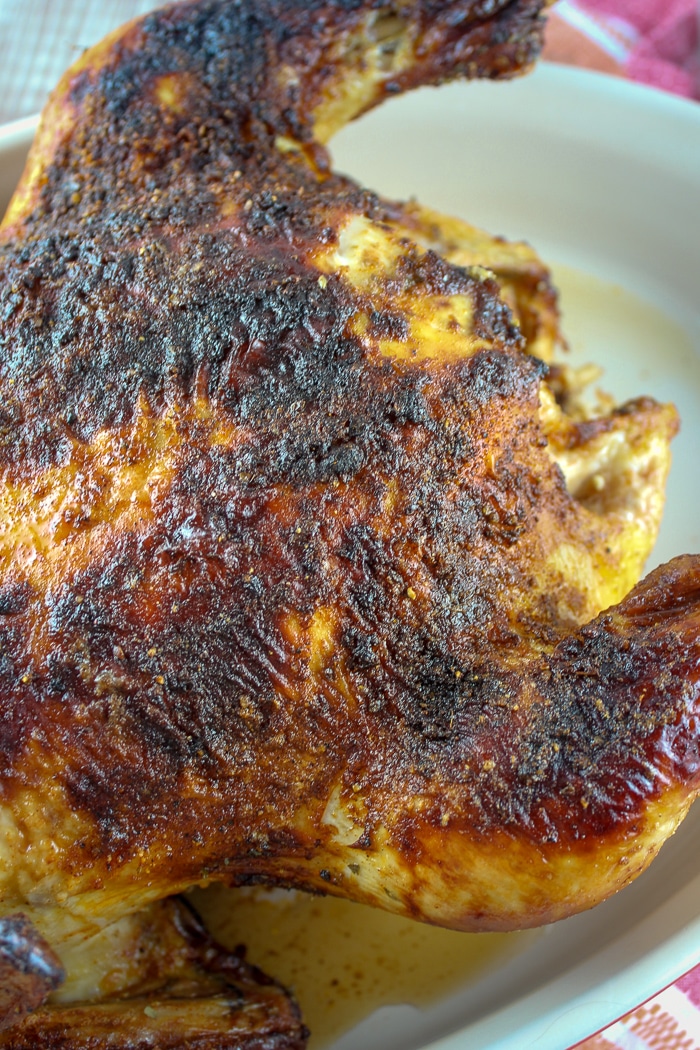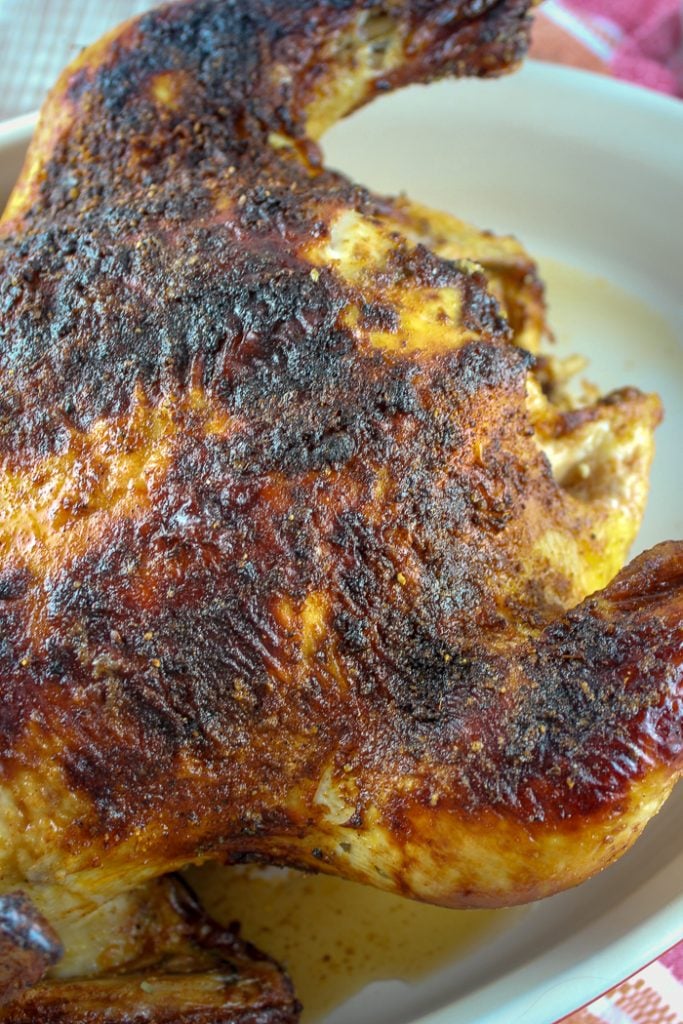 That crispy skin was perfection! I couldn't help but dig in and it was so juicy! I think that buttermilk and hot sauce marinade overnight really helped lock in the juices. The hot sauce added some flavor but didn't make it too hot.
What time and temp for whole chicken in an air fryer?
This was a very large chicken – probably 6 pounds – it took about an hour at 350. But if you had a smaller chicken – I would start at 30-40 minutes and temp check and go from there. An instant read meat thermometer is a must-have for any home cook – chicken should temp at 160-165.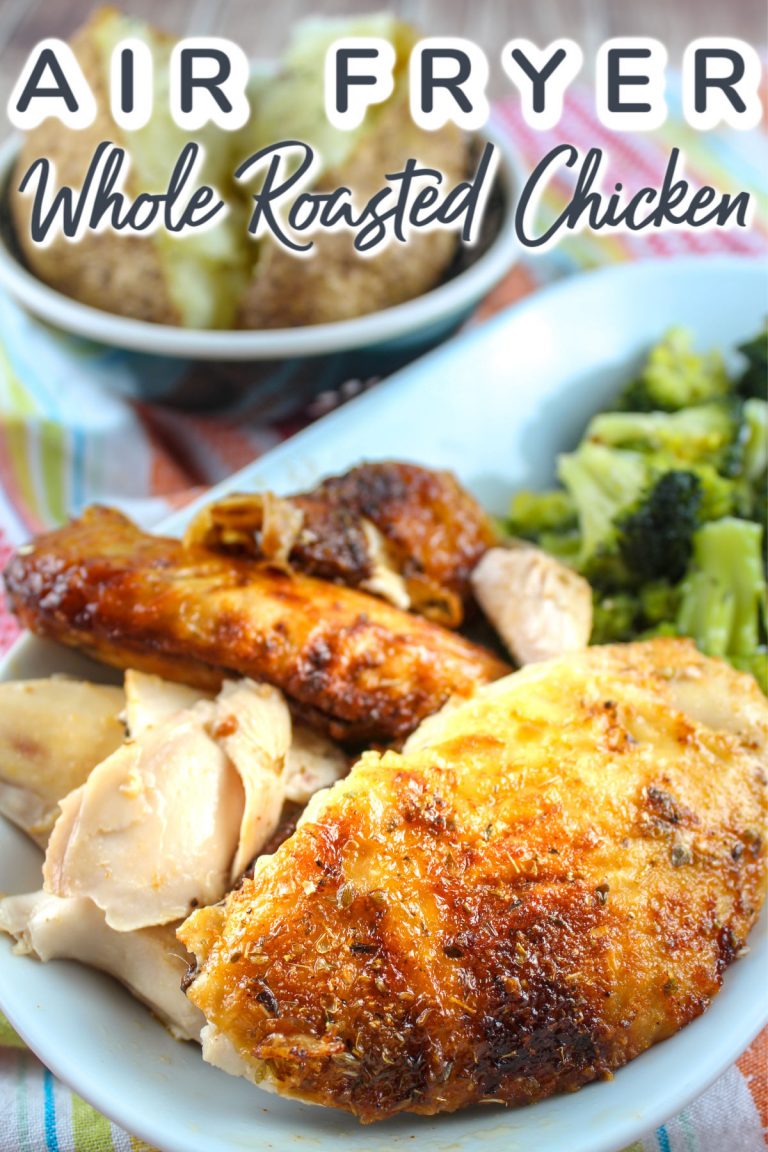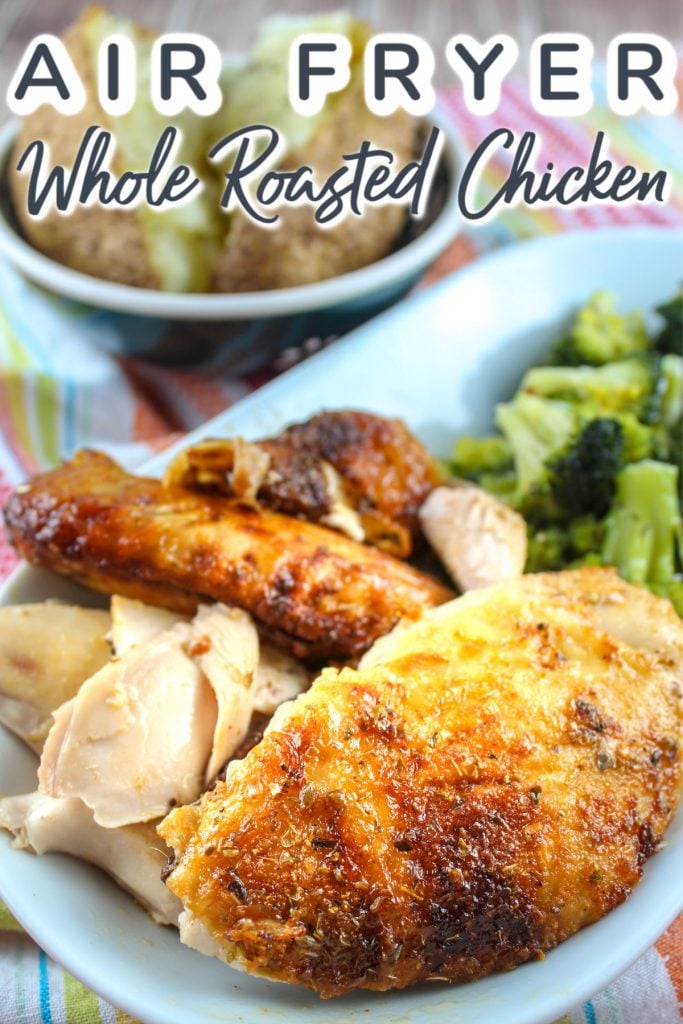 What can you make with leftover chicken?
I have so many recipes for leftover chicken!!! My now-famous chicken casserole is probably tops on my list. I also love to use leftover chicken on salad's – like this O'Charley's California Chicken Salad – roasted chicken, mandarin oranges, strawberries and more – it's so good – especially in the summer! You can also use the leftovers to make a white chicken chili – it's super simple – and light!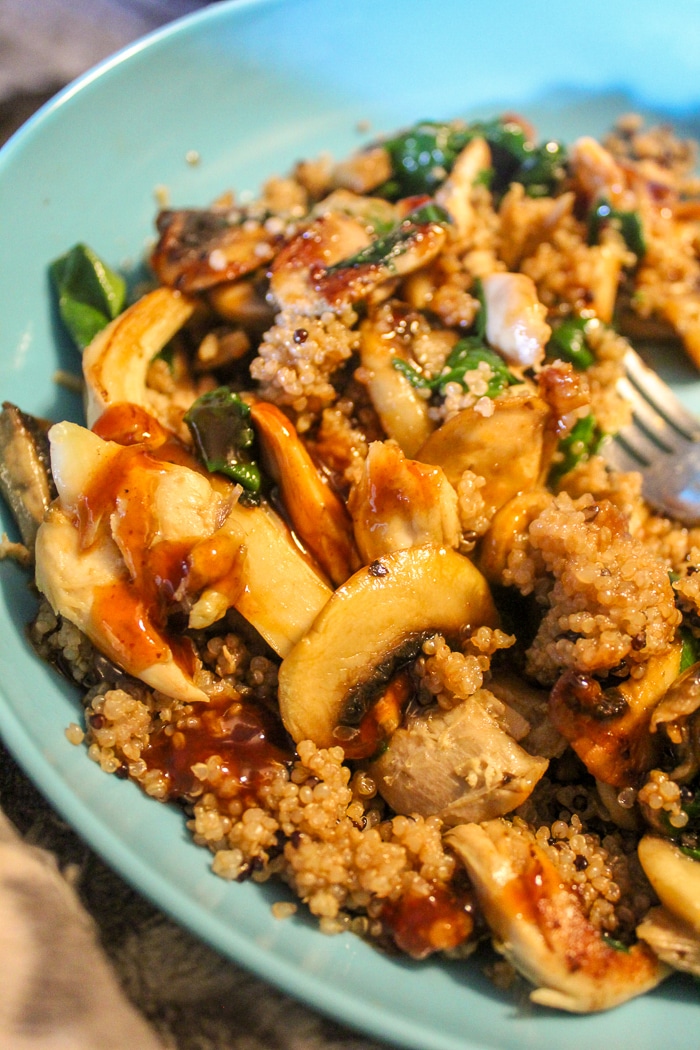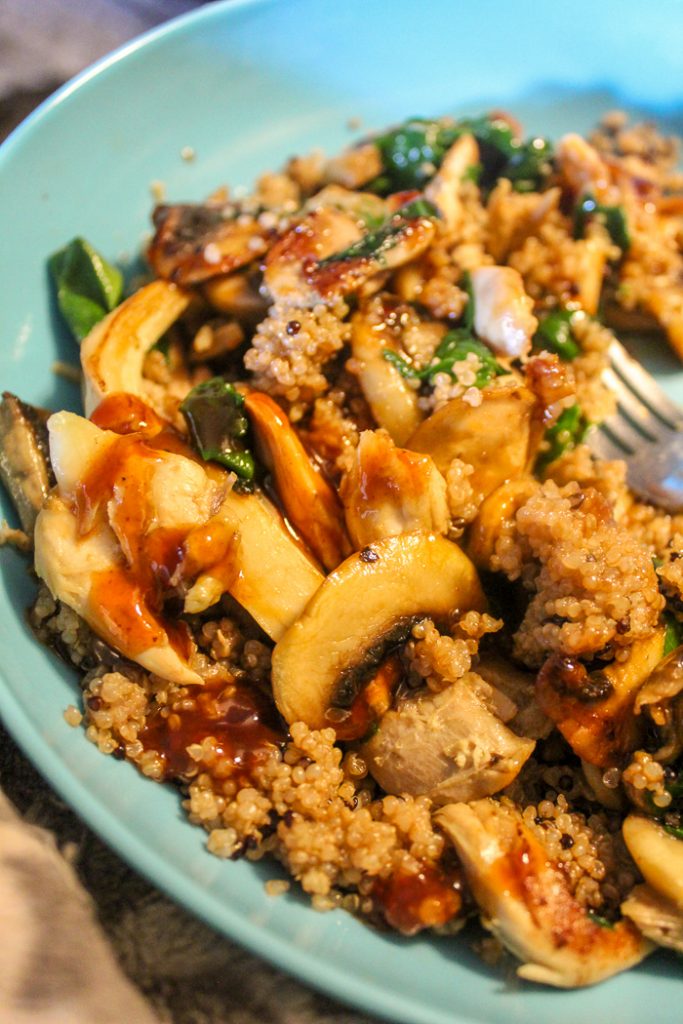 Or you can look in your fridge and see what you have and go from there! I had some leftover quinoa, mushrooms and spinach – so I whipped up a little stir fry! I sauteed the mushrooms and threw in the chicken and spinach at the last minute – just to warm the chicken and wilt the spinach. Then I topped my quinoa with the stir fry and drizzled Korean bbq sauce on top – voila – fancy leftover lunch!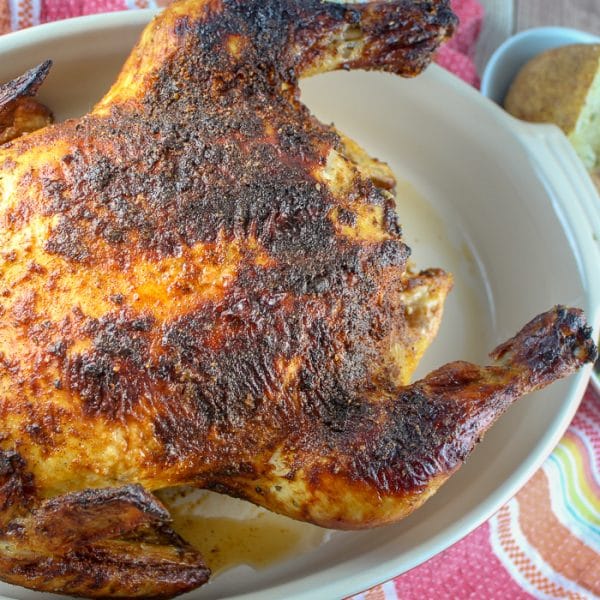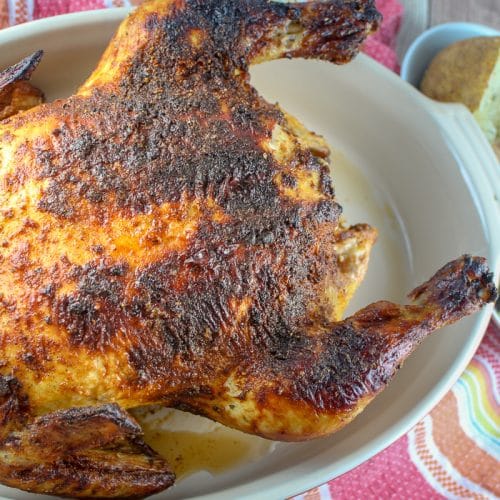 Air Fryer Whole Chicken
Making a whole chicken in the air fryer is super simple and makes the juiciest, most delicious chicken you'll ever have.
Instructions
Rinse chicken and remove any gizzards/neck inside the bird.

Place chicken in a large bowl and add in buttermilk, hot sauce, garlic and salt.

Cover and refrigerate a minimum of 4 hours up to overnight. Flip bird half way through marinating.

Remove chicken from buttermilk and shake off excess

Mix together remaining ingredients

Coat 1/2 seasonings on side of bird facing up

Place chicken in air fryer breast side down and coat other side with remaining spice mix

Air fry at 375 for 30 minutes

Flip with tongs (it's not easy if it's a big bird) and check temperature of chicken. Depending on current temp will let you know how much time to add to the chicken.

If chicken is in between 100-125 – add 30 minutes, if between 125-140 – add 20 minutes, if between 140-160 – add 10 minutes.

When temp is between 160-165, remove chicken from air fryer and set on platter. Let rest for a few minutes while you get the rest of dinner on the table.