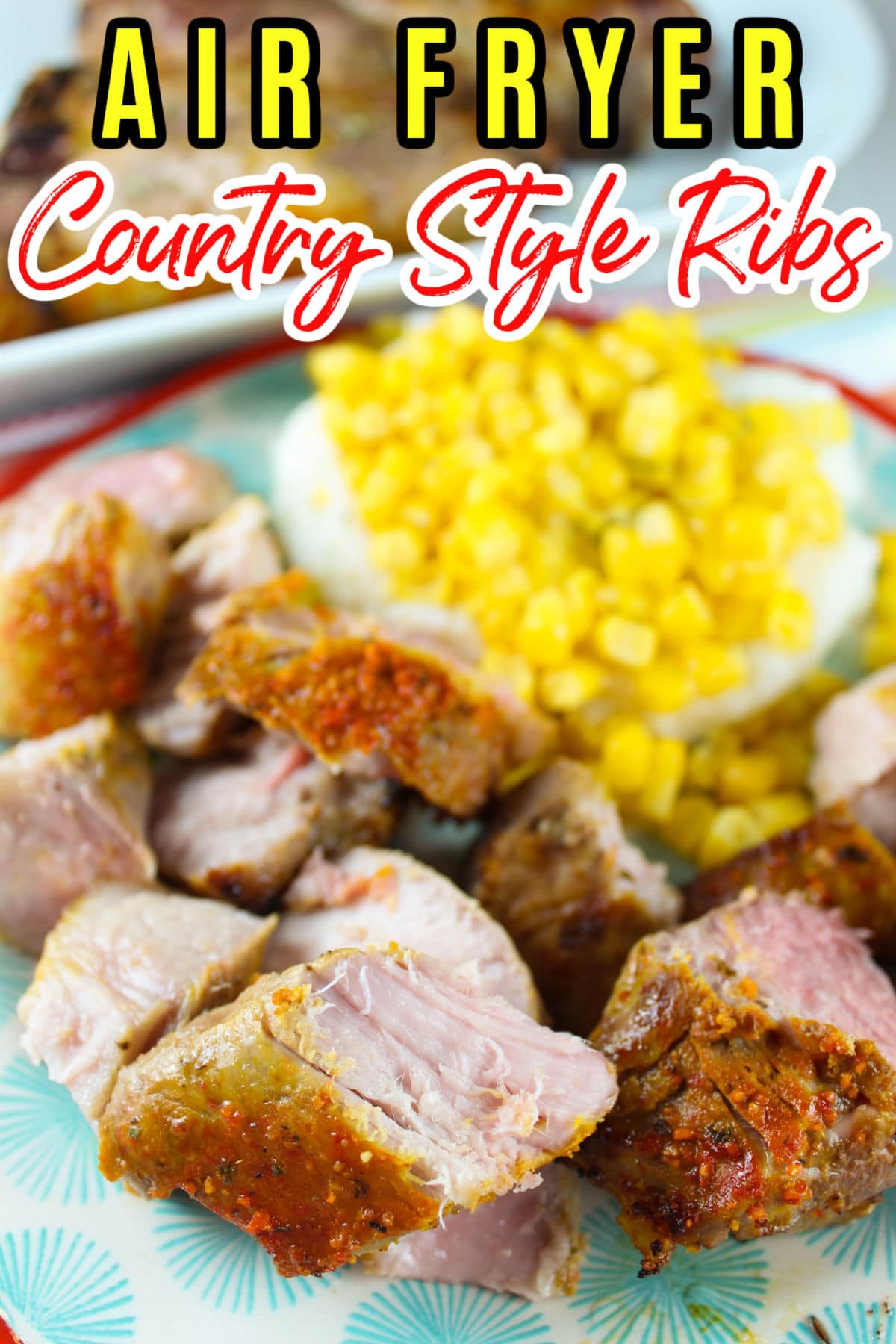 Making country style ribs in an air fryer could not be easier!!! Sprinkle your favorite pork rub seasoning on them and pop them in. 20 minutes of cooking time later you have delicious tender ribs the easy way!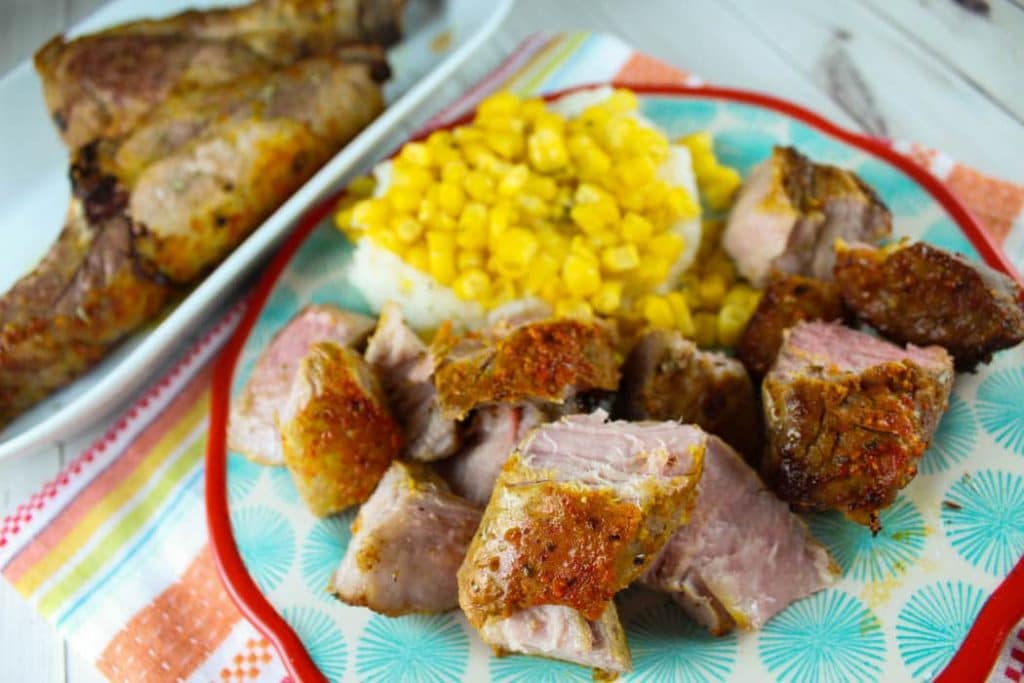 I have always loved Country Style Ribs – it was a staple growing up. We made them at least every couple of weeks. This is such an easy recipe to make and you really can't screw them up – which is what you need when you're 12 years old making dinner for your Dad. But now with the advent of the air fryer – it's one of my new favorite ways to make country style ribs!
Jump to Recipe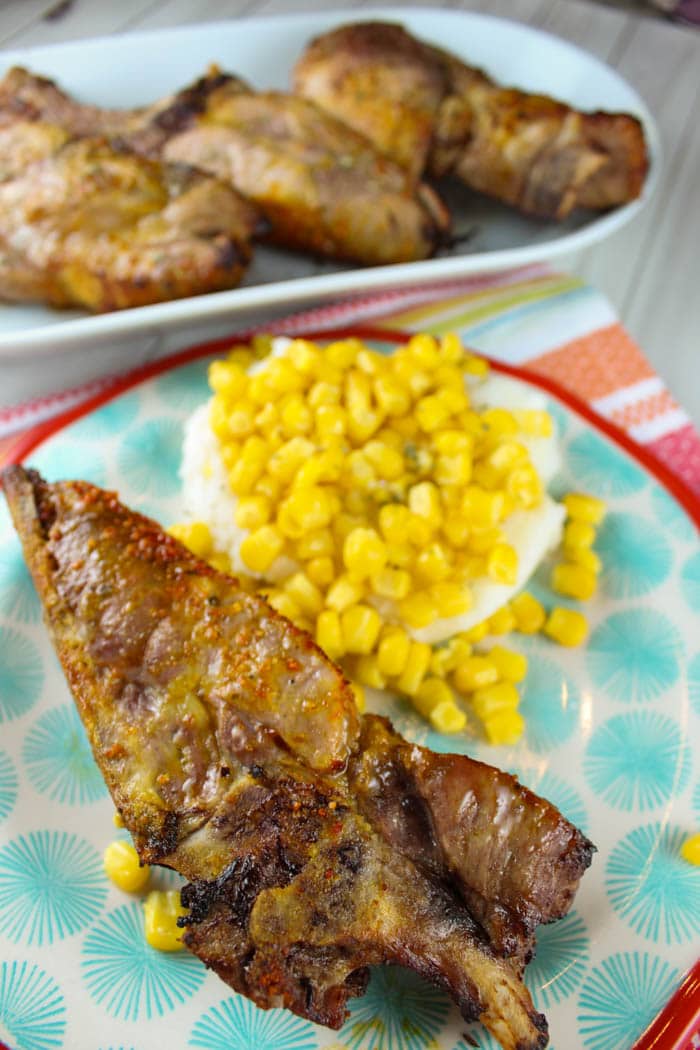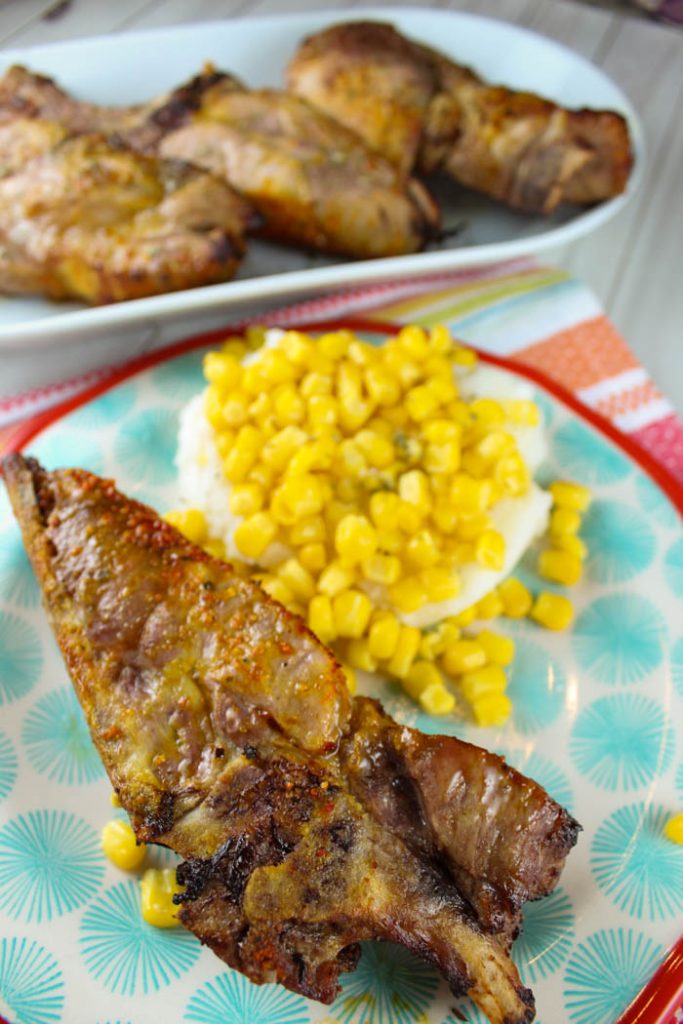 Where are Country Style Pork Ribs cut from?
Well – first they are delicious pork! Second, country-style ribs don't actually come from the rib of a pig. They come from the shoulder blade near the loin. Some country-style ribs do have bones in them, but it's actually shoulder blade blone but you can also find country style boneless ribs. Either way, country style ribs are a very economical cut of pork and they are super easy to cook – whether you grill them, smoke them or even make them in a Dutch oven.
Are country style ribs the same as spare ribs or back ribs?
Nope! There are four different types of ribs that are actually from the ribs of a pig:
Spare ribs – from the sides of the ribs, said to be more flavorful than baby back
Baby back ribs – from the highest part of the back, shorter than spare ribs (thus the "baby" in baby back) and leaner
St Louis cut – trimmed up spare ribs – makes all the ribs the same length so it will then cook more evenly
Rib tips – usually the meaty piece that is cut off the spare ribs to make the St Louis cut
These are the types of ribs that are more "fall off the bone" when you cook them as compared to Country Style Ribs – which I like to cook to be more juicy.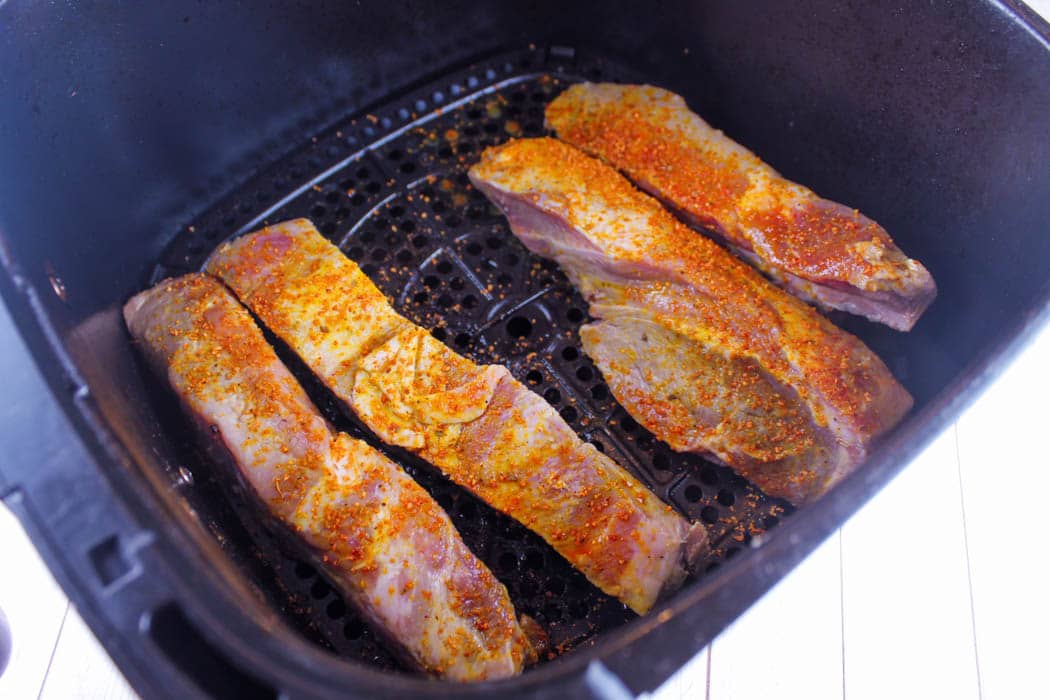 How to Cook Country Style Ribs in an Air Fryer?
It literally doesn't get any easier than this!
Purchase a 1-2 lb package of Country Style Ribs

I like to start my ribs when they are at room temperature so the meat has relaxed a bit vs right out of the fridge

Rinse the ribs with water and pat dry with paper towels
Season heavily with your favorite BBQ rib rub – I like Historic BBQ – they're a championship bbq team nearby me here in Ohio and the Red seasoning is amazing! (no olive oil needed)
Place country style ribs in air fryer basket or on air fryer tray in a single layer

since these ribs are pretty big – it's fine if they touch the wall of the basket
If you love barbecue sauce and a sticky rib – you can baste with your favorite bbq sauce before you put in the air fryer
If you have a smaller air fryer, you can cut apart ribs into smaller pieces
Do not stack ribs or crowd them as you want continual movement of the air

Cook ribs at 370 degrees for 20 minutes

you can turn them half way through if you like but the air circulates around them in an air fryer so it's not necessary
you can also baste with additional bbq sauce midway through

EAT!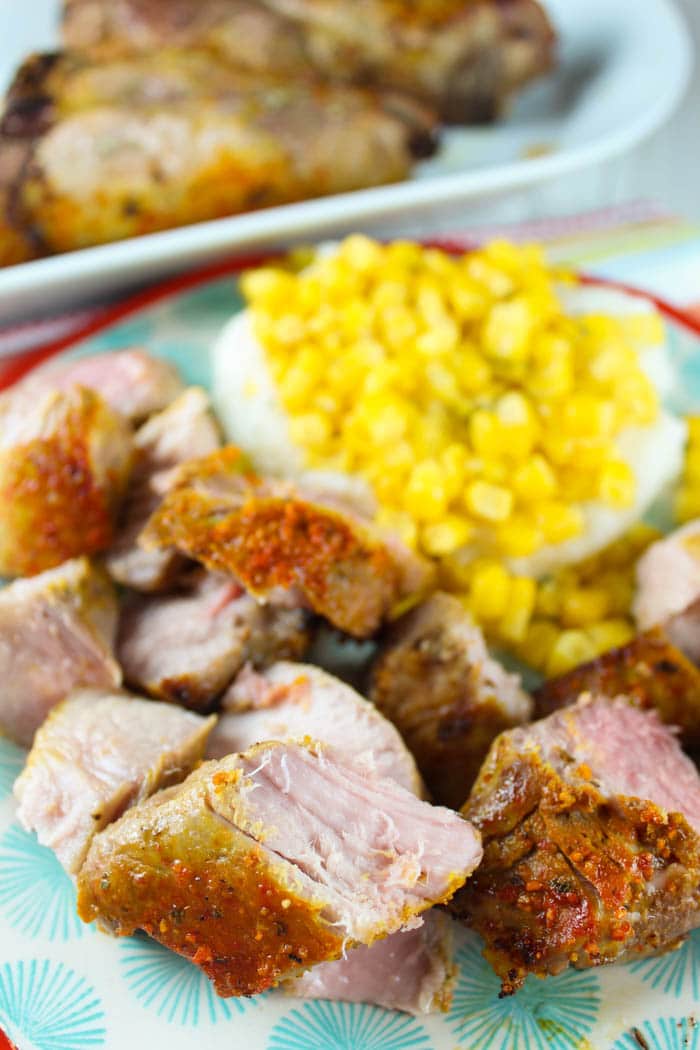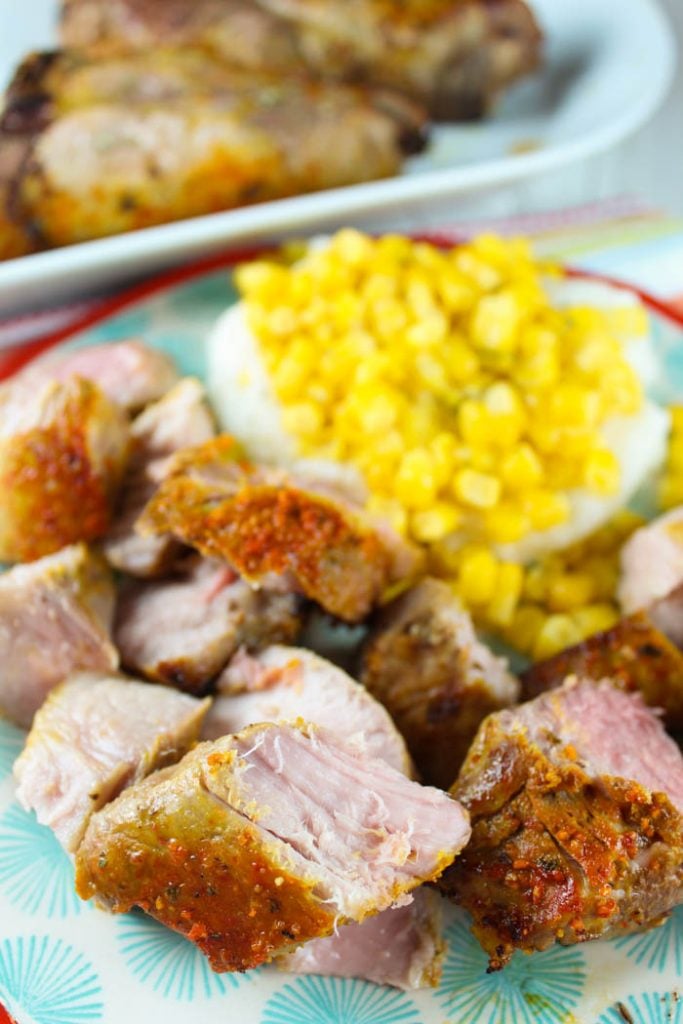 When are air fryer pork ribs done?
You can always eat pork (i.e. ribs, chops) at 145 degrees – we promise – it's safe!!! That also means you may likely see a blush of pink and – yes – it's safe!!! For best results, grab your meat thermometer and place it into the thickest part of the middle of the rib (not the ends) and when the internal temperature reaches 145 – they're done! You will be shocked at how juicy they are!
Here's the deal – and I know this from years of working with the good folks at Ohio Pork. Years ago – when our grandma's made pork – pigs were often fed outside and ate "slop" or other things that were not a controlled diet. This included bugs, etc which led to the notion of NOT eating pork that has any pink in it.
BUT – very important BUT – nowadays – pigs are kept indoors in barns with a very controlled atmosphere and grain-based diet. So – you don't have the worries of our Grandma's days – and it is 100% safe to eat pork at 145 degrees.
And trust me – once you do – you'll never eat it any other way! It's sooooo delicious! Tender, juicy, flavorful – it's amazing!!!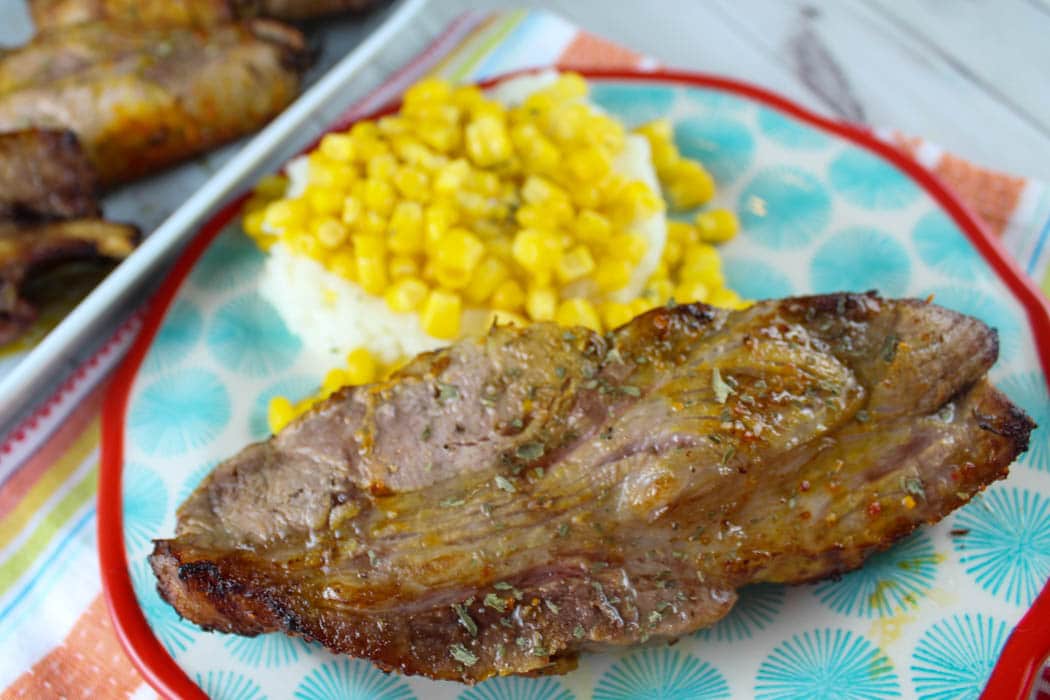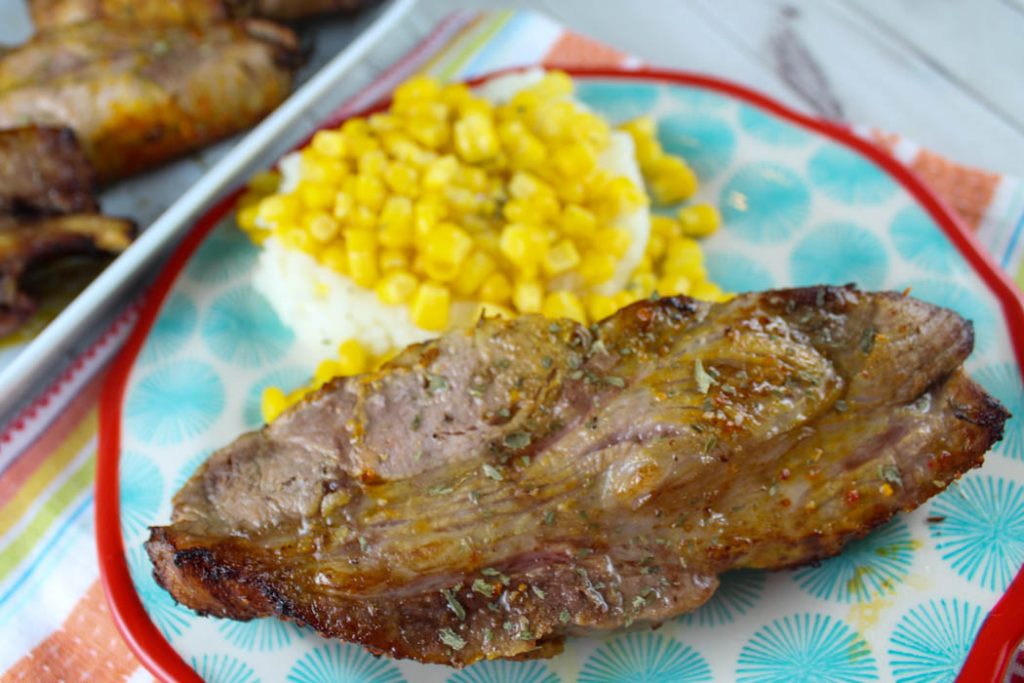 How do you cook Air Fryer Country Style Ribs so they're tender?
Most of the cooking methods for country style ribs go the low & slow route – which helps make tender and "fall apart" pork. Another way is to brine your pork – which is making a solution of salt water (1 tbsp salt to 1 cup water) and soaking the pork overnight.
For this air fried country style ribs recipe – I went quick and easy and did neither of those! These did not come out tough at all and were very similar texture to that of a thick pork chop. Very tender and juicy!
FAQs
Are country style ribs beef or pork?
Pork
Are boneless country ribs good?
Uh – yeah – they're amazing!
Are country style ribs the same as short ribs?
Nope – most true "short ribs" are beef. Sometimes you'll find something called a pork short rib – but those are extensions from the baby back ribs.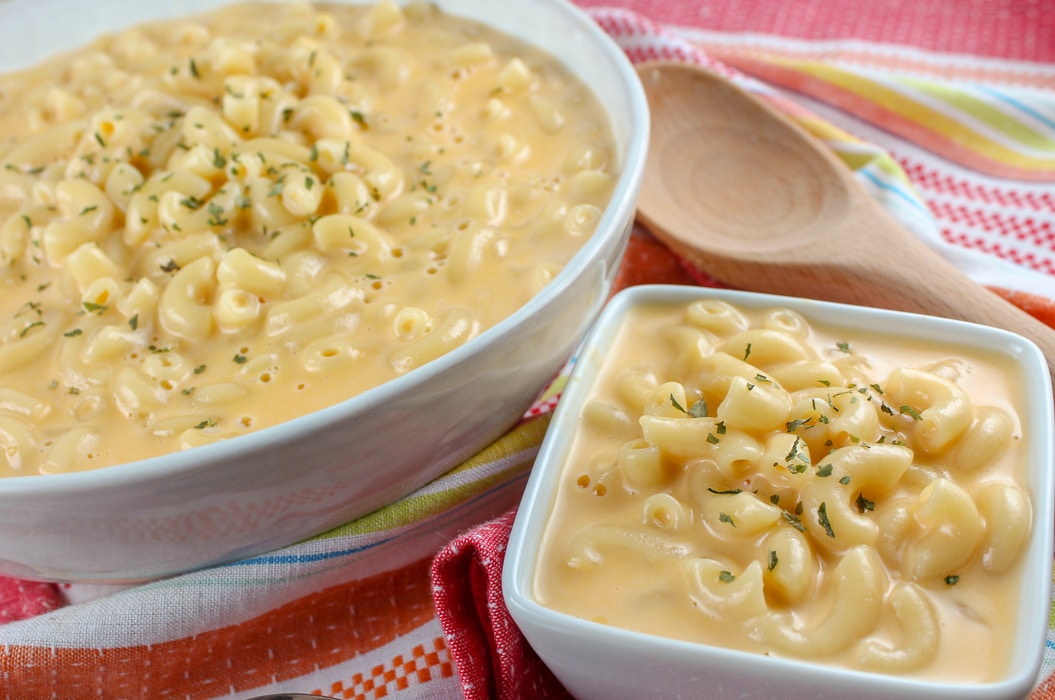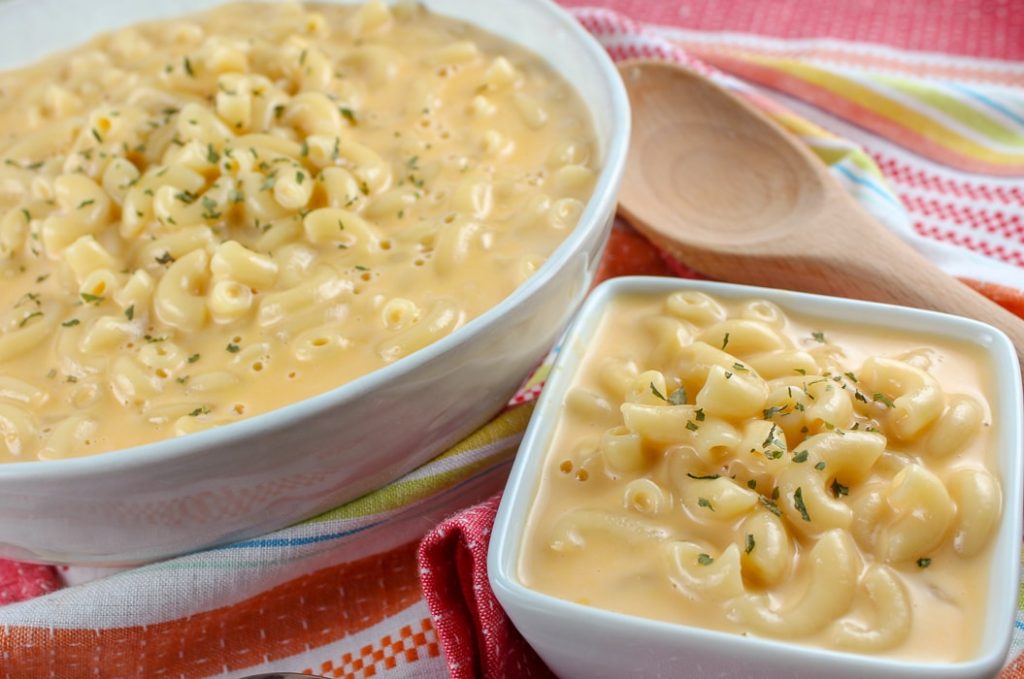 What to serve with Country Style Ribs?
Because these are similar to pork chops, I would serve with potatoes and veggies – here are a few of my favorites:
More Air Fryer Recipes with Pork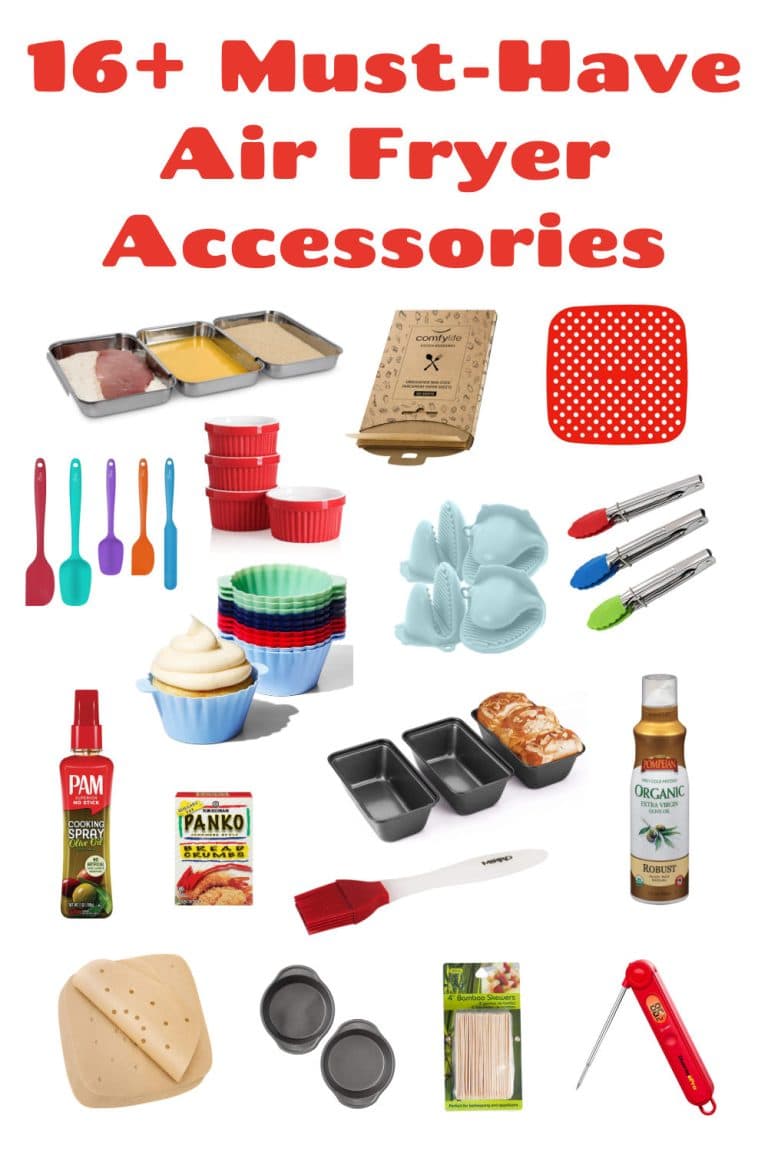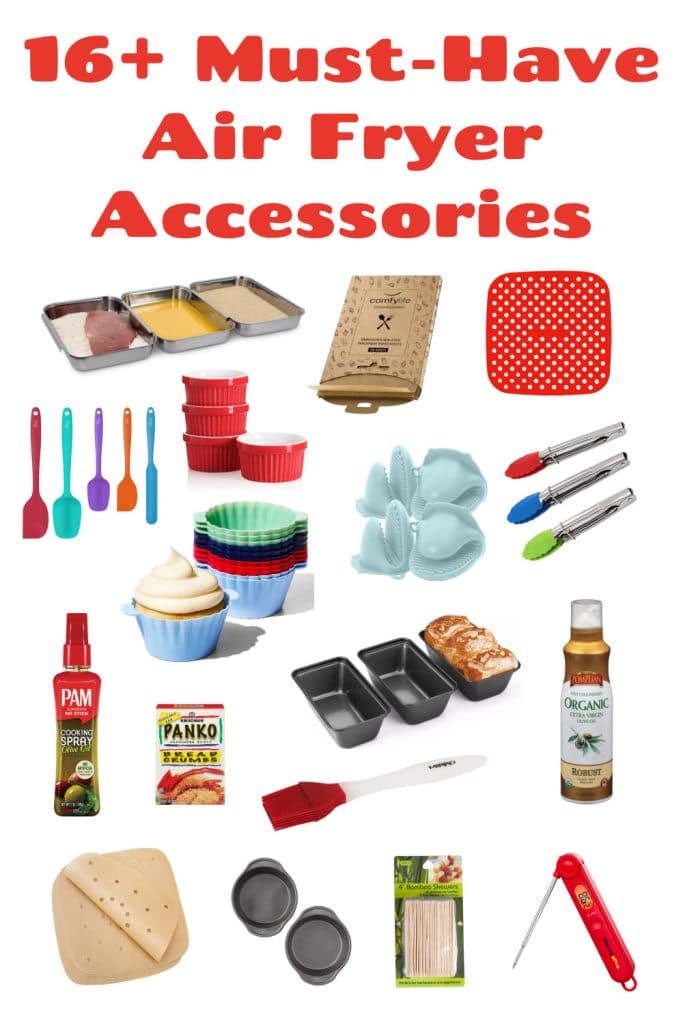 Best Air Fryer Accessories
Here's my ultimate list of best air fryer accessories – whether you have a basket- or oven-style! I've also included a price guide as well as my favorite recipes for those accessories.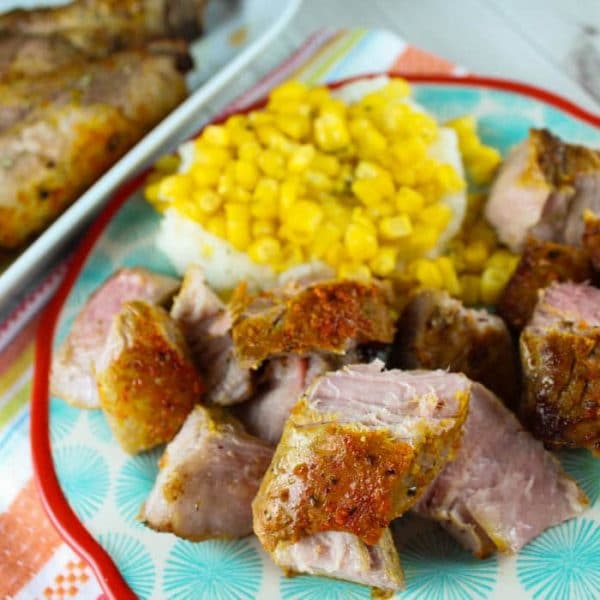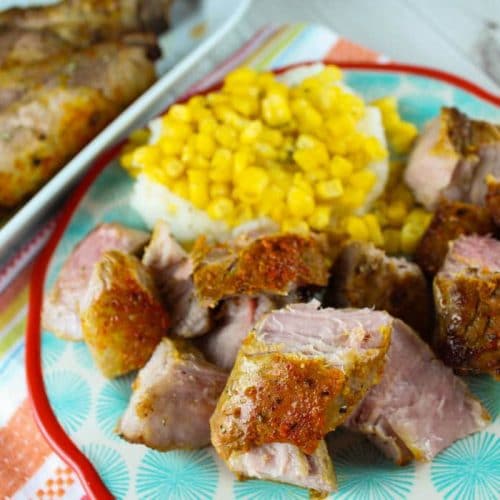 Country Style Ribs in an Air Fryer
Making country style ribs in an air fryer could not be easier!!! Sprinkle your favorite pork rub seasoning on them and pop them in. 20 minutes later you have delicious tender pork goodness!
Instructions
Rinse Country Style Ribs with water and pat dry

Sprinkle generously with favorite bbq rub (I love Historic BBQ)

Air fry at 370 degrees for 20 minutes
Notes
**We are not dietitians and recommend you seek a nutritionist for exact nutritional information. The information in the nutrition box are calculated through a program and there is room for error. If you need an accurate count, I recommend running the ingredients through your favorite nutrition calculator.**
Nutrition
Serving:
1
rib
Calories:
479
kcal
Carbohydrates:
1.3
g
Protein:
49.5
g
Fat:
29.3
g
Saturated Fat:
10.1
g
Cholesterol:
191
mg
Sodium:
265
mg
Sugar:
0.5
g
Calcium:
45
mg
Iron:
2
mg