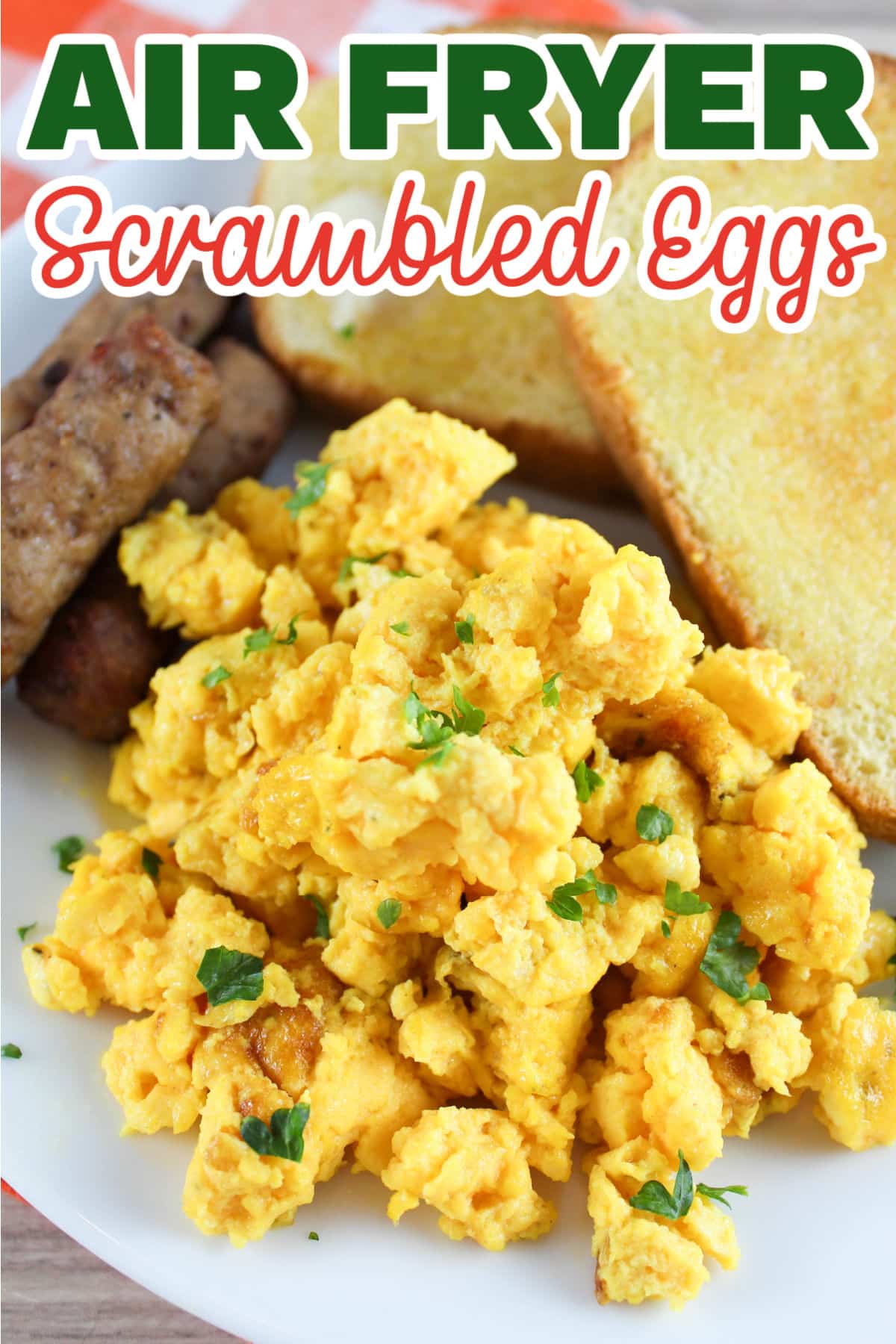 Air Fryer Scrambled Eggs can be just as light and fluffy as ones made on the stove top! You'll love how easy these are to make – even the kids can do it!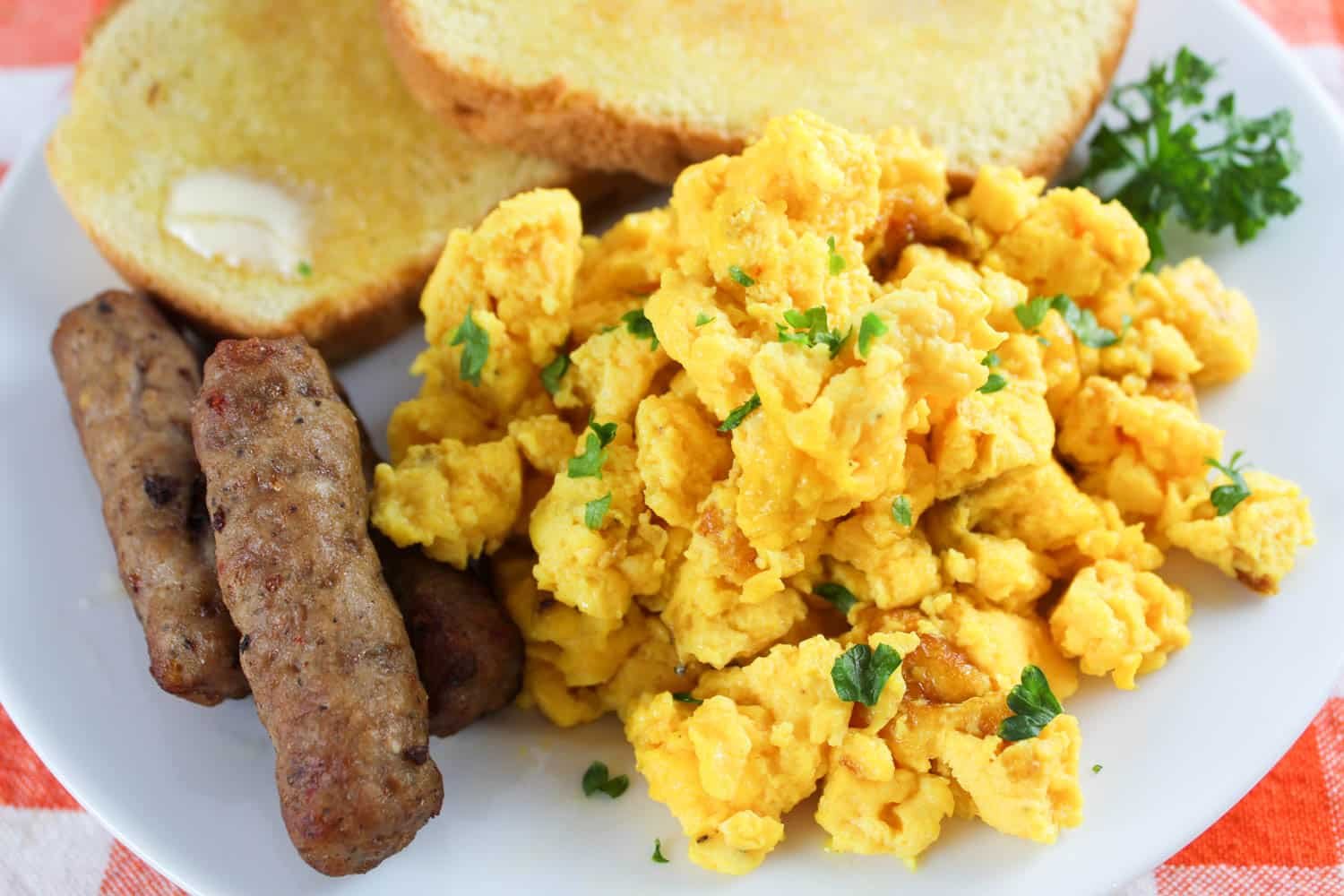 What You Will Love About Scrambled Eggs in the Air Fryer
Let's be honest – it's not difficult to make scrambled eggs on the stove – BUT – I'm usually running around in the morning doing ten different things! Using the air fryer for scrambled eggs is a great alternative because you don't have to watch them – just set the time and go!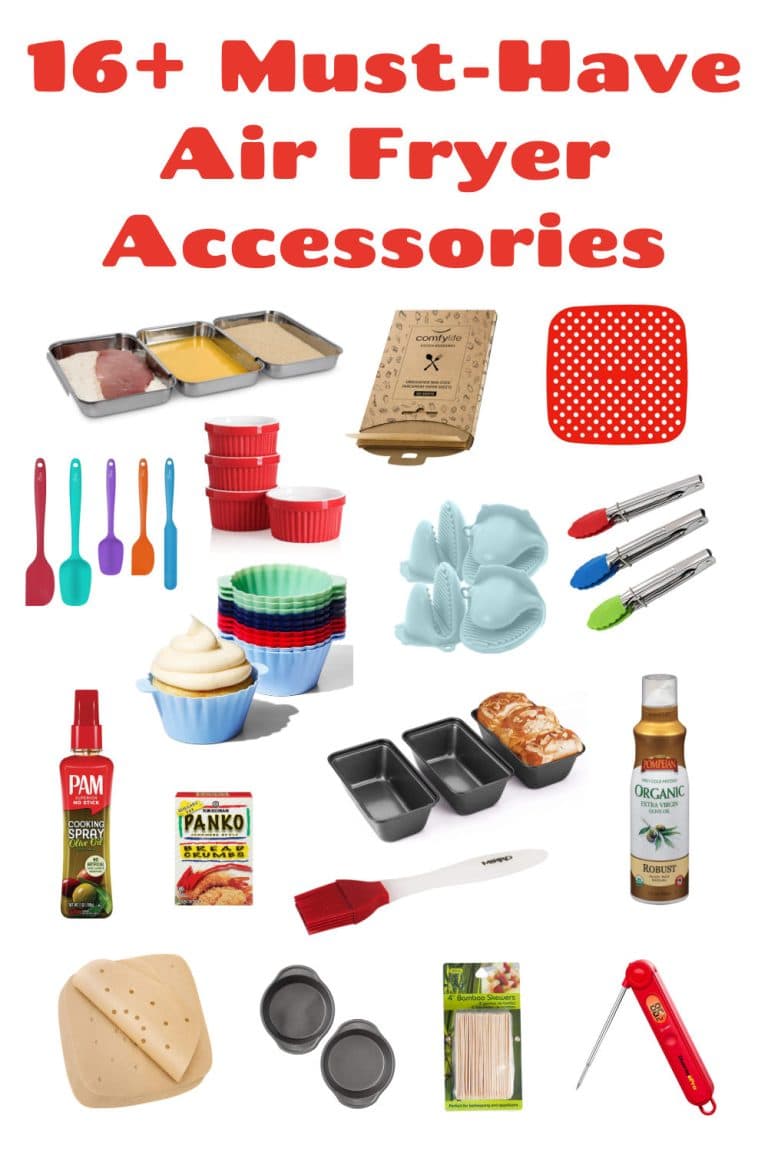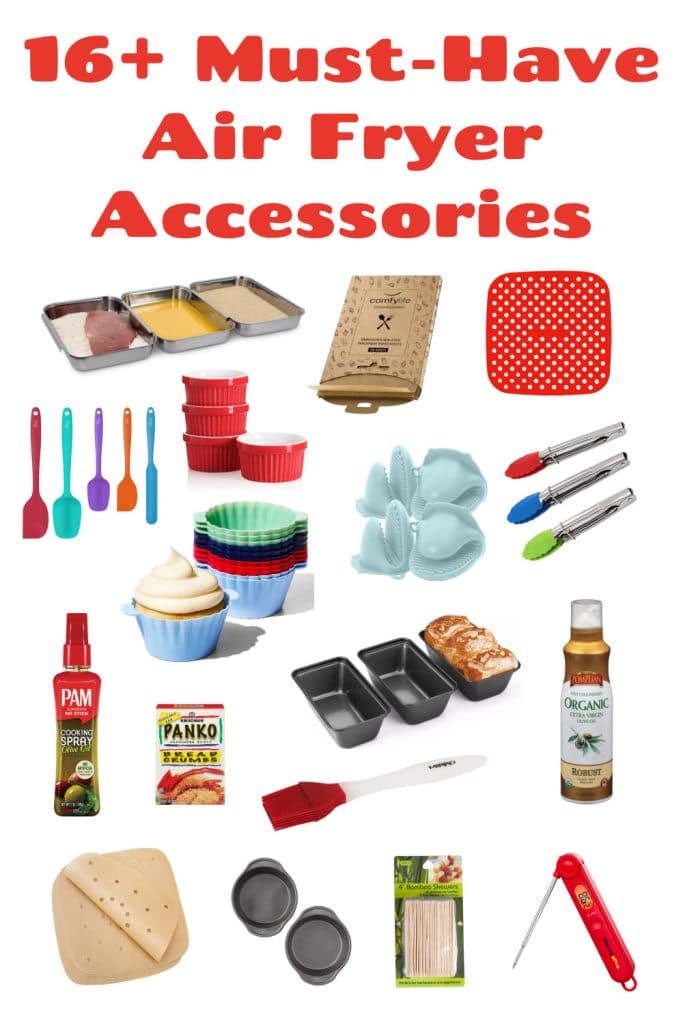 Best Air Fryer Accessories
Here's my ultimate list of best air fryer accessories – whether you have a basket- or oven-style! I've also included a price guide as well as my favorite recipes for those accessories.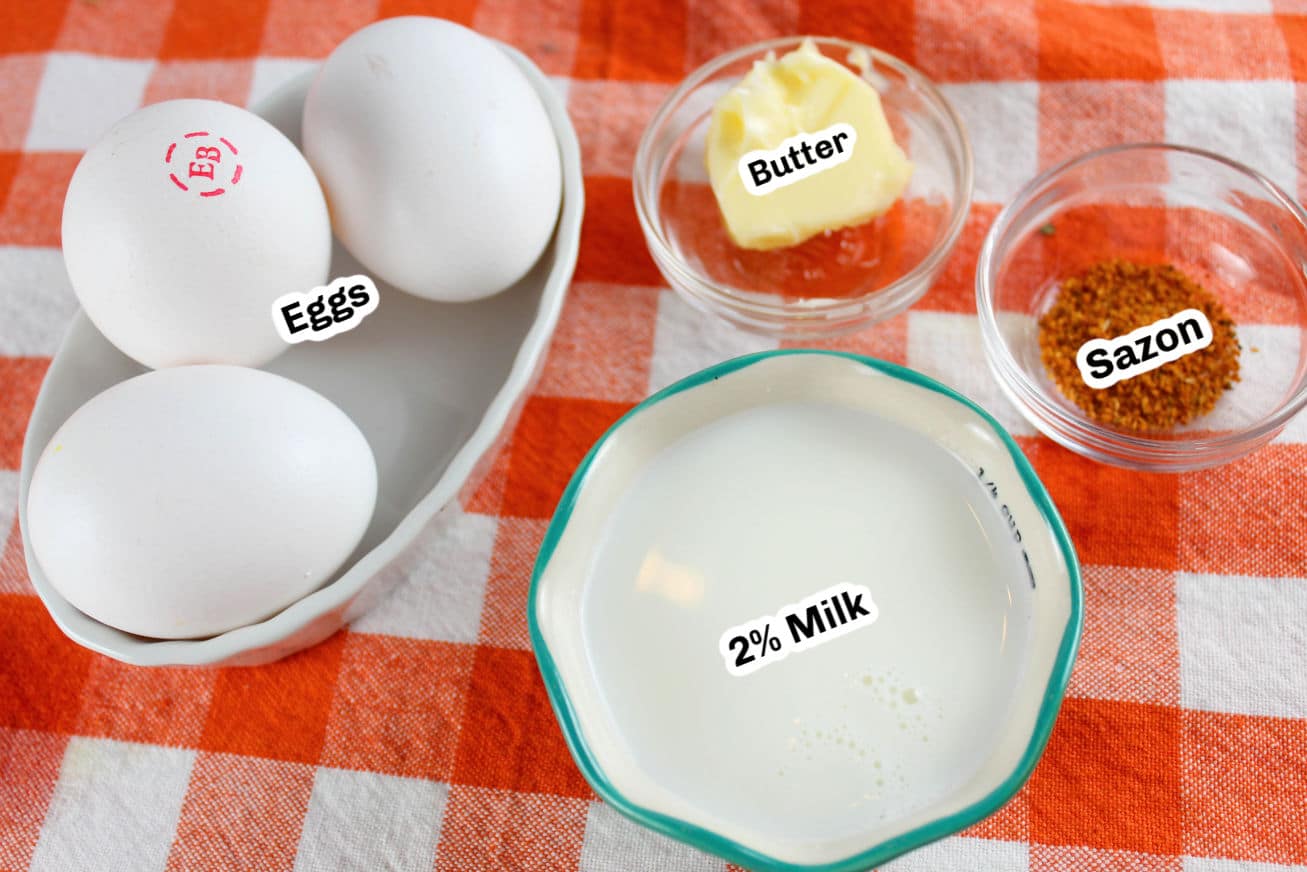 Scrambled Egg Ingredients
No crazy secrets here – just the normal ingredients! But trust me – the instructions are where the tips & tricks are! Here's what you need for scrambled eggs:
1 tbsp butter – I always like a little butter for flavor and I use this instead of cooking spray
3 eggs – this serves 2 people
1/4 cup milk – you can also use half and half, cream or even sour cream for extra richness
1/4 tsp Sazon Tropical or seasoning salt – you can use salt & pepper but I recommend you jazz it up a bit! Grab some seasoning blend out of your drawer and sprinkle it on top! The Sazon Tropical is my absolute favorite – I use it all the time.

You could also use fresh herbs like chives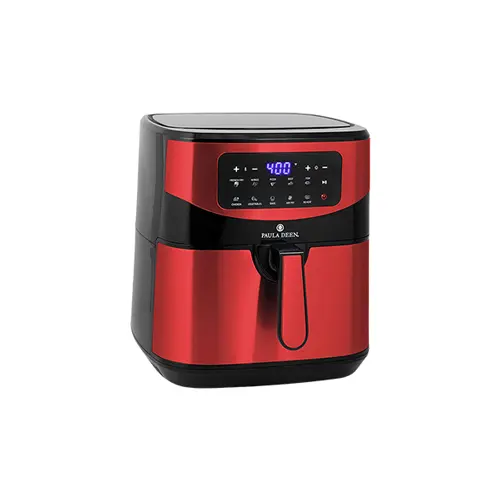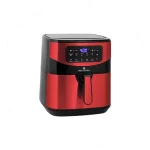 This recipe was made using the Paula Deen Air Fryer.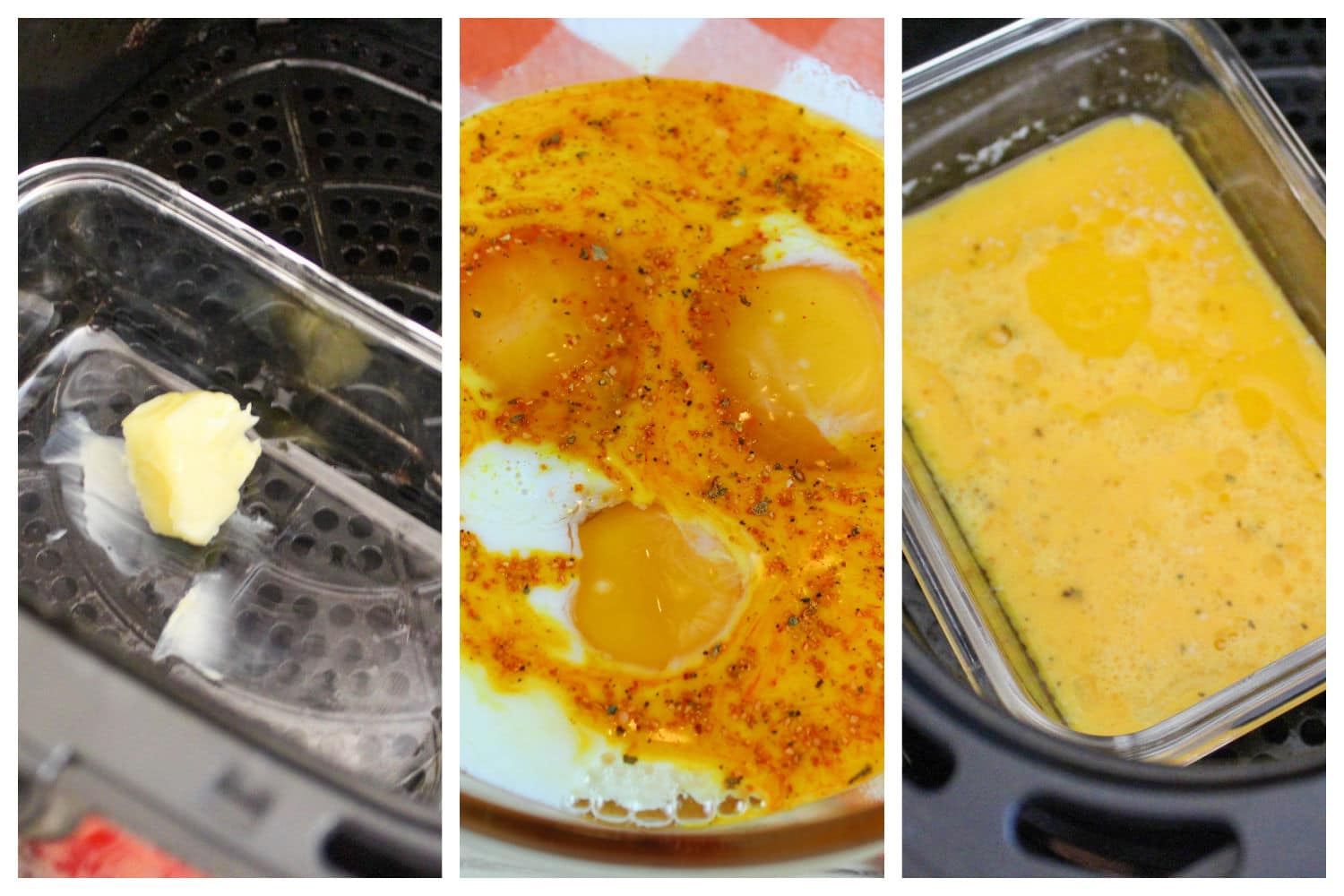 How to Make Scrambled Eggs in the Air Fryer
These air fryer eggs are so easy – just a couple of tips & tricks to make them light & fluffy! Here's what to do:
Spoon butter in small baking dish

I use these glass containers that are about 4×6. If you're only making eggs for 1 – you could use a ramekin. I like to have it so the eggs are about 1.5″ deep

Place pan in air fryer. Air fry at 350º for 2 min to melt the butter
In a medium bowl, whisk together eggs, milk, seasoning
Open air fryer and swirl melted butter around dish
Pour egg mixture into dish and air fry eggs at 320º for 4 minutes
Open air fryer basket and gently stir eggs – pulling the cooked outer edges in so the remaining liquid moves to the outside. Air fry at 320º 2 min more.
Open air fryer and loosen & stir eggs with a spatula or a wooden spoon.

If there's any liquid still in eggs – stir while in air fryer. Baking dish and eggs are hot and will continue to cook the last bit of liquid. Once you stir the eggs around – they'll be finished cooking.

Serve with toast & sausage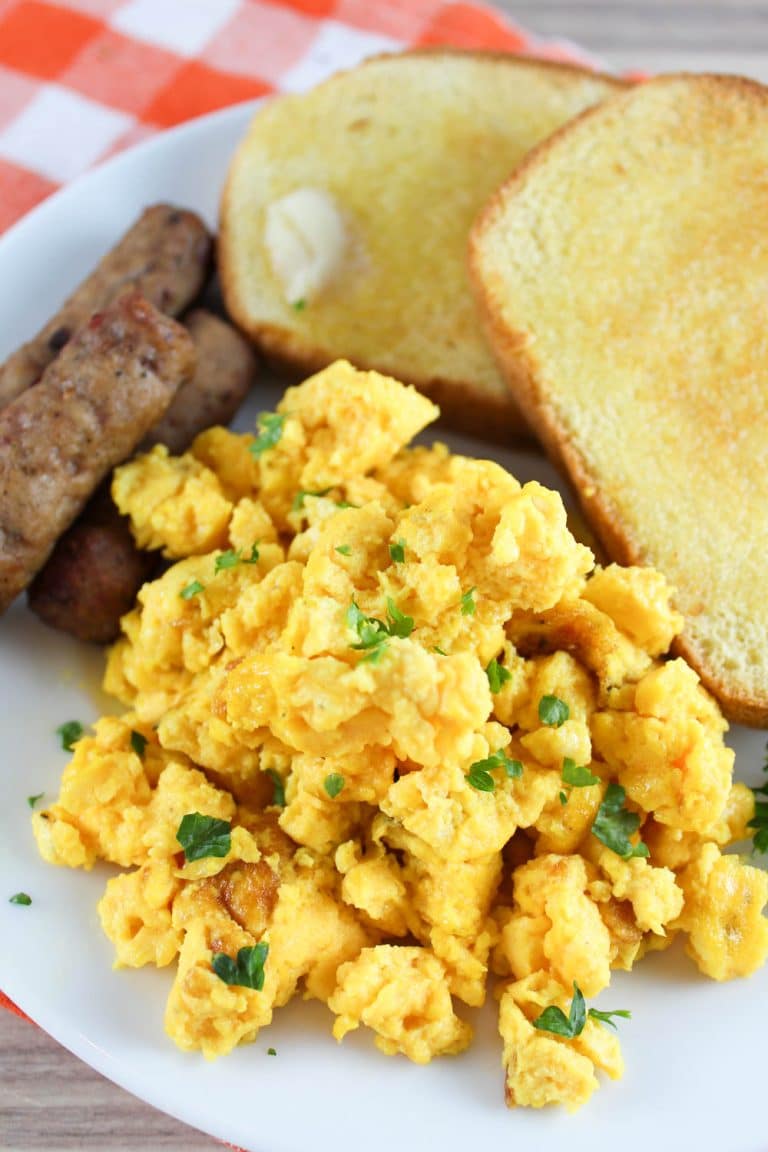 Tips, Tricks & FAQs
Can you do scrambled eggs in the air fryer?
Of course! It's all outlined here – melt butter, add beaten eggs to dish and air fry!
Can I add cheese or veggies to scrambled eggs?
Of course! If you have crunchier veggies (pepper, onion), you might want to put them in with the butter so they "saute" and soften up a little – then pour your eggs into the dish. For cheese – add it when you add your eggs.
How do you store and reheat leftover eggs?
Store leftover scrambled eggs in an airtight container in the fridge for 2-3 days. Reheat in the air fryer for 2-3 minutes or the microwave for 1-2 minutes.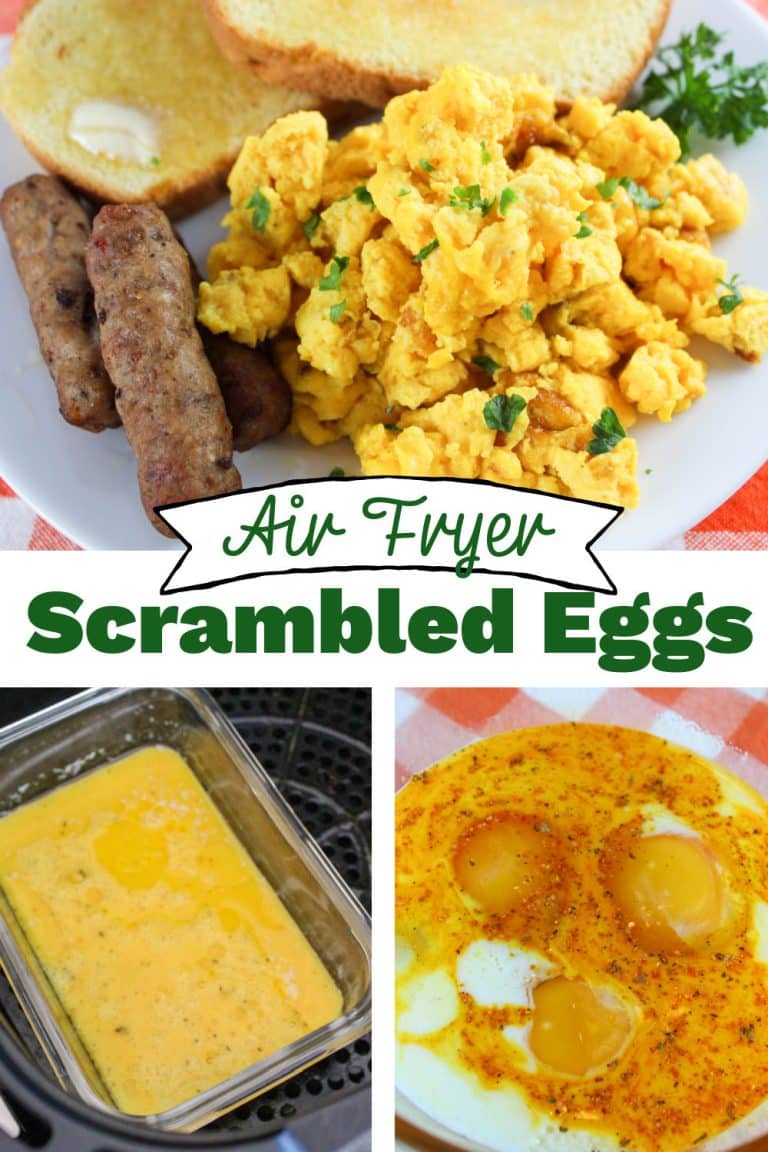 Variations
Cheeses – add shredded cheese to your scrambled eggs for added flavor! I like to use sharp cheddar cheese or colby jack.
Vegetables – diced onion, bell pepper and mushrooms are all delicious in scrambled eggs. Add them to the dish when you melt the butter to help soften them up a bit.
Meat in the Eggs – dice up ham or pre-cooked bacon or sausage and place in the dish with the eggs.
Meat beside the Eggs – scrambled eggs need 8 minutes total cooking time (including the butter) – so that's plenty of time for most meats. Lay strips of bacon in the other half of the air fryer – or sausage links. Bacon would need the whole 8 min where as sausage links will be done in 4-5.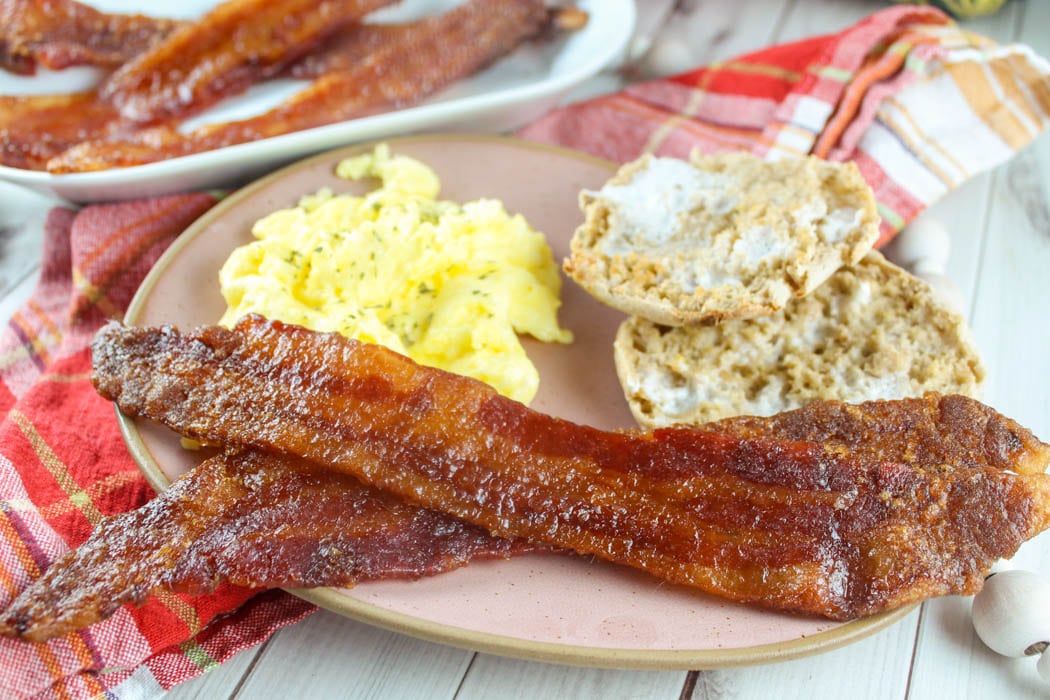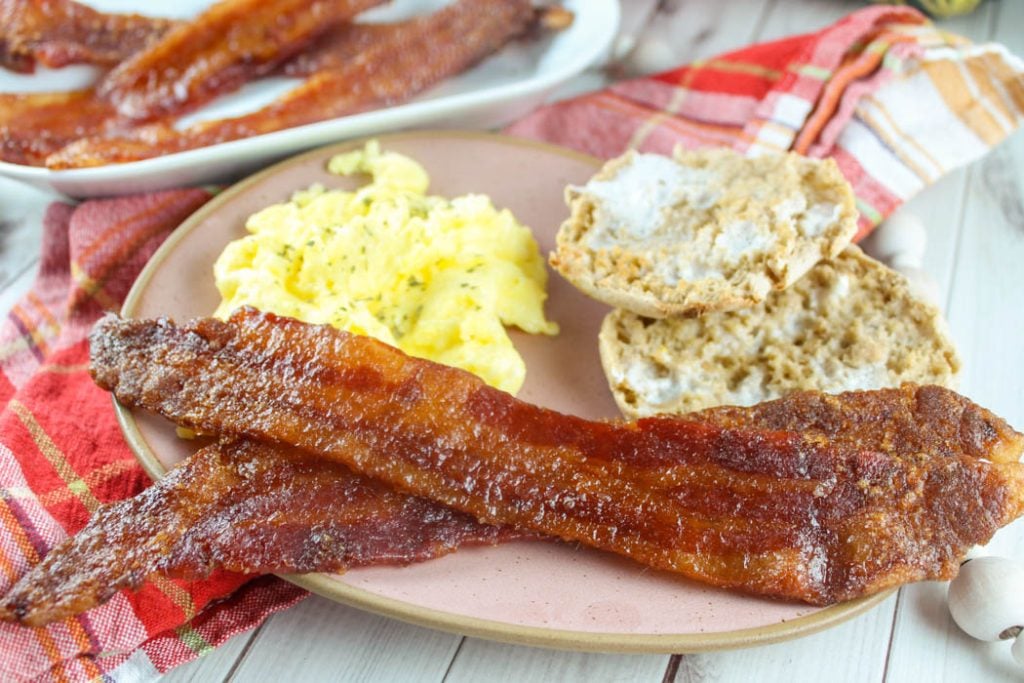 What to serve with Scrambled Eggs
More Air Fryer Egg Recipes
More Breakfast Recipes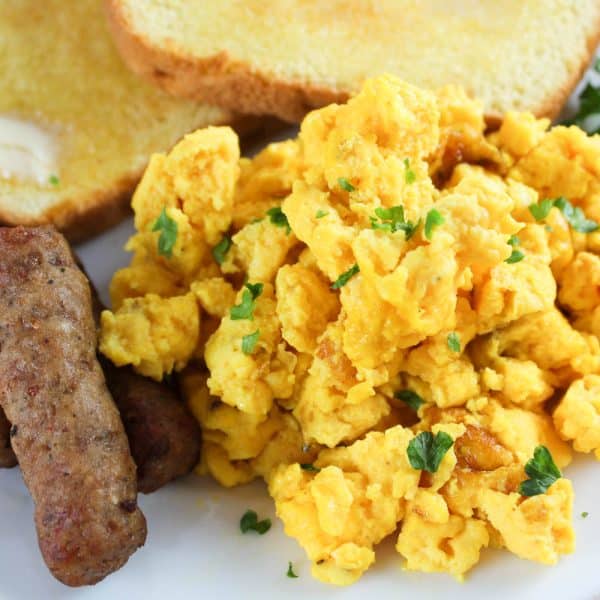 Air Fryer Scrambled Eggs
Air Fryer Scrambled Eggs can be just as light and fluffy as ones made on the stove top! You'll love how easy these are to make – even the kids can do it!
Instructions
Spoon butter in small baking dish

I use these glass containers that are about 4×6. If you're only making eggs for 1 – you could use a ramekin. I like to have it so the eggs are about 1.5" deep

Place pan in air fryer. Air fry at 350º for 2 min to melt the butter

In a medium bowl, whisk together eggs, milk, seasoning

3 eggs,

1/4 cup milk,

1/4 tsp Tropical Sazon

Open air fryer and swirl melted butter around dish

Pour egg mixture into dish and air fry eggs at 320º for 4 minutes

Open air fryer basket and gently stir eggs – pulling the cooked outer edges in so the remaining liquid moves to the outside. Air fry at 320º 2 min more.

Open air fryer and loosen & stir eggs with a spatula or a wooden spoon.

If there's any liquid still in eggs – stir while in air fryer. Baking dish and eggs are hot and will continue to cook the last bit of liquid. Once you stir the eggs around – they'll be finished cooking.

Serve with toast & sausage
Notes
**We are not dietitians and recommend you seek a nutritionist for exact nutritional information. The information in the nutrition box are calculated through a program and there is room for error. If you need an accurate count, I recommend running the ingredients through your favorite nutrition calculator.**
Nutrition
Serving:
1.5
eggs
Calories:
161
kcal
Carbohydrates:
2
g
Protein:
9.4
g
Fat:
12.9
g
Saturated Fat:
6.1
g
Cholesterol:
263
mg
Sodium:
157
mg
Potassium:
108
mg
Sugar:
1.9
g
Calcium:
73
mg
Iron:
1
mg