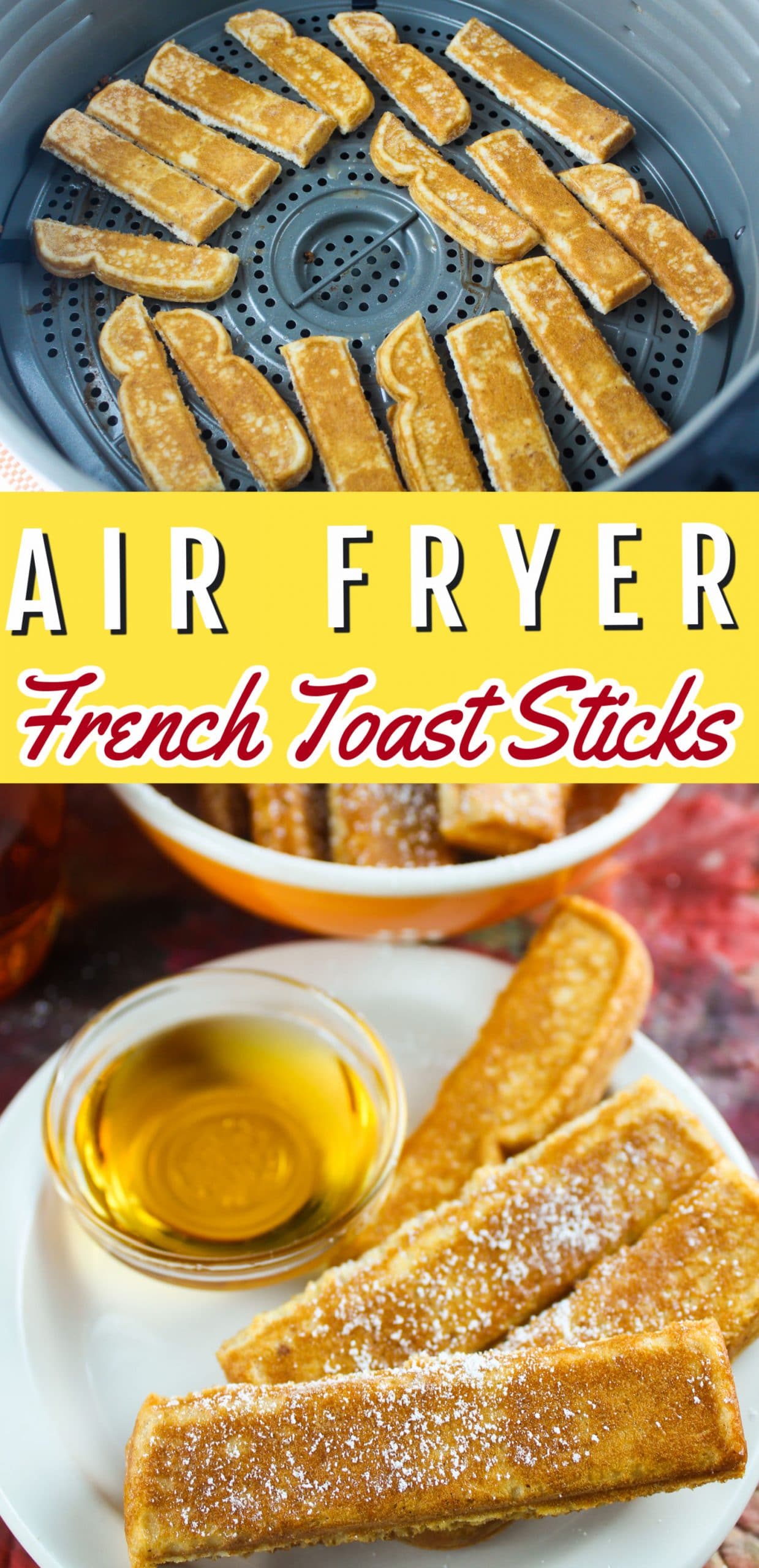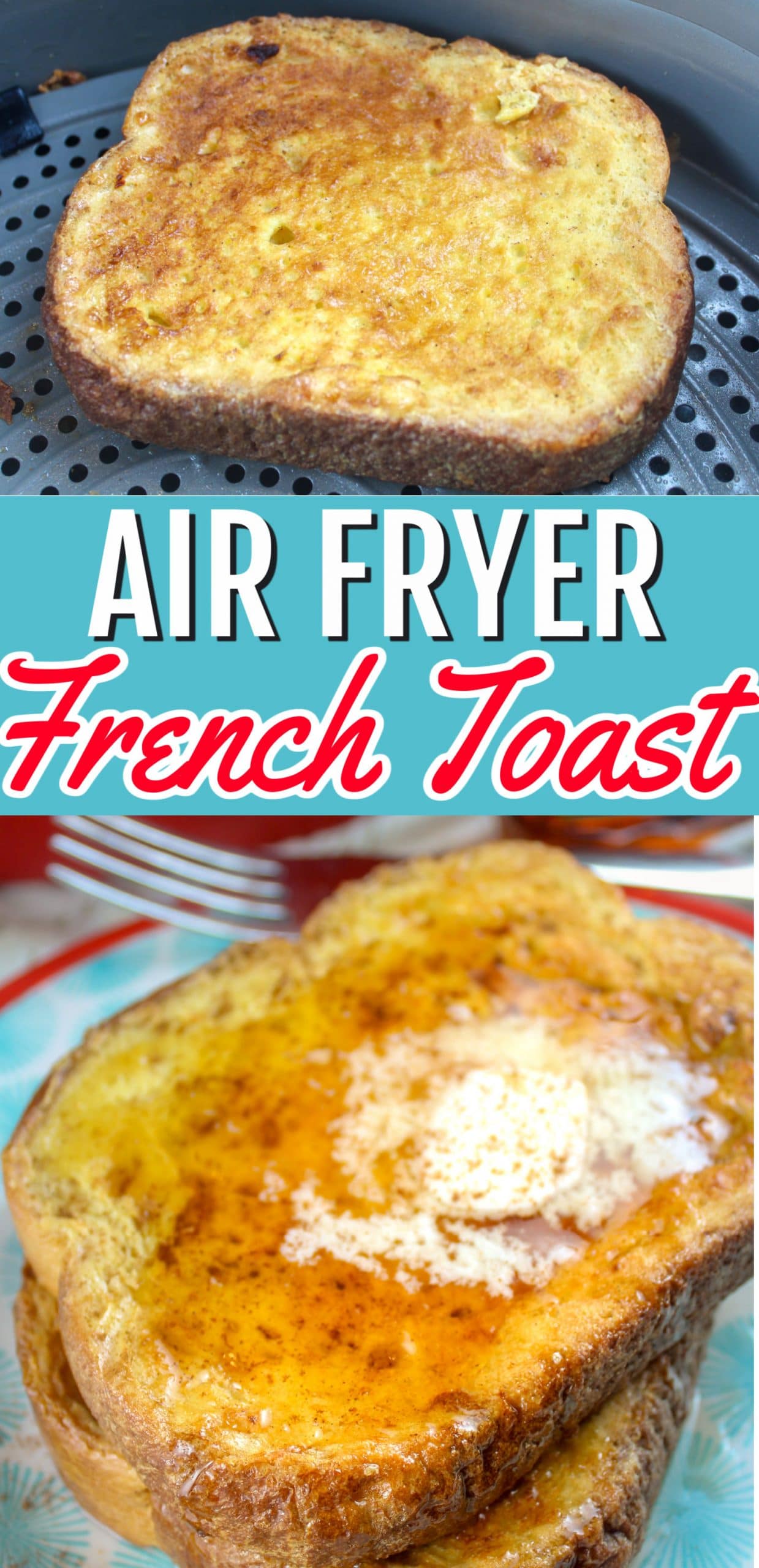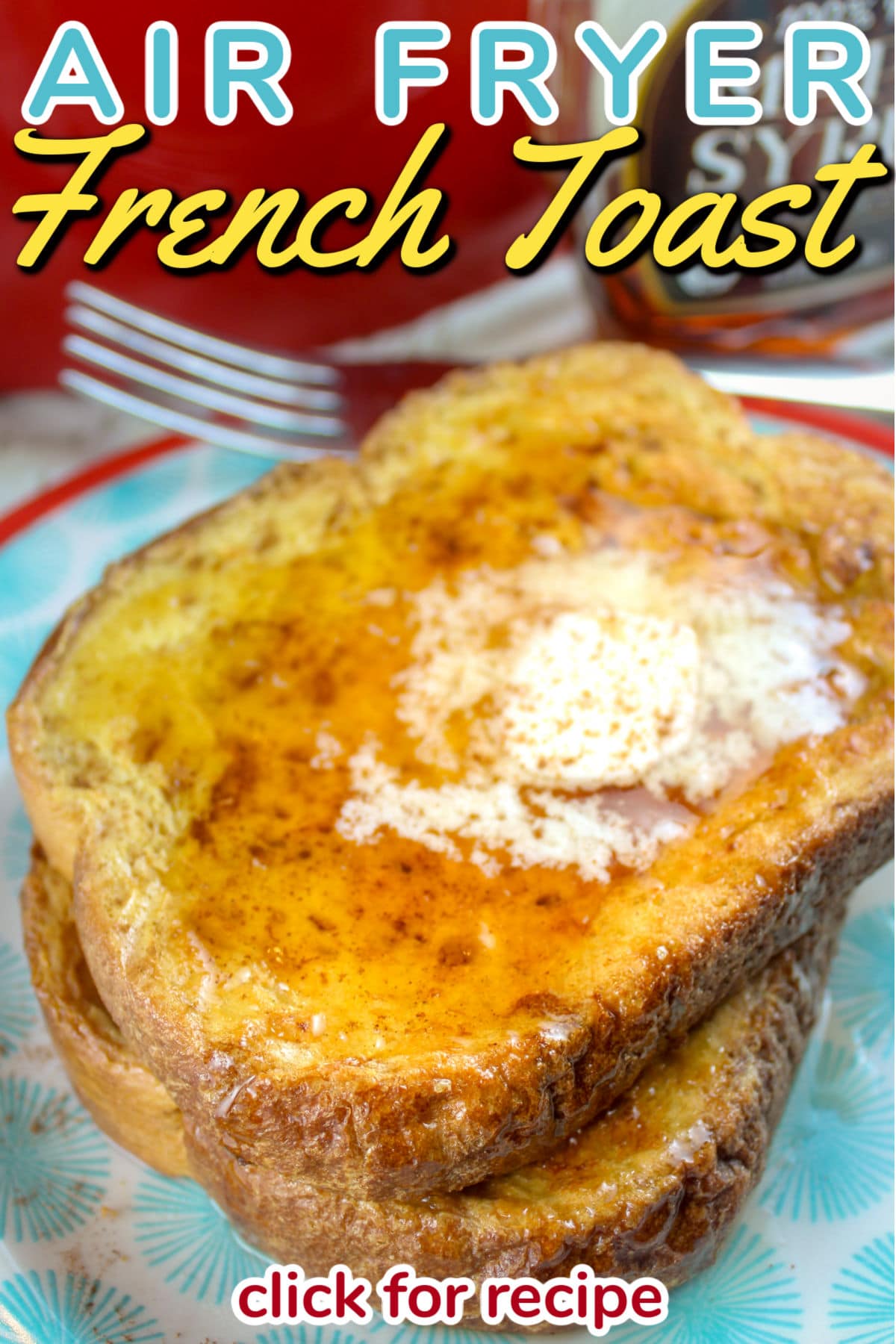 Air Fryer French Toast is my new favorite easy recipe for breakfast! It's super easy and the best part is – you can make your sausage or bacon at the same time!
Jump to Recipe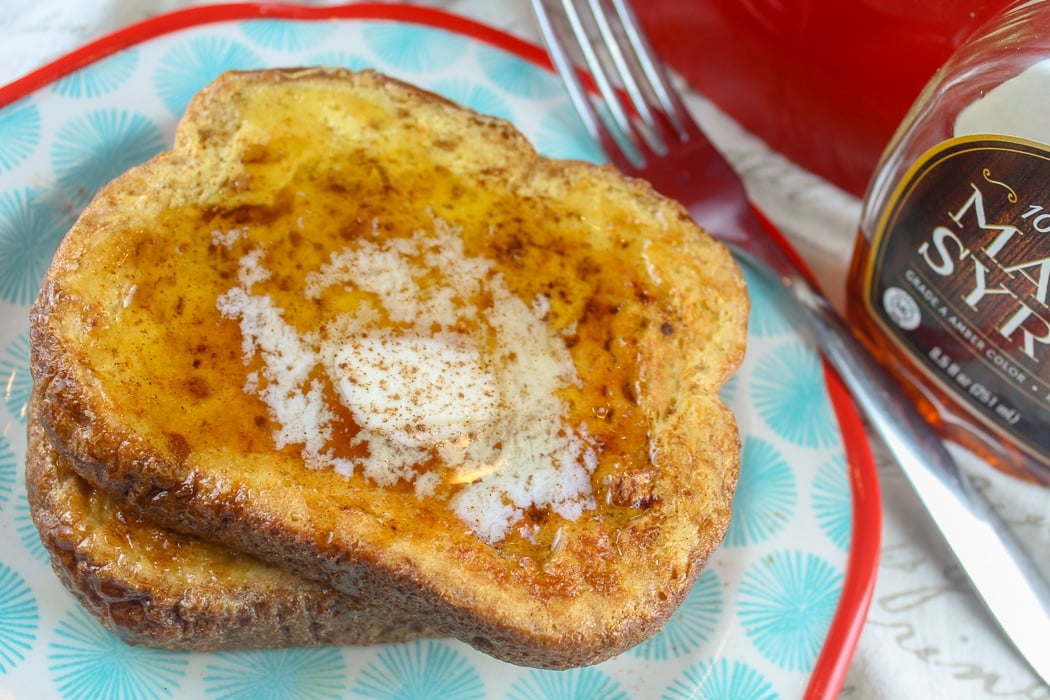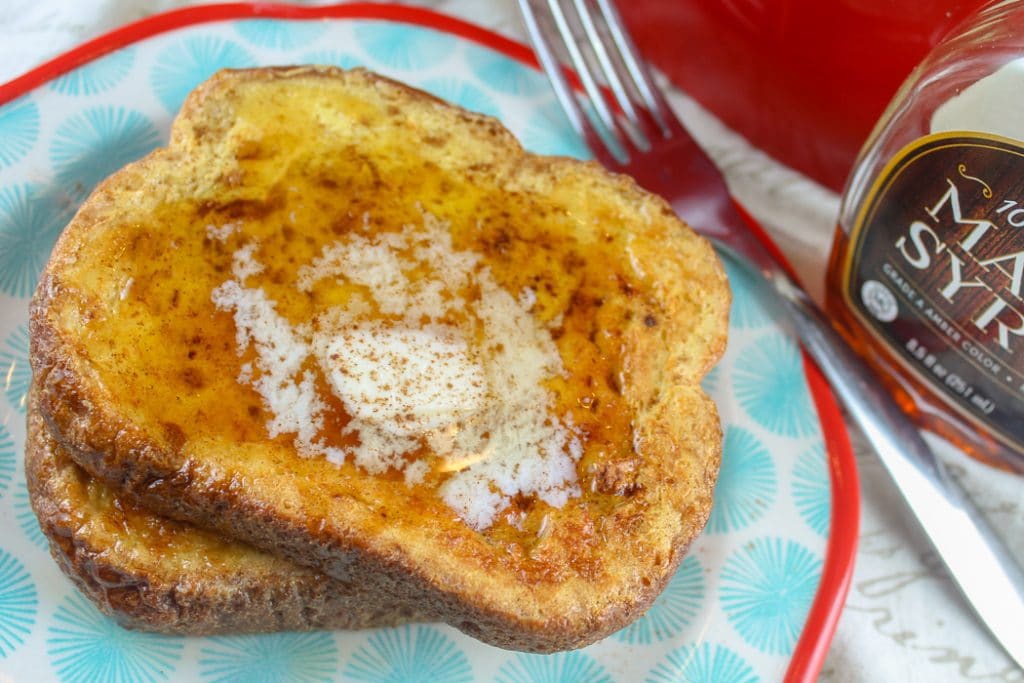 I've always loved French Toast – really it's a syrup delivery tool – right? Ever since I hit 40 – I only use real maple syrup. The difference is amazing and it's perfect with this air fryer French toast recipe – might as well splurge!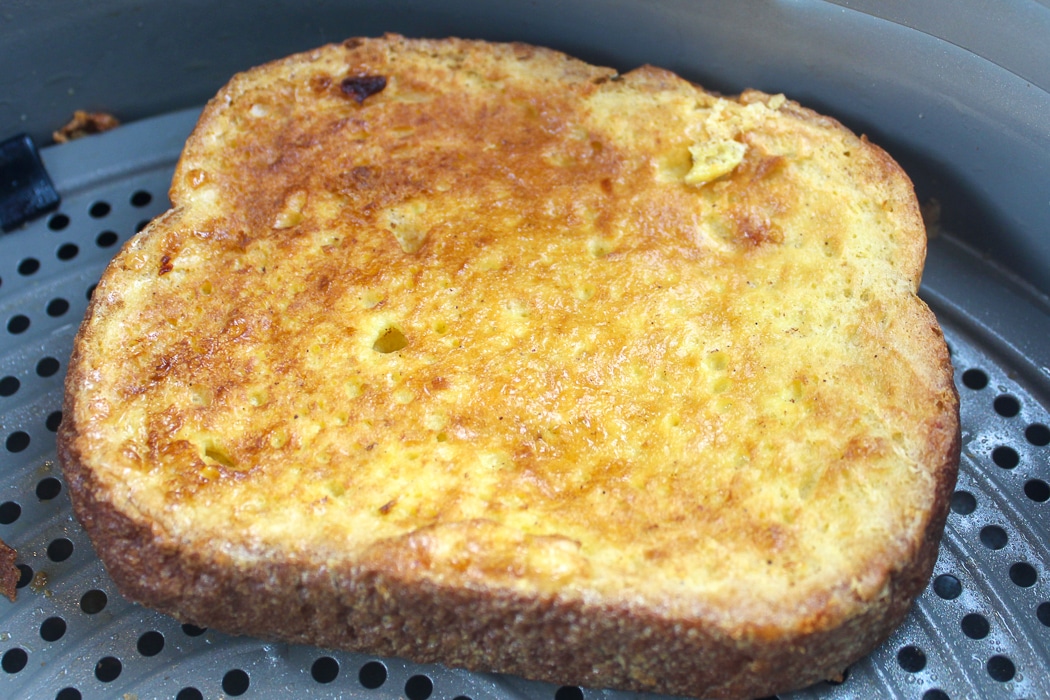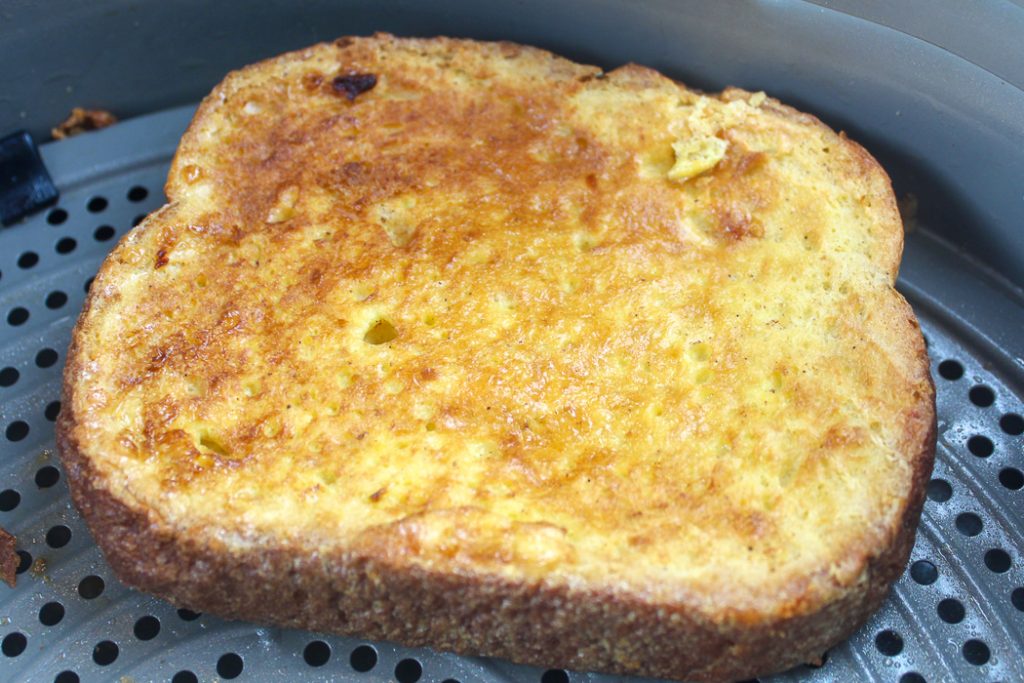 Can you make french toast in an air fryer?
Yes! Most definitely! Whether you have a basket style or air fryer oven – it will make you amazing french toast! In the air fryer, hot air circulates around whatever you're cooking and cooks it quick and perfectly with no oil! Just be sure to leave enough space around each item so the air moves around the food.
I have a tendency to burn french toast when I make it on the stove – so I was excited to try the air fryer. I was surprised that it was golden brown and had that perfect crispiness! The plus here is that you're not using any oil! That means you can have more butter on your crispy French toast!
What's in French Toast batter?
The best French toast batter has simple ingredients! All you need are eggs, heavy cream (or milk), salt, vanilla extract and a bit of cinnamon. How many eggs? I use 1 egg for 1-2 pieces of bread. Beat that with a whisk – I like these silicone whisks. Once your custard mixture is ready, you're ready to air fry!
For the milk – you can use whatever you like – I used heavy cream but anything from 2% milk to whole milk to heavy cream will work just fine. If you're a dairy-free milk person – you can use oat milk or almond milk person too!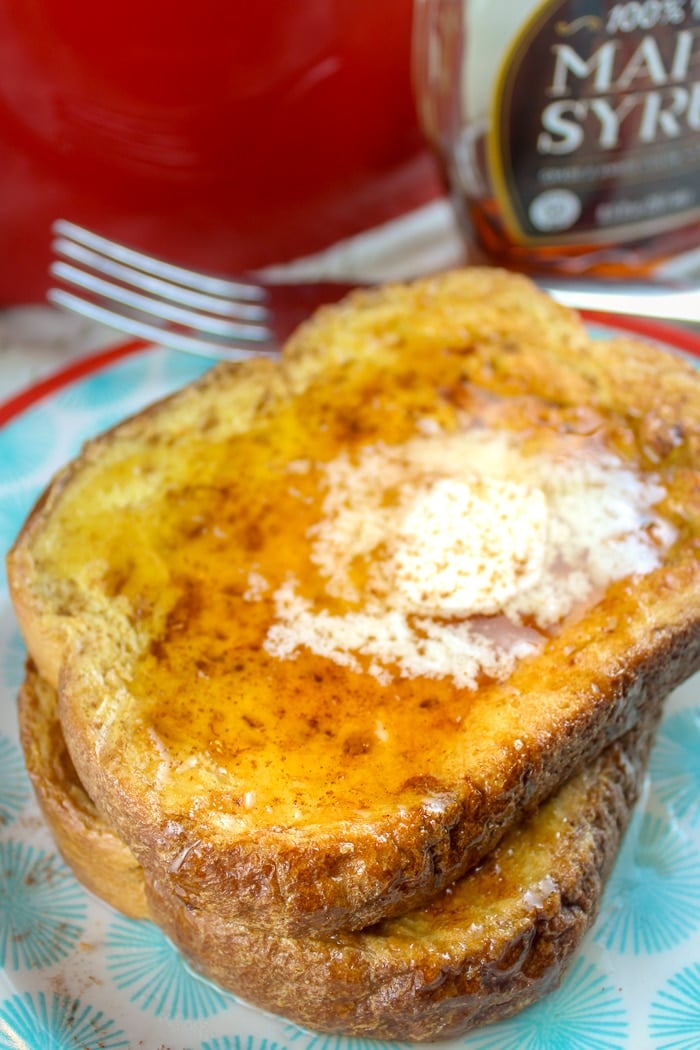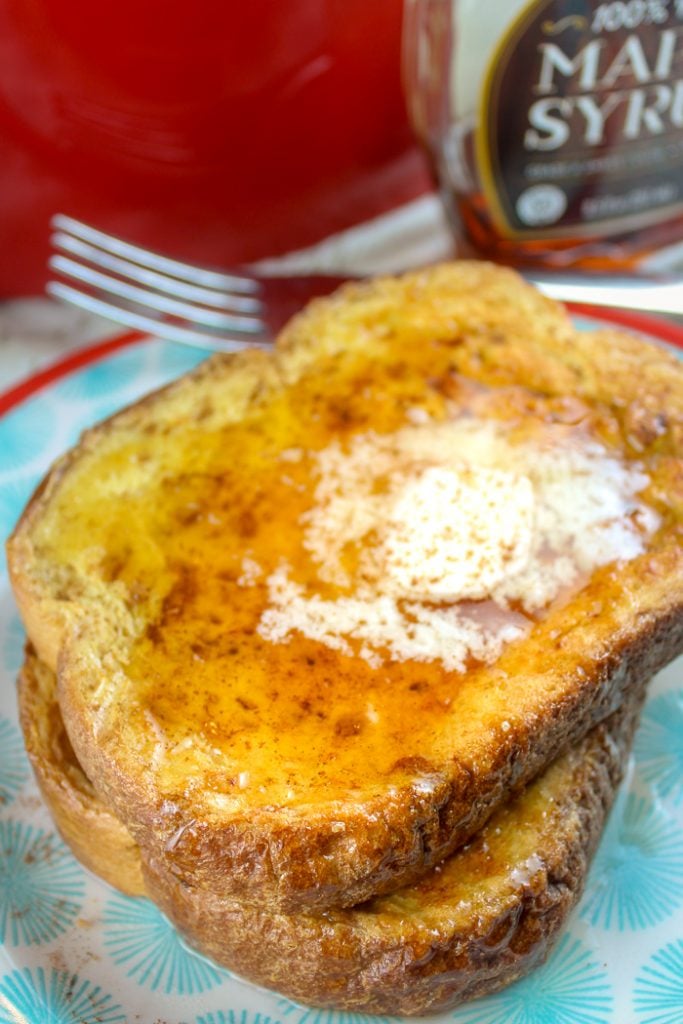 What type of bread is best for French toast?
Most folks think that the best bread for classic French toast is Brioche bread – which is really like a richer style of sandwich bread made with butter and egg. When I'm making French toast at home – I just try go for any kind of bread with thicker bread slices – my favorite brand is Sara Lee Artesano – I use it for grilled cheese too! You can also use french bread or Texas toast. If your bread isn't thick enough – you'll have soggy french toast!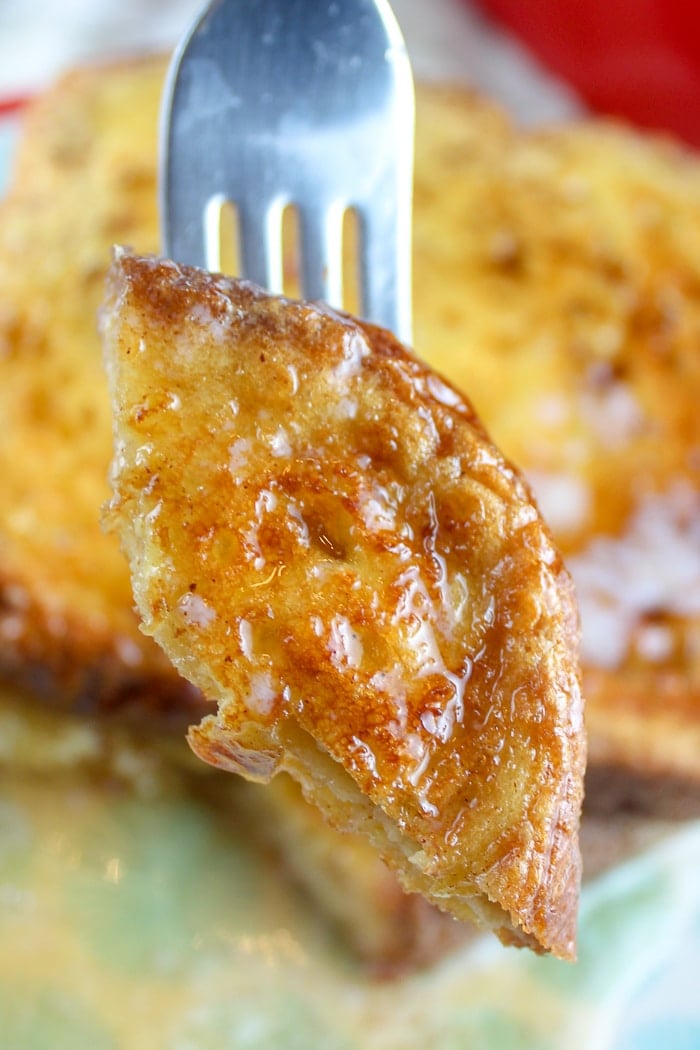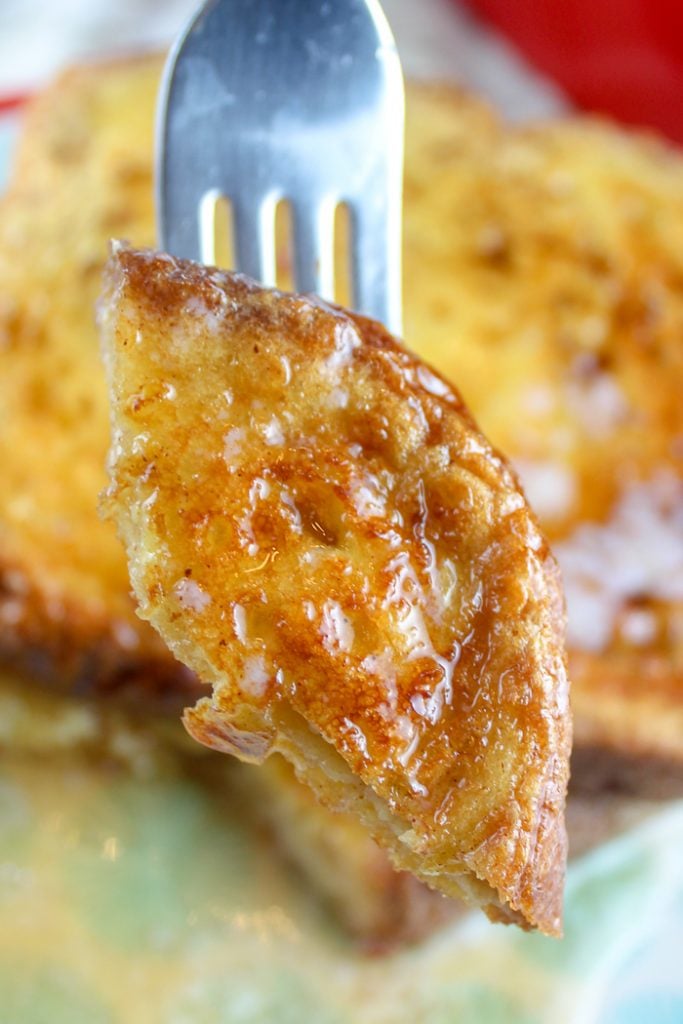 How do you make air fryer French toast?
Air Fryer French Toast is a delicious recipe for a 10 minute breakfast – with just a couple of easy steps:
In a shallow bowl, whisk eggs, cream, salt, vanilla and cinnamon
Grab your thick slices of bread
Dip each piece of bread into the egg mixture and coat both sides
Give the tray a quick spritz with non-stick cooking spray
Lay each slice in a single layer in the air fryer basket with at least an inch of space all around.
Air fry at 400 degrees for four minutes, then flip slice of bread and air fry for four minutes more.
Serve with one of these great options:

melted butter & syrup
powdered sugar
cinnamon sugar
blueberry compote
If you're going to make bacon with this great recipe for french toast – you should start the bacon five minutes ahead of time. If you're making sausage links (or patties) – you could pop that in when you flip your french toast since they're already pre-cooked.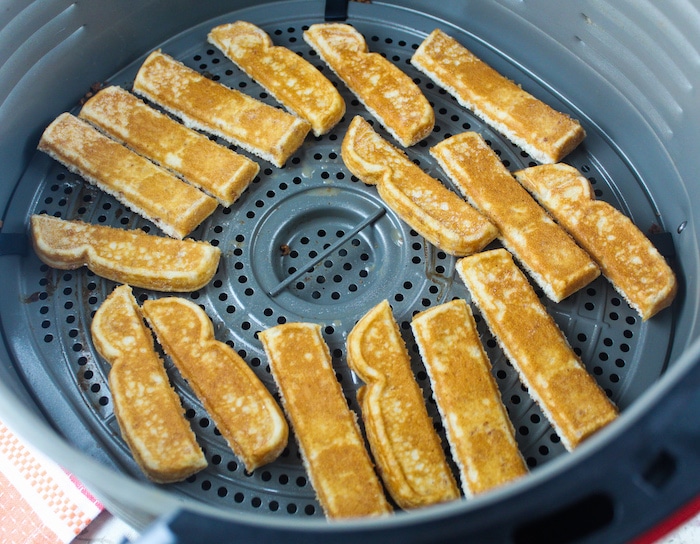 Can you freeze leftover french toast?
Yes! The best way is to store in an airtight container and freeze for up to three months. You can reheat in the air fryer for 3-5 minutes at 300 degrees.
Can you make air fryer french toast sticks from the freezer section of the grocery store?
Yes! These are super simple as well – just pop them in the air fryer at 350 degrees for 5 minutes. These are pre-cooked so no need to flip – just reheating them. Serve with syrup.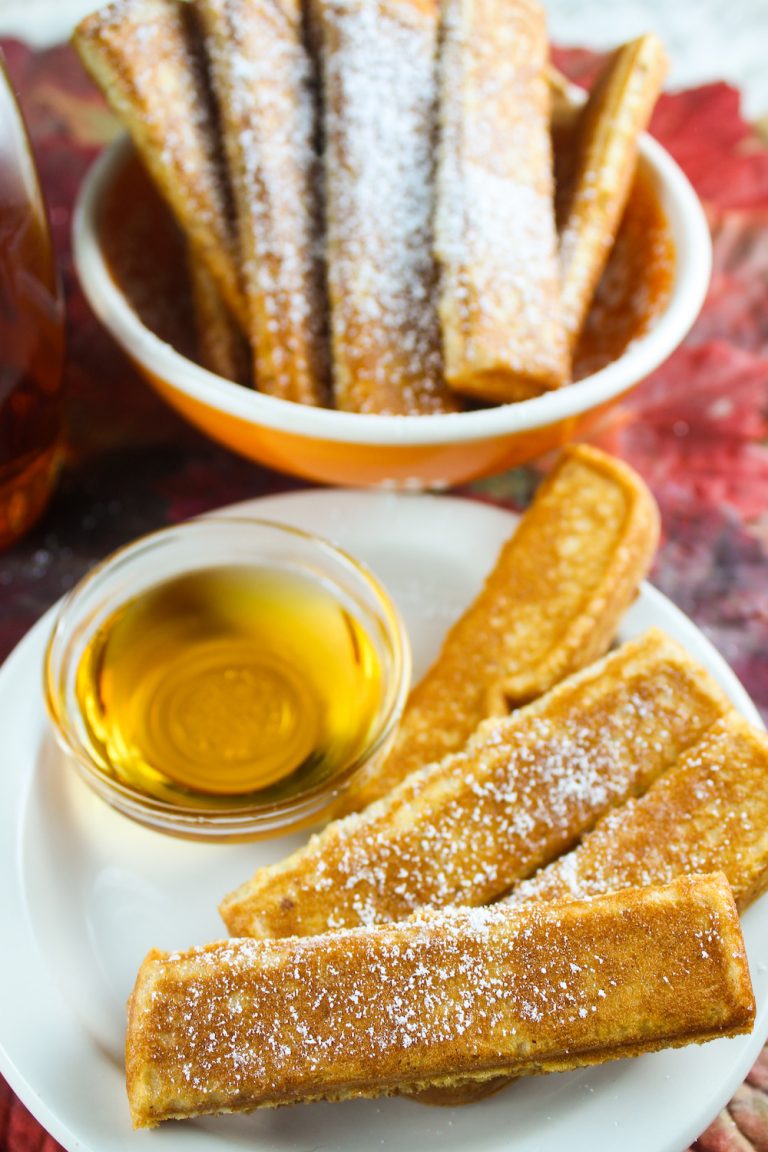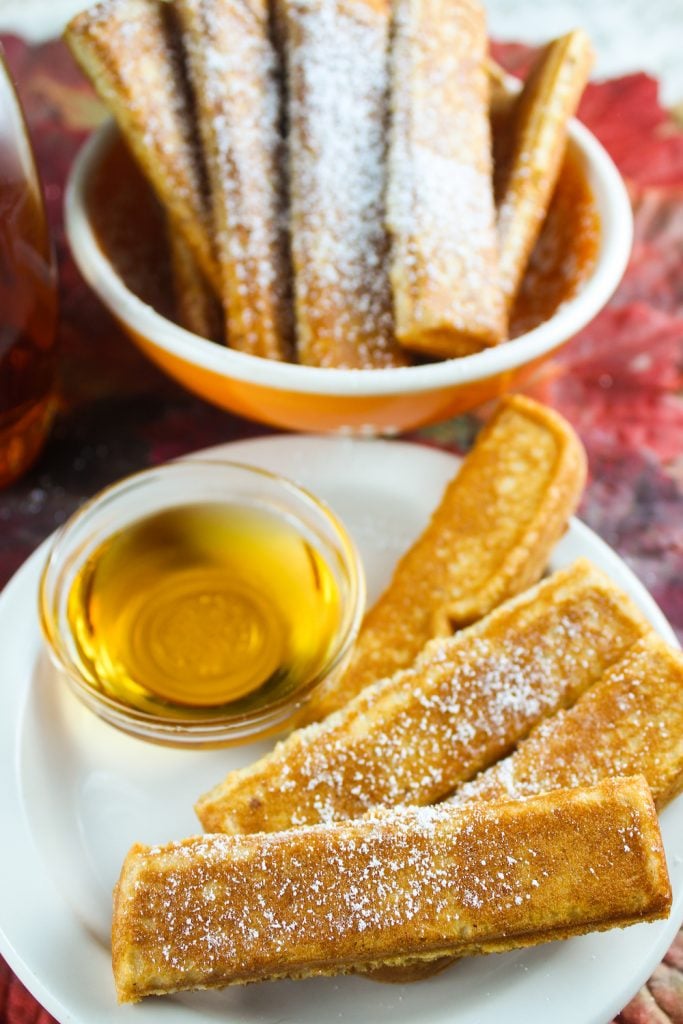 What to serve with French Toast
This easy french toast recipe is great for a quick breakfast or even one of the more indulgent breakfasts! Here are sides for all:
Best Air Fryer Recipes for Breakfast
Breakfast Casserole Ideas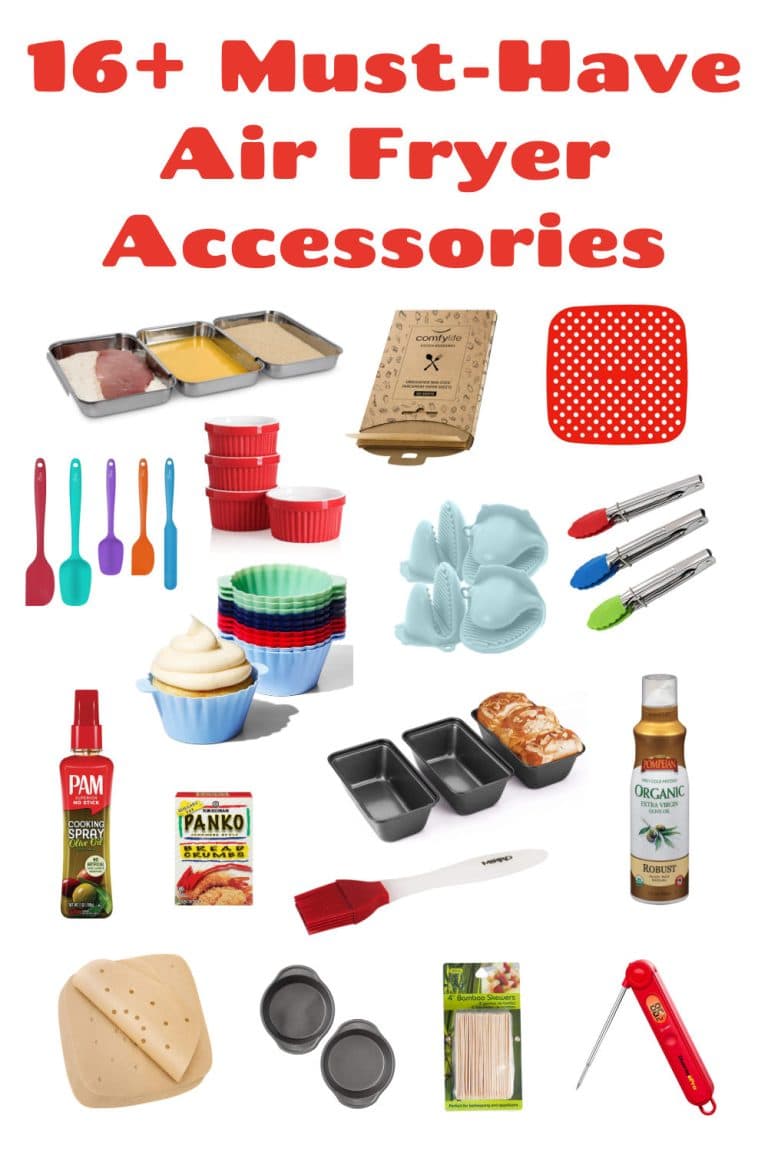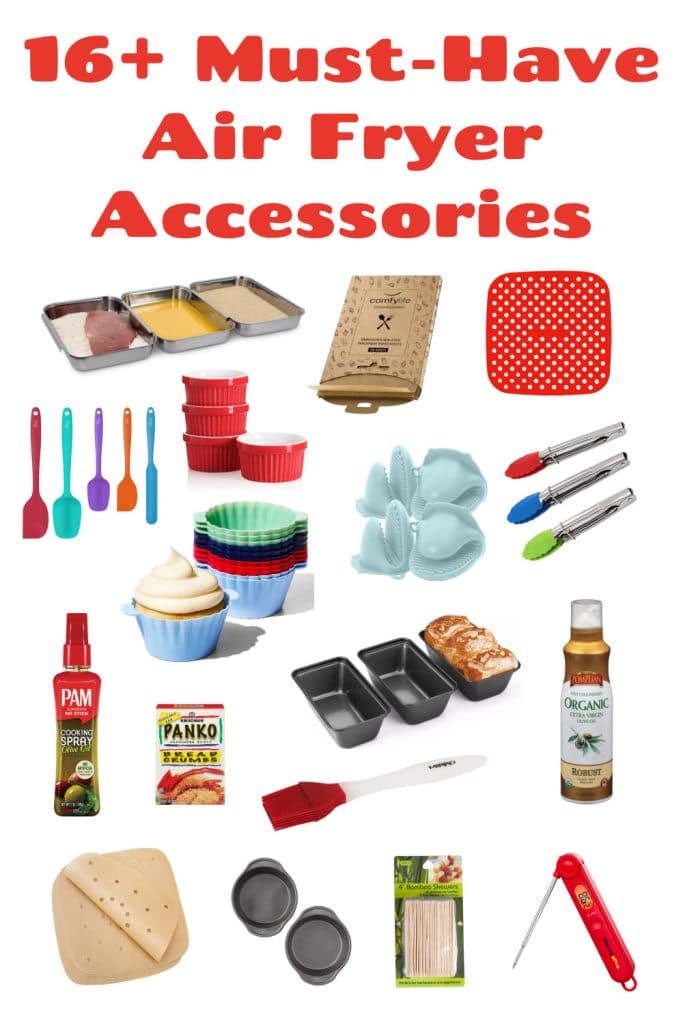 Here's my ultimate list of best air fryer accessories – whether you have a basket- or oven-style! I've also included a price guide as well as my favorite recipes for those accessories.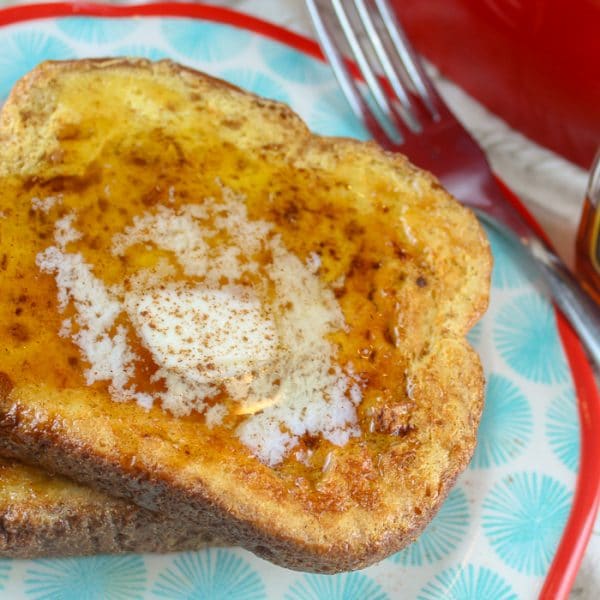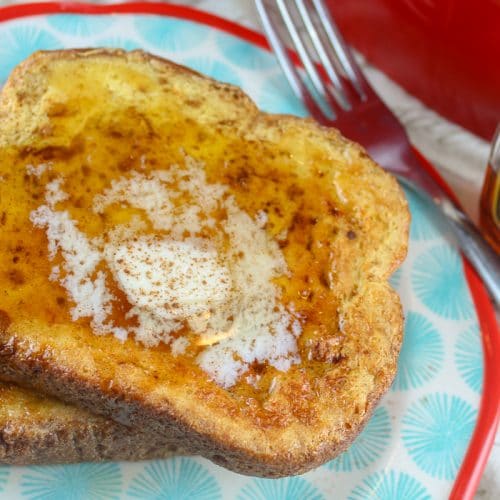 Air Fryer French Toast
Air Fryer French Toast is my new favorite breakfast! It's super easy and the best part is – you can make your sausage or bacon at the same time!
Ingredients
3

eggs

1/4

cup

heavy cream

(or half and half or milk)

1/4

tsp

coarse sea salt

1/2

tsp

cinnamon

1/2

tsp

vanilla

4

slices

thick white bread

(Sara Lee Artesano is my favorite!)
Instructions
Whisk together eggs, cream, cinnamon, salt and vanilla

3 eggs,

1/4 cup heavy cream,

1/4 tsp coarse sea salt,

1/2 tsp cinnamon,

1/2 tsp vanilla

Dip bread slices in egg mixture making sure both sides are coated. If you're getting low – you can add a 4th egg and a dash more cream.

4 slices thick white bread

Give the tray a quick spritz with non-stick cooking spray

Lay slices in air fryer at least one inch apart

Air fry at 400 for 4 minutes

Open air fryer and flip slices. Air fry 4 minutes more.
Notes
**We are not dietitians and recommend you seek a nutritionist for exact nutritional information. The information in the nutrition box are calculated through a program and there is room for error. If you need an accurate count, I recommend running the ingredients through your favorite nutrition calculator.**
Nutrition
Calories:
351
kcal
Carbohydrates:
41.5
g
Protein:
14.6
g
Fat:
14.1
g
Saturated Fat:
5.5
g
Cholesterol:
266
mg
Sodium:
595
mg
Potassium:
104
mg
Fiber:
2.3
g
Sugar:
4.7
g
Calcium:
131
mg
Iron:
3
mg