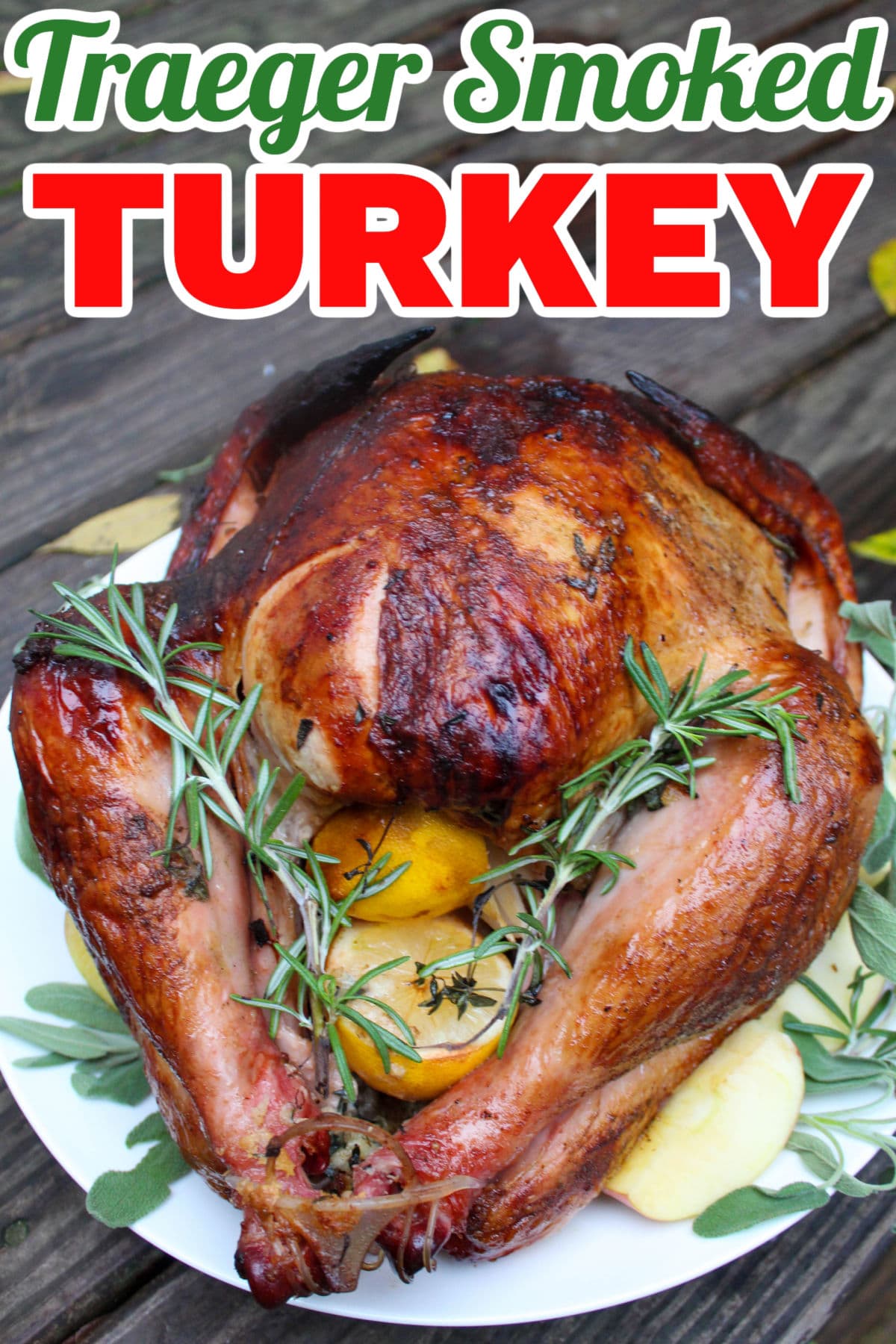 This Traeger Smoked Turkey is juicy, tender, slightly smoky and so easy to make! Your dinner will definitely make the holiday newsletter!
I'll admit – I'd never made a WHOLE turkey – I've done lots of turkey breasts – in the air fryer, oven and Traeger – but not a whole bird. And let me tell you – it's a different story!!! It's more work on the prep end and a longer cook time – but definitely worth it.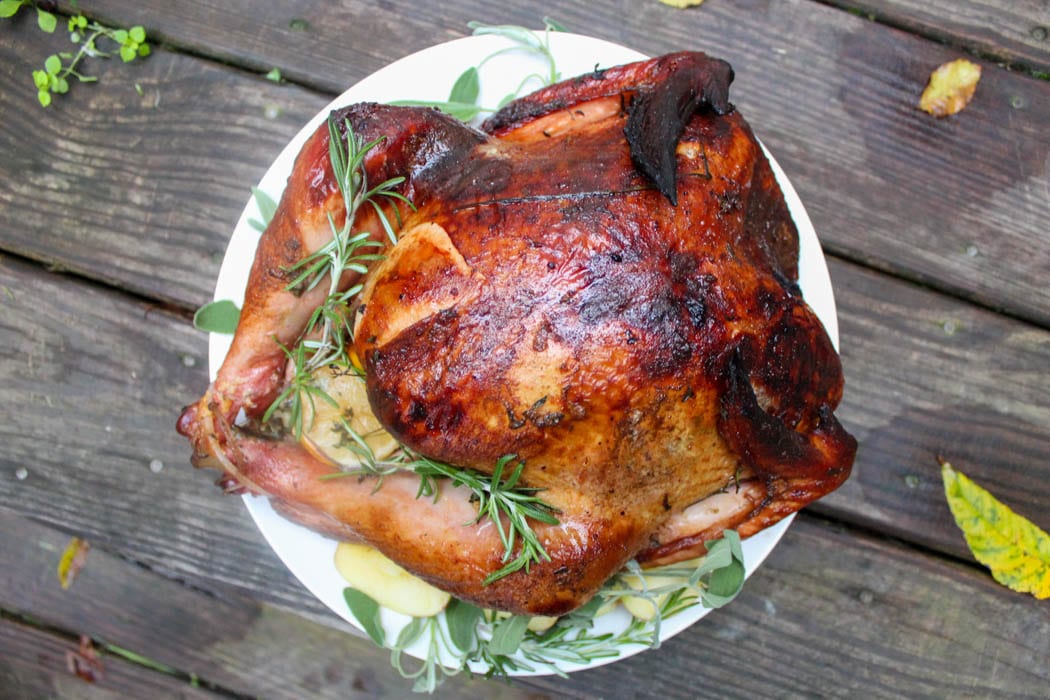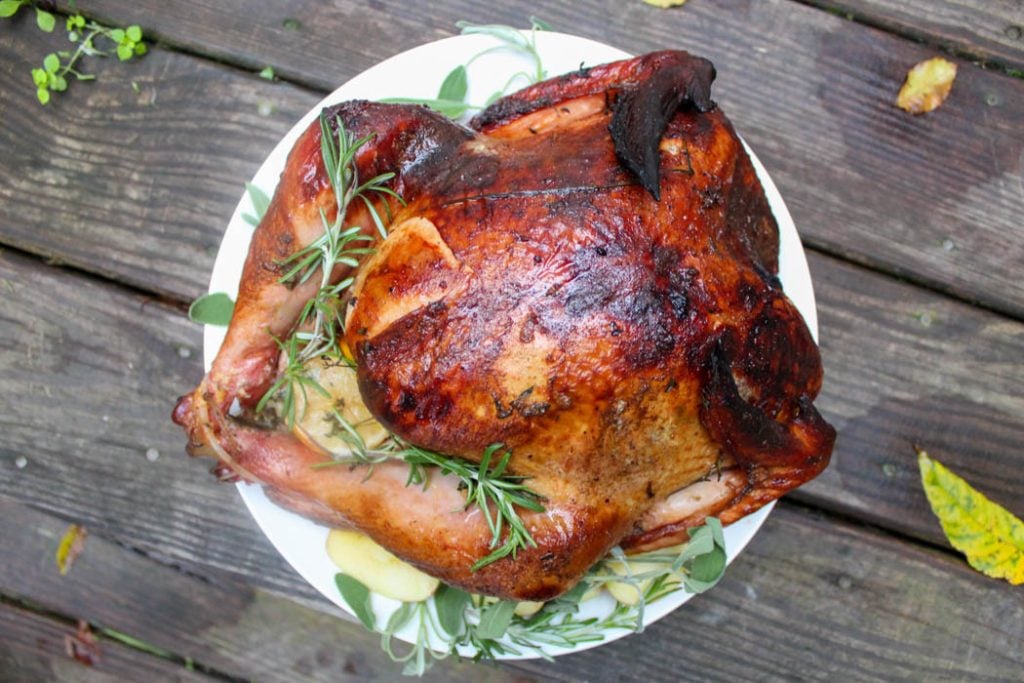 The low and slow method of cooking with the Traeger makes the turkey breast meat super juicy and it adds an amazing pink smokey look and flavor to the dark meat. All in all – definitely a success. And I'm all about simple – so I really went for the easiest route possible.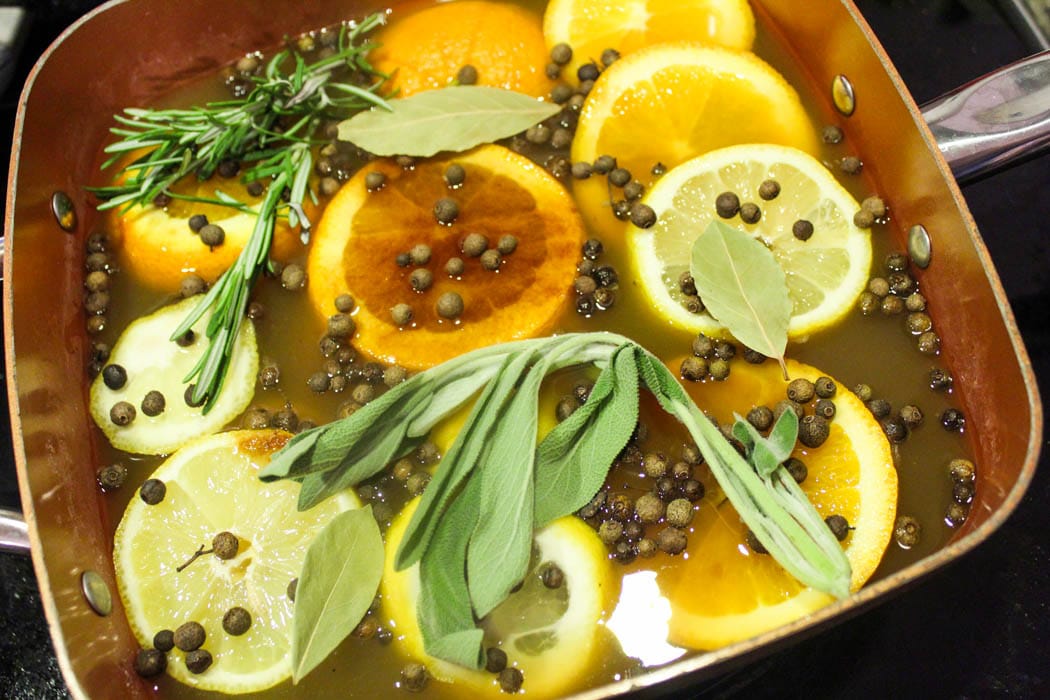 How do you brine a turkey?
Brining your turkey is simply soaking it in salted water for many hours. Why do it? This helps the turkey absorb moisture while also soaking in any seasonings that are in your brining liquid, and the salt helps break down muscle proteins, which prevents the meat from losing moisture as it cooks.
Now – the how to brine a turkey!
Heat cider, brown sugar, salt, herbs and citrus in stock pot, bring to a boil and let cool
Add cold water
Place turkey in bag and pour in brine
Refrigerate overnight (see next paragraph for funny)
Now – the last couple steps posed some difficulty for me. After searching my entire house – I found I don't have a container large enough to hold a turkey. So I bought these Ziploc XL bags and that worked perfectly! Then – I realized I didn't have anything to put that bag filled with turkey and water in! So – I had to empty the cheese drawer in my fridge and set the turkey-filled bag in the cheese drawer – and remove shelves from the fridge so I could fit it in the fridge. But – the turkey was finally in the fridge (at 1am) and brining away.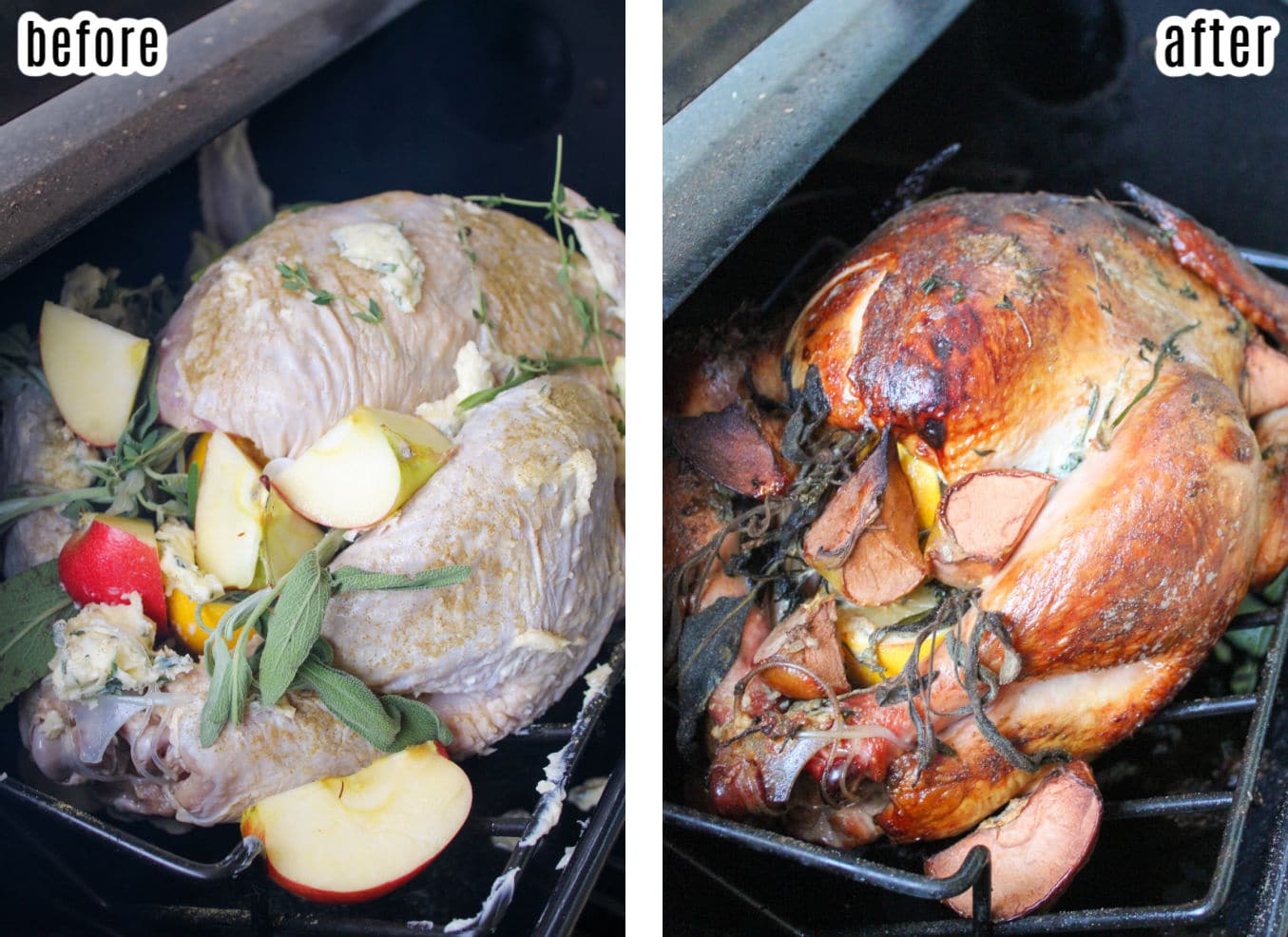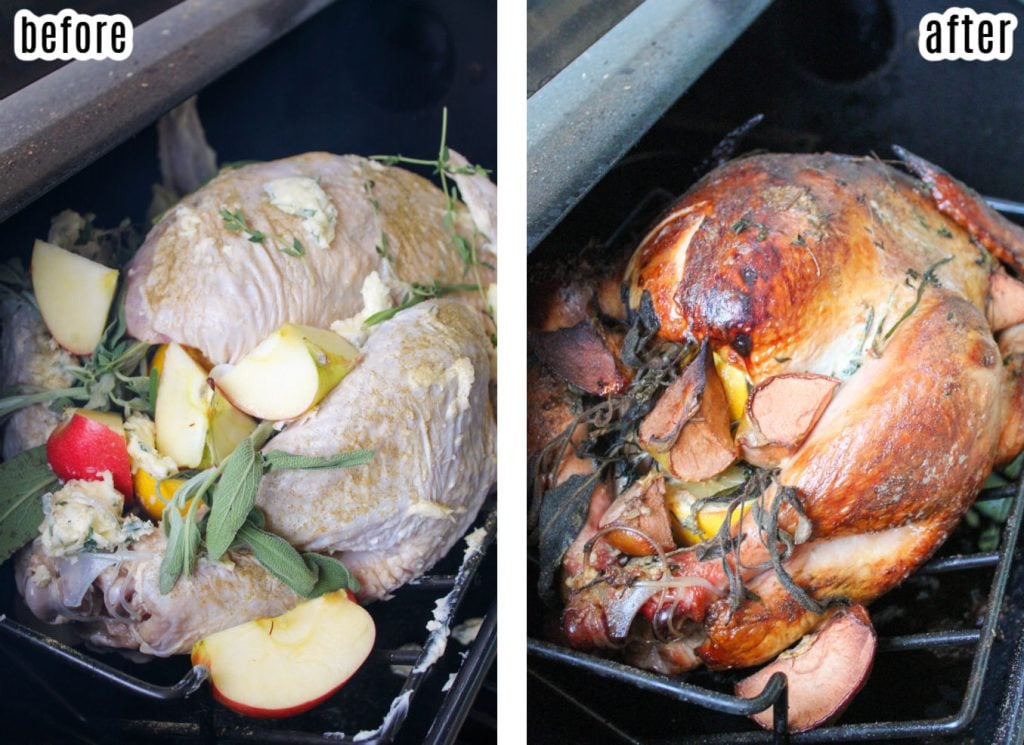 How do you smoke a turkey on the Traeger?
After you've brined your turkey overnight, you'll be ready to smoke the bird!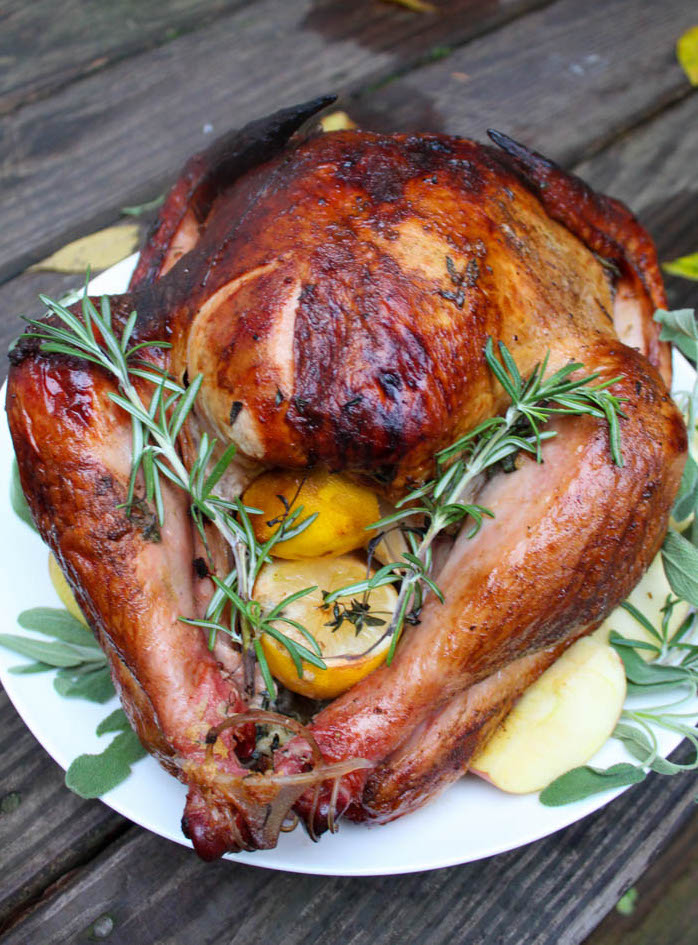 Tips, Tricks and FAQs
Should I put the bird directly on the grill or in a roasting pan?
I've seen this question all over Facebook – I put it in a pan for a couple of reasons: 1. To catch the drippings so I could use it for gravy 2. To not make a mess on my grill. The pan worked great – I did put it on a roasting rack so it wasn't sitting in the juices. So I would say – 100% in a pan on a rack!
Does smoked turkey have a pink smoke ring?
Kind of…the dark meat had a much more pinkish hue (Seinfeld throwback for us old folks) than the breast meat.
Do you have to brine turkey before smoking?
No – you don't have to – if you use a good rub – with some moisture (butter) – you could go without – but I recommend if you can to do the brine because it helps tenderize the meat.
What are they key ingredients to a brining liquid?
Salt, sugar, acid and herbs. You can create your own combo. For example, I used Kosher salt – be sure to check your recipe as the amounts for kosher vs. table are very different. Sugar – I used brown sugar and apple cider. Acid – I used apple cider (there's some acid in there too) along with lemon and orange slices. Herbs/Seasonings – I used allspice berries (I bought a big bag super cheap for this Simmer Pot Gift Bag) and fresh sage, rosemary and thyme. Normally I go with dry spices but for this – I went the extra mile to use fresh.
Can I stuff the turkey (with stuffing) before I smoke it?
I would not put your stuffing in the turkey if you're smoking it. You're cooking at a lower temp and that doesn't work great for stuffing. Keep them separate for this method.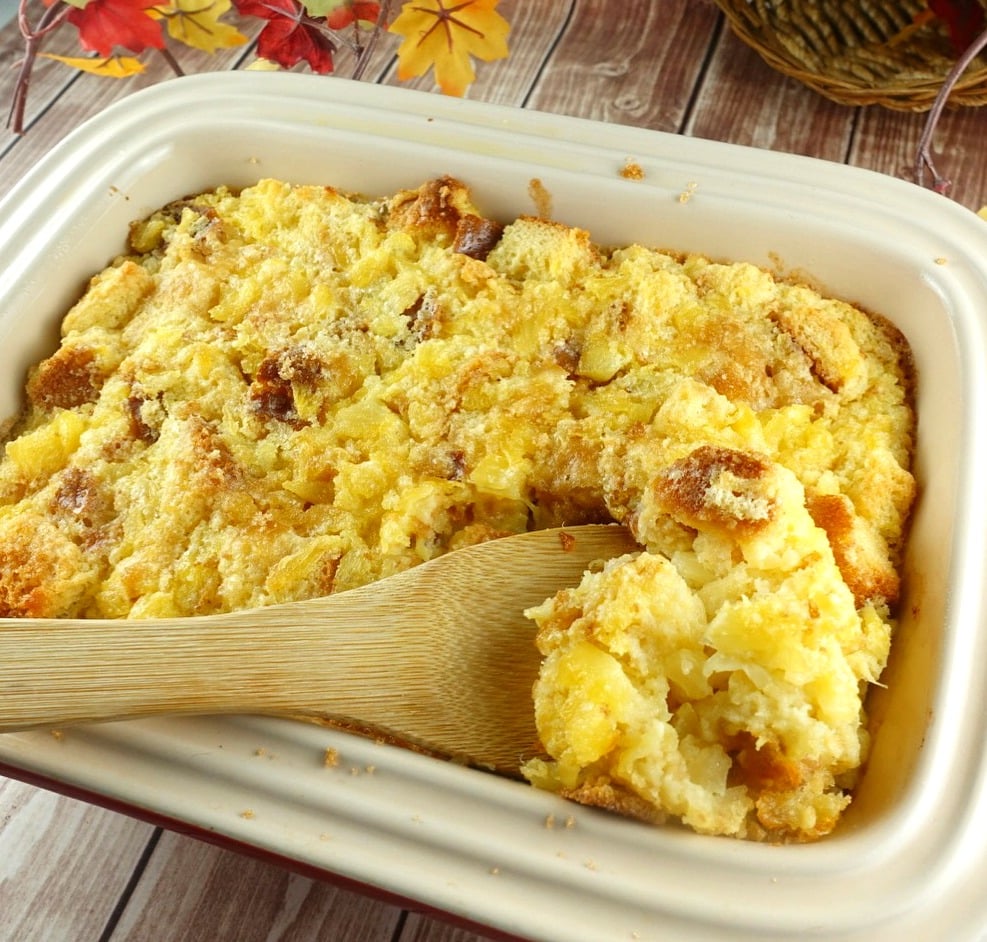 What to serve with your holiday smoked turkey?
Other delicious ways to make your holiday turkey…
Turkey Leftover Recipes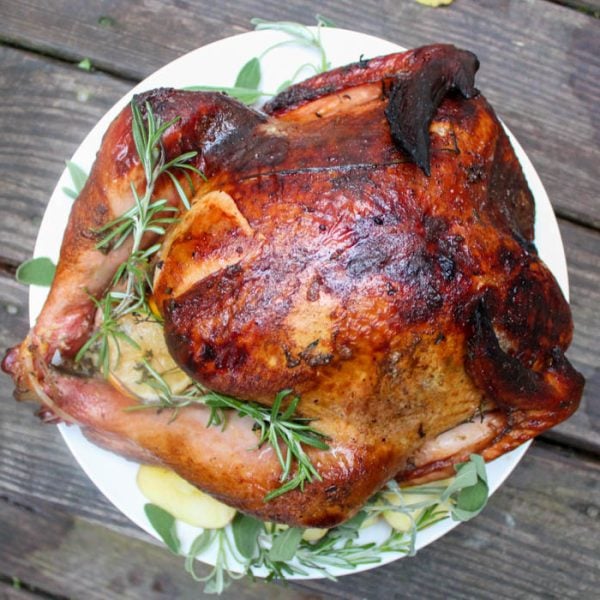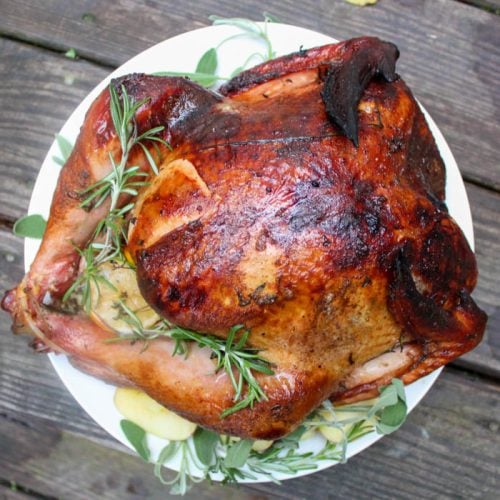 Traeger Smoked Turkey
This Traeger Smoked Turkey is juicy, tender, slightly smoky and so easy to make! Your dinner will definitely make the holiday newsletter!
Ingredients
Brine
2

quarts

apple cider

1/2

cup

brown sugar

1 1/4

cups

Morton Kosher Salt

3

tbsp

Whole allspice berries

1

sprig

Fresh Rosemary

2

sprigs

Fresh Sage

5

sprigs

Fresh Thyme

1

lemon

sliced

1

orange

sliced

4

qts

cold water
Turkey
13-15

lb

turkey

1/2

lb

butter

softened

6

cloves

garlic

minced

5-10

sprigs

fresh Thyme

1

sprig

fresh Rosemary

1

sprig

fresh Sage

1

tbsp

black pepper

1

tbsp

coarse sea salt

1

onion

1

lemon

1

apple

extra fresh herbs
Instructions
Brine the Turkey
Heat cider, brown sugar, salt, bay leaves, allspice berries, fresh rosemary, sage, thyme, lemon and orange in stock pot, bring to a boil and let cool

2 quarts apple cider

,

1/2 cup brown sugar

,

1 1/4 cups Morton Kosher Salt

,

3 bay leaves

,

3 tbsp Whole allspice berries

,

1 sprig Fresh Rosemary

,

2 sprigs Fresh Sage

,

5 sprigs Fresh Thyme

,

1 lemon

,

1 orange

Remove turkey from packaging and rinse. Be sure to remove neck and bag of innerds (check both ends of the bird) and discard

Place turkey into brining container (I used a Ziploc XL bag)

Pour in brine mixture and be sure turkey is covered

Refrigerate the turkey in bring between 12-24 hours (at least overnight)

Remove turkey from brine and set on counter in roasting rack
Smoke the Turkey
Mix together softened butter, garlic, fresh thyme, rosemary, sage, pepper and salt with a spatula

1/2 lb butter

,

6 cloves garlic

,

5-10 sprigs fresh Thyme

,

1 sprig fresh Rosemary

,

1 sprig fresh Sage

,

1 tbsp black pepper

,

1 tbsp coarse sea salt

Create a pocket between skin and meat on turkey breast and as much around the bird as you can

Rub softened butter mixture into the pocket – once inside the pocket – push further into the skin by pressing on the outside

Rub remaining butter mixture on outside of bird

Chop apple, onion and lemon into quarters and stuff inside bird with extra fresh herbs

1 onion

,

1 lemon

,

extra fresh herbs

,

1 apple

Place turkey in refrigerator for 1 hour to chill

Turn Traeger to smoke. Once smoke dissipates (about 5 min) – change temp to 225 and bring to temp.

Place turkey in roasting pan onto Traeger

Smoke turkey (be sure the hopper is full) until the internal temp is 110 degrees. This will take approximately 2 hours – but always check with your instant read thermometer or temp probe on Traeger

Increase the temp to 350 degrees on the Traeger.

Continue to cook until internal temp registers at 160 (or the red plastic thing pops!). Be sure to check temp in the thickest part of the breast. Check the temp every 30 minutes or so. This will take approximately 2 hours. But be sure to check yourself as things can vary depending on outside temp, size of bird, etc.

Remove turkey from the grill and let rest for at least 30 minutes before carving
Notes
Cooking Time for Turkey on a Traeger
This timetable is based on directions in this recipe. Changing the temp and opening the grill frequently can also alter the time. Always temp check your turkey and don't rely solely on a timer.
With that – here are approximate times for turkeys based on pounds:
8 to 10 pounds = 2-1/2 to 3-1/4 hours
10 to 12 pounds = 3 to 4 hours
12 to 14 pounds = 3-1/2 to 4-1/2 hours
14 to 16 pounds = 4-1/4 to 5-1/3 hours
16 to 18 pounds = 5 to 6 hours
18 to 20 pounds = 5-1/2 to 6-3/4 hours
Cooking in a smoker will take longer than the oven – but it's worth it!
Nutrition
Serving:
1
lb
Calories:
974
kcal
Protein:
133.1
g
Fat:
45.7
g
Saturated Fat:
22
g
Cholesterol:
404
mg
Sodium:
481
mg
Potassium:
1359
mg
Calcium:
20
mg
Iron:
45
mg