Christmas is just a couple of days away and if you're looking for a sure-fire, JUICY turkey breast recipe – I've got it for you! We were only cooking for 2 – so we bought a turkey breast at Kroger and just made that – so I was really concerned it was going to be dry!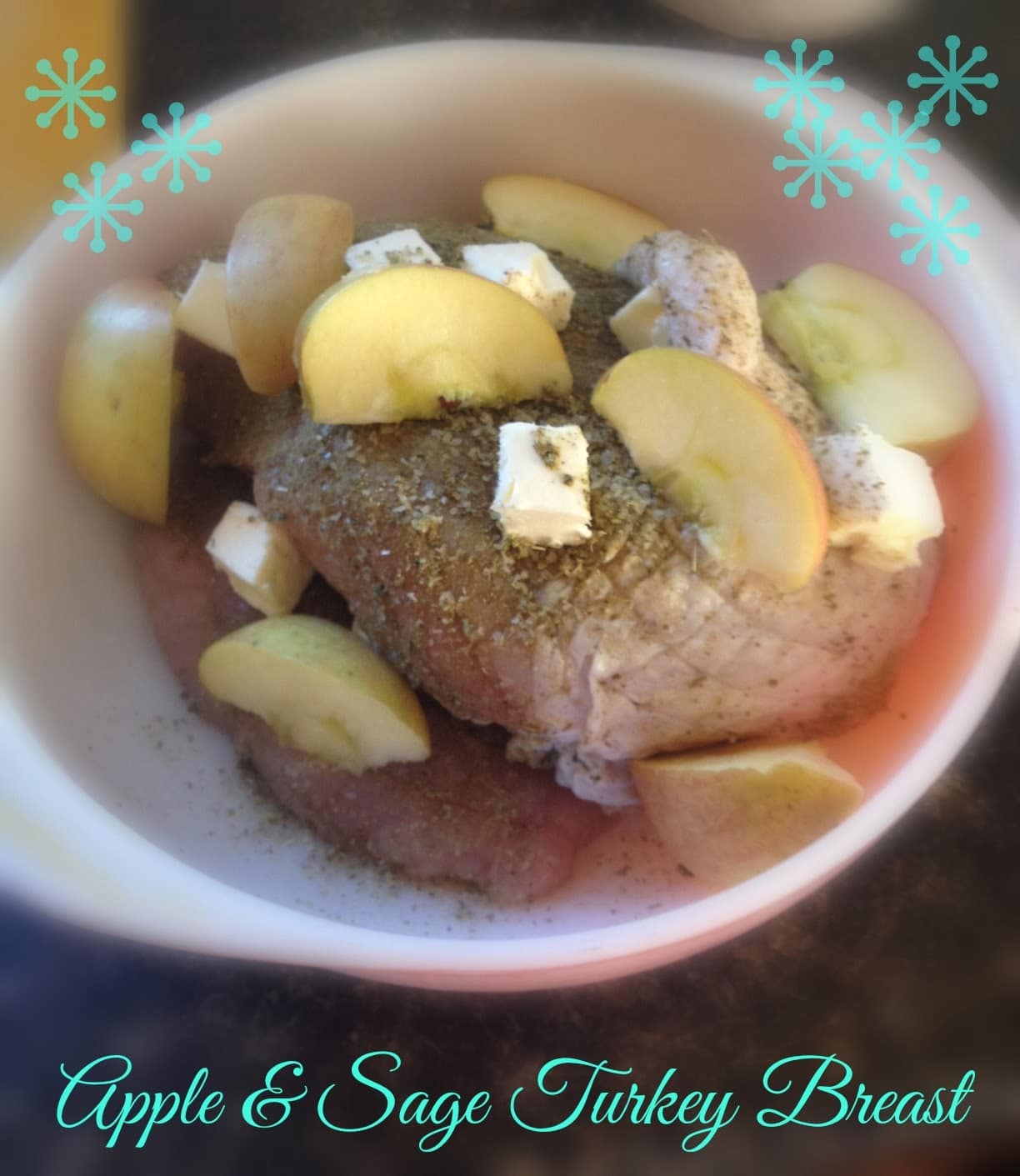 I combined a couple of recipes and made a new one of my own. First, I made a spice rub out of sage, salt, thyme, pepper, rosemary & onion powder. I rubbed the turkey breast all over and then place it in a greased casserole dish with a lid.
Then cut up an apple (gala is my favorite) and a half-stick of butter and placed it on and around the turkey breast. Pop the lid on and in the oven for about 90 minutes (30 minutes per pound).
Out came the juiciest turkey breast I've ever tasted. It was so amazing & delicious. It is the only way I'll make a turkey breast. It was so delicious and stayed juicy even in leftovers!
This was our holiday dinner – sage & apple turkey, blue mashed potatoes, roasted broccoli with cheese sauce and sweet potato casserole. It was so good and perfect for just a couple people – I made just what we liked! We had dinner and then took naps – just like it's meant to be.
Apple & Sage Turkey Breast
Ingredients:
3 lb turkey breast
1 1/2 tsp salt
1 tsp sage
1 tsp thyme
1 tsp rosemary
2 tsp onion powder
1 tsp pepper
1 small apple – sliced
1/2 stick butter
Directions:
Preheat oven to 325. Spray casserole dish with non-stick spray. Mix together dry seasonings – rub all over turkey breast. Place turkey in dish. Cut butter into little 1/2″ squares and dot all over turkey (under skin as well). Take pieces of sliced apple and place on the turkey and in the dish.
Place the lid on the turkey and bake for 30 minutes per pound.
Also seen on:
The Country Cook