I've been wanting to try easy air fryer meatballs and I'm so glad I did – they go together in minutes and are so versatile!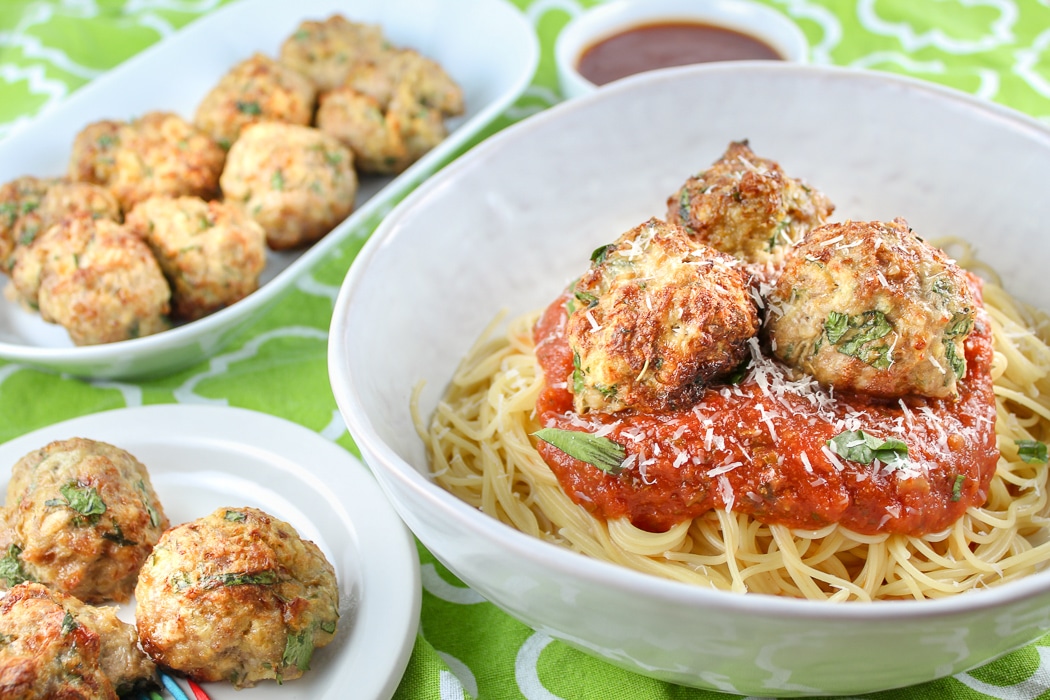 The best thing about these meatballs is that they're super healthy! I made them mainly with ground turkey in air fryer oven.
Can you air fry meatballs?
Of course – I keep telling people – you can cook pretty much anything in the air fryer! I was really excited to make air fryer meatballs for spaghetti. My ex husband is allergic to eggs – so I haven't had meatballs or meatloaf forever! I was ready to make them again.
How long do you cook air fryer meatballs?
Air fryer meatballs are done so quick! It only takes 10 minutes at 400 degrees for meatballs. Because these are made mostly with ground turkey they are more delicate – so I did pop open the basket and turn them after 7 minutes.
I did mix the ground turkey with ground pork for these air fryer meatballs. Ground pork is surprisingly lean and adds flavor to these meatballs. These meatballs are really versatile – you can use them as appetizers – just serve with a side of your favorite sauce – or on spaghetti of course – or even in sandwiches!
This meatball recipe is fairly simple with seasonings that match well with Italian – next time I make them I'm thinking of adding a little ball of mozzarella cheese in the middle! Or I might do Greek meatballs and mix some feta in there.
If you're looking for ways to use these meatballs – I did meatballs sandwiches three ways and they were delicious! Another thing I love to do is slice up meatballs and put them in lasagna. And of course if you have meatballs – you might want to serve them with my favorite Olive Garden salad! You can find all of them in my Air Fryer Recipes section or in my Air Fryer Facebook group!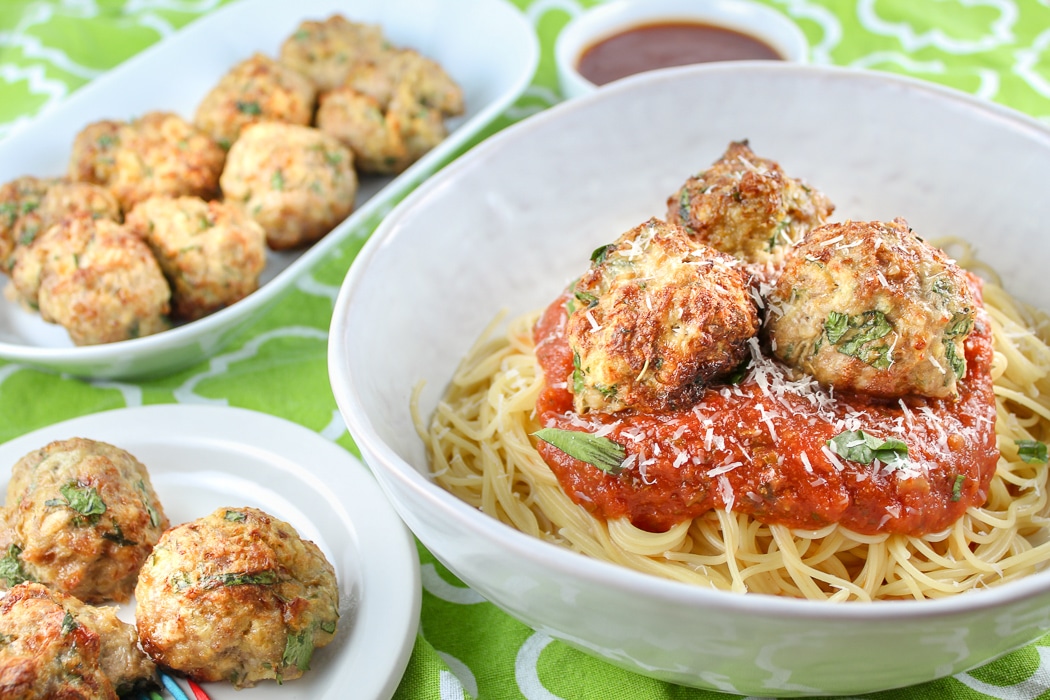 Air Fryer Turkey Meatballs
prep time: 10 M
cook time: 20 M
total time: 30 M
I'm a sucker for meatballs – but need something healthier so these air fryer turkey meatballs are perfection! Juicy, meaty and the easiest cleanup ever! Whether you make spaghetti, sandwiches or just have them as appetizers – you'll love them!
ingredients:
1/4 cup panko crumbs
2 tbsp milk
2 tbsp dried onion flakes
2 tbsp minced garlic
1/2 pound ground turkey
1/2 pound ground pork
1 large egg
1/4 cup chopped fresh parsley
1 tbsp rosemary, crumbled
1/2 tbsp thyme
1 tbsp dijon mustard
1 tsp coarse sea salt
instructions:
How to cook Air Fryer Turkey Meatballs
In large bowl, combine panko and milk and set aside for 5 minutes.
After 5 minutes, add onion flakes, garlic, turkey, pork, egg, parsley, rosemary, thyme, mustard and salt. Mix gently to combine. (You can use all ground turkey if you like – but I like the extra flavor that pork adds!)
Gently shape mixture into 1 1/2 inch balls. Place balls in a single layer in air fryer basket.
Cook at 400 for 7 minutes – open the basket and gently turn them – then air fry 3 minutes more until internal temp of the meatballs is 160. Remove and keep warm You may need to do in 2 batches.
Serve over pasta with marinara, in sandwiches or as appetizers on their own.
Weight Watchers Points
Green – 5
Blue & Purple – 4
Recommended Products:
Philips XL Air Fryer
Meatballer
Panko Breadcrumbs
Did you make this recipe?
Tag
@foodhussy
on instagram and hashtag it #foodhussyrecipe