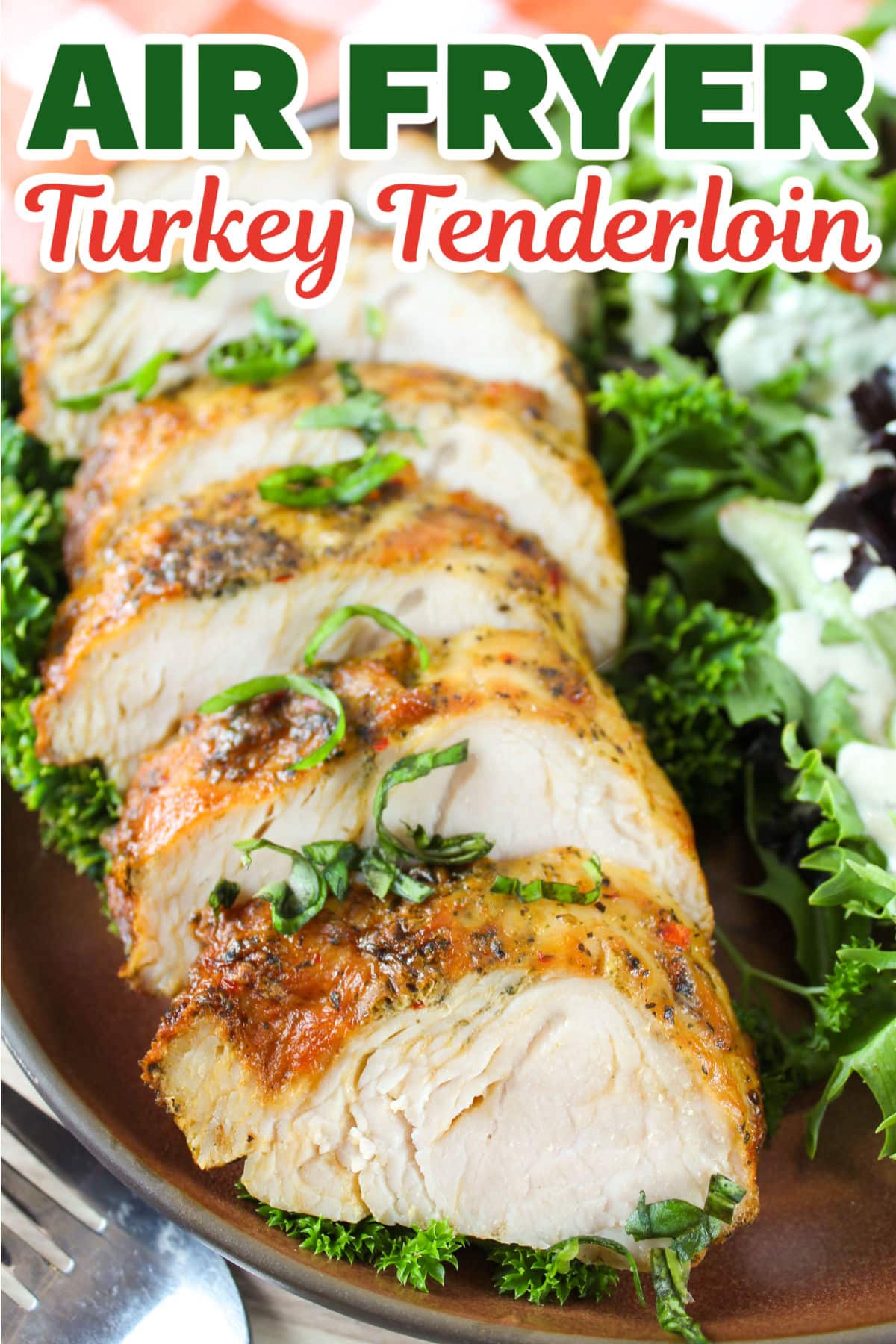 Air Fryer Turkey Tenderloins are a delicious and juicy meal that cooks in under 20 minutes! You'll be amazed at how the air fryer really brings out the tenderness and flavor from the marinade in this lean turkey breast!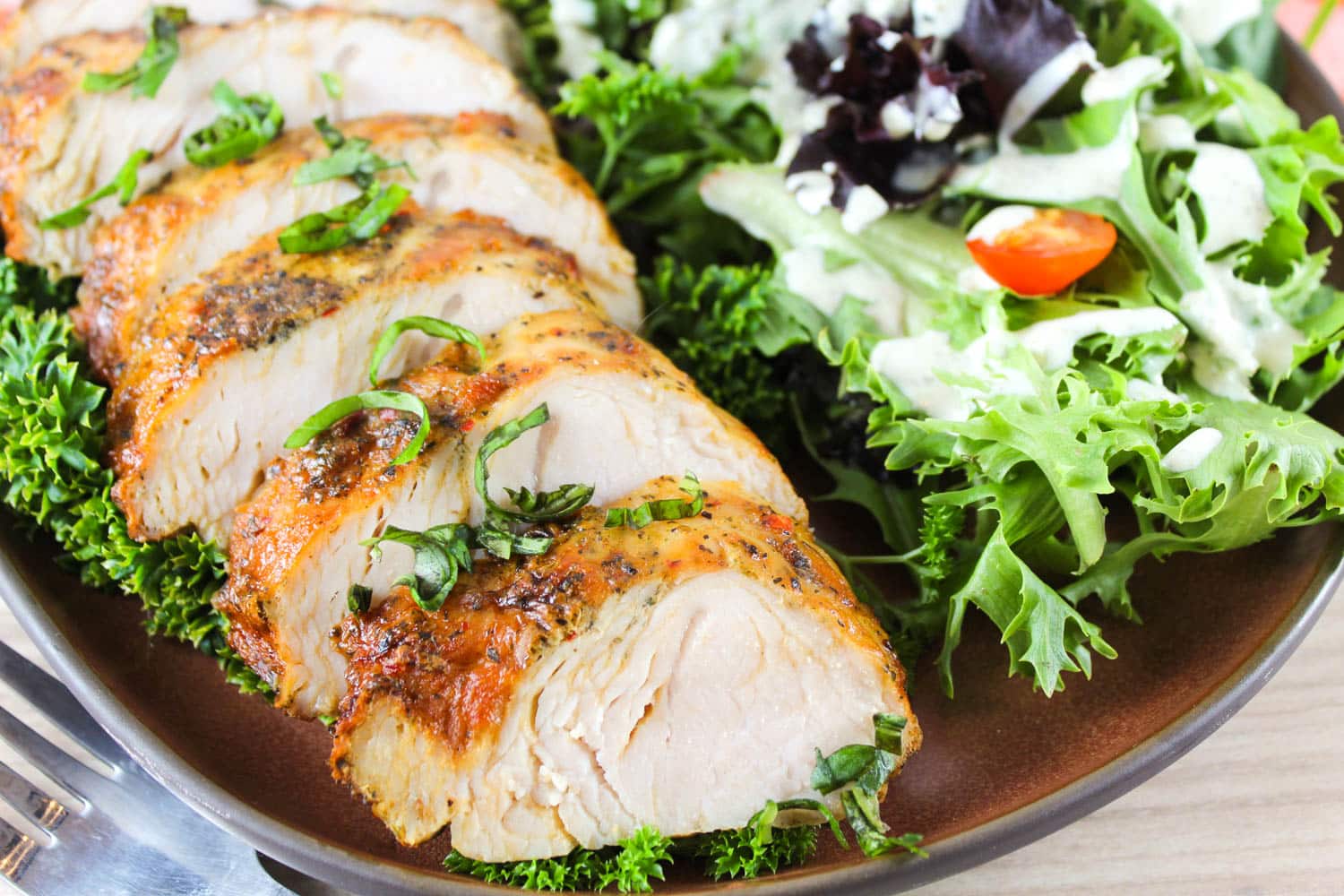 What is a Turkey Tenderloin?
The turkey breast tenderloin is just a boneless and skinless portion of the turkey breast. They often package them in the grocery store in packs of two to look like a pork tenderloin.
Turkey tenderloins are super easy to make in the air fryer – and because they're so quick – perfect for a weeknight meal! You can either use a seasoning rub or marinate them overnight like I did. Pop them in the air fryer and you're done!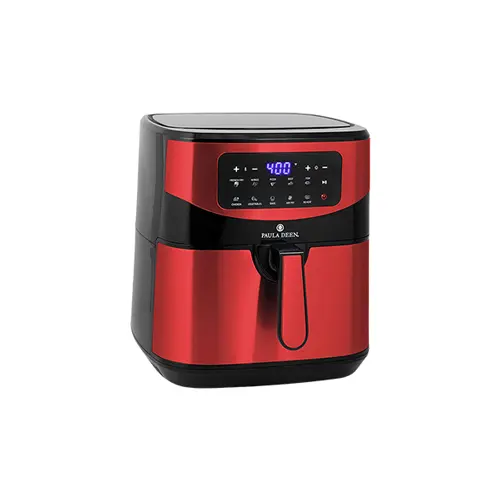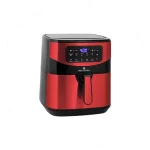 This recipe was made using the Paula Deen Air Fryer.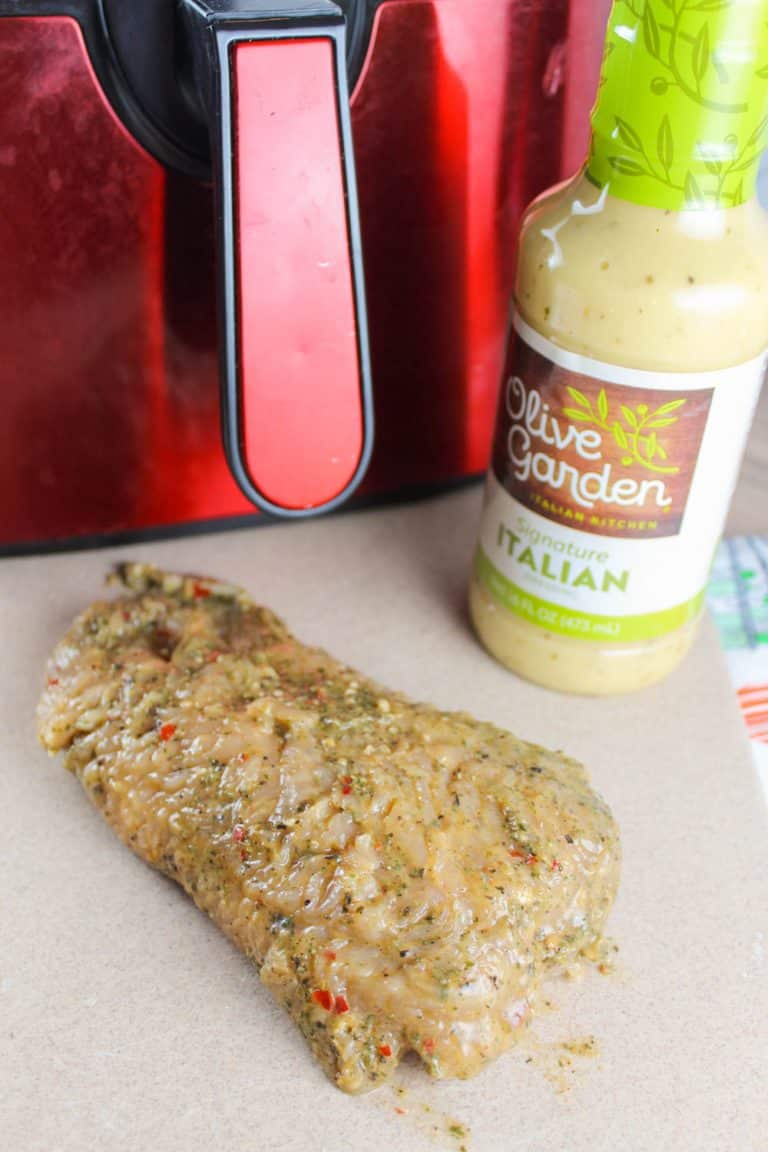 Ingredients for Air Fryer Turkey Breast Tenderloin
Making a turkey tenderloin in the air fryer is easy and flexible. I like to buy the pre-marinated because IT'S EASY!!! But you can always marinate your own (I did this time) or use a seasoning rub. All you need is:
1 turkey tenderloin (2 turkey breasts)
1 cup Italian dressing – I used Olive Garden but you can also use my copycat recipe!
Fresh herbs – basil, parsley
If you're looking for a seasoning mixture instead of a marinade, my recipe for an Apple & Sage Turkey Breast is the best!!! You rub the turkey breast with those favorite Thanksgiving spices (rosemary, sage, thyme, onion powder, salt & black pepper). Then you add in apple for extra juiciness!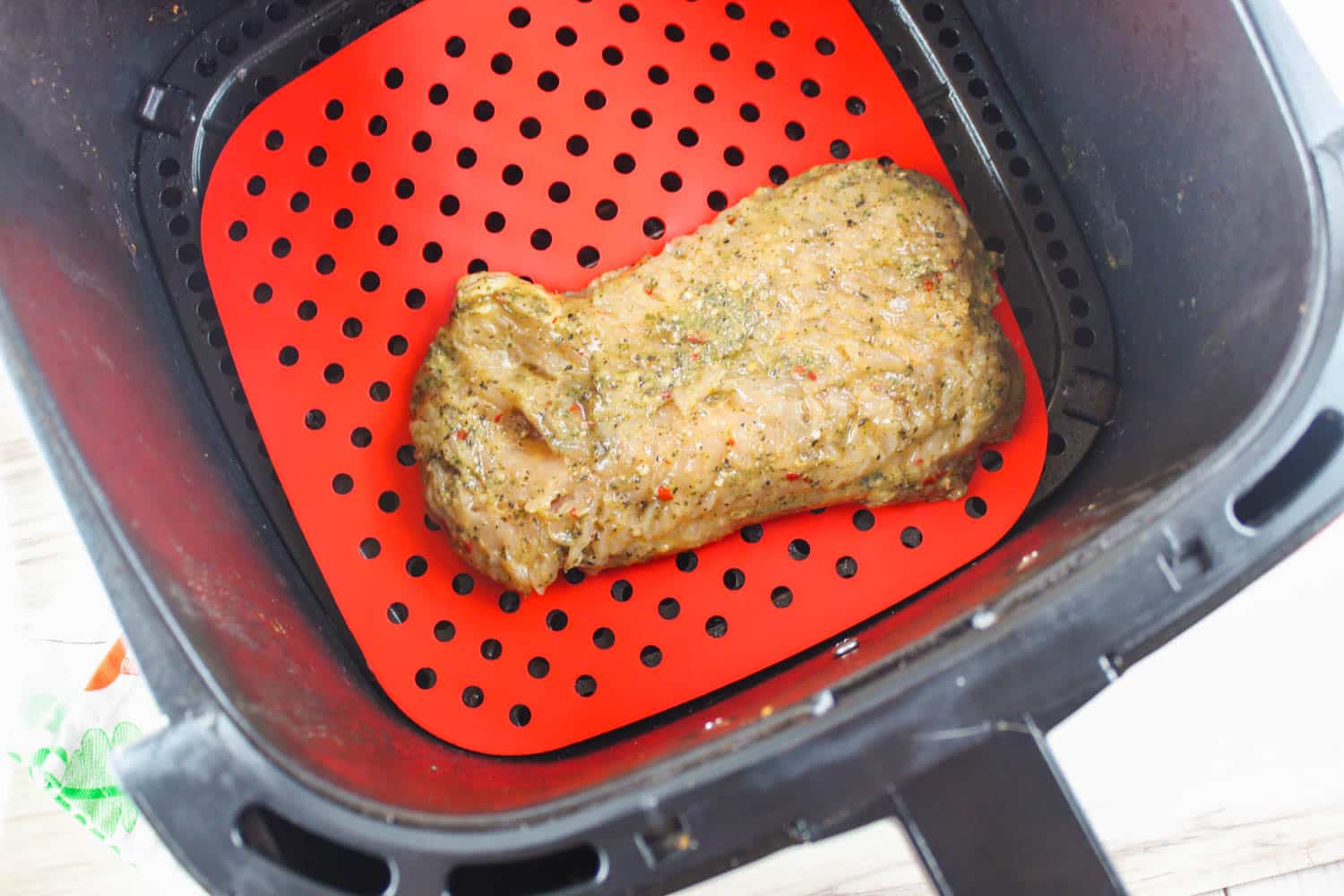 How to Make Turkey Tenderloin in the Air Fryer
This is sooooo easy! If you're using a rub – no need for the marinating time. It's table ready in 20 minutes – and no oven needed! The circulation of hot air in the air fryer really locks in those juices to make it perfect – which is amazing for a lean protein like turkey!
Prep your turkey tenderloin by rinsing with water and pat dry with paper towels.
Place turkey tenderloin in a plastic zipper bag with Italian dressing and marinate overnight (or buy pre-marinated turkey breasts)
Lightly spray the tray with cooking spray or use a silicone mat like I have above. Place in air fryer basket and cook at 360º for 9 minutes (no need for a dish – put it directly on the tray).
Open air fryer and turn tenderloin breasts. Air fry for an additional 9 minutes.
Using meat thermometer, check internal temperature at thickest part of turkey.
Remove from air fryer when internal temperature is 160º. Rest for 5 min.
Slice & serve with a sprinkle of fresh herbs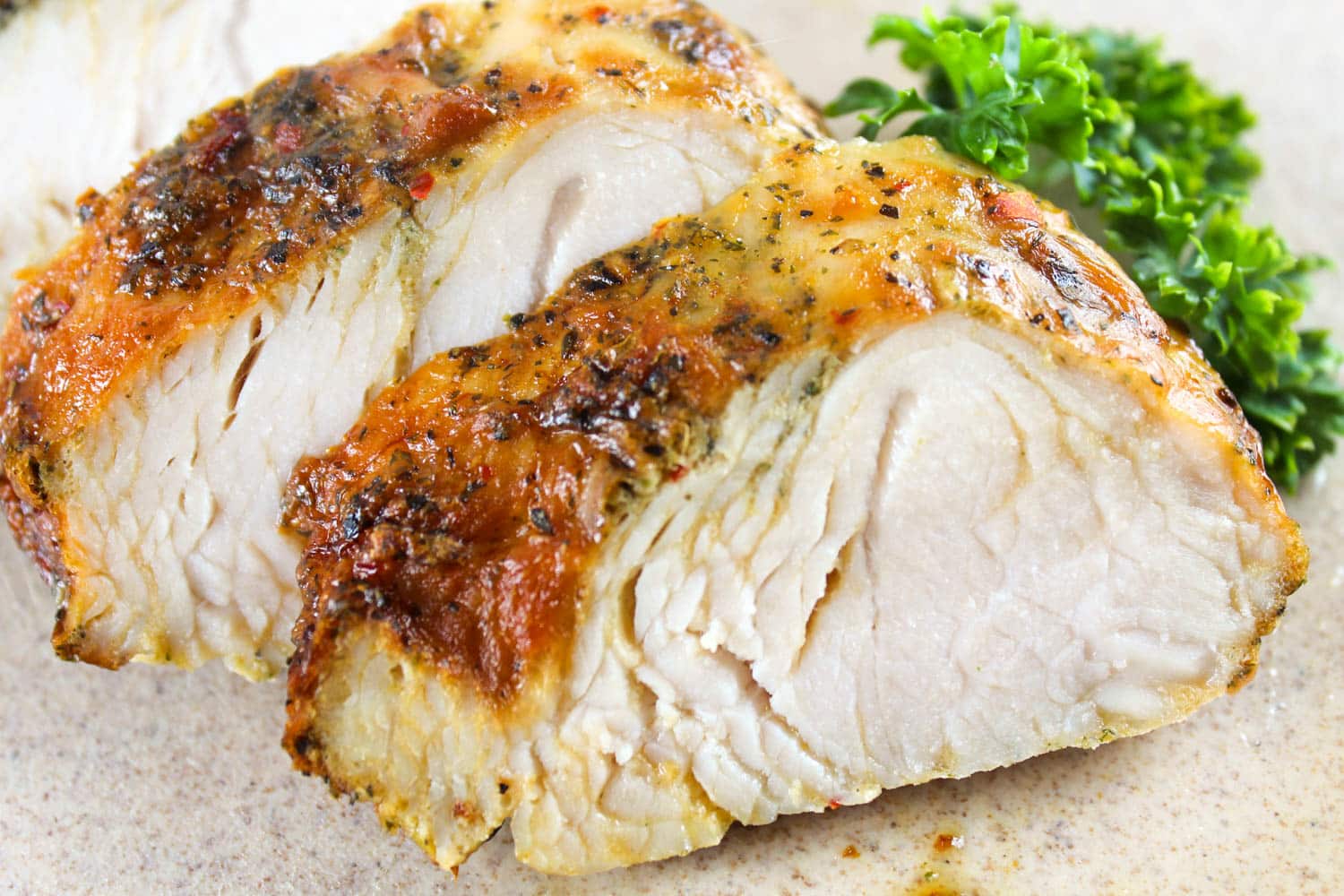 Tips, Tricks & FAQs
Can you put a turkey tenderloin in an air fryer?
Yup! Or this would be a super short post! Season and air fry for 18 minutes cook time at 360º.
Is turkey tenderloin the same as turkey breast?
Yeah – pretty much. Boneless, skinless turkey breast.
What temperature should a turkey tenderloin be cooked to?
I cook until the internal temp reads 160º – then let the turkey rest for 5 minutes and it will come up to temp at 165º. This ensures juicy turkey that is NOT overcooked!
Can you cook a frozen turkey tenderloin in an air fryer?
Yes – you can. I've cooked numerous things from frozen. If making one that is pre-marinated – just add 3-5 minutes to the time. You may need more time – but you can always add more time – you cannot unburn something!
If NOT pre-marinated, you'll want to air fry 3-5 minutes so the turkey is a bit thawed. Open air fryer and season. Then air fry 18 minutes as directed above. You need to thaw it a bit so the seasoning sticks.
How do you store and reheat leftover turkey tenderloin?
Store leftovers in airtight containers and refrigerate up to a week – or freeze up to three months. Reheat in the air fryer at 250º for 4-5 minutes.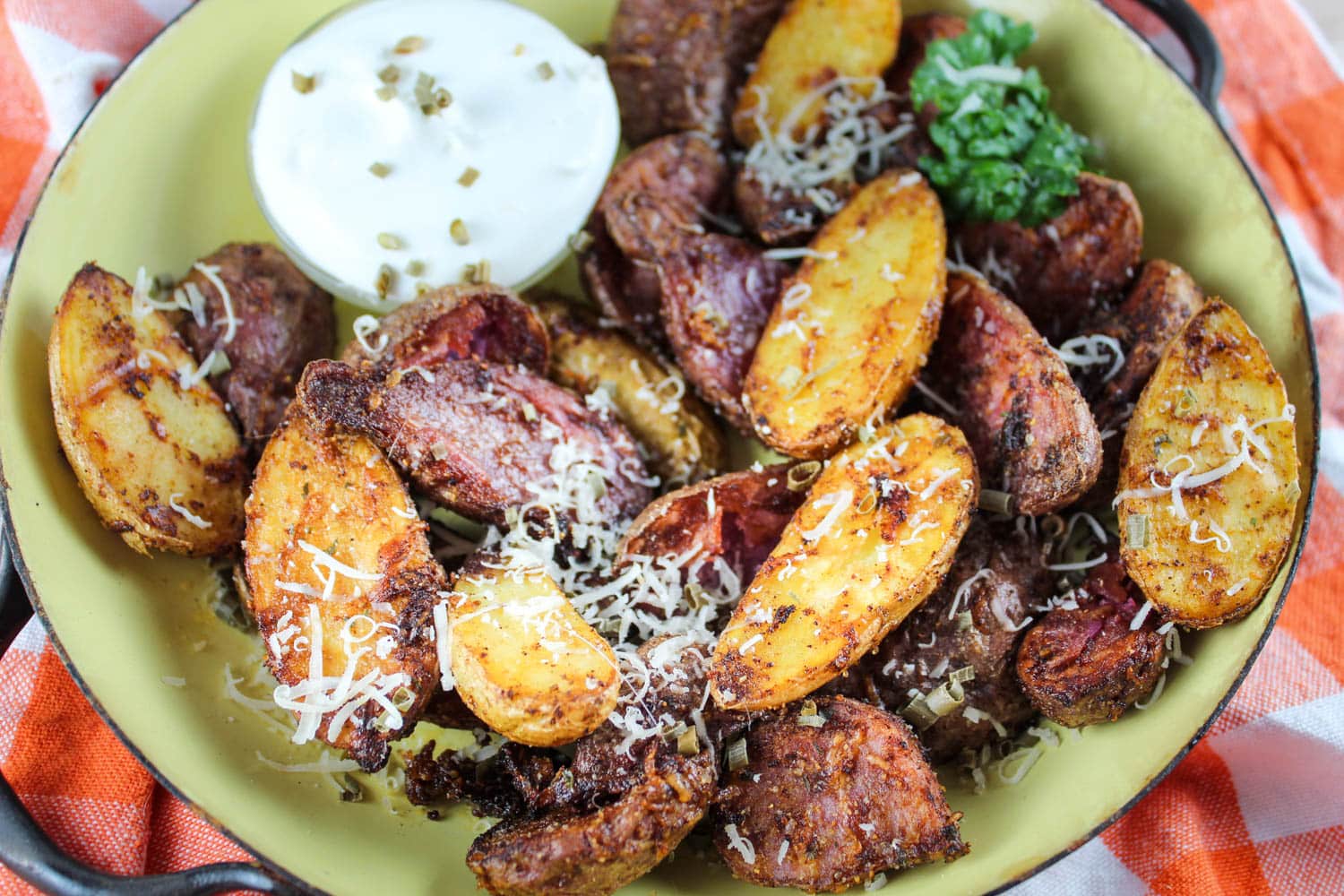 What to serve with Air Fryer Turkey Tenderloin recipe
More Turkey Recipes
More Air Fryer Recipes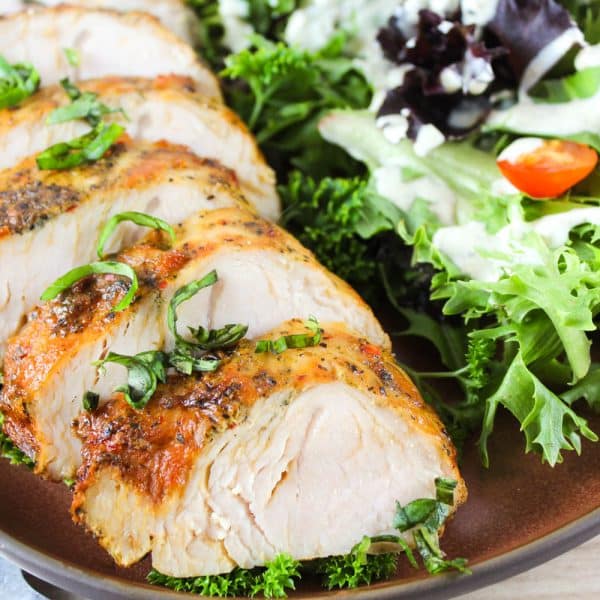 Air Fryer Turkey Tenderloin
The turkey breast tenderloin is just a boneless and skinless portion of the turkey breast. They often package them in the grocery store in packs of two to look like a pork tenderloin.
Ingredients
1

turkey tenderloin

(2 breasts)

fresh herbs

parsley, basil
Instructions
Prep your turkey tenderloin by rinsing with water and pat dry with paper towels.

Place turkey tenderloin in a plastic zipper bag with Italian dressing and marinate overnight (or buy pre-marinated turkey breasts)

1 cup Olive Garden Italian Dressing

Lightly spray the tray with cooking spray. Place in air fryer basket and cook at 360º for 9 minutes (no need for a dish – put it directly on the tray).

Open air fryer and turn tenderloin breasts. Air fry for an additional 9 minutes.

Using meat thermometer, check internal temperature at thickest part of turkey.

Remove from air fryer when internal temperature is 160º. Rest for 5 min.

Slice & serve with a sprinkle of fresh herbs
Notes
**We are not dietitians and recommend you seek a nutritionist for exact nutritional information. The information in the nutrition box are calculated through a program and there is room for error. If you need an accurate count, I recommend running the ingredients through your favorite nutrition calculator.**
Nutrition
Serving:
4
oz
Calories:
120
kcal
Carbohydrates:
2
g
Protein:
21
g
Fat:
3.5
g
Cholesterol:
35
mg
Sodium:
620
mg