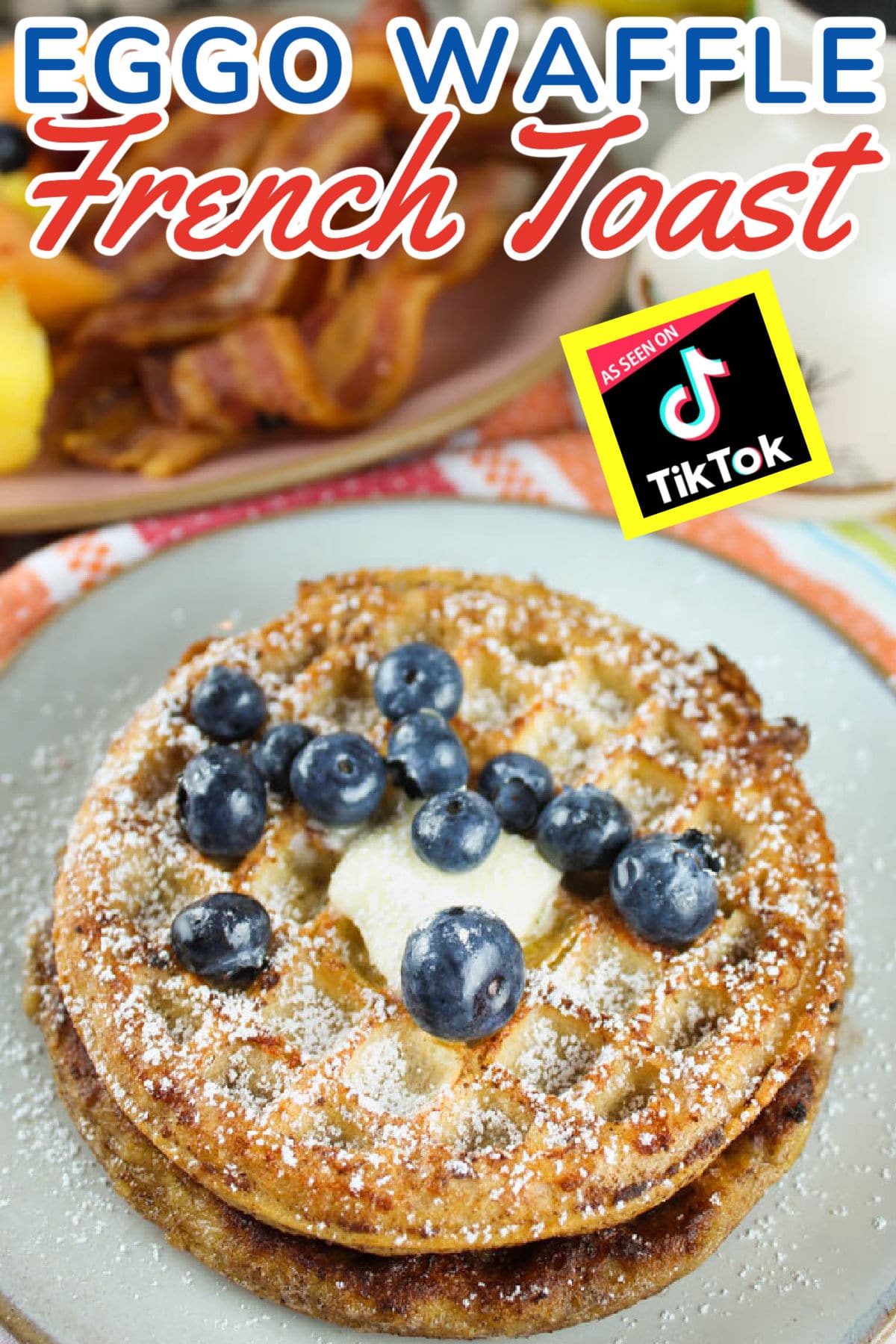 I first saw this French Toast Waffle recipe using Eggo Waffles on TikTok and HAD to make it myself and WOW – I'm so glad I did! I don't think I'll ever eat plain Eggo waffles again!! They're crispy but have so much more flavor with the addition of the vanilla and cinnamon from the french toast batter.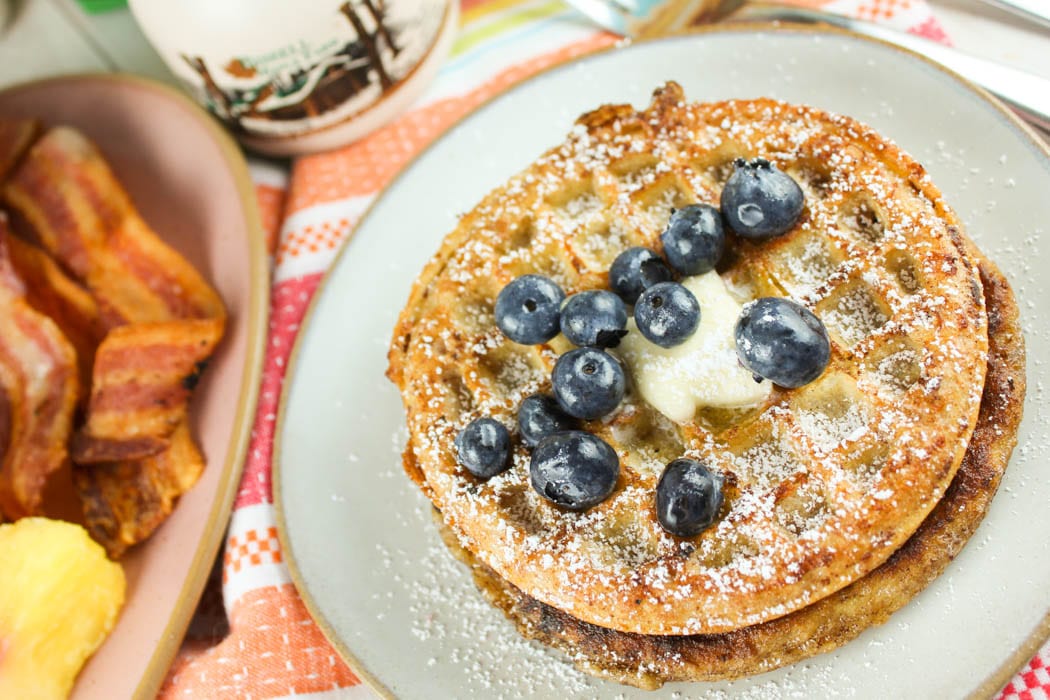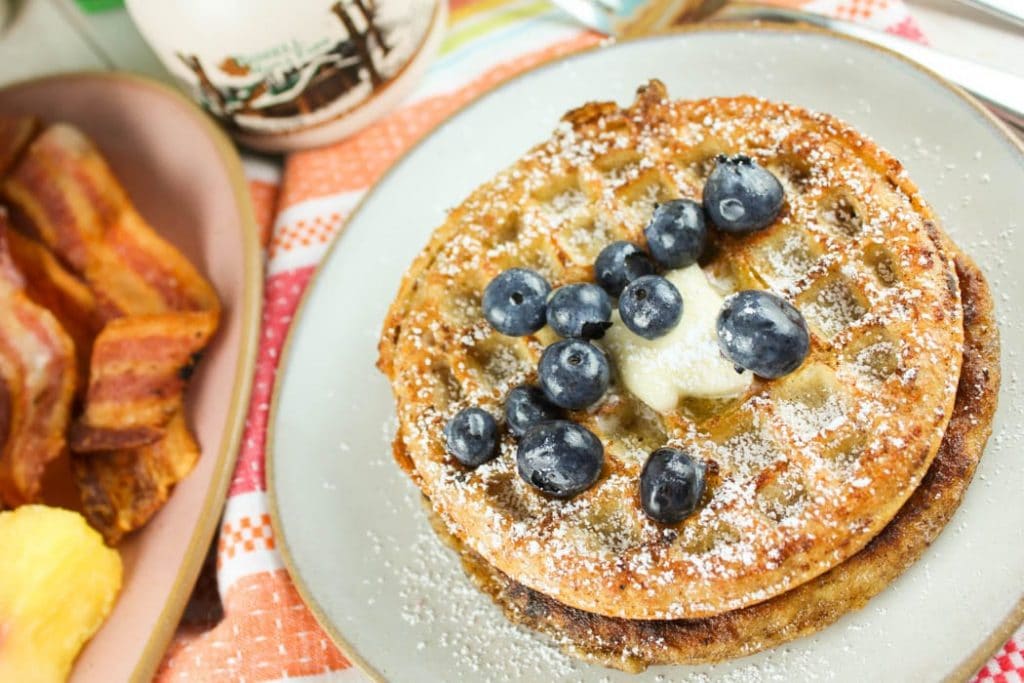 Jump to Recipe
This "as seen on TikTok" is definitely a must-try and a great way to change up boring toaster waffles! Plus – you can still make them your own by adding a little fruit topping or go all the way with some maple syrup! (I did both!)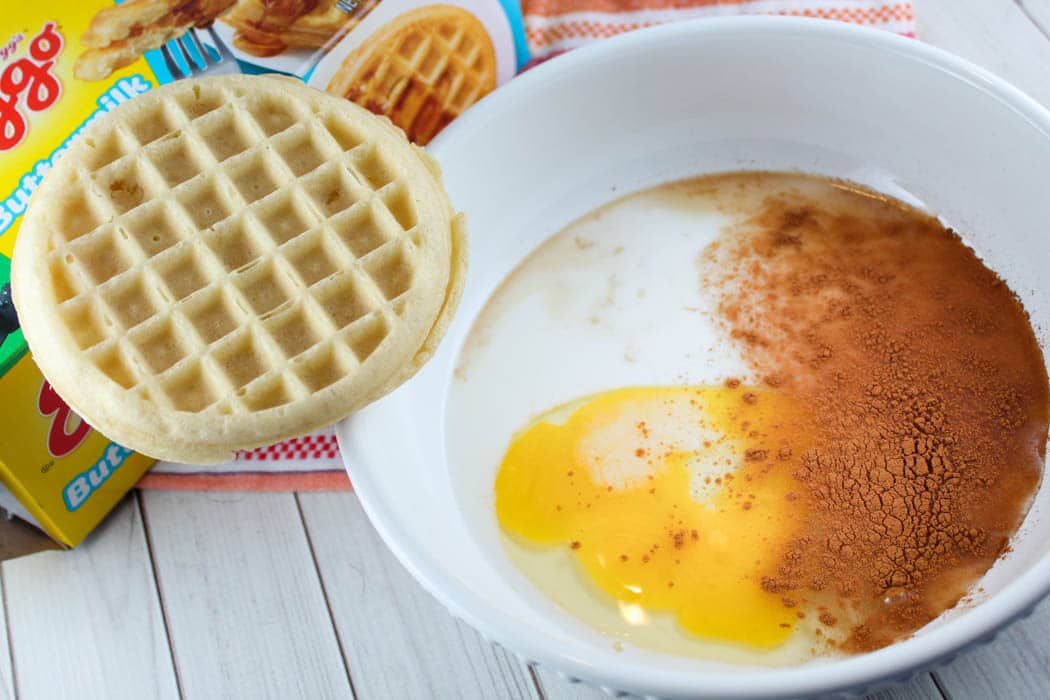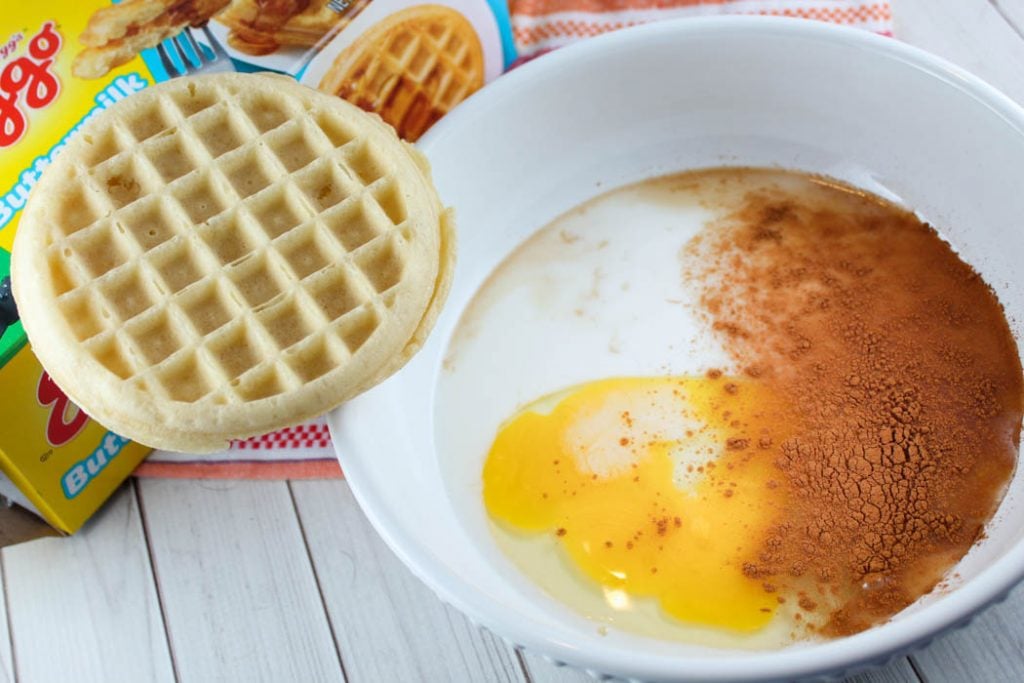 Ingredients for Eggo Waffle French Toast
No waffle iron needed here! All you need to make this delicious breakfast is:
4 waffles (2 per person)
2 eggs
2/3 cup milk – you can also use heavy cream or half & half
1-2 tsp cinnamon
2 tsp vanilla
Waffle toppings: butter, fruit, powdered sugar, syrup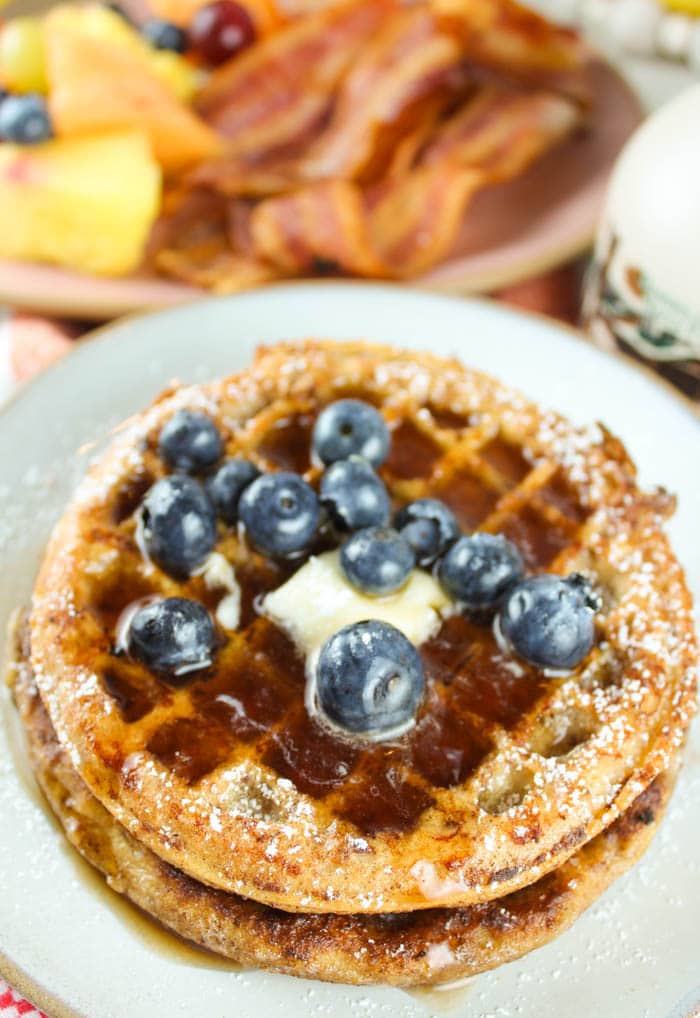 How do you make French Toast out of Waffles????
This is the fun part – it's taking two breakfast favorites and mushing them together to make a whole new breakfast favorite!
First, you'll need to thaw your frozen waffles just a bit. I did this by popping them in the toaster for 30-60 seconds. You want them room temperature so they'll absorb the egg mixture.
While those are thawing – whisk together eggs, milk, vanilla and cinnamon

You'll want to pour the batter into a wide, flat bowl – because the waffles don't bend like bread

Now – dip your slightly thawed waffles into the egg batter. Because the waffles are still cool – swirl them around in the batter a bit and make sure they get coated. I would suggest 15-20 seconds each side.
Once both sides are dipped – you're ready to cook!
You can make the french toast in a skillet – or an air fryer!

Skillet – heat a pat of butter in skillet and fry each side of waffle for 2-3 min until golden brown

You could also use cooking spray instead of butter – but I like the extra flavor!

Air Fryer – lay waffles in air fryer and cook at 360 for 3 minutes on each side

Serve with butter, fresh fruit, powdered sugar and syrup!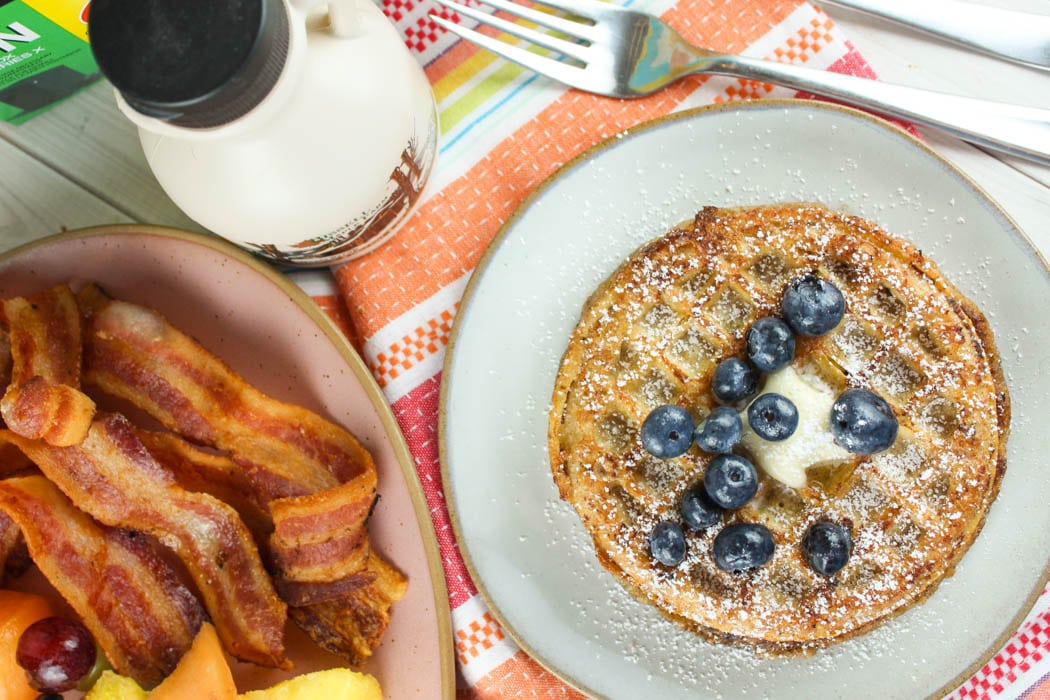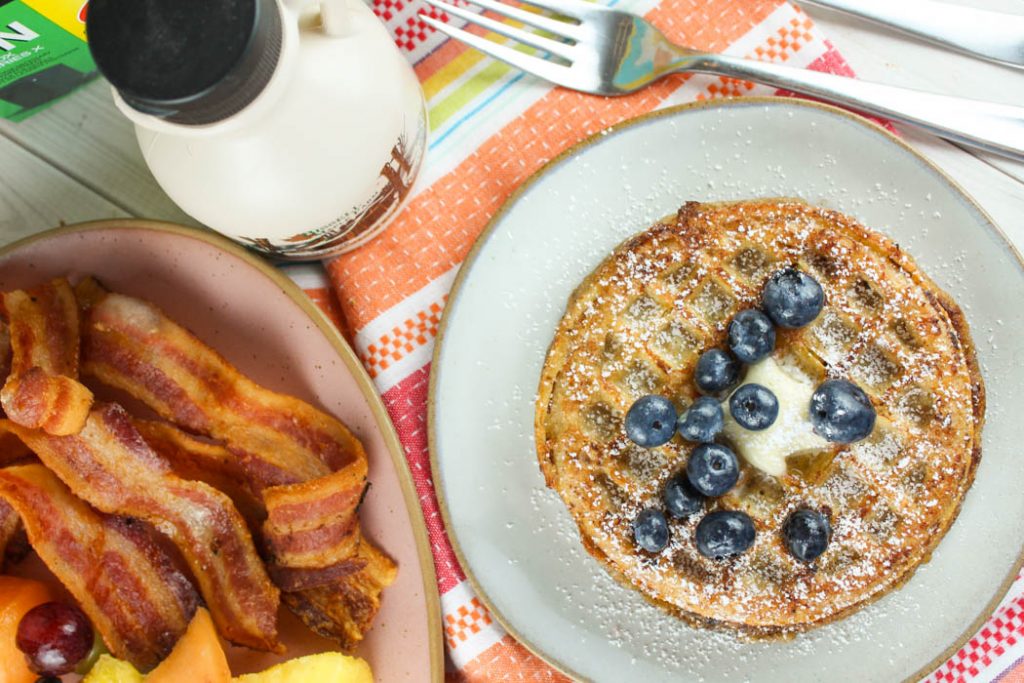 How would I make french toast waffles with bread?
I would recommend using a hearty bread – not just your normal sandwich bread. Something like Sara Lee Artesano or even challah bread – even better if it's slightly stale bread. Dip a slice of bread in the egg custard mixture – and pop on your hot waffle iron!
How long do waffles need to cook?
These french toast waffles are great for a busy morning because they're on the table in just 10 minutes! You're starting with frozen waffles – so it's very quick! They cook for 2-3 minutes on each side.
Can I freeze French toast waffles?
I'm not sure how you could have leftovers of these – because they're so delicious! But – after cooking – pop any leftover waffles in a zip-top plastic freezer bag. I would reheat in the air fryer for 3-4 minutes or in the toaster. (You can also freeze leftover pancakes! I make a big batch and then freeze the leftovers for quick breakfasts any time!)
What can I put on waffles instead of syrup?
There are a lot of options for waffle toppings! My favorite toppings are:
fresh berries & whipped cream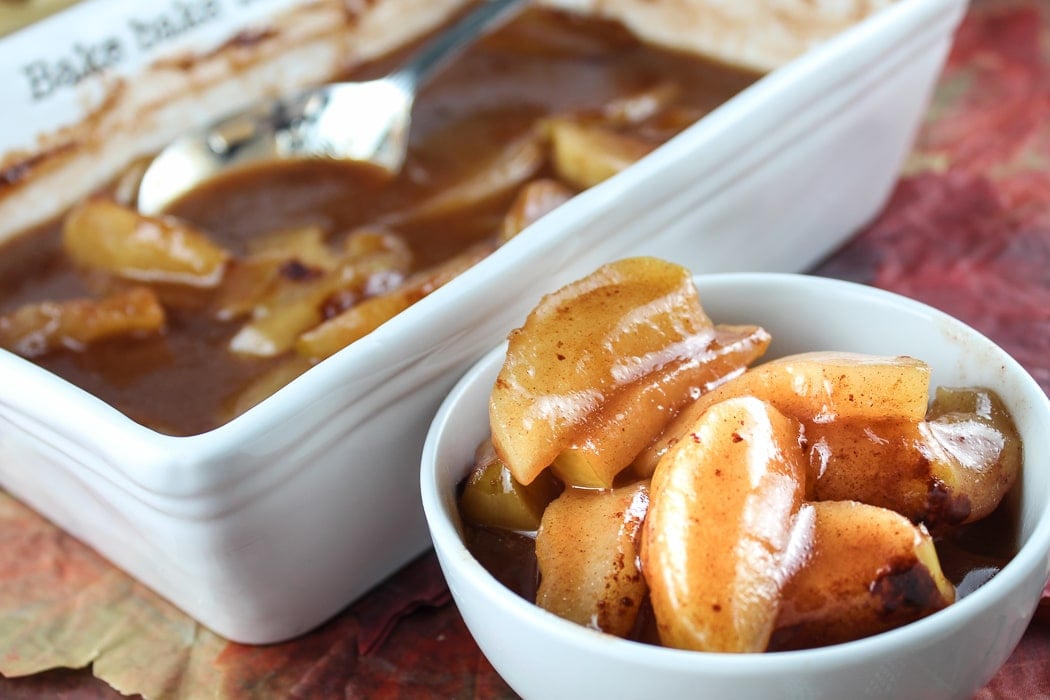 What to serve with this French Toast Waffles recipe
Other TikTok recipes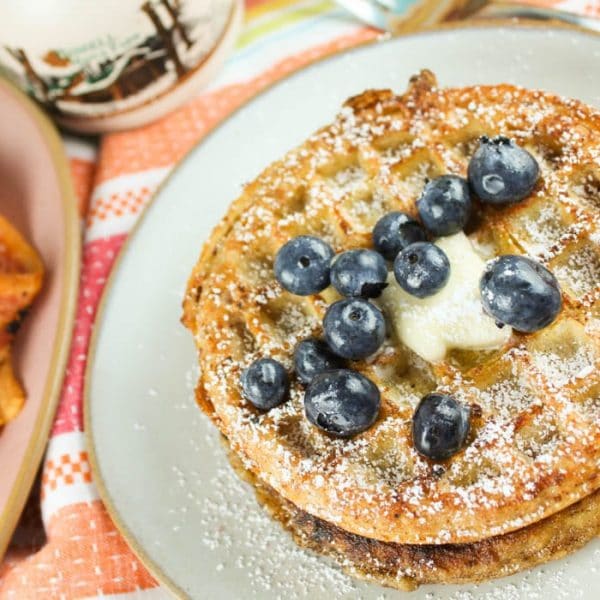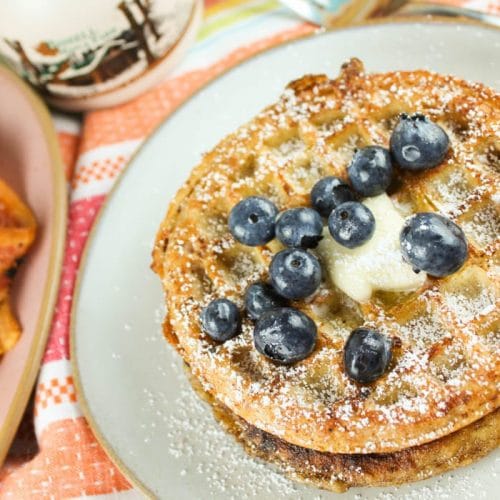 Eggo Waffle French Toast
I first saw this Eggo Waffle French Toast on TikTok and HAD to make it myself and WOW – I'm so glad I did! I don't think I'll ever eat plain Eggo waffles again!!
Instructions
Toast your frozen waffles for about 30 seconds – just enough to thaw them so they absorb the French toast batter.

In a bowl with a fairly flat bottom, whisk together the egg, milk, cinnamon, and vanilla extract.

Place the waffles flat in the dish. Swirl the waffle around in the egg mixture so it soaks it up. Flip the waffle and soak the other side. Probably 15-20 seconds each side – but not too long or they'll get too soggy.
Skillet Instructions
Place in hot skillet with a little oil or melted butter, heat for 2-3 minutes per side
Air Fryer Instructions
Place in air fryer at 360 degrees for 6-7 minutes – flipping halfway thru
Nutrition
Serving:
2
waffles
Calories:
282
kcal
Carbohydrates:
39.2
g
Protein:
11.1
g
Fat:
8.1
g
Saturated Fat:
2.1
g
Cholesterol:
17
mg
Sodium:
554
mg
Potassium:
212
mg
Fiber:
2.8
g
Sugar:
7.8
g
Calcium:
325
mg
Iron:
5
mg