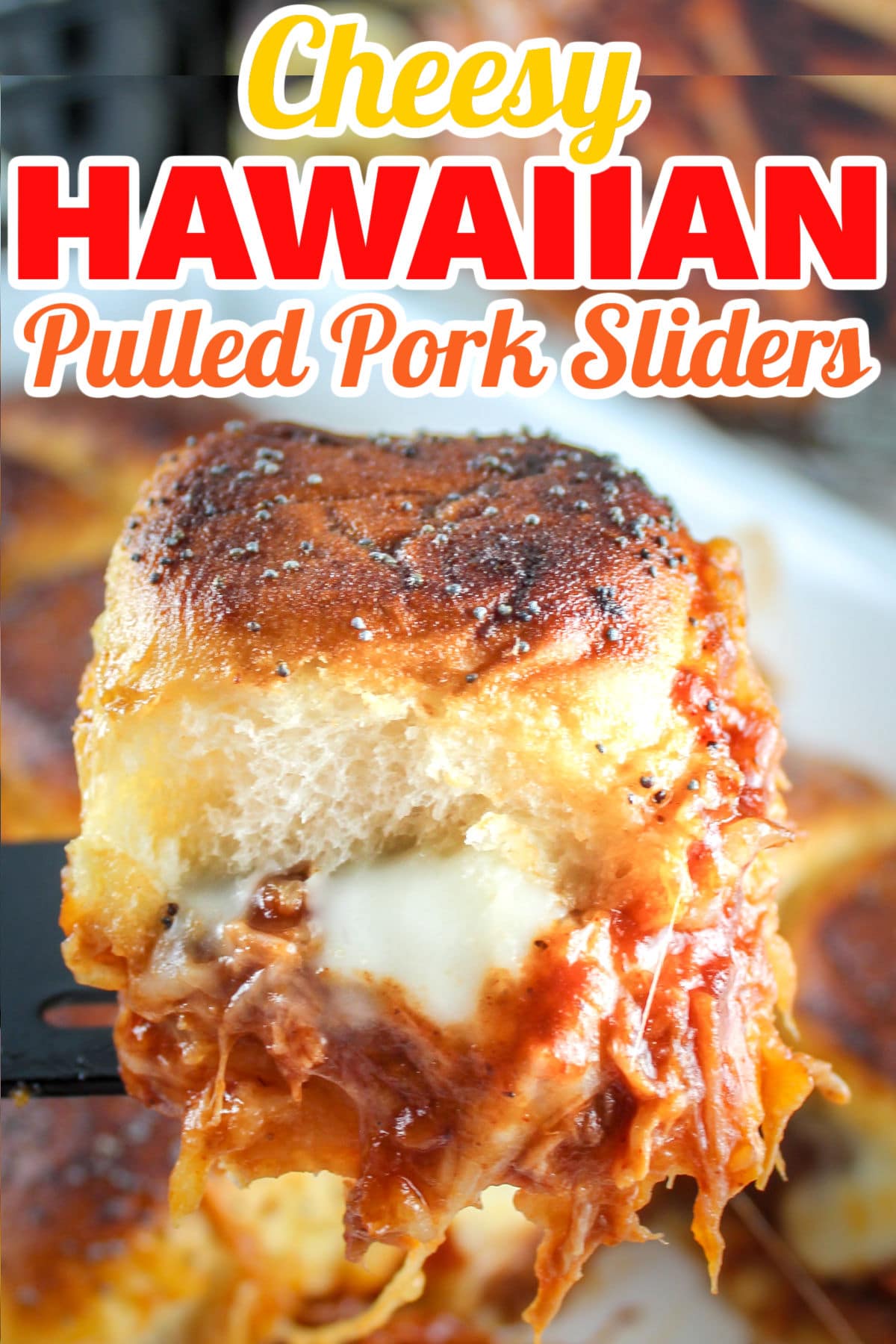 These Hawaiian Pulled Pork Sliders are packed with flavor and ready-in-minutes. Grab some pre-made pulled pork and a pack of my favorite Hawaiian rolls and you'll have a game-day snack that everybody will love! (It's also great for a weeknight meal – ready in 30 minutes!)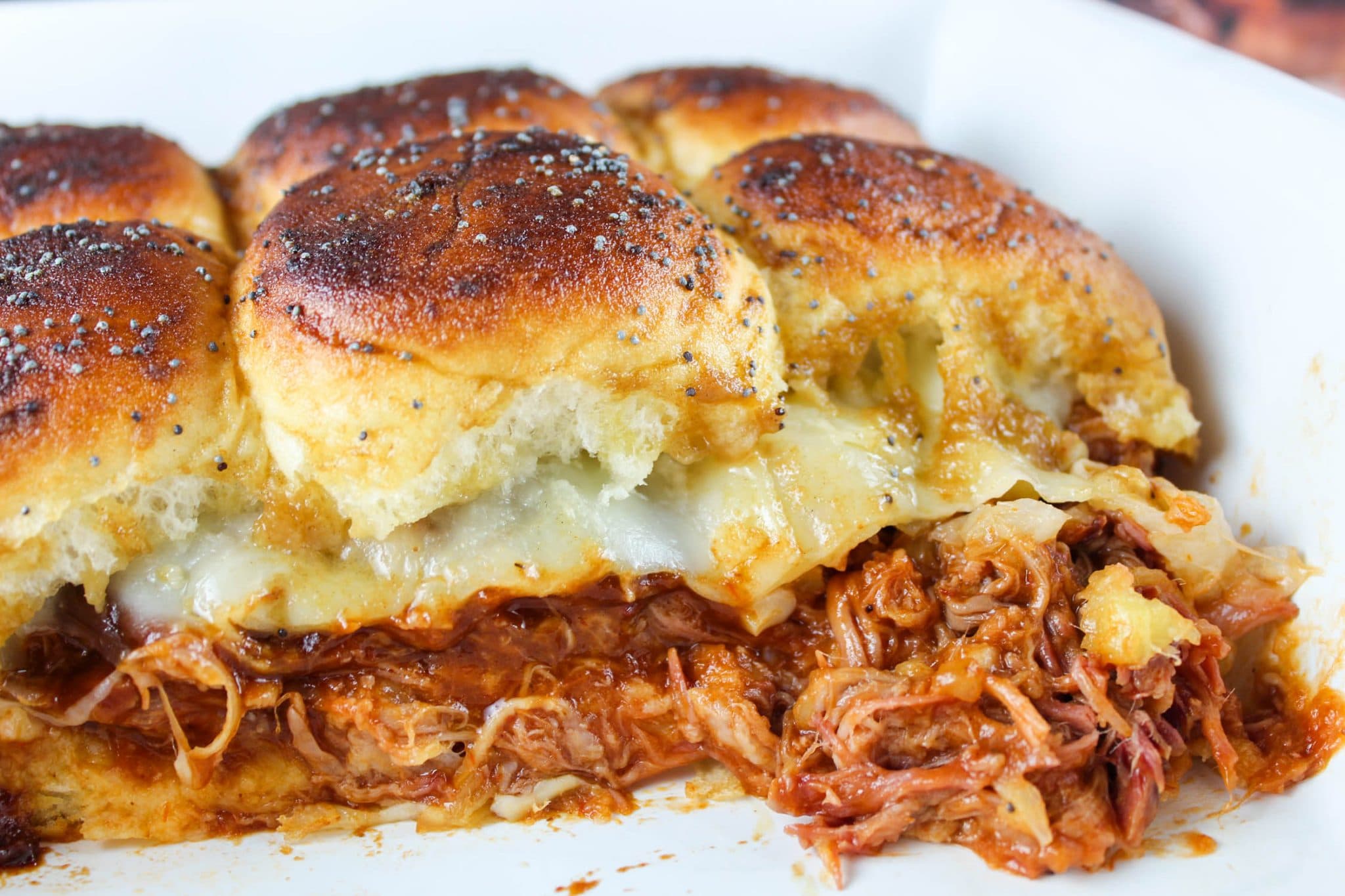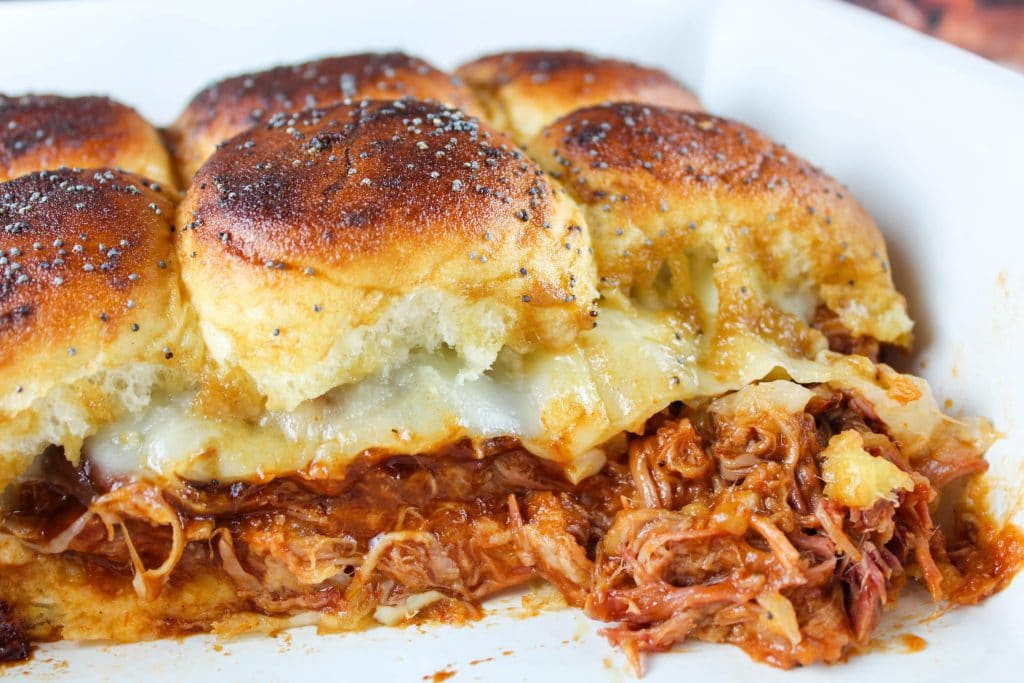 Pulled pork sliders with pineapple and cheese are always a hit – I like to make sure that my sliders are FULL of toppings! I've made sliders with pulled pork and cole slaw – but this time I wanted something sweeter – so a Hawaiian twist with pineapple, cheese and a sweet zingy barbecue sauce were a perfect match!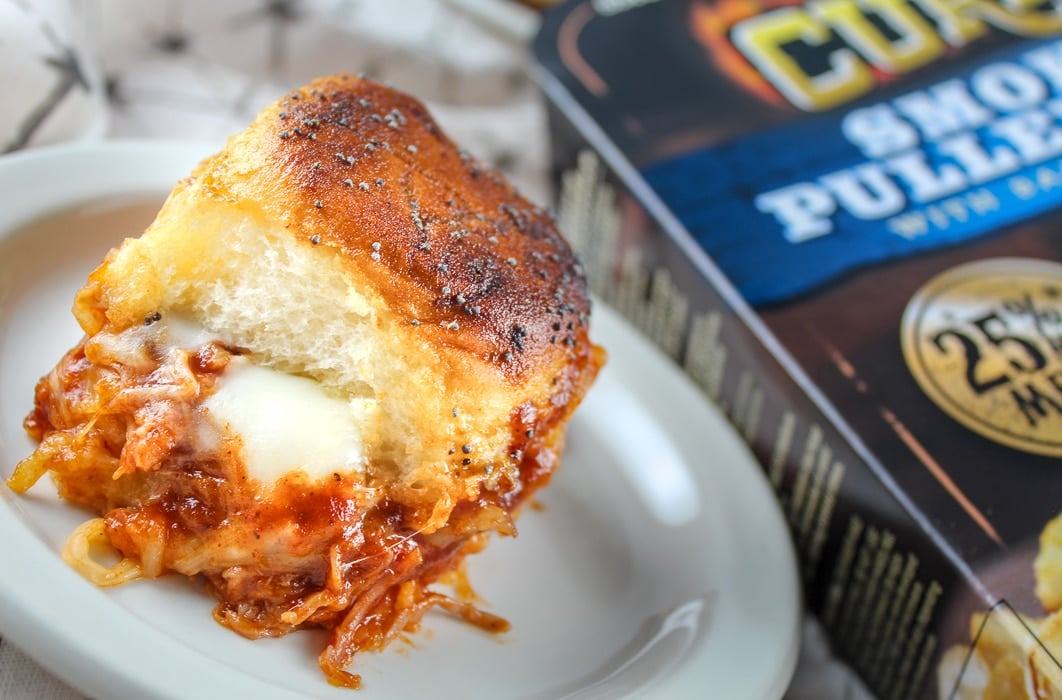 Hawaiian Pulled Pork Slider Ingredients
Sliders

12 pack King's Hawaiian Rolls
Curly's Smoked Pulled Pork – I love using pre-made pulled pork – my favorite is their sauceLESS because then I can put my own sauce on
8 oz crushed pineapple – you can also use thinly sliced pineapple slices if you have fresh pineapple
5 slices Provolone – see below for other great cheeses that pair well with pork
Your favorite BBQ sauce – if your pork isn't sauced, then you can add your own. My favorite is always Williamson Bros – it's light with a touch of sweetness – you can buy it online and I get 2-3 big jars every year!

If you want your bbq sauce to be a little sweeter, add the drained pineapple juice to it!

OPTIONAL: if you want a little crunch, red onions or bell peppers would be great!

Glaze – you top the rolls with this glaze and it's so yummy!

3 Tbsp butter
1 Tbsp brown sugar
1 Tbsp Worcestershire sauce
1 Tbsp dijon mustard
1 Tbsp hot sauce
Poppy seeds
What cheese goes well with pulled pork?
You don't always think of pulled pork sandwiches as having cheese on them – but for an oven-baked slider – you need cheese! My favorites are Havarti, provolone, cojack or cheddar. Havarti is mild and buttery – so good! I get it for cheese, crackers & salami night all the time.
What barbecue sauce is best for pulled pork?
For barbecue sauce – I always recommend that you get what YOU like. I fell in love with Williamson Bros when I was on a visit to Birmingham. It's a restaurant outside of Atlanta but it's in all the grocery stores there. It's very light and has tons of seasonings in it – it's not a super thick sugary sauce – I love it! My BFF literally sends me 2-3 jars every year – but you can also buy them online at Walmart, Amazon or from their restaurant.
How much meat do I need for pulled pork sliders?
One pound of pulled pork was perfect for a 12 pack of Hawaiian rolls. If you're making a bigger batch, same rules apply – and you could easily use a rimmed baking sheet to hold more sliders. Just leave a little space around the edges for spillage and melting!
How to make pulled pork sliders with Hawaiian rolls?
These pulled pork sliders on Hawaiian rolls are so easy! Just get a 12-pack of Hawaiian rolls and some pulled pork! Here's where you go from there:
Preheat oven to 350
Slice slider rolls in half
Spray rectangular baking dish with non stick cooking spray
Place bottom buns in pan
Spread shredded pork across rolls – pulled pork spreads easier at room temp – so leave it out for a bit before you make your sandwiches – or heat it up in the microwave for 1-2 minutes
Spread drained pineapple over pulled pork
If you want extra sauce – pour additional on top of pineapple
Lay 5 slices of Provolone cheese on top of pineapple
Add tops of buns onto sandwiches
In a microwave safe small bowl or glass, add all glaze ingredients (minus poppy seeds) and microwave for 1 minute until butter is melted (cover bowl with press & seal to prevent splatter)
Baste tops of rolls with glaze (you don't have to use it all – discard any remaining glaze)
Sprinkle with a light coating of poppy seeds
Place pork sliders in oven and bake for 25 minutes
How do you keep pulled pork sliders from getting soggy?
This is why I like to use sauceless pork – then you're able to add just the amount of sauce that you want. If you have pre-sauced pork – just scoop out the shreds of pork with a fork and leave the excess sauce in the bowl.
How many pulled pork sliders per person?
If you're serving these Hawaiian Pulled Pork Sliders to a crowd – I would assume you're going to have more than these to eat – so figure 2 per person. If you're serving it as a main dish – then maybe 3 per person.
I find it easiest to serve these pulled pork sliders with cheese by cutting them in the baking dish and then setting them all out slightly pulled apart on a serving tray or a cutting board. That way people don't have to struggle to get 1-2 and they're also not touching everybody elses!
What to serve with pulled pork sliders?
I actually have a whole post dedicated to What to Serve with Pulled Pork! But here are a couple of my favorites:
Other pulled pork recipes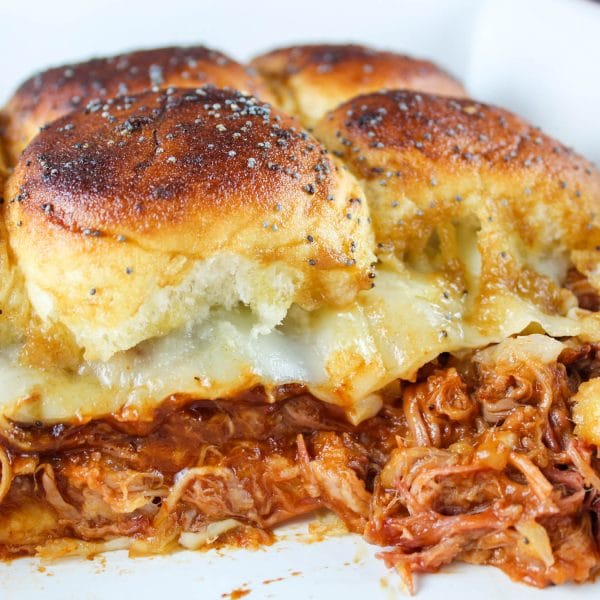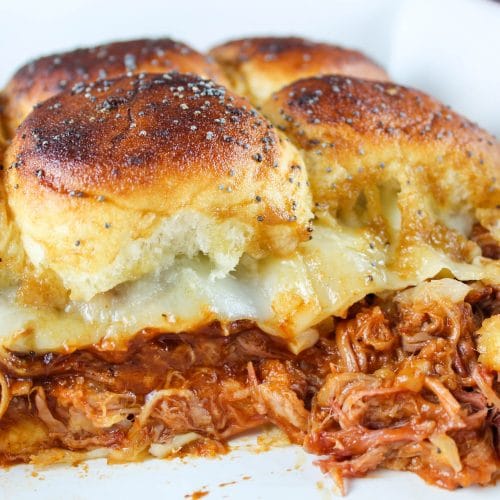 Cheesy Hawaiian Pulled Pork Sliders
These Hawaiian Pulled Pork Sliders are packed with flavor and ready-in-minutes. Grab some pre-made pulled pork and a pack of my favorite Hawaiian rolls and you'll have a game-day snack that everybody will love! (It's also great for a weeknight meal – ready in 30 minutes!)
Ingredients
Sliders
1

12-pk

Kings Hawaiian Rolls

16

oz

pre-made, sauceless pulled pork

i.e. Curly's

8

oz

crushed pineapple

drained

5

slices

provolone cheese

1/2

cup

Williamson Bros. BBQ sauce
Instructions
Slice slider rolls in half

1 12-pk Kings Hawaiian Rolls

Spray rectangular baking dish with non stick cooking spray

Spread shredded pork across rolls – pulled pork spreads easier at room temp – so leave it out for a bit before you make your sandwiches – or heat it up in the microwave for 1-2 minutes

16 oz pre-made, sauceless pulled pork

Spread drained pineapple over pulled pork

If you want extra sauce – pour additional on top of pineapple

1/2 cup Williamson Bros. BBQ sauce

Lay 5 slices of Provolone cheese on top of pineapple

5 slices provolone cheese

Add tops of buns onto sandwiches

In a microwave safe small bowl or glass, add all glaze ingredients (minus poppy seeds) and microwave for 1 minute until butter is melted (cover bowl with press & seal to prevent splatter)

3 tbsp butter,

1 tbsp brown sugar,

1 tbsp Worcestershire sauce,

1 tbsp dijon mustard,

1 tbsp hot sauce

Baste tops of rolls with glaze (you don't have to use it all – discard any remaining glaze)

Sprinkle with a light coating of poppy seeds

Place pork sliders in oven and bake for 25 minutes
Notes
– You can swap out thin slices of pineapple instead of crushed
Nutrition
Serving:
2
sliders
Calories:
548
kcal
Carbohydrates:
62.1
g
Protein:
29.9
g
Fat:
23.1
g
Saturated Fat:
13
g
Cholesterol:
93
mg
Sodium:
1478
mg
Potassium:
134
mg
Fiber:
4.2
g
Sugar:
36.4
g
Calcium:
218
mg
Iron:
2
mg