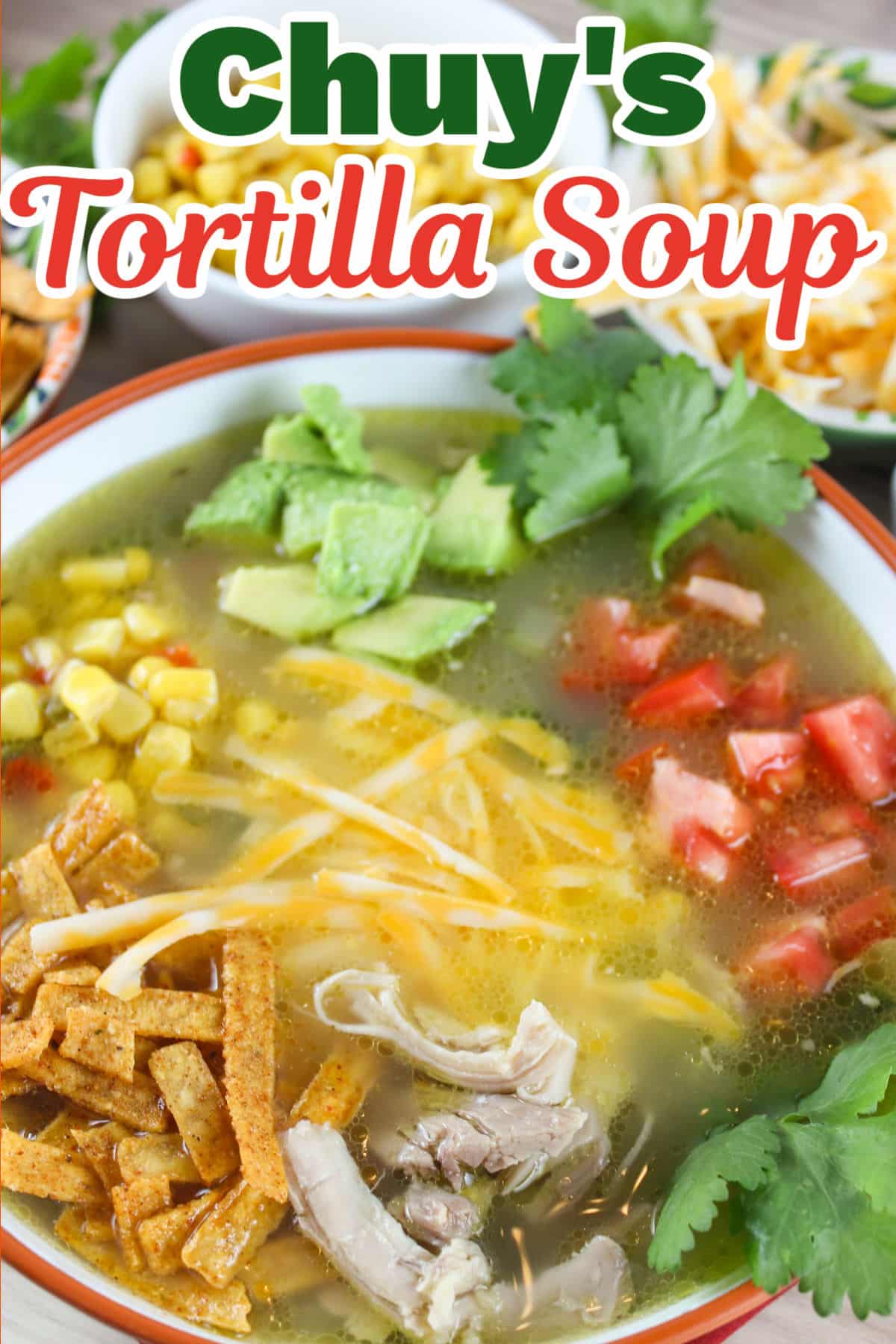 Chuy's Tortilla Soup is unique because you make the homemade chicken broth from scratch! It's so much more delicious and really simple! This perfect cold day soup is loaded with veggies, chicken and fresh herbs then topped with tortilla strips and avocado chunks.
Chuy's restaurants already have my absolute favorite dessert – which I have the recipe for as well! You have to try the Chuy's Tres Leches Cake!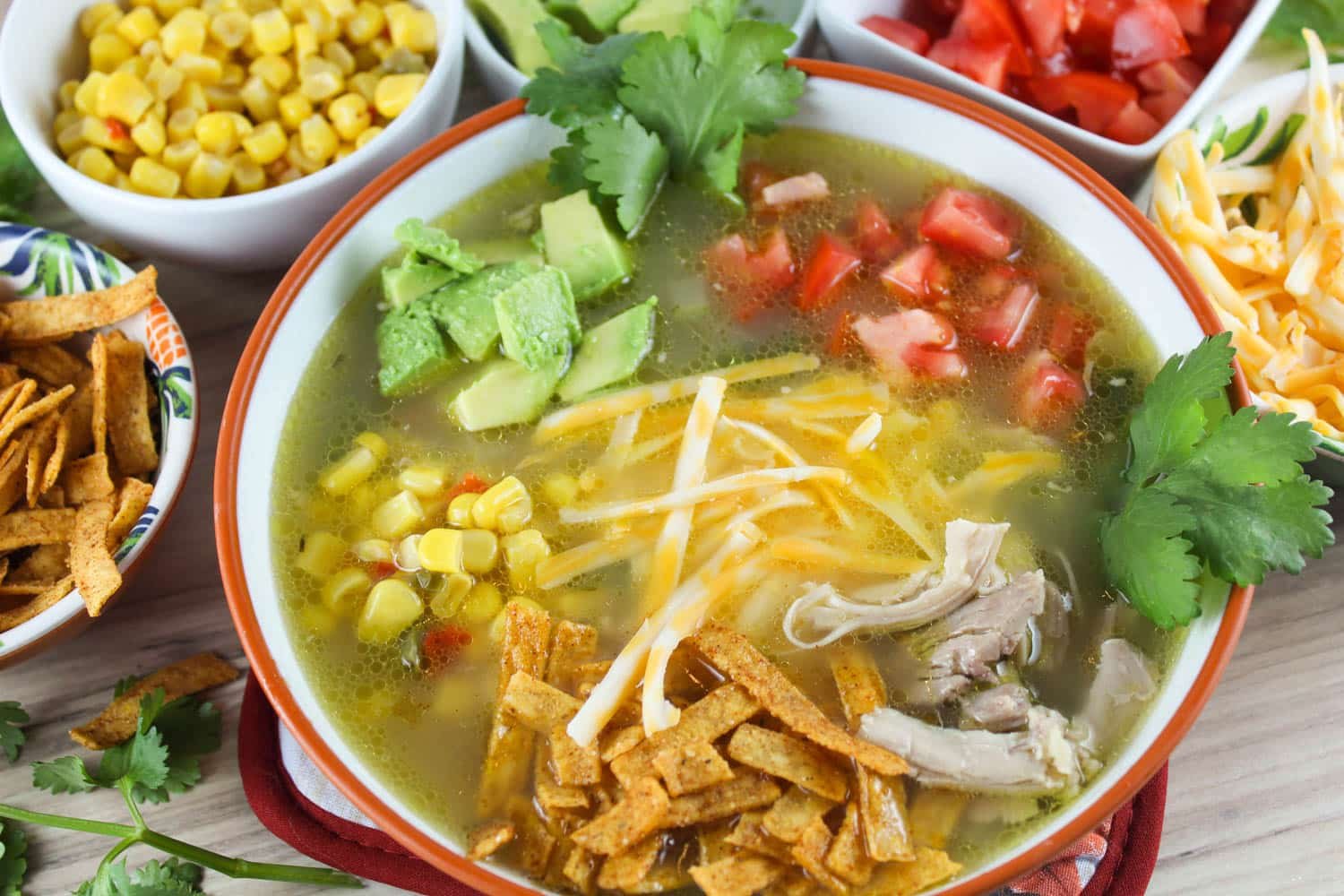 What You Will ❤️ About Chuy's Chicken Tortilla Soup
Scratch-Made – making the broth from scratch was super simple and made for a delicious base for this soup!
Juicy, tender Chicken – Poaching the chicken with all the seasonings and veggies gives you the most tender meat!
Toppings – At the base – it's a brothy chicken soup – but then you add tomatoes, corn, avocado, cheese, tortilla strips and more! Its' delicious!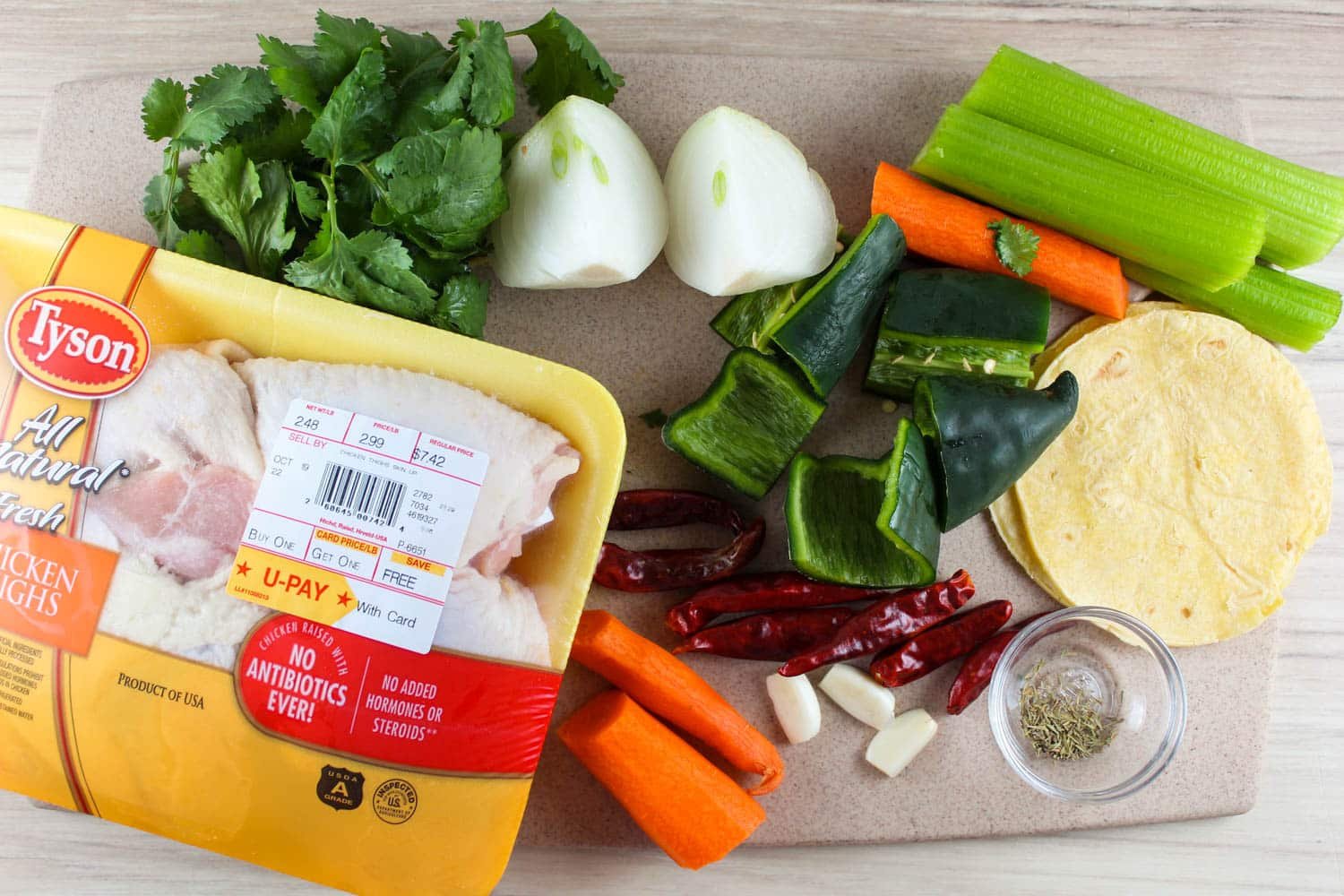 Ingredients in Chuy's Tortilla Soup Recipe
Chuy's makes the broth for their delicious Tortilla Soup recipe from scratch so that's what we'll do too! It takes about an hour but it uses simple ingredients and has so much delicious flavor! I might never use canned chicken broth again.
SOUP INGREDIENTS
water
chicken bouillon – I love to use Better Than Bouillon and mixed Garlic & Chicken base for this recipe
bone-in chicken thighs – I couldn't find bone-in chicken breasts anywhere so I used chicken thighs and they were so delicious! If using bone in chicken breast – cut breast bone in half
carrot
yellow onion – it's a little sweeter than white
celery
poblano peppers – Chuy's uses Anaheim peppers but I subbed poblano because they were easier to find
fresh cilantro leaves – I'm addicted to my Aerogarden! Fresh herbs year round!
fresh garlic – just leave the clove whole
dried red chile pepper – I don't have a Mexican grocery nearby so I bought a bag of dried red chile peppers online – they're super cheap
corn tortillas
dried thyme – use fresh if you have it!
TORTILLA SOUP TOPPINGS
diced tomatoes
corn
avocado
shredded cheese
fresh cilantro
tortilla strips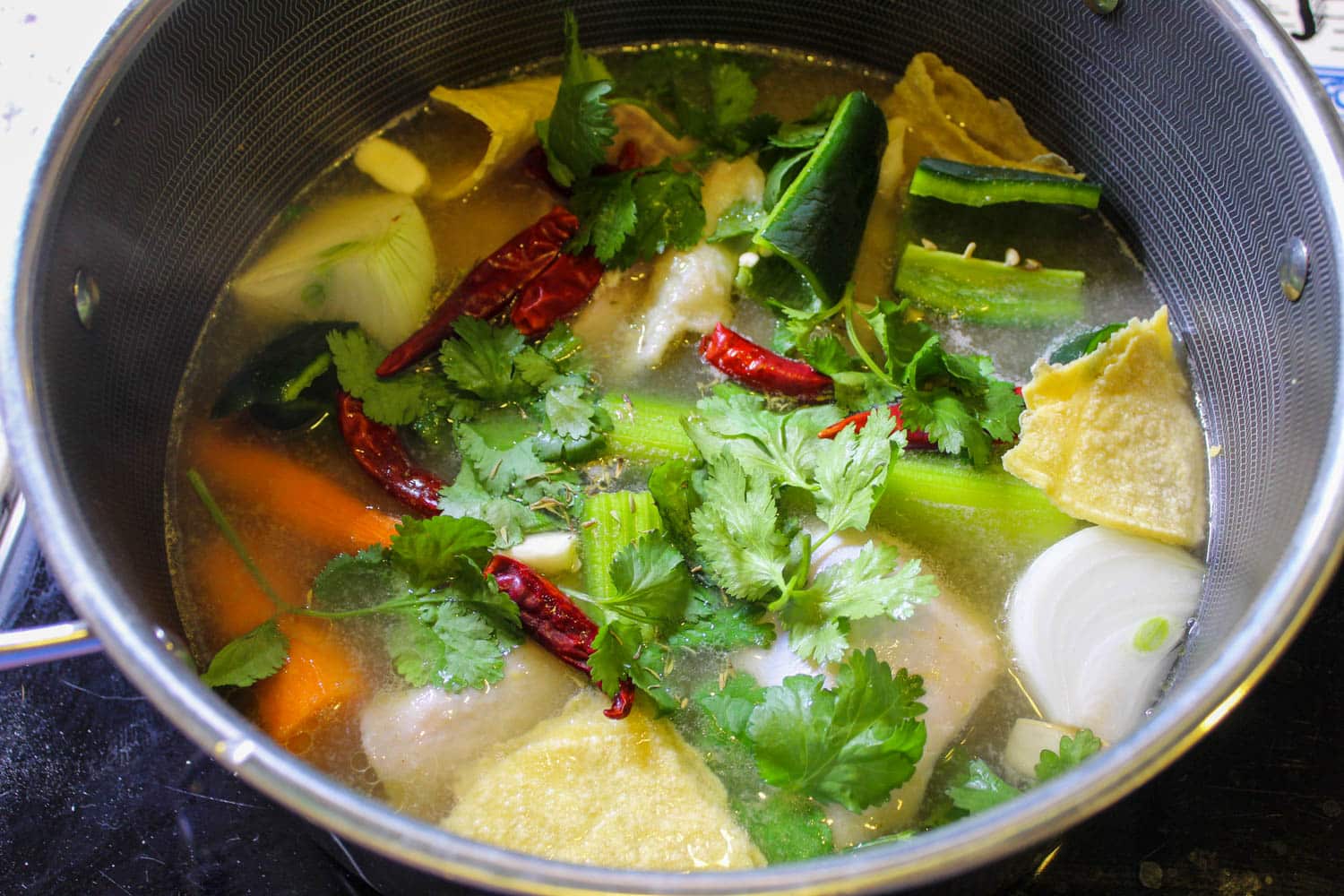 How to Make Chuy's Tortilla Soup
Making the base for Chuy's Chicken Tortilla Soup is the worth the time because it has so much flavor! After that's done, shred the chicken, add the toppings and enjoy!
Making the Broth & Soup
In a large 8-quart stock pot, mix the water and Better than Bouillon chicken base and bring to a boil on high heat.
Peel and trim 1 carrot, 1/2 onion, 2 stalks celery and 1 poblano pepper. These can be in chunks as they're going into the stock and will be discarded.
Once the water is boiling, lower heat to medium and add uncooked chicken (bone in), carrot, celery, onion, poblano, fresh cilantro, garlic cloves, dried chiles, corn tortilla and dried thyme.
Cover and simmer for 40 minutes over medium heat.
Prep additional veggies while stock is simmering. Peel, trim and dice 1 carrot, 1 stalk celery, other 1/2 onion and 1 poblano pepper.
Place a large bowl in the sink. On top of the bowl, place a pasta strainer (or finer – like a China cap strainer) above the bowl. You're mainly wanting to keep out the vegetables and chicken. Pour the chicken stock through the strainer.
With kitchen tongs, remove chicken thighs from strainer and set aside. Discard all the other ingredients in the strainer.
Place liquid stock back into the stock pot and add the diced carrots, onions, celery and poblano pepper. Cover and simmer on medium heat for 10 minutes or until carrots are tender.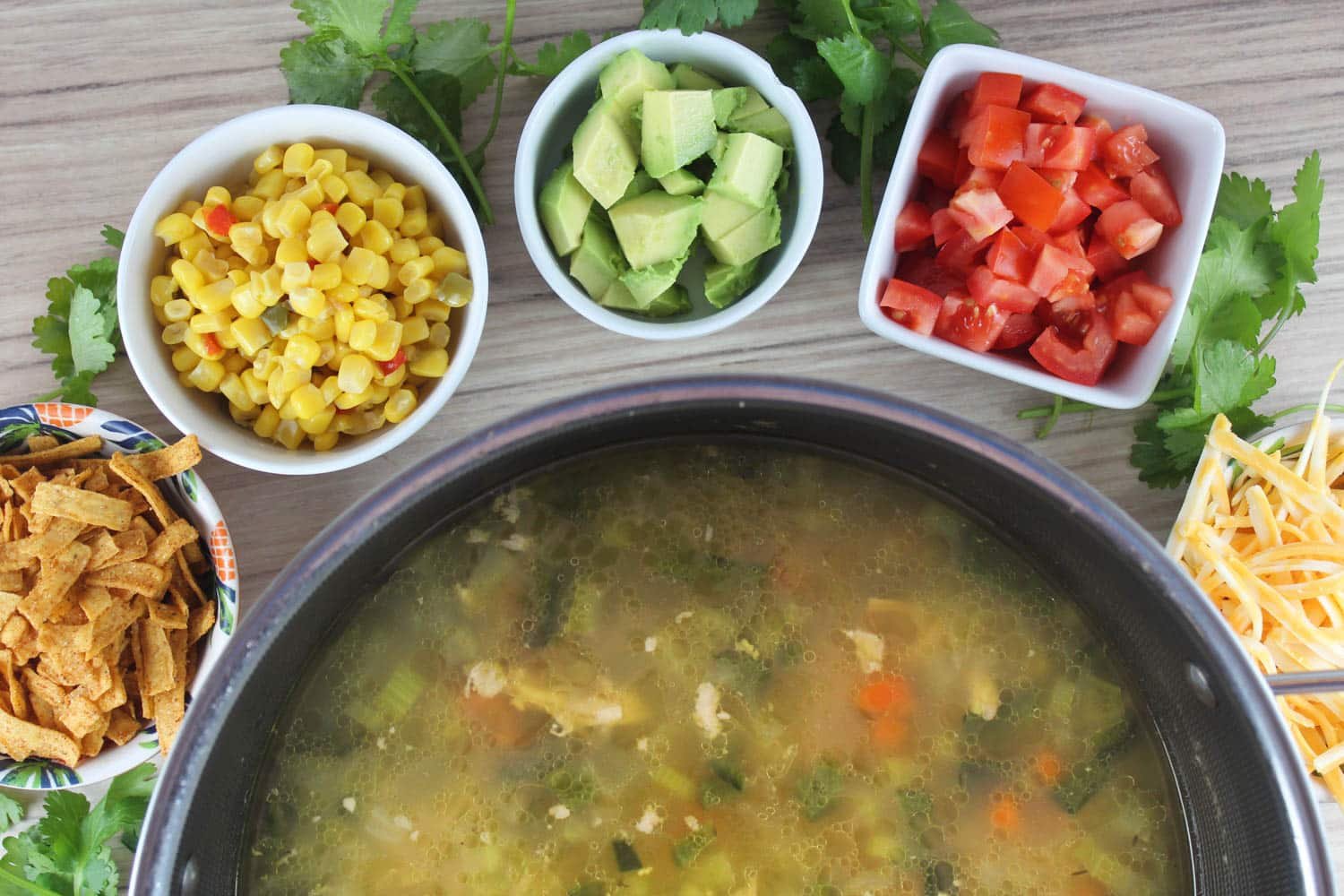 Put it all together!
While vegetables are simmering, pull skin off chicken pieces. Pull chicken from bones and shred. Add shredded chicken back to simmering broth.
Split broth and chicken between four soup bowls. Add remaining ingredients: diced tomato, corn, slices of avocado, shredded cheese, fresh cilantro and crunchy tortilla strips to each soup bowl and enjoy!
This post contains affiliate links which I make a little money on purchases. Thanks in advance! I am an Amazon associate as well as a member of other affiliate programs.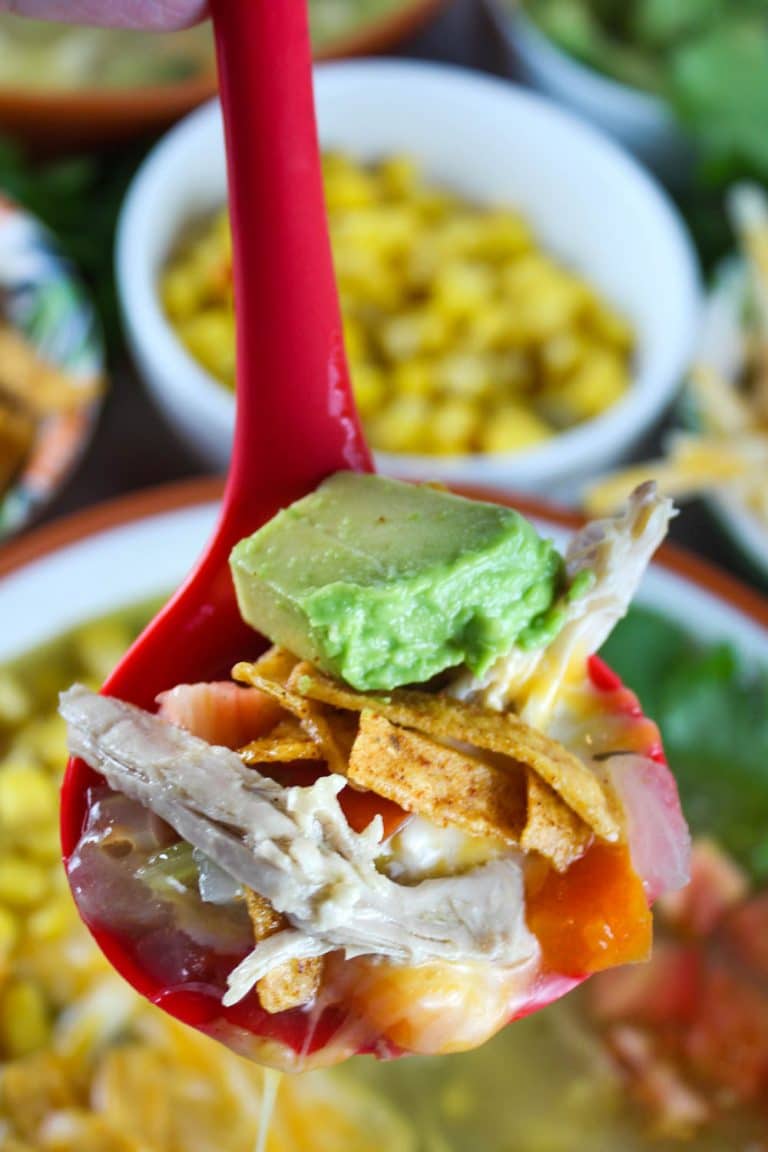 Tips, Tricks & FAQs
What does tortilla soup taste like?
It's a very warm and comforting chicken soup. The bites of fresh veggies you add at the end add a lot of texture. Then you've got the melty cheese and crunch from the tortilla strips. It's delicious!
How many calories are in Chuy's Tortilla Soup?
There are 560 calories in a bowl of Chuy's Tortilla Soup in the restaurant. This recipe has about 572 calories in a bowl.
How do you store and reheat leftover Chuy's Tortilla Soup?
Store leftovers in an airtight container (I like these glass ones) in the refrigerator for up to a week. Only add the tomatoes, corn and cilantro to storage. Leave the cheese, avocado and tortilla strips to add after heating.

You can freeze up to three months. Reheat in the microwave for 2 minutes.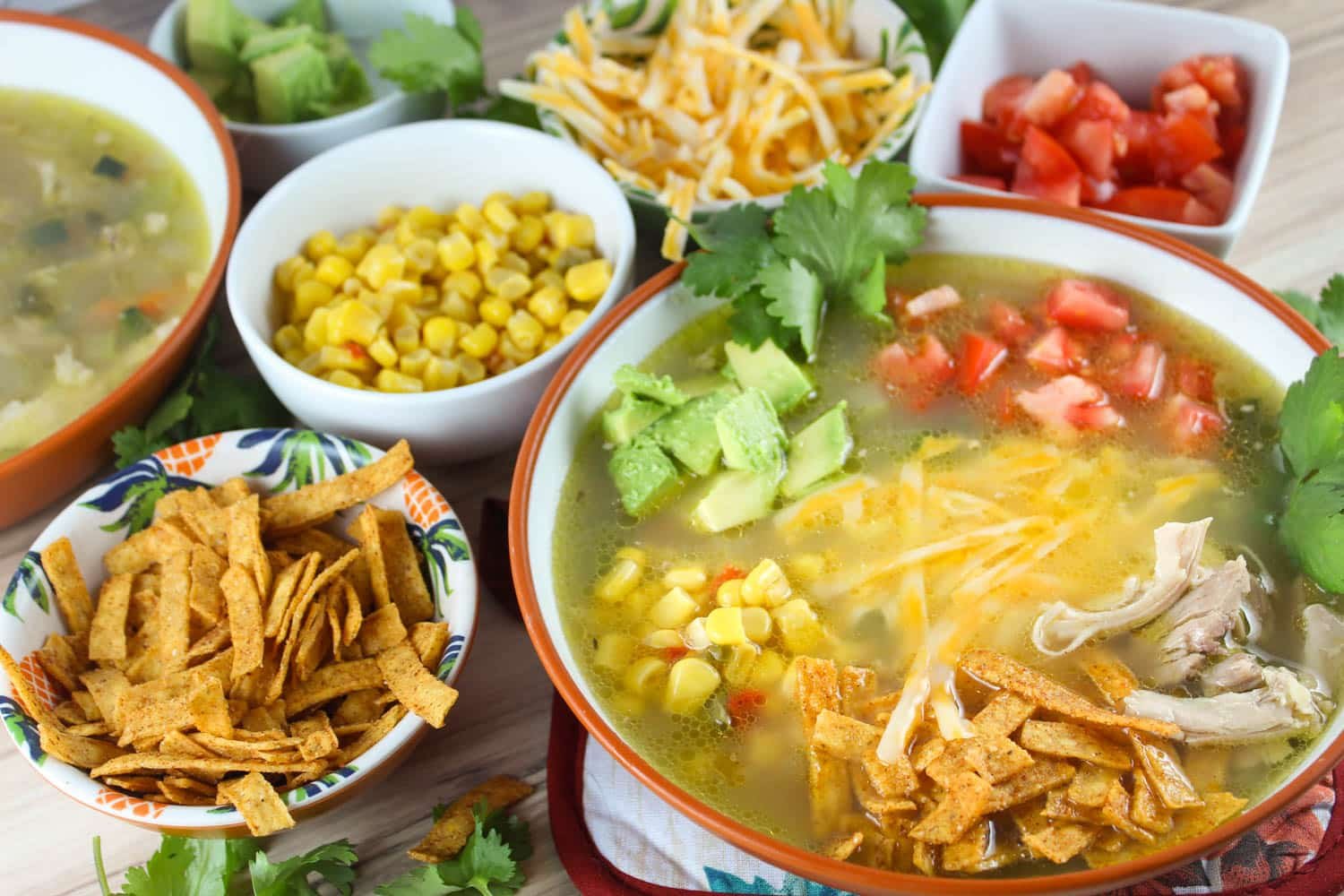 Recipe Variations
More Toppings – This recipe sticks to the restaurant style toppings but you could add black beans, sour cream, salsa, a squeeze of fresh lime juice and diced green onions for additional flavor and texture!
Tortilla Chips – why buy tortilla strips? Just crunch up some regular tortilla chips.
More Kick – want more kick? Add a sprinkle of red pepper flakes or chili powder into the soup or even a can of green chiles!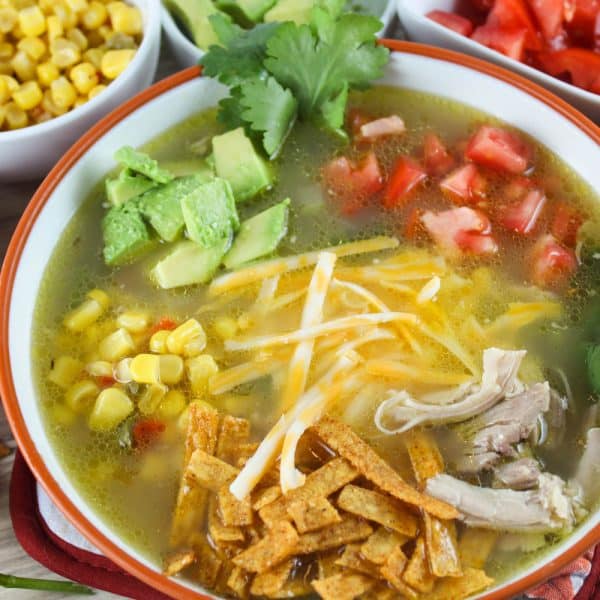 Chuy's Tortilla Soup
Chuy's Tortilla Soup is unique because you make the homemade chicken broth from scratch! It's so much more delicious and really simple! This perfect cold day soup is loaded with veggies, chicken and fresh herbs then topped with tortilla strips and avocado chunks.
Ingredients
Broth Ingredients
8

cups

water

2

tbsp

chicken bouillon

Better than Bouillon Garlic or Chicken

2

lbs

bone-in skin-on chicken thighs

or chicken breasts

1

carrot

peeled and cut into 2 pieces

1/2

yellow onion

peeled and cut into 2 pieces

2

stalks

celery

trimmed, cut in half

1

poblano pepper

cut into chunks

1/4

cup

fresh cilantro sprigs

3

cloves

garlic

1/4

cup

dried red chile peppers

1

5-inch

corn tortilla

1/8

tsp

dried thyme
Chicken Soup Additions
1

carrot

peeled and diced

1/2

yellow onion

peeled and diced

1

stalk

celery

trimmed and diced

1

poblano pepper

trimmed and diced
Toppings
2

roma tomatoes

diced

4

tbsp

corn

canned or frozen

1

avocado

diced

1

cup

colby jack cheese

shredded

4

sprigs

fresh cilantro

1/4

cup

tortilla strips
Instructions
In a large 8-quart stock pot, mix the water and Better than Bouillon and bring to a boil on high heat.

8 cups water,

2 tbsp chicken bouillon

Peel and trim 1 carrot, 1/2 onion, 2 stalks celery and 1 poblano pepper. These can be in chunks as they're going into the stock and will be discarded.

1 carrot,

1/2 yellow onion,

2 stalks celery,

1 poblano pepper

Once the water is boiling, lower heat to medium and add raw bone-in chicken, carrot, celery, onion, poblano, fresh cilantro, garlic cloves, dried chiles, corn tortilla and dried thyme.

2 lbs bone-in skin-on chicken thighs,

1 carrot,

1/2 yellow onion,

2 stalks celery,

1/4 cup fresh cilantro sprigs,

3 cloves garlic,

1/4 cup dried red chile peppers,

1 5-inch corn tortilla,

1/8 tsp dried thyme,

1 poblano pepper

Cover and simmer for 40 minutes over medium heat.

Prep additional veggies while stock is simmering. Peel, trim and dice 1 carrot, 1 stalk celery, other 1/2 onion and 1 poblano pepper.

1 carrot,

1/2 yellow onion,

1 stalk celery,

1 poblano pepper

Place a large bowl in the sink. On top of the bowl, place a pasta strainer (or finer) above the bowl. You're mainly wanting to keep out the vegetables and chicken. Pour the chicken stock through the strainer.

With tongs, remove chicken thighs from strainer and set aside. Discard all the other ingredients in the strainer.

2 lbs bone-in skin-on chicken thighs

Pour the strained stock back into the stock pot and add the diced carrots, onions, celery and poblano pepper. Cover and simmer on medium heat for 10 minutes or until carrots are tender.

1 carrot,

1/2 yellow onion,

1 stalk celery,

1 poblano pepper

While vegetables are simmering, pull skin off chicken pieces. Pull chicken from bones and shred. Add shredded chicken back to simmering broth.

Split broth and chicken between four bowls. Add diced tomato, corn, slices of avocado, shredded cheese, fresh cilantro and crunchy tortilla strips to each bowl and enjoy!

2 roma tomatoes,

4 tbsp corn,

1 avocado,

1 cup colby jack cheese,

4 sprigs fresh cilantro,

1/4 cup tortilla strips
Notes
**We are not dietitians and recommend you seek a nutritionist for exact nutritional information. The information in the nutrition box are calculated through a program and there is room for error. If you need an accurate count, I recommend running the ingredients through your favorite nutrition calculator.**
Nutrition
Serving:
2
cups
Calories:
572
kcal
Carbohydrates:
59.3
g
Protein:
32.1
g
Fat:
27.2
g
Saturated Fat:
7.1
g
Cholesterol:
93
mg
Sodium:
593
mg
Potassium:
1665
mg
Fiber:
15.8
g
Sugar:
8
g
Calcium:
171
mg
Iron:
9
mg