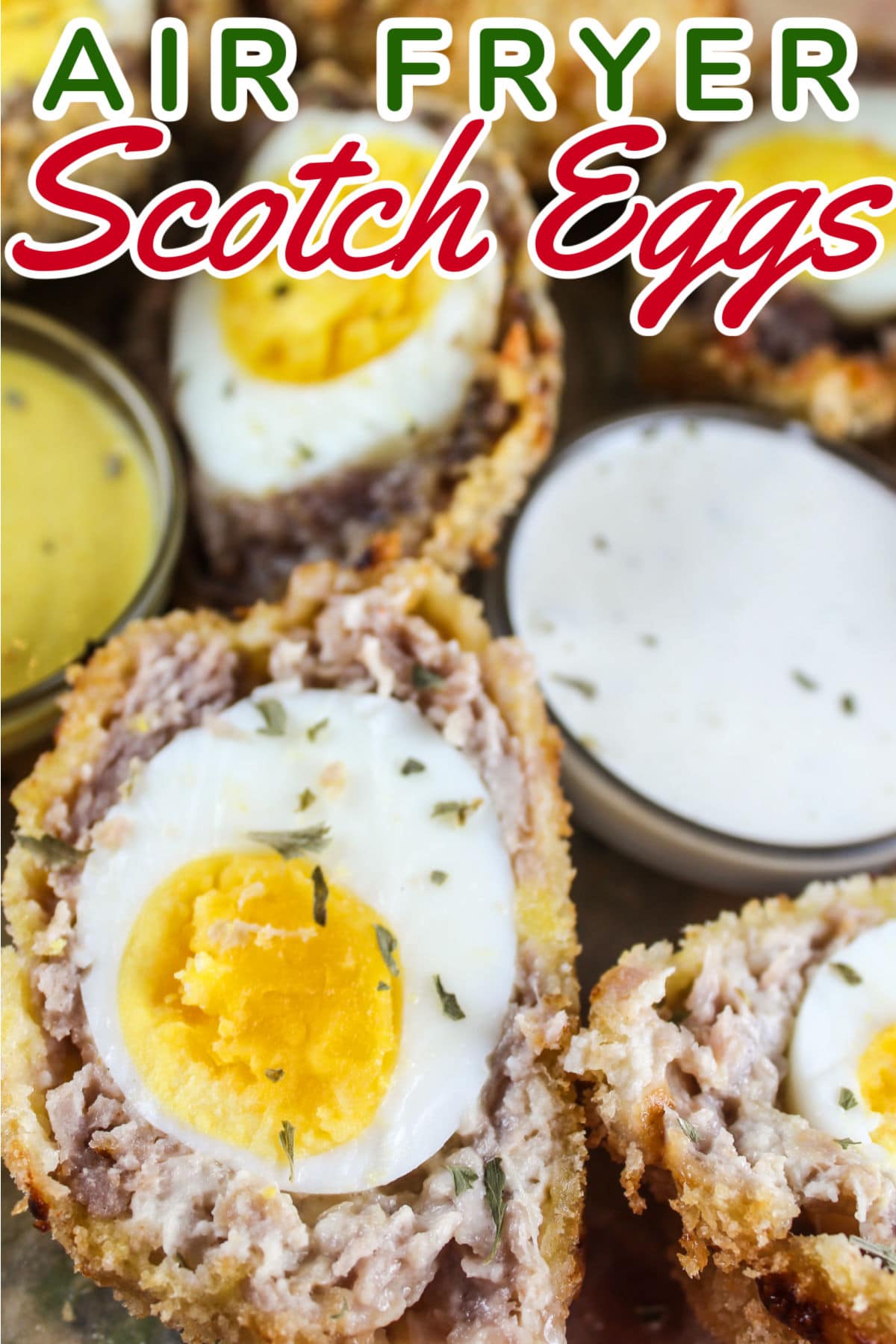 Air Fryer Scotch Eggs are my new favorite breakfast treat! It's sausage and eggs all in one delightful crunchy bite! They're fun to make too – and you can do the whole thing in air fryer! Plus – I have a delicious shortcut to the best honey mustard dip – it goes perfect with these scotch eggs.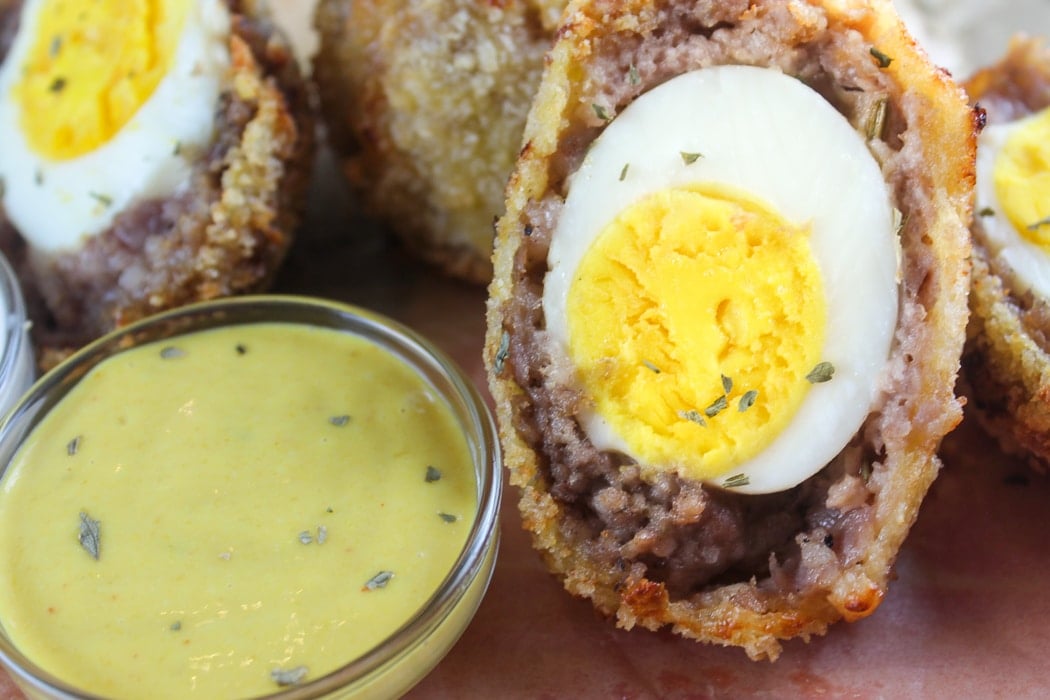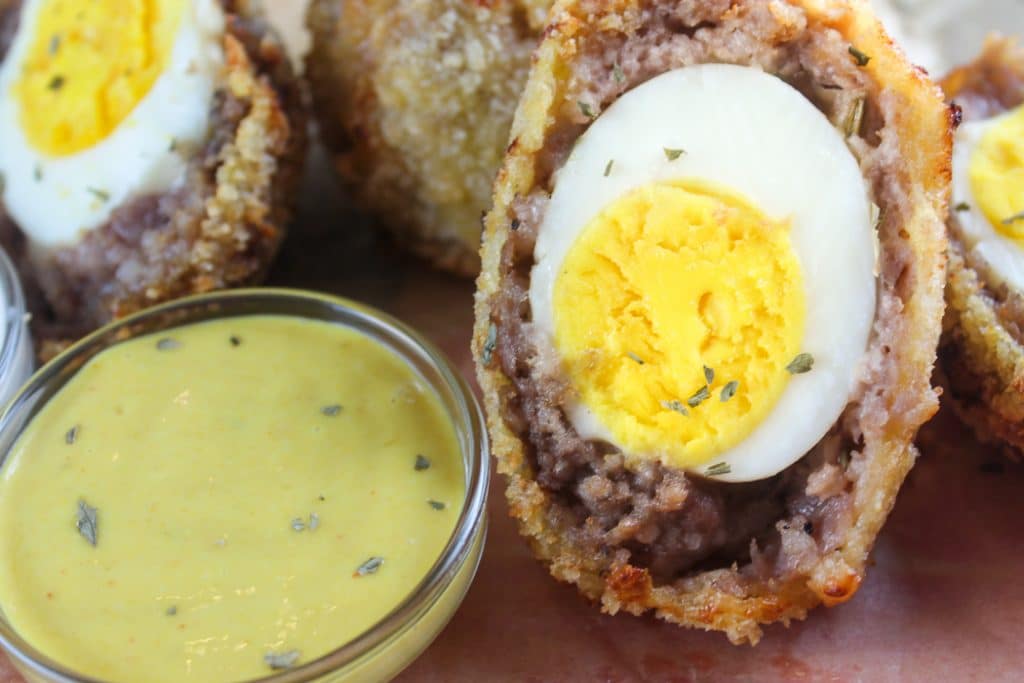 If you're not familiar, a Scotch Egg is a hard boiled egg wrapped in sausage, then breaded and fried. You can dip it in whatever sauce you like – my favorites are my creamy jalapeno ranch and honey mustard.
Jump to Recipe
Where does the Scotch Egg come from?
Scotch Eggs don't actually come from Scotland! There's actually conflicting stories around how they began and how they even got their name. A department store in London popularized them as a travelers snack – once cooked – they're a hearty compact snack! There's a technique for mincing meat known as scotching – so that might also be part of where the name came from. But none of it really goes back to Scotland – although most people think it is Scottish – so it's served at many restaurants there.
Ingredients for Scotch Eggs
These Scotch Eggs are tasty and simple to make! Plus you've got protein on protein with eggs & a layer of sausage and then a crunchy outside! Here's what you'll need:
pork sausage – because you're using sausage – you don't need extra seasonings – but you could always add things like garlic powder, onion powder, salt & pepper
cream cheese
eggs
flour
panko bread crumbs – if you want more keto or low carb – you can use crushed pork rinds
spicy honey mustard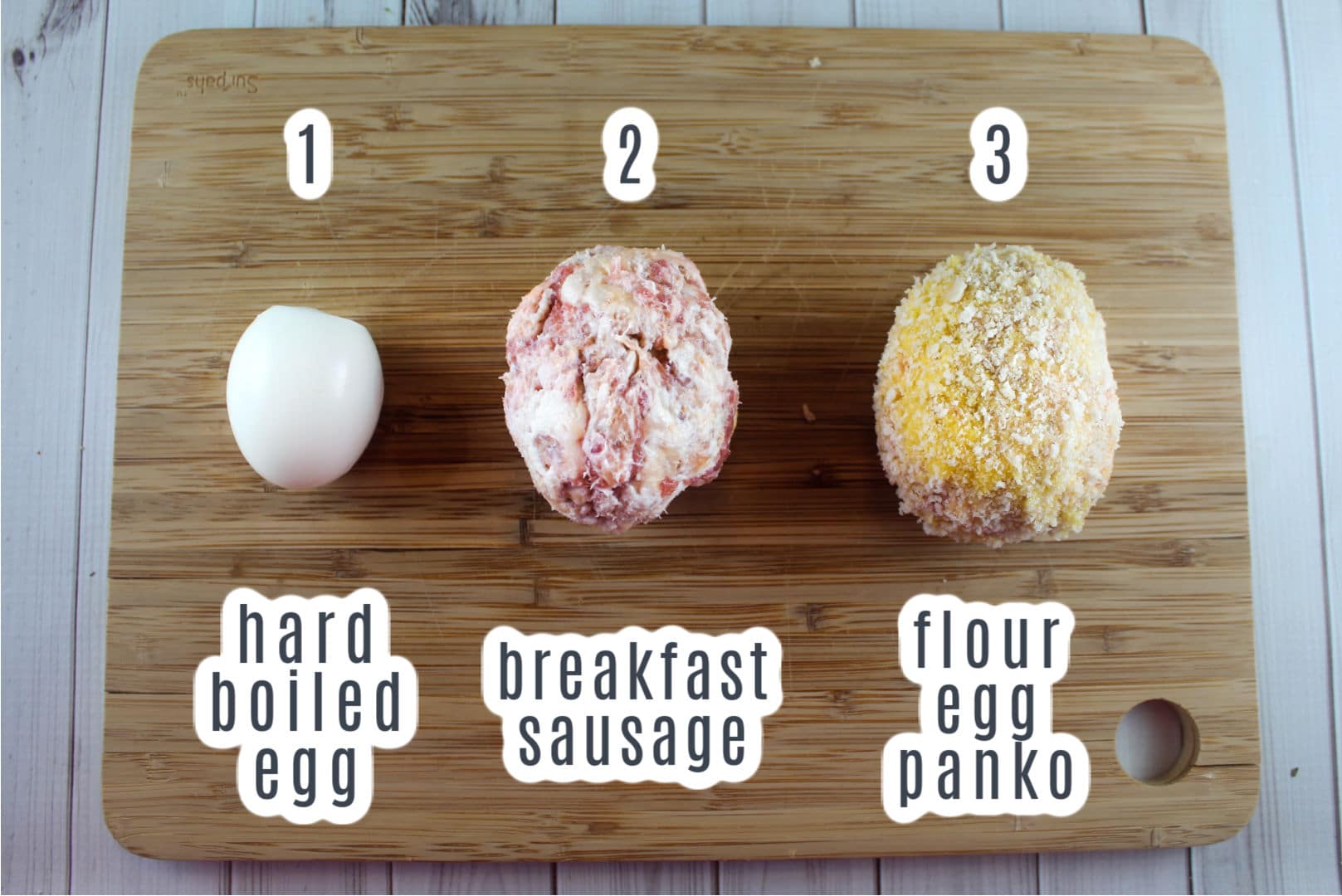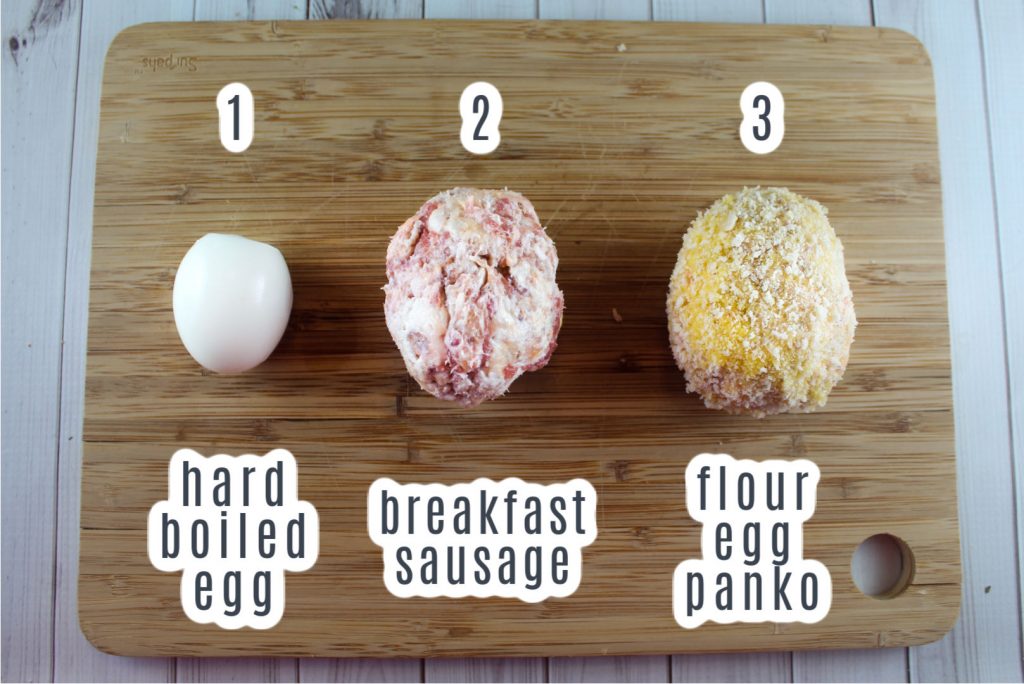 How do you prepare Air Fryer Scotch Eggs?
Making a scotch egg in the air fryer is super simple!
"Boil" your eggs in the air fryer – I recommend a soft-medium. Here's a post on the different times for boiling your eggs in the air fryer.
Once cooled, peel eggs – carefully if you've chosen to soft boil them.
In a bowl, mix together sausage meat and cream cheese.

I added the cream cheese to some of the sausage and think it made the dish a little lighter and even better than the ones with plain sausage!

Divide sausage mixture into 6 even portions and flatten each into a thin patty.
Wrap sausage patty around each egg, sealing all sides (Good time to wash your hands!)
Prepare your breading trays:

Tray 1: flour
Bowl: Beaten Eggs
Tray 2: Panko

Dip each sausage-wrapped egg into flour, then beaten egg, letting the excess drip off. Finally, roll in panko and place into air fryer.
Spray eggs with olive oil
Place in your air fryer basket and cook at 400 for 8 minutes
Turn eggs, spray with olive oil and air fry at 400 for 8 more minutes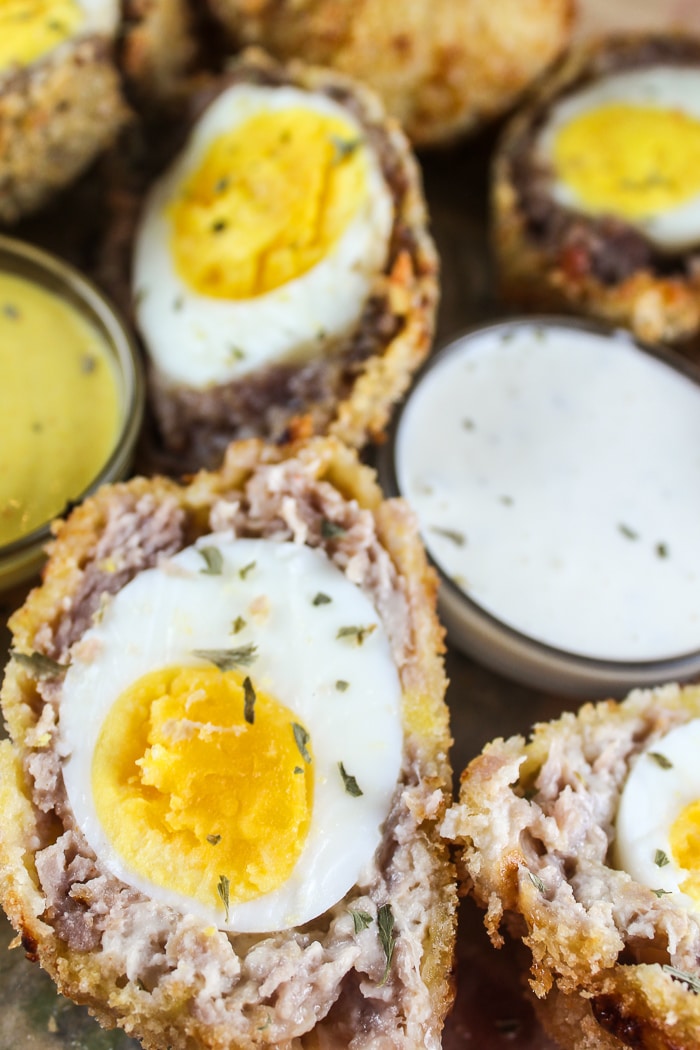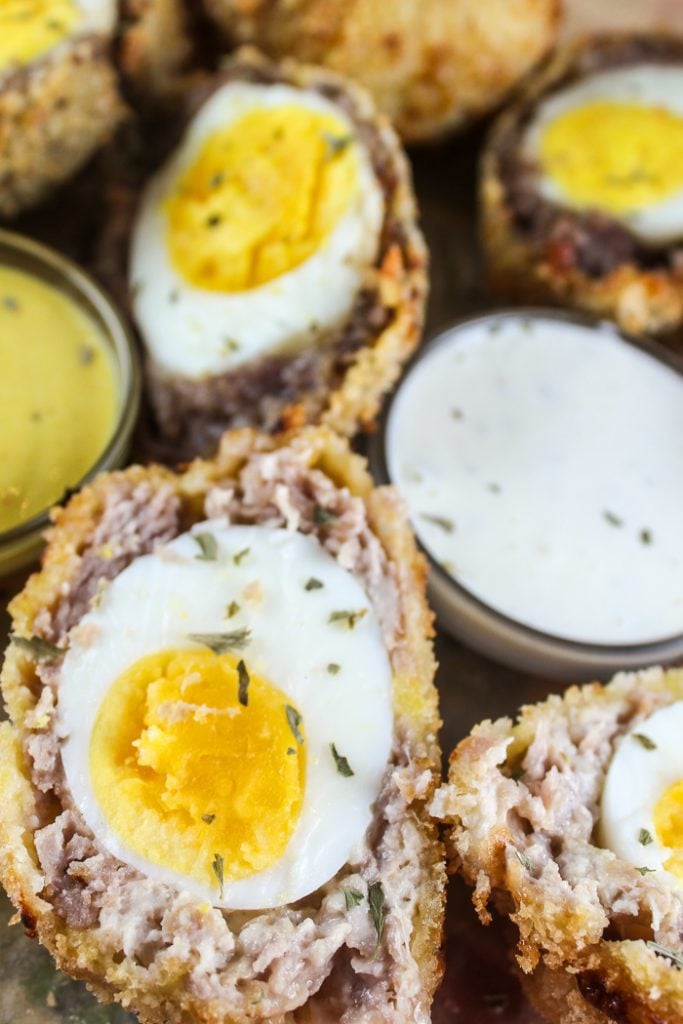 How long does it take to make Scotch Eggs in the air fryer
Well – it's a compound question – first you have to hard boil the eggs which takes 13 minutes. Then you need to wrap and make the scotch eggs – which takes another 15-16 minutes. So a total time of about 30 minutes.
How do you make an Air Fryer Scotch Egg with a runny yolk?
To have a runny yolk in a Scotch Egg, you need to soft boil your eggs. Air frying your Scotch eggs has so much less oil and fat than deep frying and the sausage provides a good barrier around the eggs so they don't really cook much more. A soft boiled egg takes 10-11 minutes. They're a little more difficult to peel because you don't want to break the egg – so just treat them a little more delicately.
If you're not going for a runny yolk – you can do a medium boil on your eggs in about 13 minutes in the air fryer and they turn out great! That's how I made these and really enjoyed them!
Can Scotch Eggs be eaten hot?
Sure!!!! I ate them warm and they were delightful! Yes – because it's all cooked – you can take them in a picnic and eat them at any temperature. That said – warm is my favorite!
How do you store and reheat cooked Scotch eggs?
You're going to have six Scotch eggs so you definitely might have leftovers! Store in airtight containers and refrigerate up to a week – or freeze up to three months. Reheat in the microwave for 2-3 minutes or in the air fryer for 4-5 minutes – if whole. If sliced, they would only take 2-3 minutes to reheat in the air fryer.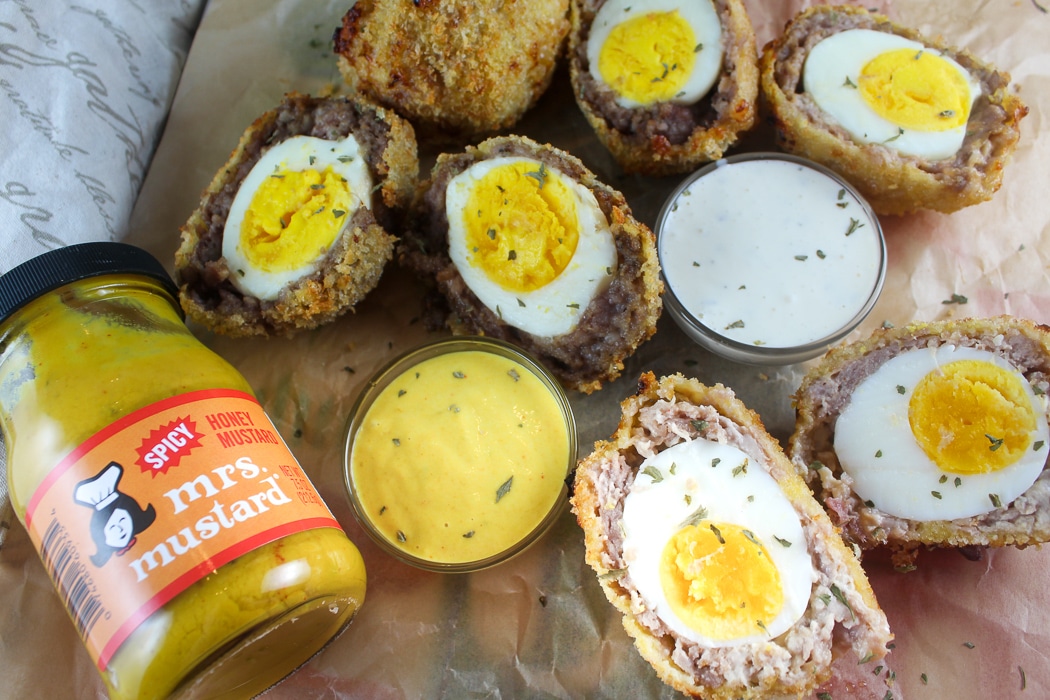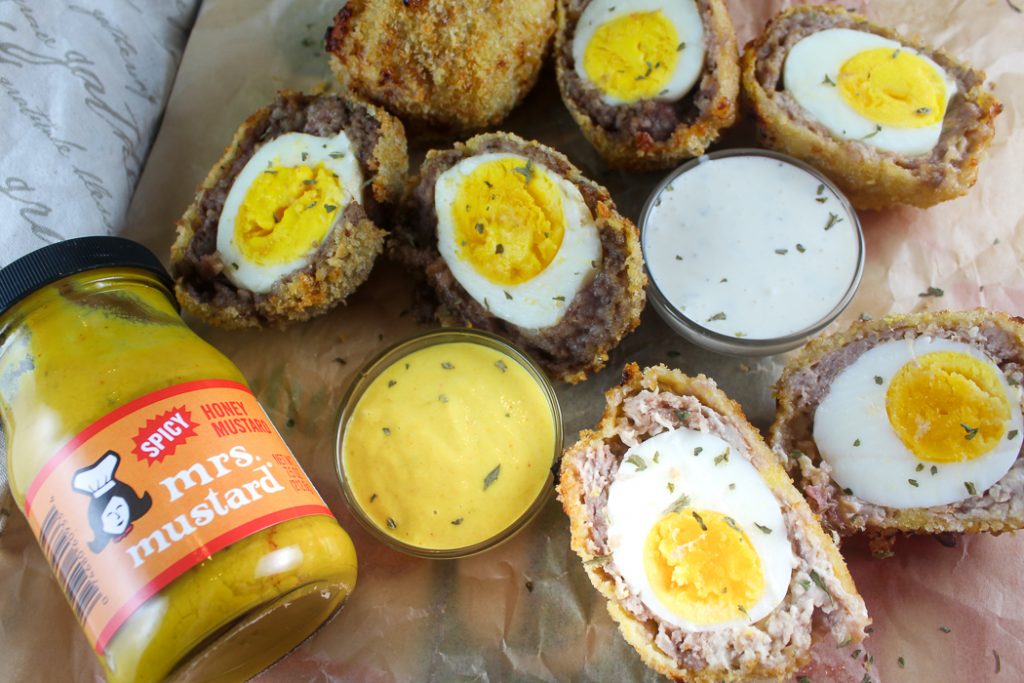 How do you make honey mustard?
I made this super simple honey mustard to dip them in! My favorite mustard is Mrs. Mustard – it's a spicy honey mustard from my friends at Woeber's. (They let me visit and tour their factory!) I mix together 3:2 ratio of mustard and Duke's Mayo and it's the PERFECT blend for a honey mustard dip. I make this ALL THE TIME for chicken strips, sandwiches and these Scotch eggs!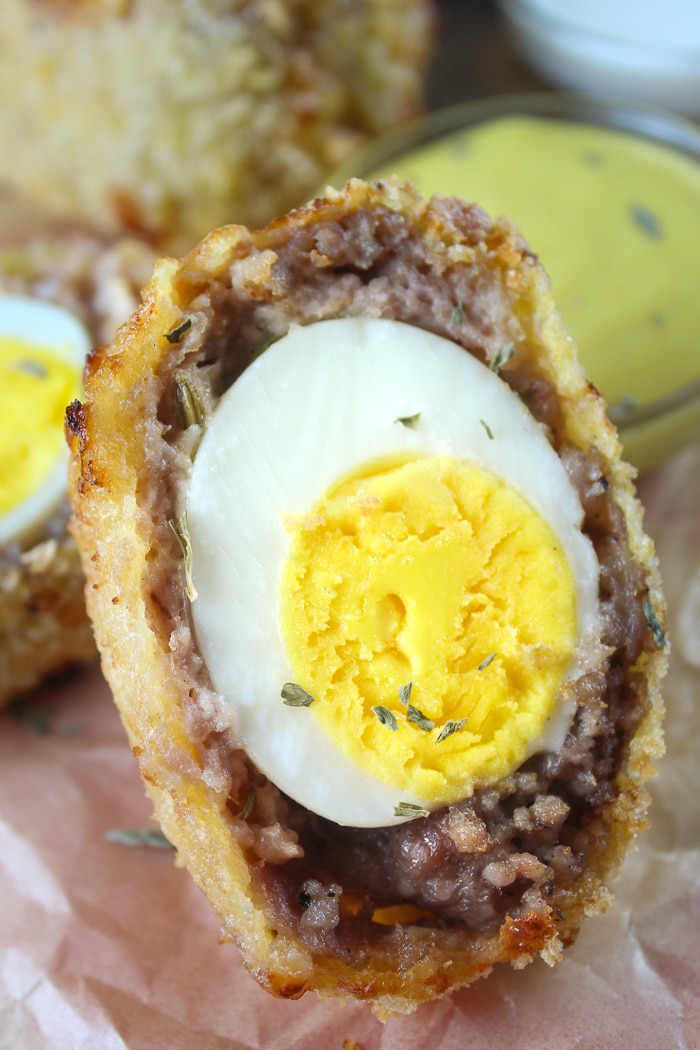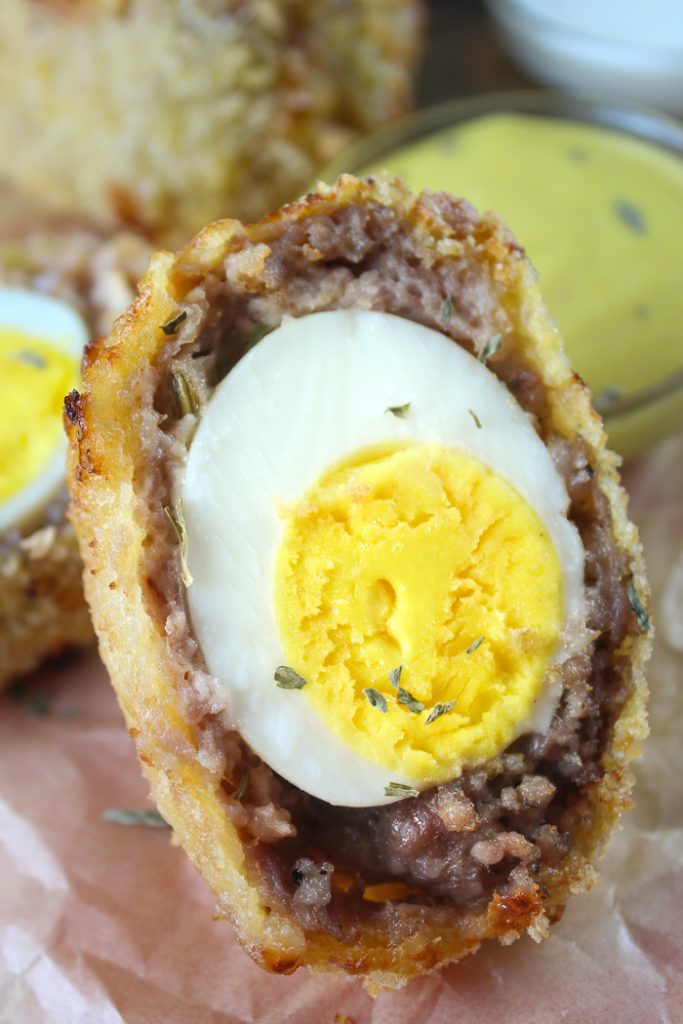 What to serve with Scotch Eggs
Scotch eggs really cover most of your breakfast – but you can always have some fun with other items to go with them. Here's a few ideas for breakfast pairings or other packable snacks!
More ways to Air Fry Eggs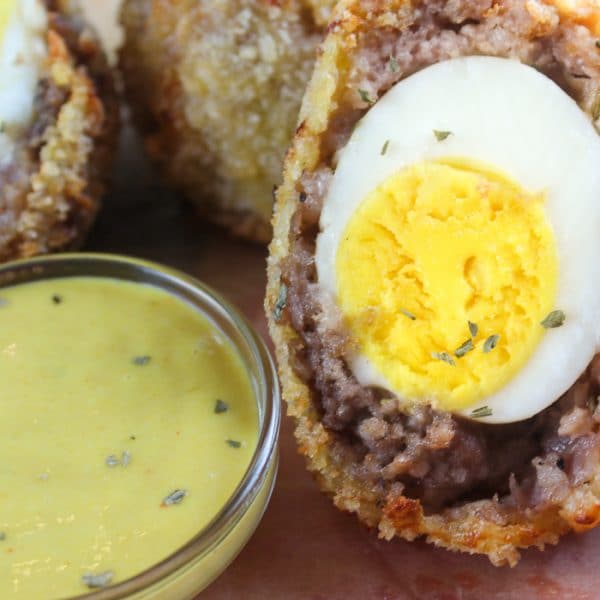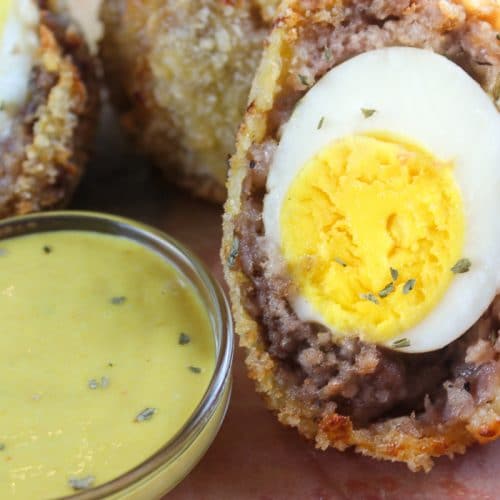 Air Fryer Scotch Eggs
Air Fryer Scotch Eggs are my new favorite breakfast treat! It's sausage and eggs all in one delightful crunchy bite!
Ingredients
1

lb

pork sausage

1/2

block

cream cheese

6

eggs

(for hard boiling)

1/2

cup

flour

2

eggs

(for breading)

1

cup

panko bread crumbs

3

tbsp

Woeber's Mrs Mustard (spicy honey mustard)

2

tbsp

Duke's Mayonnaise
Instructions
Place 6 eggs in the air fryer and air fry at 250 for 13 minutes (medium boil)

While eggs are cooking, in a bowl, mix sausage and cream cheese

1 lb pork sausage,

1/2 block cream cheese

Remove eggs and put in cold water and cool

As soon as they're cool – peel the shells

Divide sausage mixture into 6 even portions. Flatten each portion into a thin patty.

Once eggs are cooled and peeled, place one egg in the middle and wrap the sausage around the eggs, sealing all sides. Set eggs aside on a plate.

Prepare breading trays:

Tray 1: flour

Bowl: Beaten Eggs

Tray 2: Panko

1/2 cup flour,

2 eggs,

1 cup panko bread crumbs

Dip each sausage-wrapped egg into flour, then beaten egg, letting the excess drip off. Finally, roll in panko and place into air fryer.

Spray eggs with olive oil

Air fry at 400 for 8 minutes

Turn eggs, spray with olive oil and air fry at 400 for 8 more minutes

While air frying, mix together honey mustard and mayo for a delicious dipping sauce

3 tbsp Woeber's Mrs Mustard (spicy honey mustard),

2 tbsp Duke's Mayonnaise
Notes
**We are not dietitians and recommend you seek a nutritionist for exact nutritional information. The information in the nutrition box are calculated through a program and there is room for error. If you need an accurate count, I recommend running the ingredients through your favorite nutrition calculator.**
Nutrition
Serving:
1
egg
Calories:
546
kcal
Carbohydrates:
25.1
g
Protein:
25.9
g
Fat:
36.4
g
Saturated Fat:
13.3
g
Cholesterol:
304
mg
Sodium:
1056
mg
Potassium:
359
mg
Fiber:
0.8
g
Sugar:
10.9
g
Calcium:
90
mg
Iron:
3
mg