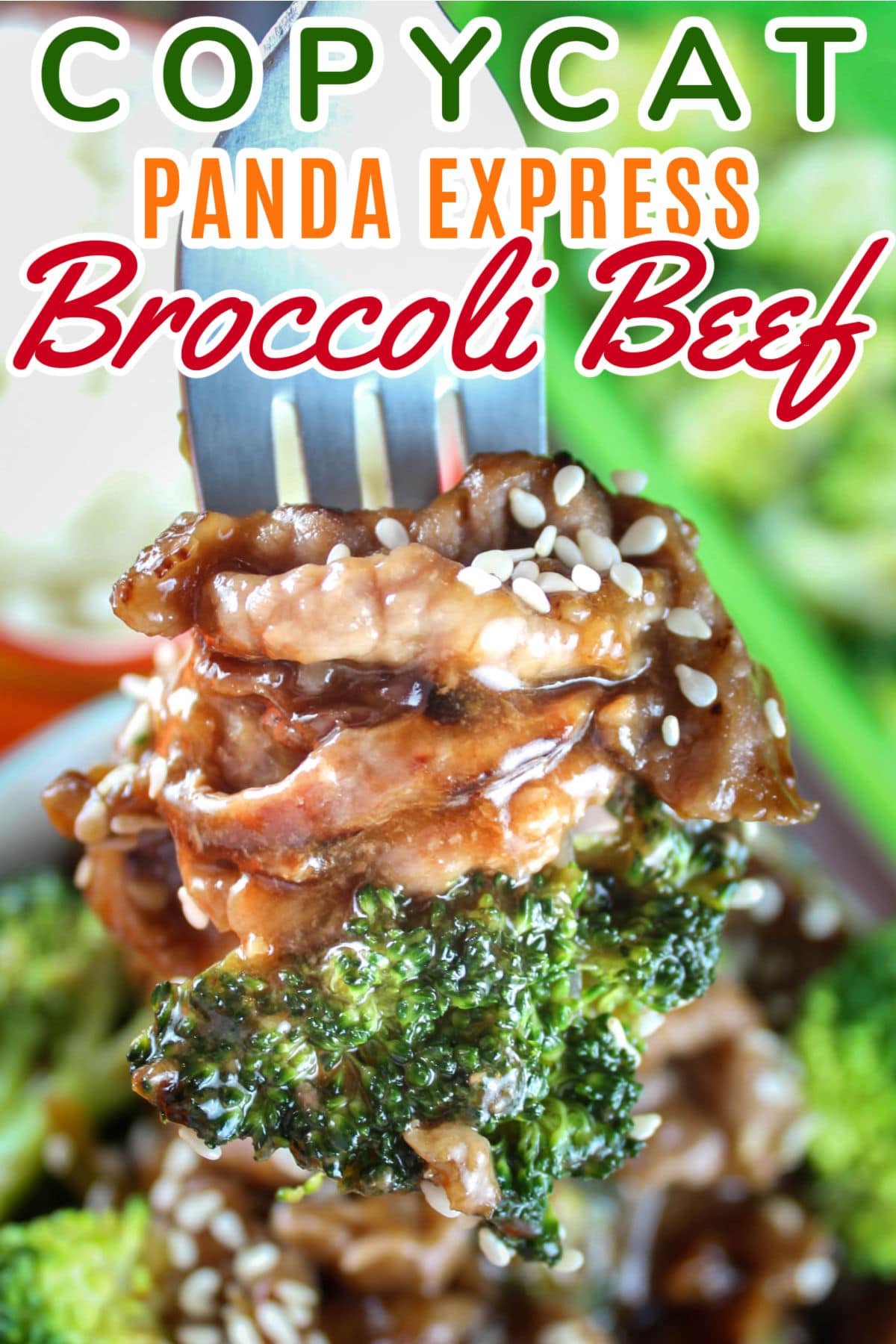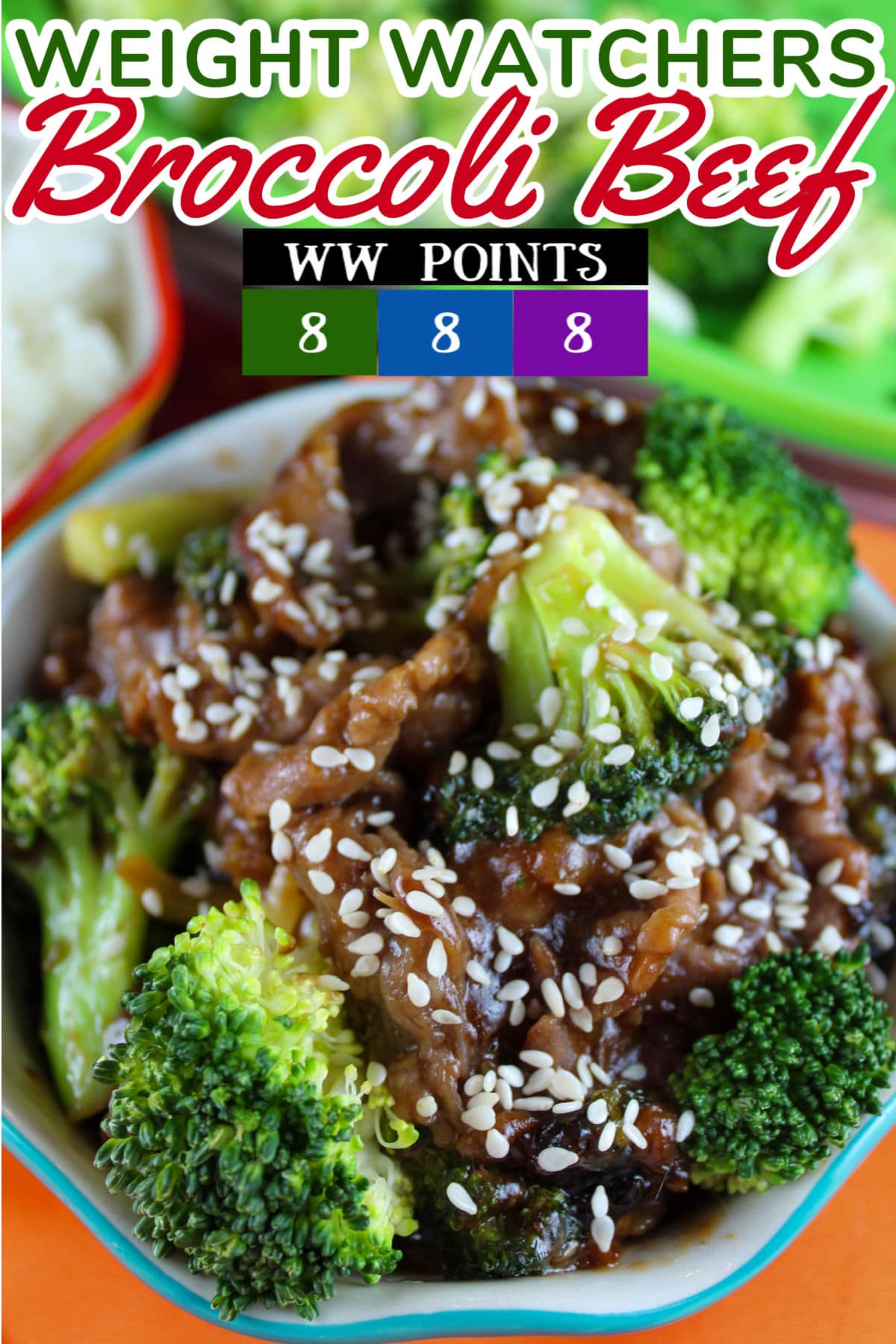 This Weight Watchers Beef & Broccoli is also a delicious copycat of my favorite Chinese takeout dish! A rich homemade teriyaki sauce and loads of fresh broccoli make this a very healthy dinner option you can make it in about 10 minutes!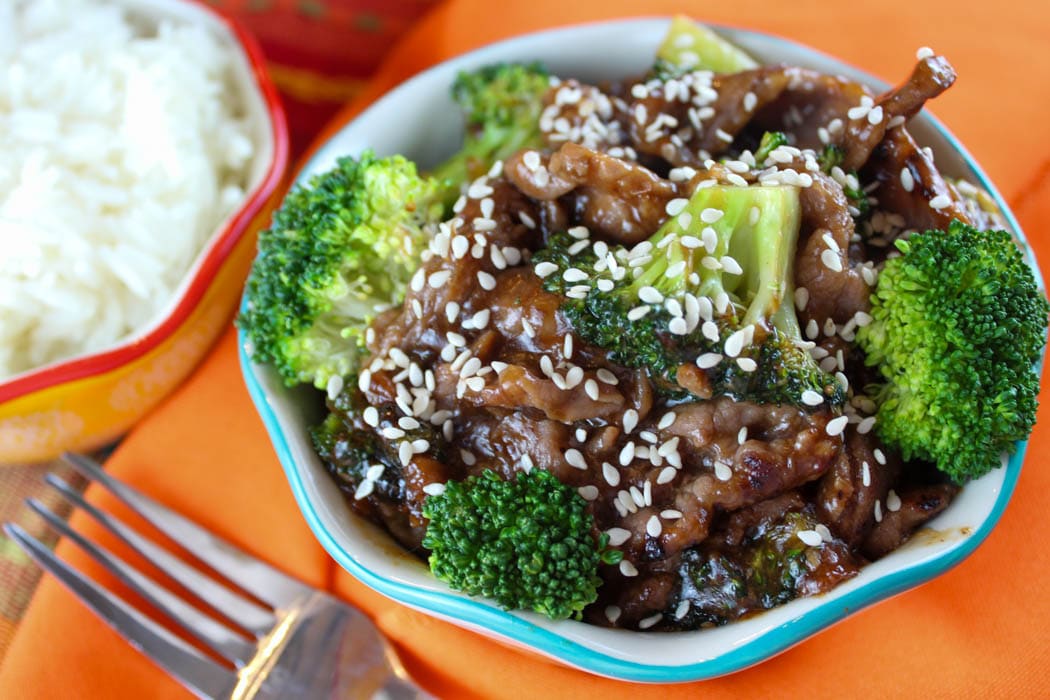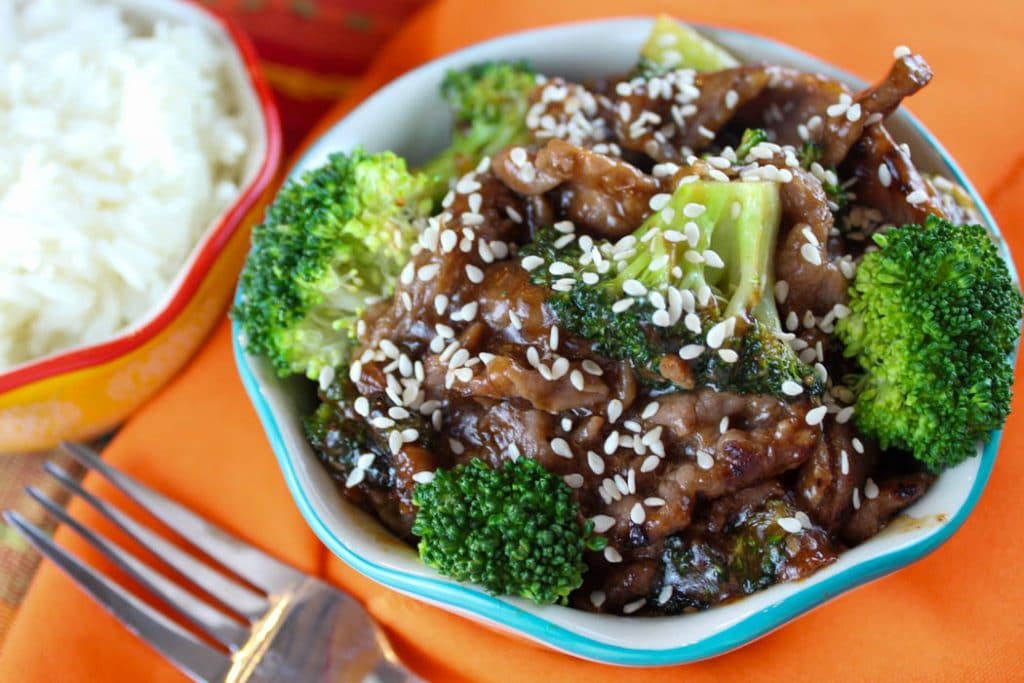 What You Will ❤️ About Beef & Broccoli
Speedy – this dinner is ready in about 10 minutes
Versatile – want more veggies? Add them! Want to use chicken? Sure!
Weight Watchers Friendly – it's 8 points on all plans (green plan, blue plan or purple plan)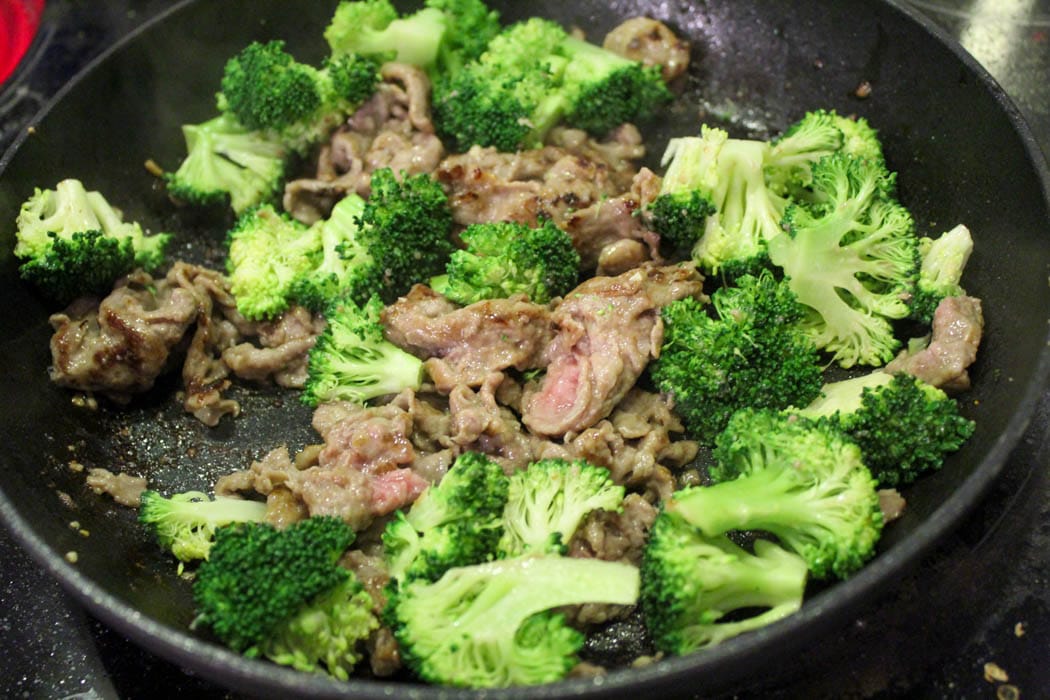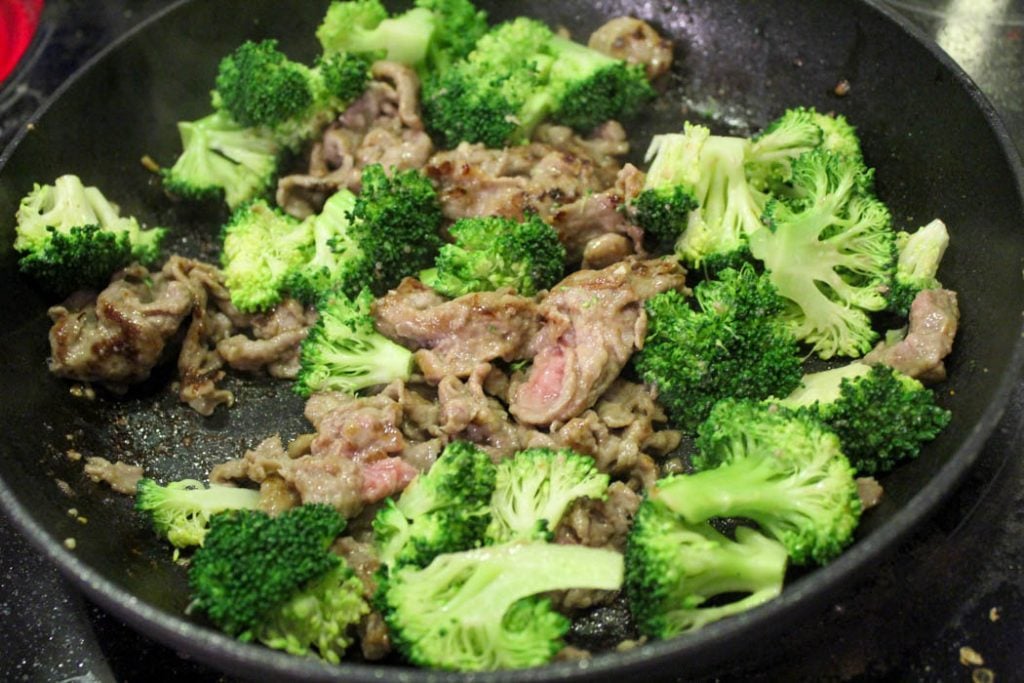 What's in Weight Watchers Broccoli Beef?
Broccoli Beef is delicious and so easy! There are quite a few Asian-centric ingredients so I've provided swaps if you don't have some of them.
Shaved Steak – I find this at Meijer, Kroger & Aldi now – it's great for cheesesteak sandwiches too!
Corn Starch
Mirin – you can swap with dry white wine or rice vinegar – just add 1/2 tsp sugar for every 1 tbsp of your substitute
Sesame Oil – you can swap olive oil but the sesame oil adds so much flavor – even just a tiny bit
Garlic – use fresh if you can
Broccoli – again – fresh broccoli is important here!
Ground Ginger – if you can use fresh ginger root – it's best – it's super cheap and so much more flavor!
Hoisin & Fish Sauce – the flavors are similar but I used both in this recipe. If you only have one of the two – use that – or swap one with Oyster Sauce. You can also sub with a combination of molasses or brown sugar and Worcestershire or Soy sauce
Stevia – because this is a WW recipe, I used a sugar substitute – but you can use your fav sugar sub or regular sugar
Soy Sauce – I tend to use low sodium soy sauce because there's so much salt in these dishes!
Sesame Seeds & Red Pepper Flakes – a sprinkle at the end!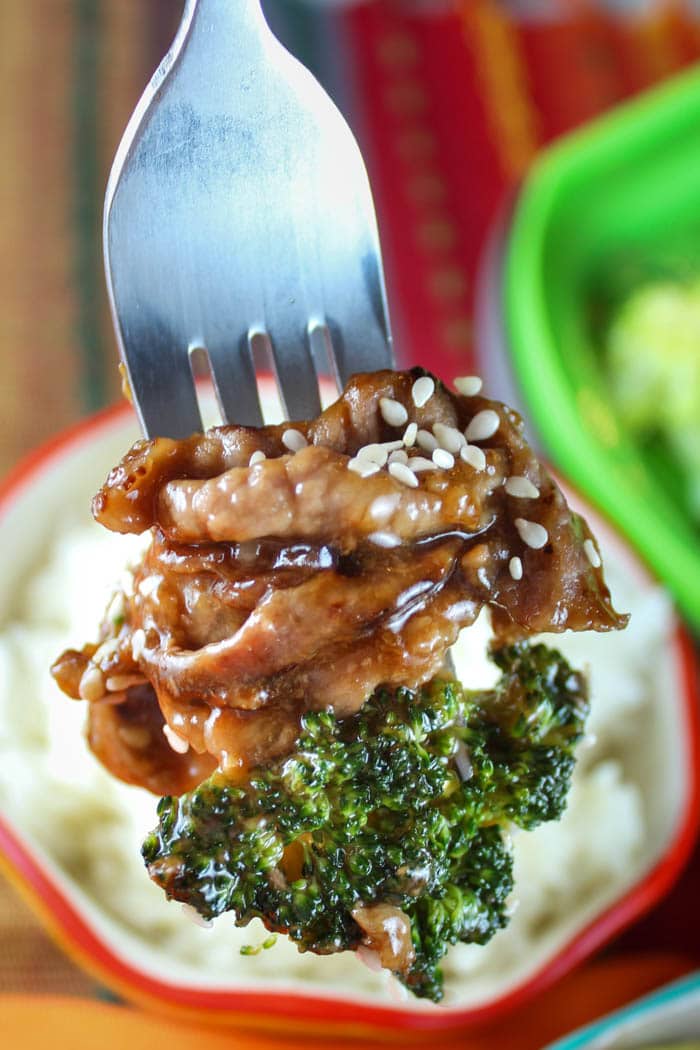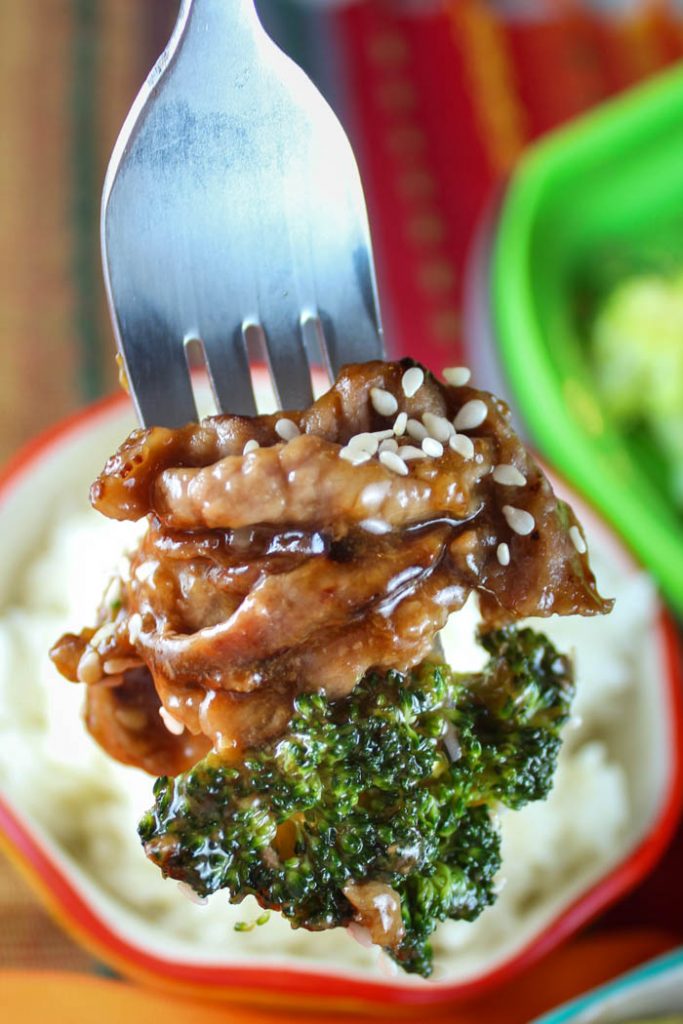 What is the best cut of beef for broccoli beef?
I like to use Shaved Steak for this broccoli stir-fry recipe which I find at Aldi, Kroger or Meijer – which I discovered when I made my Copycat Penn Station Philly Cheesesteak.
If you can't find that – I would recommend buying a good cut of steak with some fat to it (I recommend ribeye, NY Strip, flank steak or potentially sirloin – don't get the leanest cut – be sure to use the tender beef cuts). Then, freeze it for a bit so it's harder and then use a mandolin to make a "shaved" cut.
This post contains affiliate links which I make a little money on purchases. Thanks in advance! I am an Amazon associate as well as a member of other affiliate programs.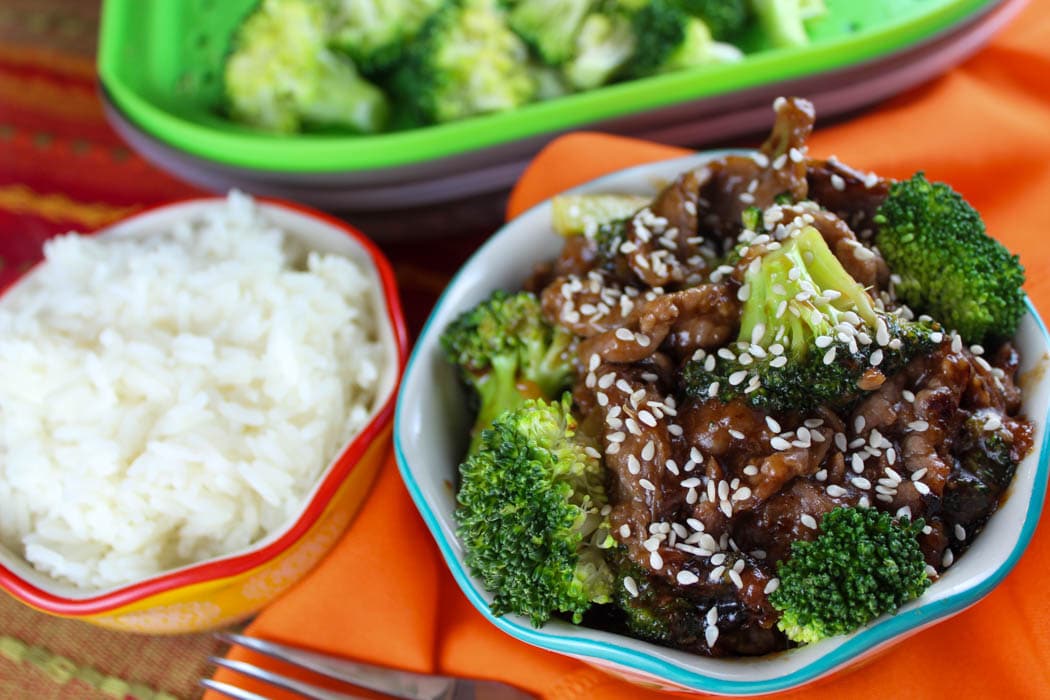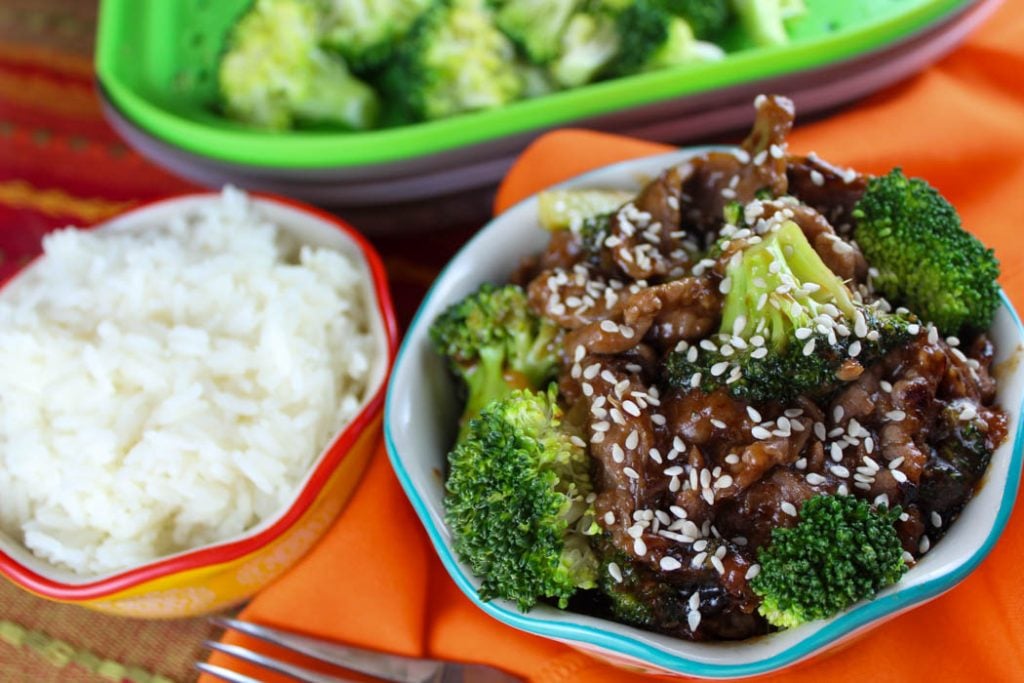 How to make Weight Watchers Beef & Broccoli Recipe
This recipe comes together very quickly – which I love when I've been working all day – I don't want to spend another hour cooking dinner just for me! Here's the quick overview:
Marinate your shaved steak beef strips in cornstarch and mirin for about 30 minutes before hand if you can
While that's going – prep your broccoli by partially steaming it
In a medium bowl, mix together your sauce ingredients. Whisk together and set aside
Heat a LARGE skillet (12″) on high – you want it HOT before adding anything to the pan. Once you add your first ingredients – this recipe goes QUICK!
Add your sesame oil – it should ripple and pop!
Once you heat oil, add your steak and garlic – sear for just 1-2 minutes until browned – stirring constantly
Add in your broccoli florets – mix together and get the broccoli hot and a little browned
Turn down to medium-high heat. Stir your sauce quick to make sure the cornstarch hasn't settled and then pour it in the pan.
Turn OFF the heat and quickly toss to combine. This sauce will thicken quickly and coat all the broccoli beef!
Serve over cauliflower rice to be extra healthy and sprinkle with sesame seeds, red pepper flakes and scallions for garnish.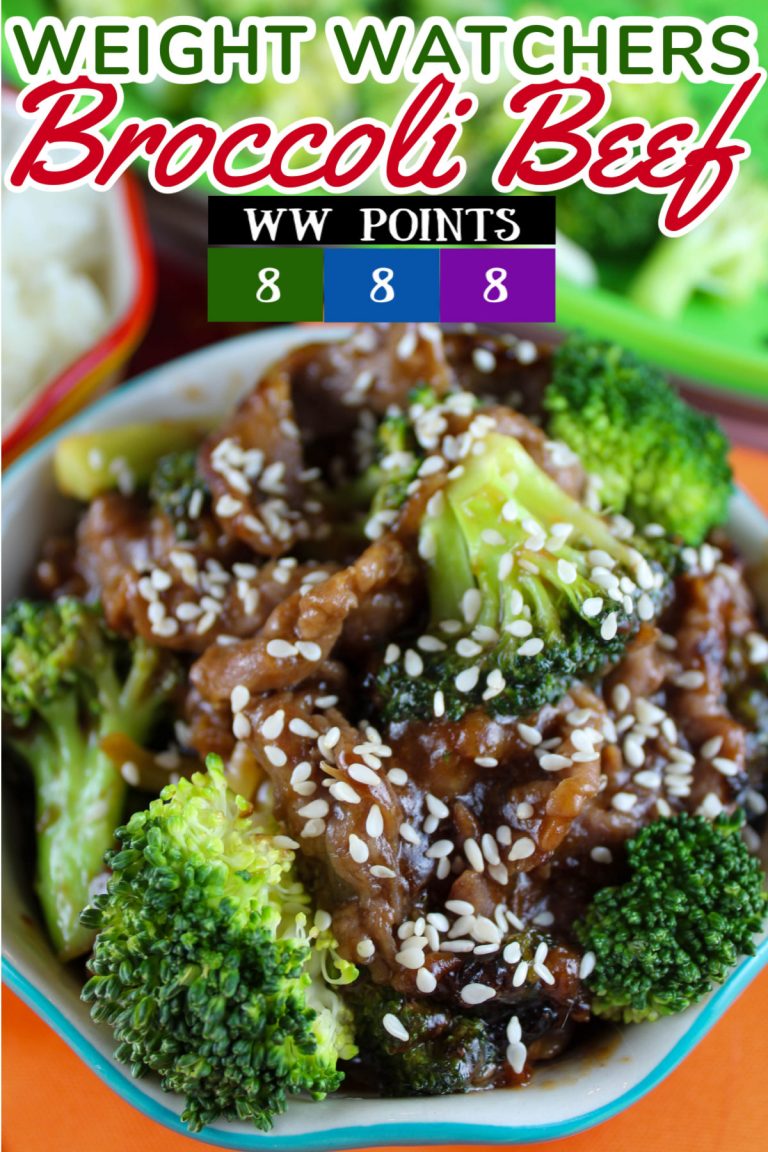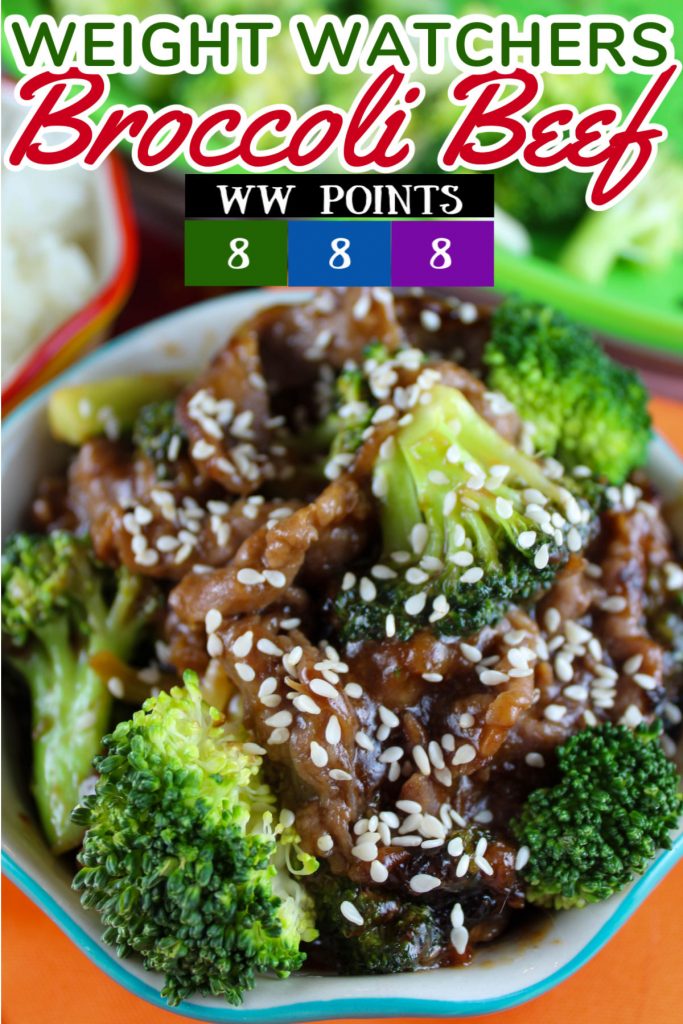 Tips, Tricks & FAQs
What is broccoli beef sauce made of?
It's a fairly traditional Asian sauce with hoisin sauce, ground ginger, fish sauce, mirin, water, sugar (or Stevia) and soy sauce.
Does beef & broccoli have a lot of carbs?
This recipe has 54 carbs per serving and thats not including any rice. There's a lot of sugar in the sauce.
How much sodium is in beef with broccoli?
A lot. You can lower it by finding low-sodium sauces like soy sauce, hoisin, etc.
How do you store & reheat leftover broccoli beef?
Store leftovers in an airtight container (I like these glass ones) in the refrigerator for up to a week. You can freeze up to three months. Reheat in the microwave for 2 minutes.
Broccoli Beef Recipe Variations
Veggies – want more? Add red peppers, snow peas, carrots and mushrooms for more veggies.
Protein – you could easily swap chicken or pork in this dish – even ground pork or ground turkey.
Rice – serve over regular rice, cauliflower rice, zoodles or just enjoy on it's own!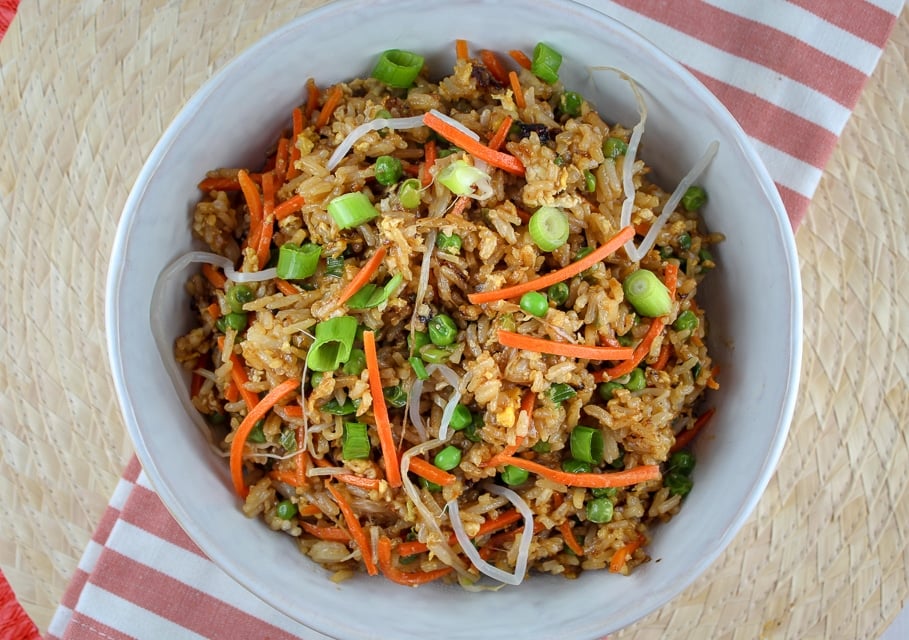 What to serve with Beef & Broccoli
This delicious beef & broccoli stir fry recipe is a tasty dish for the whole family any way you serve it! It really has everything all in one – but here's my favorite recipes to make along side this recipe:
More Weight Watchers Recipes
I never let calories get in the way of making delicious recipes – here are some of my favorite Weight Watchers meals: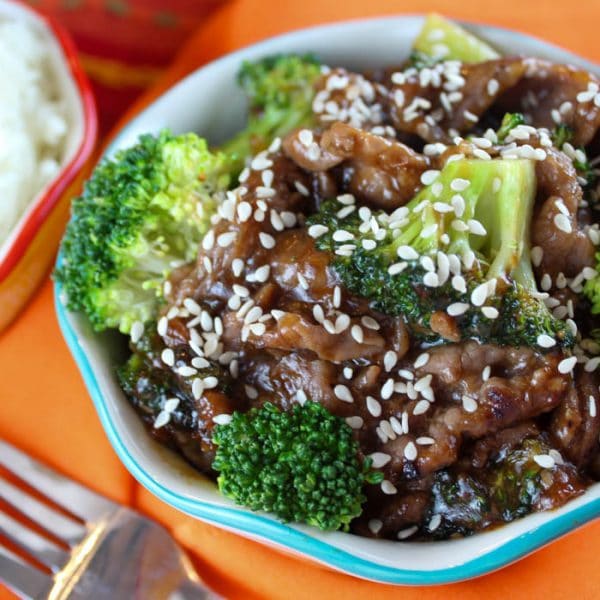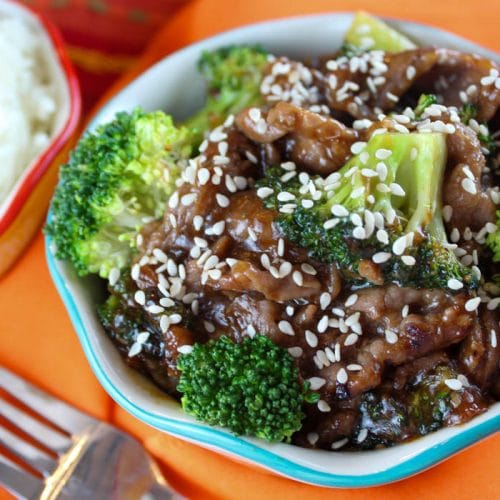 Weight Watchers Beef & Broccoli (Copycat Panda Express)
This Copycat Panda Express Broccoli Beef recipe is also Weight Watchers friendly! A rich homemade teriyaki sauce and loads of fresh broccoli! This has quickly become a favorite because you can make it in about 10 minutes.
Instructions
Add the beef, 2 tbsp cornstarch and 3 tablespoons of the mirin together in a ziploc bag and squeeze the bag a few times to combine.

Let marinate in the refrigerator for 30 min

Partially steam broccoli florets for 2 min in microwave steamer (or bowl covered with plastic wrap) and 2 tbsp water until crisp-tender

In a separate bowl, combine ginger, hoisin, fish sauce, water, 2 tbsp mirin, stevia, soy sauce and corn starch and whisk together. Be sure cornstarch dissolves completely

Heat a non-stick skillet on high – the hotter the better

When pan is hot, add sesame oil to the pan – it should ripple and pop a little

Add shaved steak and minced garlic

Sear on high for 1-2 minutes – stirring so it doesn't stick

Add in broccoli and toss gently

Stir sauce in bowl to be sure corn starch hasn't settled. Then add to the pan with beef & broccoli

Turn off the heat and quickly toss to combine – the sauce should thicken quickly and coat all of the beef & broccoli

Serve with rice or cauliflower rice and top with sesame seeds for garnish
Nutrition
Serving:
0.7
cup
Calories:
463
kcal
Carbohydrates:
59.8
g
Protein:
23.4
g
Fat:
16
g
Saturated Fat:
4.6
g
Cholesterol:
53
mg
Sodium:
2275
mg
Potassium:
818
mg
Fiber:
7.3
g
Sugar:
10.9
g
Calcium:
80
mg
Iron:
8
mg