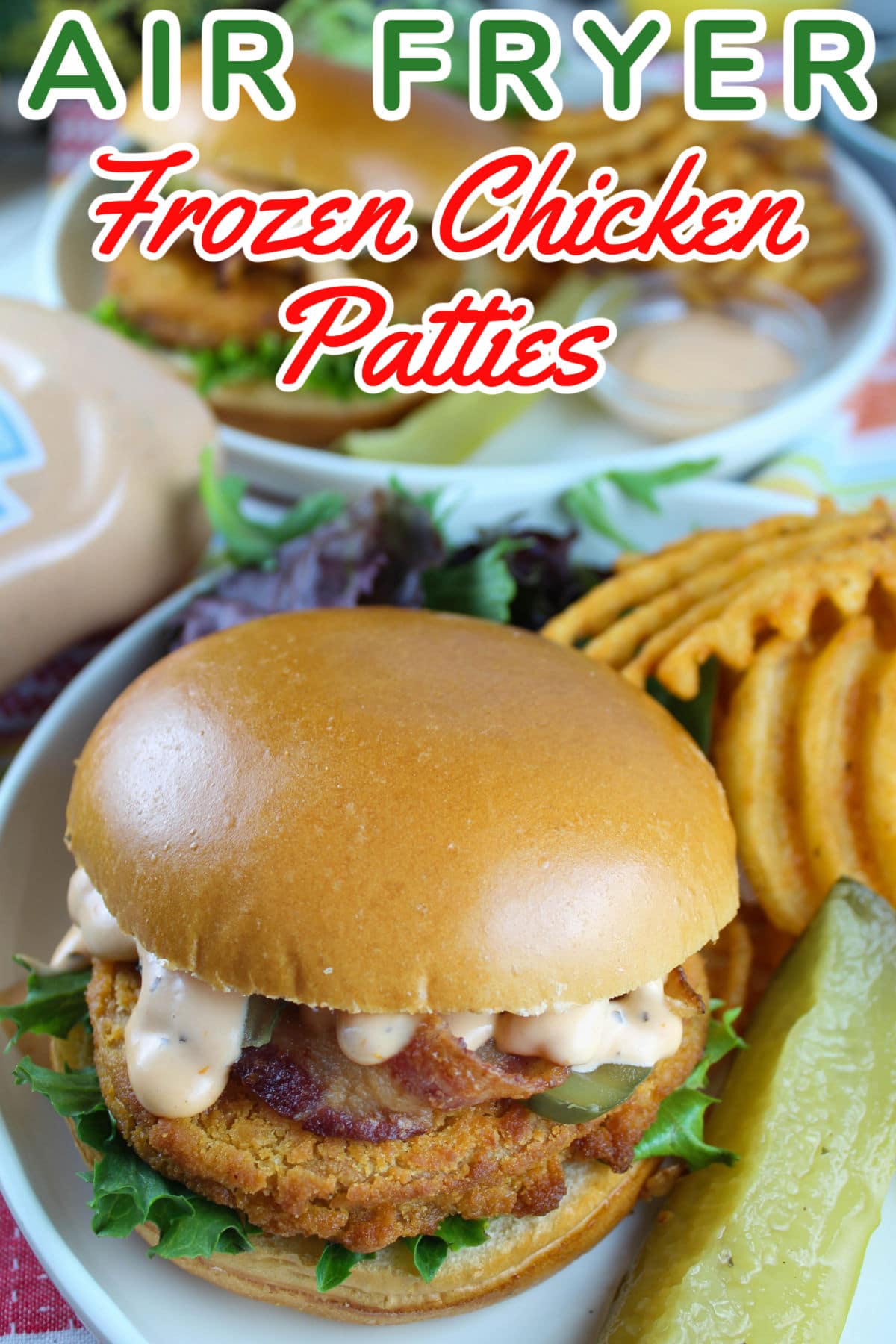 Crispy Air Fryer Frozen Chicken Patties are the best quick dinner idea!!! Grab some buns – grab some chicken patties out of the freezer and in 10-12 minutes cooking time – you've got a quick dinner on the table!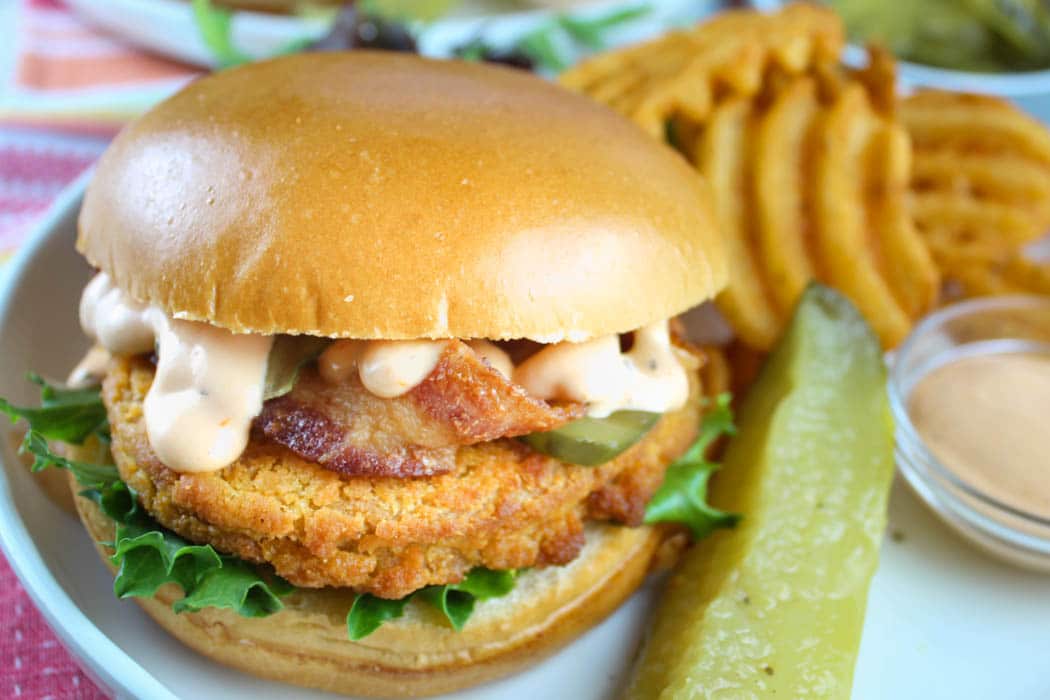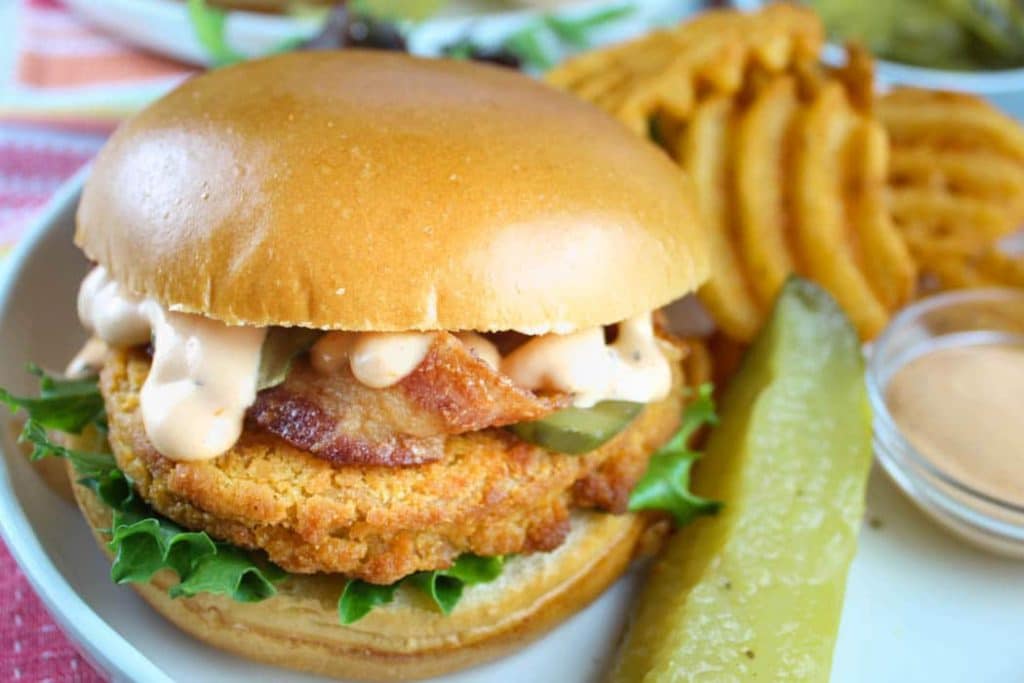 Making frozen foods in the air fryer is one of the most popular uses for it and it's where most people start when they get an air fryer! I've made everything from Pizza Rolls to French Fries and Chicken Wings and everything in between!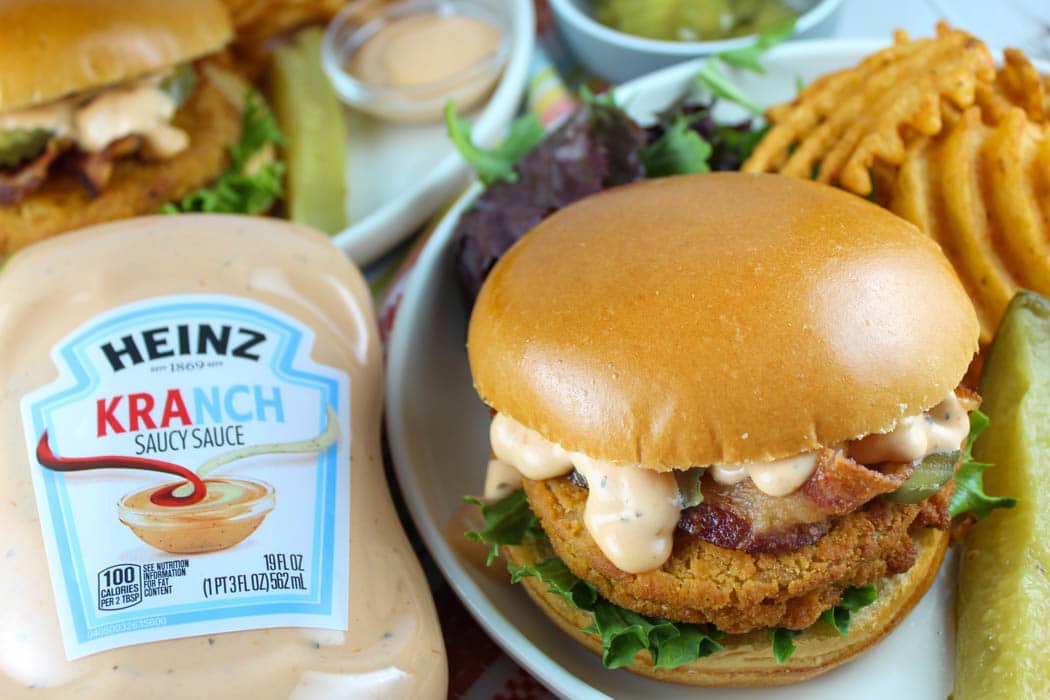 Ingredients for Air Fryer Chicken Patties
This is such a quick and easy dinner – this is how I made my chicken sandwiches:
Frozen chicken patties – I like Mrs. Fowler's Chicken Patties are my favorite brand or Tyson Chicken Patties but any frozen patties will do! I find the best frozen chicken patties have mostly white meat chicken as an ingredient.
Brioche buns – my favorite way to fancy up a quick meal is with a fancy bun like Brioche or Pretzel!
Toppings are a great way to make this simple patty on a bun a lot more interesting!

Heinz Kranch – it's new (it's a mashup of Ketchup & Ranch)!!! (They have other flavors too – like BuffaRanch)
You can also make your own Raising Cane's Sauce – that's always good!
BBQ sauce is also a great option!
Lettuce leaves – I always buy a small package of lettuce leaves – just for sandwiches
Bacon – I air fried bacon the night before and reheated it with the chicken patties for my sammiches!
Grab a slice of cheese too!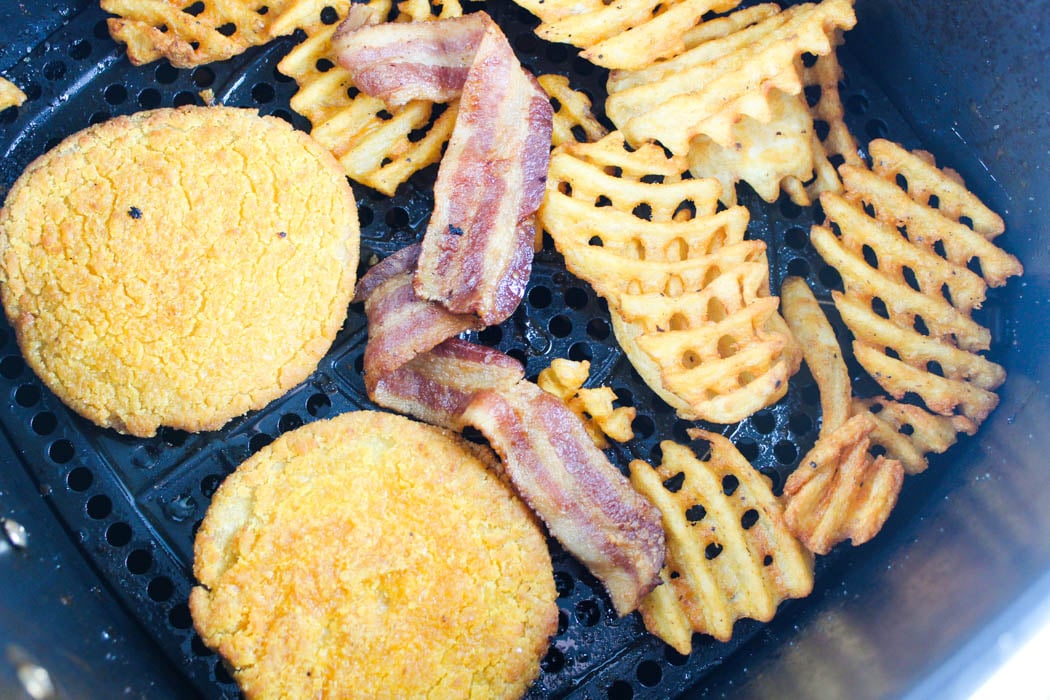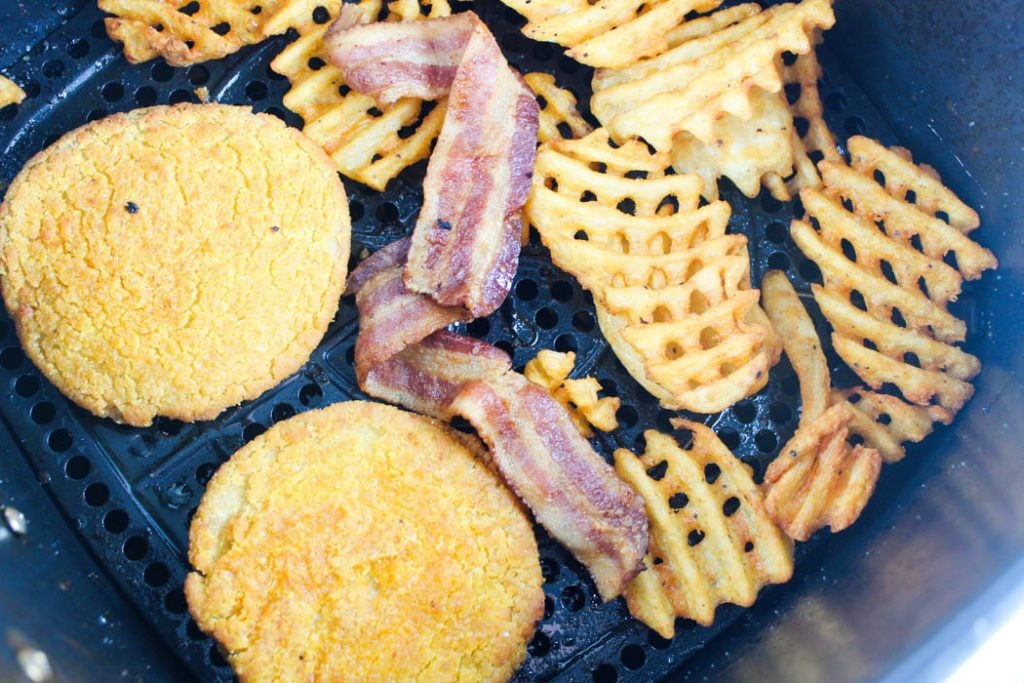 How to air fry chicken patties?
Place chicken patties in a single layer in your air fryer basket or on your air fryer trays.
Cook chicken patties at 375 degrees for 10 minutes – flip half way thru

If you want a full air fryer dinner – the best way is to throw in waffle fries or tater tots with 2 patties. They cook at the same temp & time – perfection!
I also reheated some air fried bacon for the last 3-4 min

For best results, add your hamburger buns for the last 2 min while you cook patties – you can separate and place buns on top of the patties. Toasted bun FTW!
Make your sammich by stacking those crispy patties with all your favorite toppings!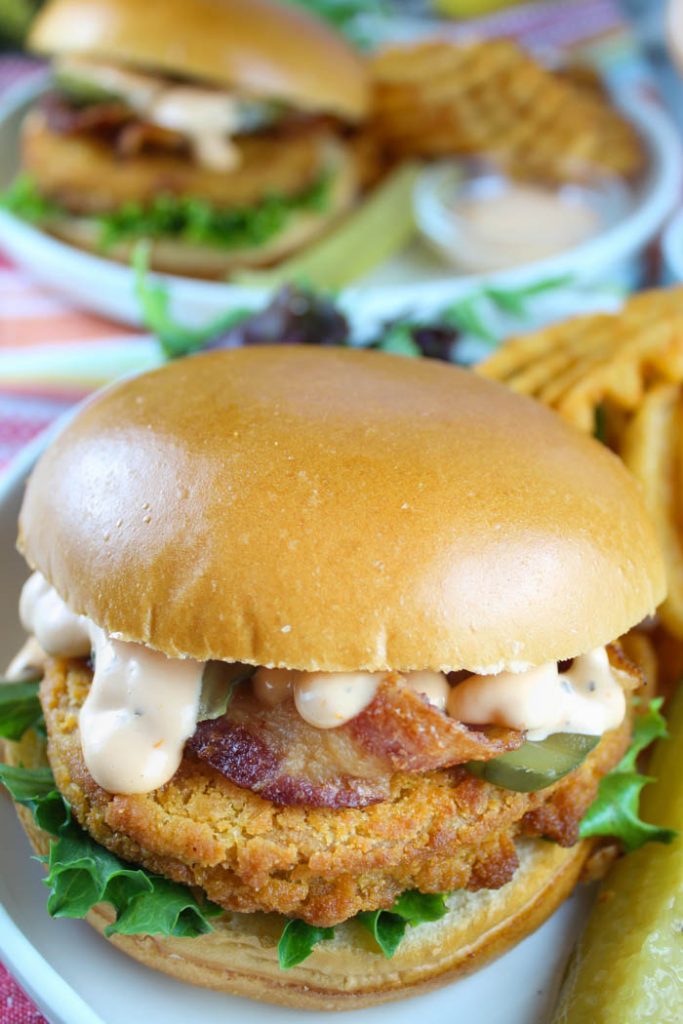 How does the air fryer work?
It's similar to a convection oven – where a heating element heats up the air in the air fryer and the fan blows it around. The hot air circulates around your food to cook it at a high heat and thus you are air FRYING with no oil. It's also why you don't want to stack foods – you need that air to circulate around all sides to cook! The best part is that foods typically cook in much less time than a conventional oven! It's a great alternative to using the oven or a deep fryer.
Can I make air fryer chicken breast?
Yes! I probably make at least two marinated chicken breasts every week in my air fryer – it is literally the easy way to perfect juicy chicken with no olive oil!
Can I air fry homemade chicken patties?
Yup – treat the homemade chicken patties like a homemade hamburger but with ground chicken! Chicken burgers are great in the air fryer as well!
How do you store and reheat leftovers?
Crispy chicken patties are done fairly quickly – but if you do have leftovers – just store in an airtight container and refrigerate up to a week. Reheat in the air fryer for 5 minutes.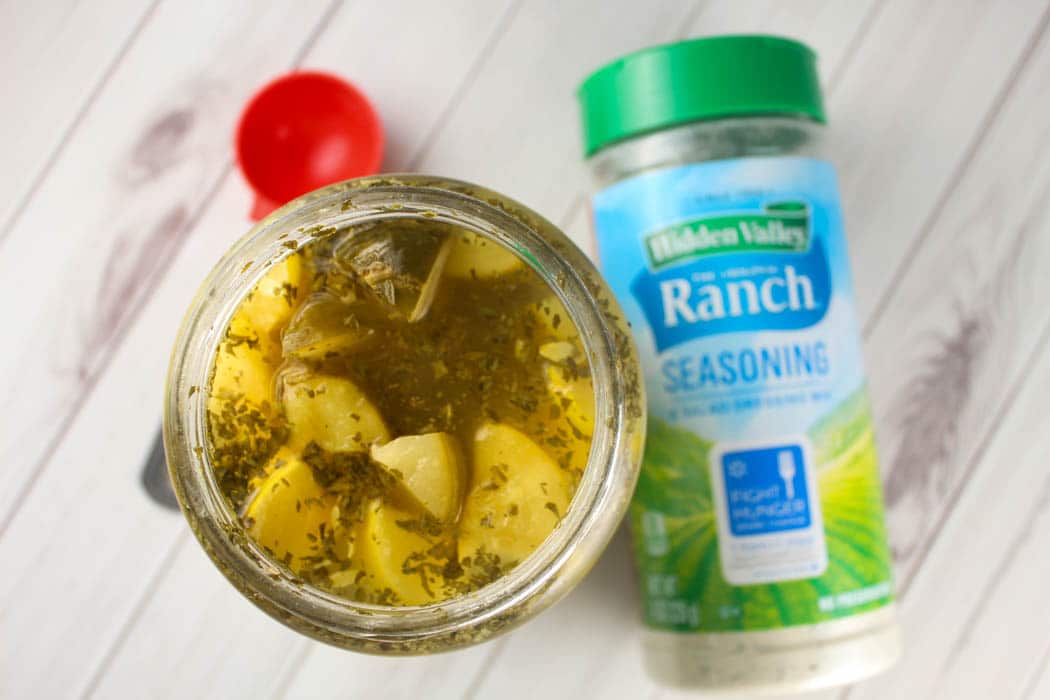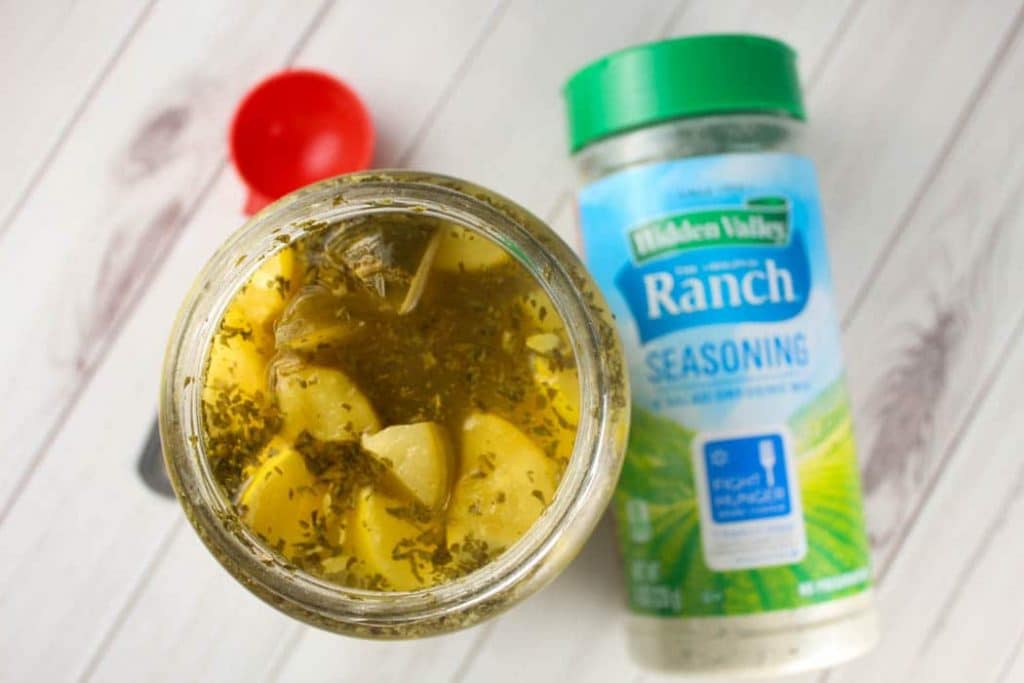 What to serve with frozen chicken patties?
A good chicken sandwich is even better with a yummy side dish – here are my favorite recipes:
More Frozen Foods to make in your Air Fryer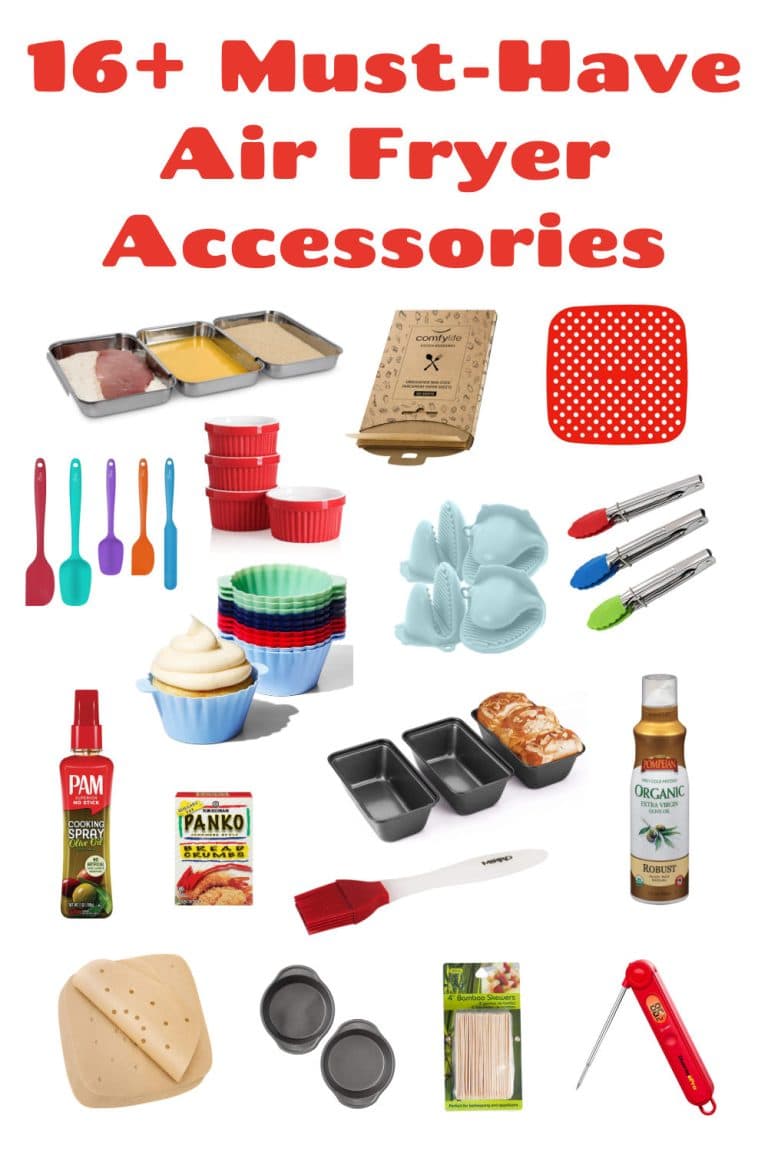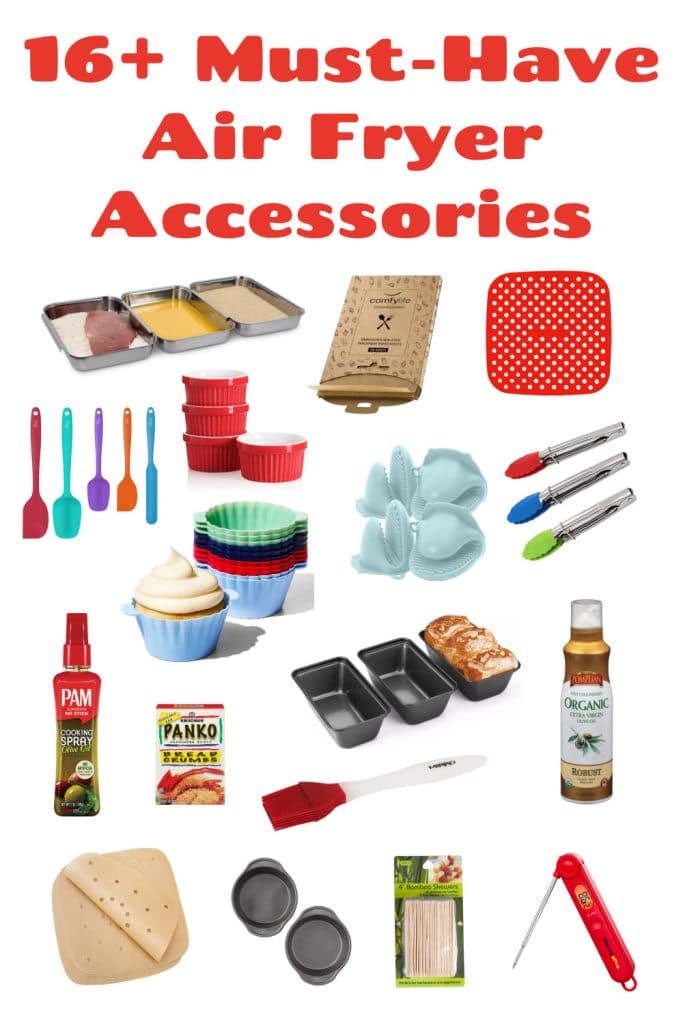 Best Air Fryer Accessories
Here's my ultimate list of best air fryer accessories – whether you have a basket- or oven-style! I've also included a price guide as well as my favorite recipes for those accessories.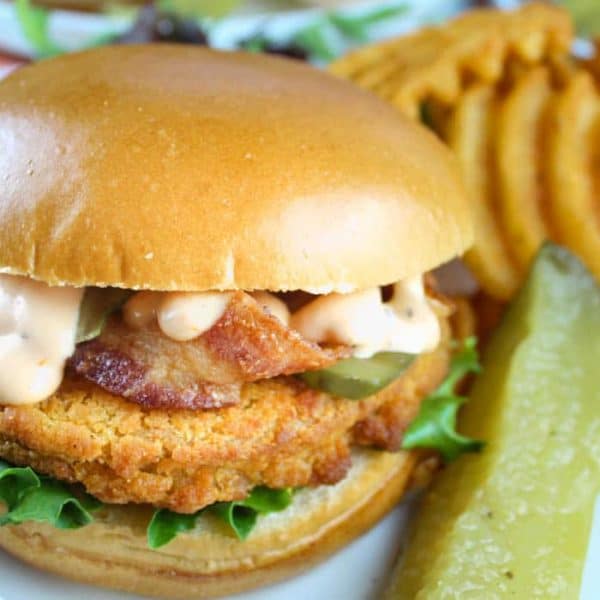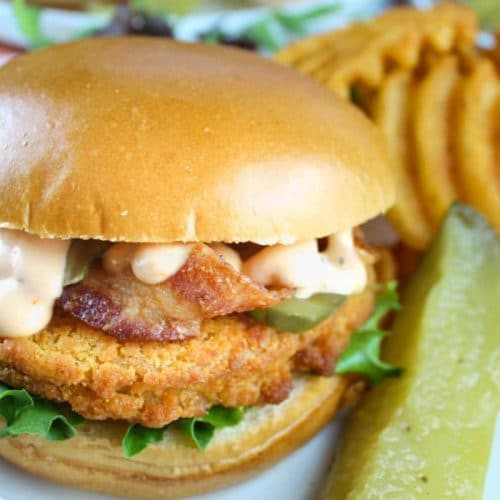 Air Fryer Frozen Chicken Patties
Air Fryer Frozen Chicken Patties are the best quick dinner!!! Grab some buns – grab some chicken patties out of the freezer and in 10-12 min – you've got a quick dinner on the table!
Instructions
Place frozen chicken patties in air fryer basket.

Cook at 375 degrees F for 10-12 minutes. Flip over half way through cooking.
Optional
If making two patties, throw your french fries in too! Same time and temp

Separate buns and lay on top of patties to warm for last 2 minutes
Notes
**We are not dietitians and recommend you seek a nutritionist for exact nutritional information. The information in the nutrition box are calculated through a program and there is room for error. If you need an accurate count, I recommend running the ingredients through your favorite nutrition calculator.**
Nutrition
Serving:
1
patty
Calories:
292
kcal
Carbohydrates:
13.6
g
Protein:
14.3
g
Fat:
20
g
Saturated Fat:
4
g
Cholesterol:
45
mg
Sodium:
518
mg
Potassium:
248
mg
Fiber:
1.2
g
Calcium:
20
mg
Iron:
1
mg