This post is sponsored by Frisch's Big Boy. All opinions are my own.
I have been a fan of
Frisch's
ever since I moved to Cincinnati! There are Big Boy restaurants around the country – but here in Cinci – they're known as Frisch's and we love them! The signature sandwich is the Big Boy of course! It's a similar to the Big Mac but the special sauce is tartar sauce – and it's just fresher, bigger and way more delicious!
But in Cincinnati – we like to mix things up a bit – so we've been known to take the Big Boy sandwich and make it into a pizza!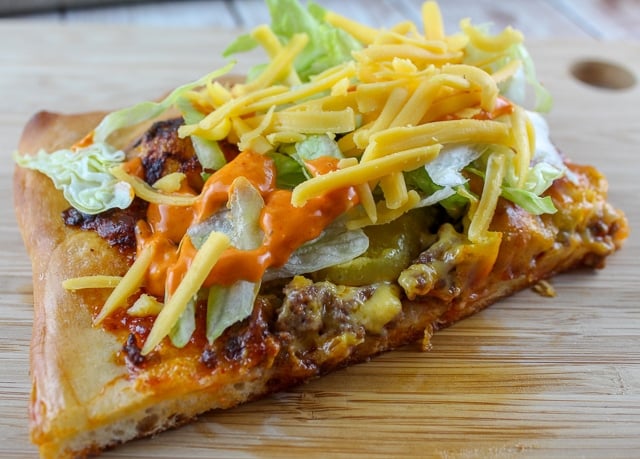 Well now – Frisch's has a SPICY tartar sauce (you can buy it in the stores) so I decided to make a Spicy version of the traditional Big Boy Pizza! You're going to love it! (I loved it so much I made it twice already this week!)
The Spicy Big Boy Pizza has all the elements of the Big Boy Sandwich! Most importantly – TARTAR SAUCE – then seasoned ground beef, pickles, American Cheese and lettuce. Now you might be saying to yourself – "Tartar Sauce on a pizza???" – let me tell you – IT IS DELICIOUS!!!! Like I was SHOCKED at how much I loved it!!!
Also – since I am using the Spicy Tartar Sauce – I decided to add some of my famous Copycat Taco John's Seasoning Mix to the meat – to make it a little spicier! You can go as heavy as you want with it depending on how spicy you like things! Or – if you want to skip the spicy – go with the traditional Frisch's Tartar Sauce (you can buy it online too – if you're not in Cinci).
After you take it out of the oven – top with a little more cheese and lettuce and serve with a side of Frisch's Tartar Sauce – Spicy & Regular!
This pizza will quickly become a family favorite and it makes pizza night so fun!
Yield: 4-6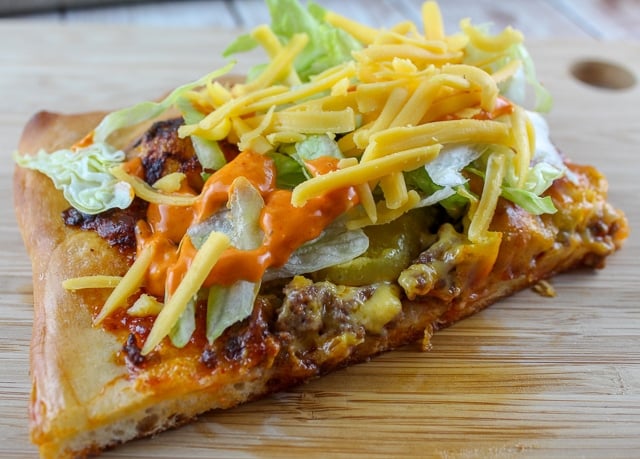 Spicy Frisch's Big Boy Pizza
Frisch's is an institution here in Cincinnati and the signature sandwich is a Big Boy – which is 2 beef patties, cheese, lettuce and tartar sauce. Well I made it into a pizza!!! And I used their brand new Spicy Tartar Sauce to kick it up a notch!
prep time: 10 mins
cook time: 15 mins
total time: 25 mins
ingredients
Pizza Crust
1/2 pound ground beef
1 Tablespoon Taco Johns Potato Ole Seasoning Mix
8 oz Frisch's Spicy Tartar Sauce (or regular)
1/2 cup dill pickle slices
1 1/2 cups Land o'Lake American Cheese, shredded (purchase in a 1/2 pound chunk from deli)
1 cup shredded lettuce
instructions
Preheat oven to 400 (or whatever the pizza crust you're using suggests)
Lay out pizza dough on pan
Heat skillet on medium high and brown ground beef
Add Taco Johns seasoning mix and stir
Top pizza dough with Frisch's spicy tartar sauce
Add seasoned beef, pickles and cheese
Bake according to pizza crust directions
Remove pizza from oven and top with lettuce
Serve with a side of Frisch's tartar sauces