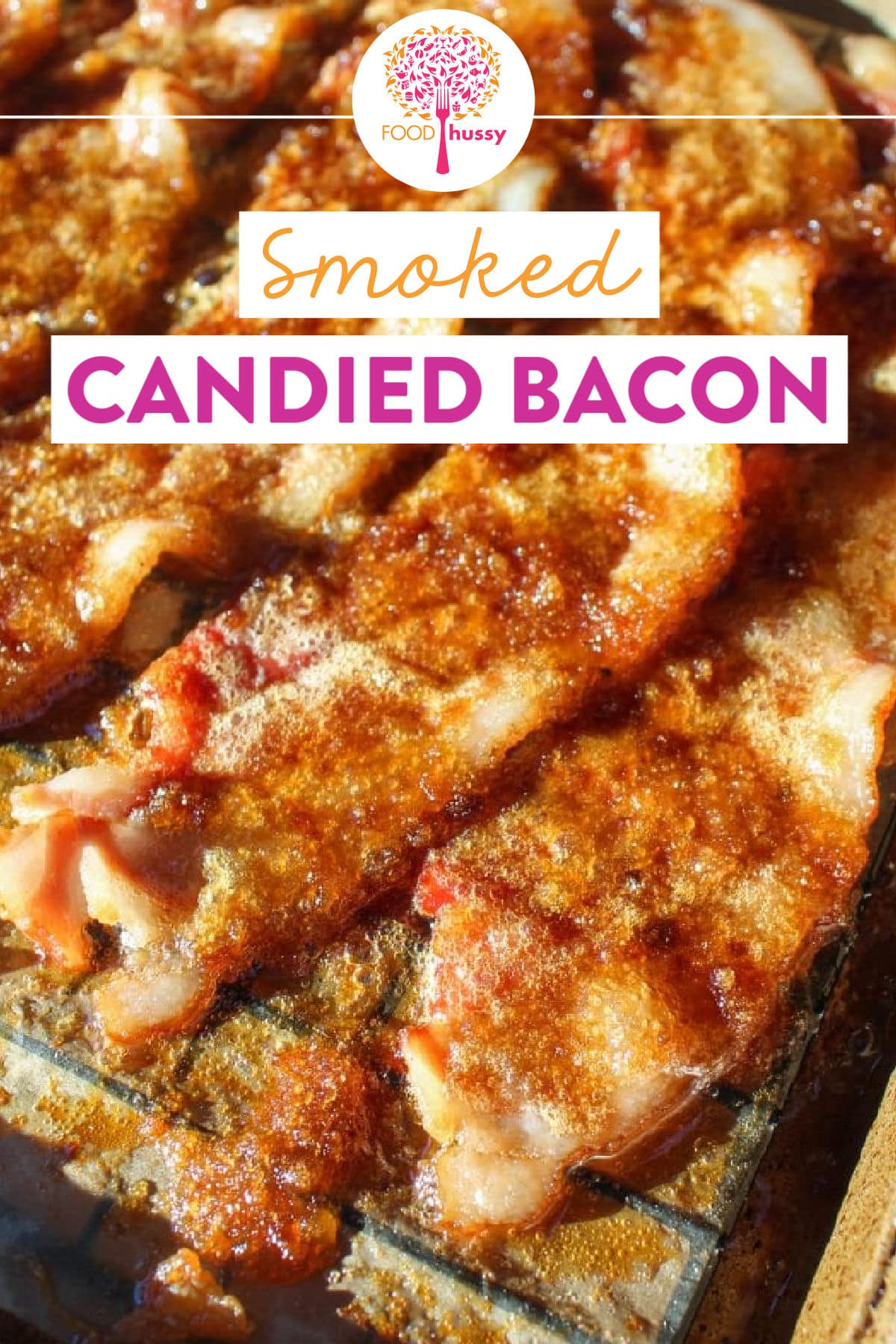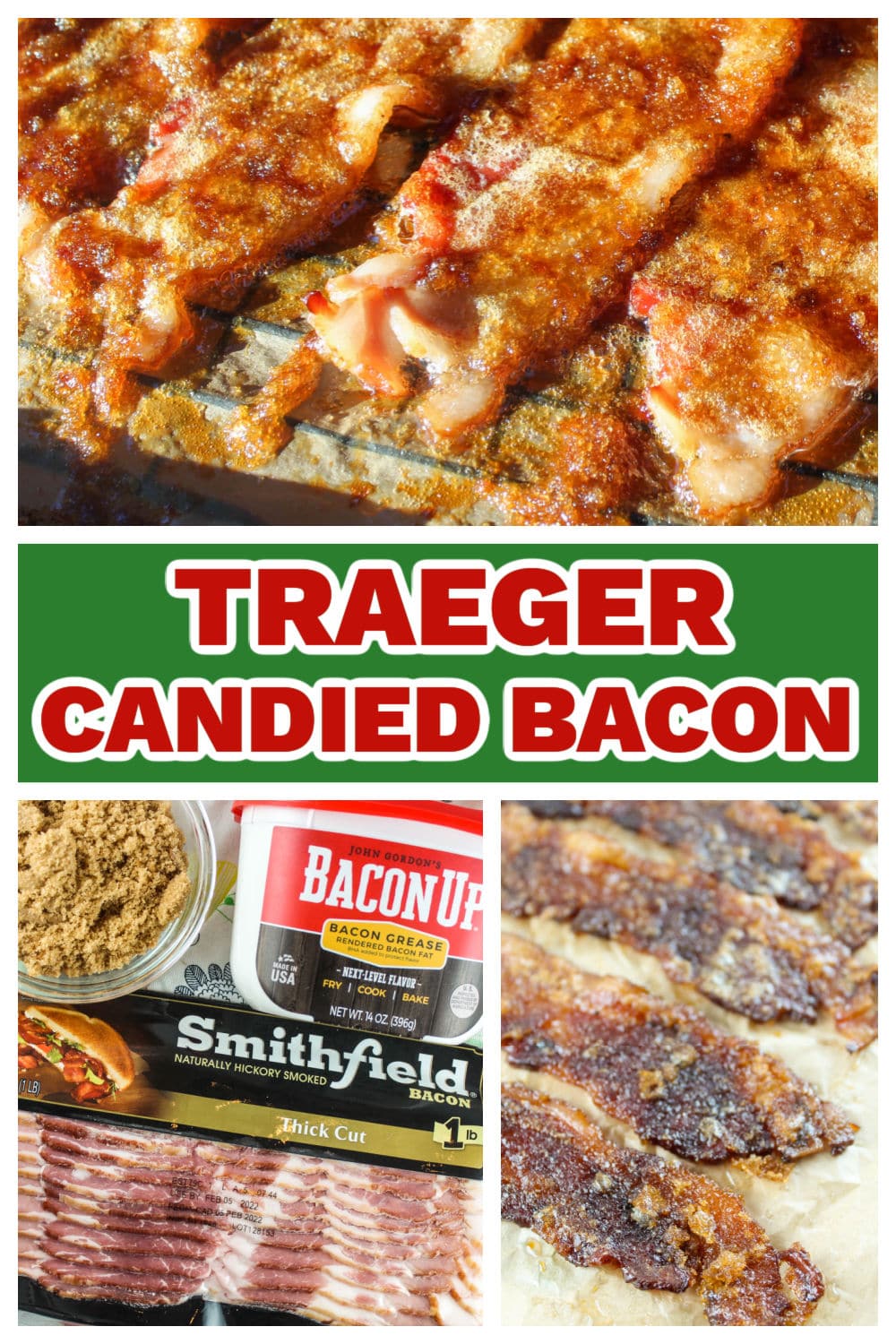 Smoked Candied Bacon is my new favorite way to eat bacon! I've made candied bacon – but putting it on the pellet grill and adding that smoky deliciousness – WOW JUST WOW! It adds a whole new dimension of flavor!!!!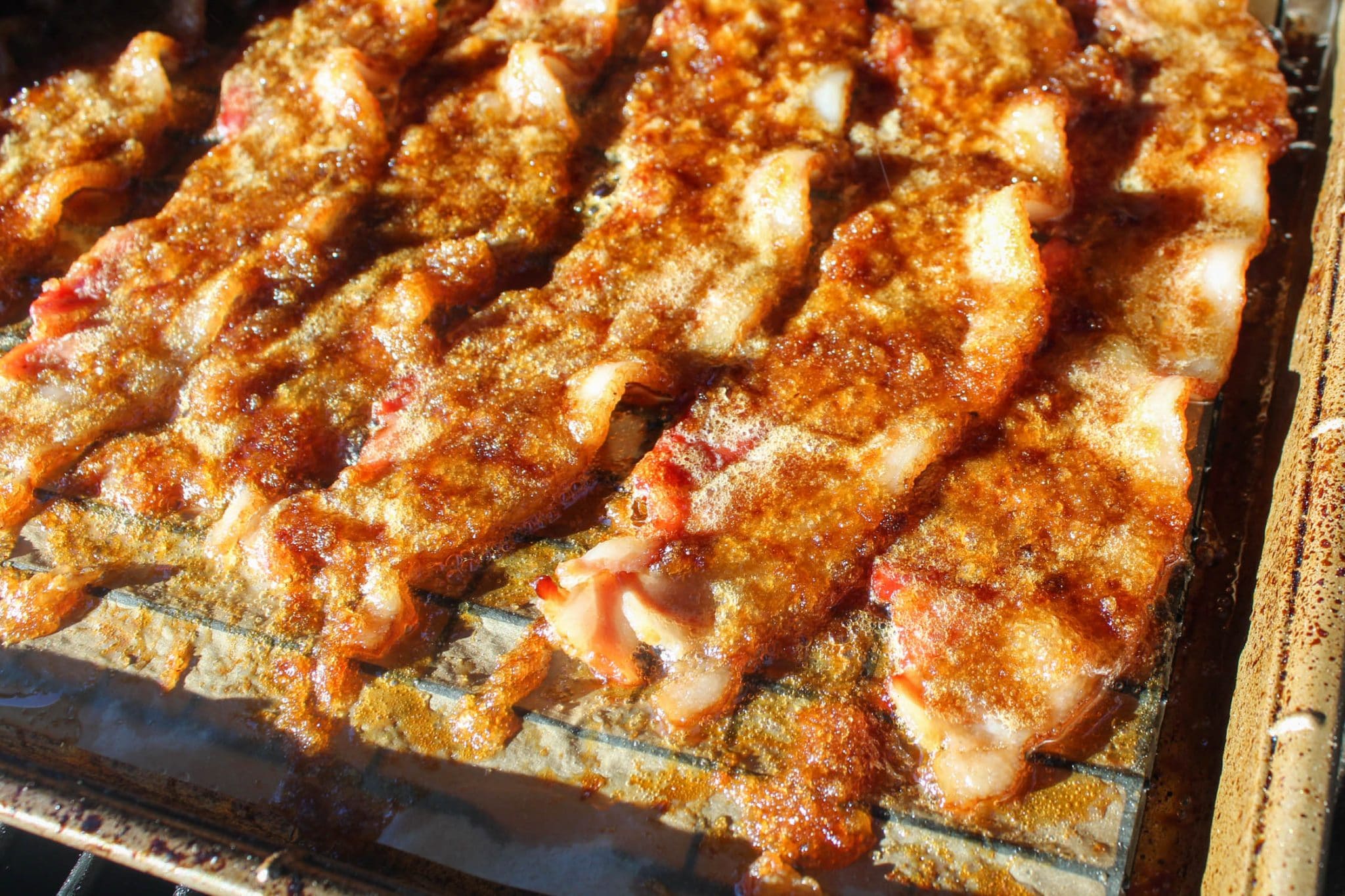 This post is sponsored by Iowa Pork. All opinions are my own.
I'm originally from Iowa and we got a lotta pigs there – so I've been eating every cut of pork since I could chew! I have grilled bacon before – and it was oh so perfect!!! But the addition of brown sugar to the mix – oh my my – this is definitely a recipe the whole family will love! This candied bacon recipe is smoky, meaty, sweet, salty – everything – all in one! You can also make this Pig Candy recipe in the oven.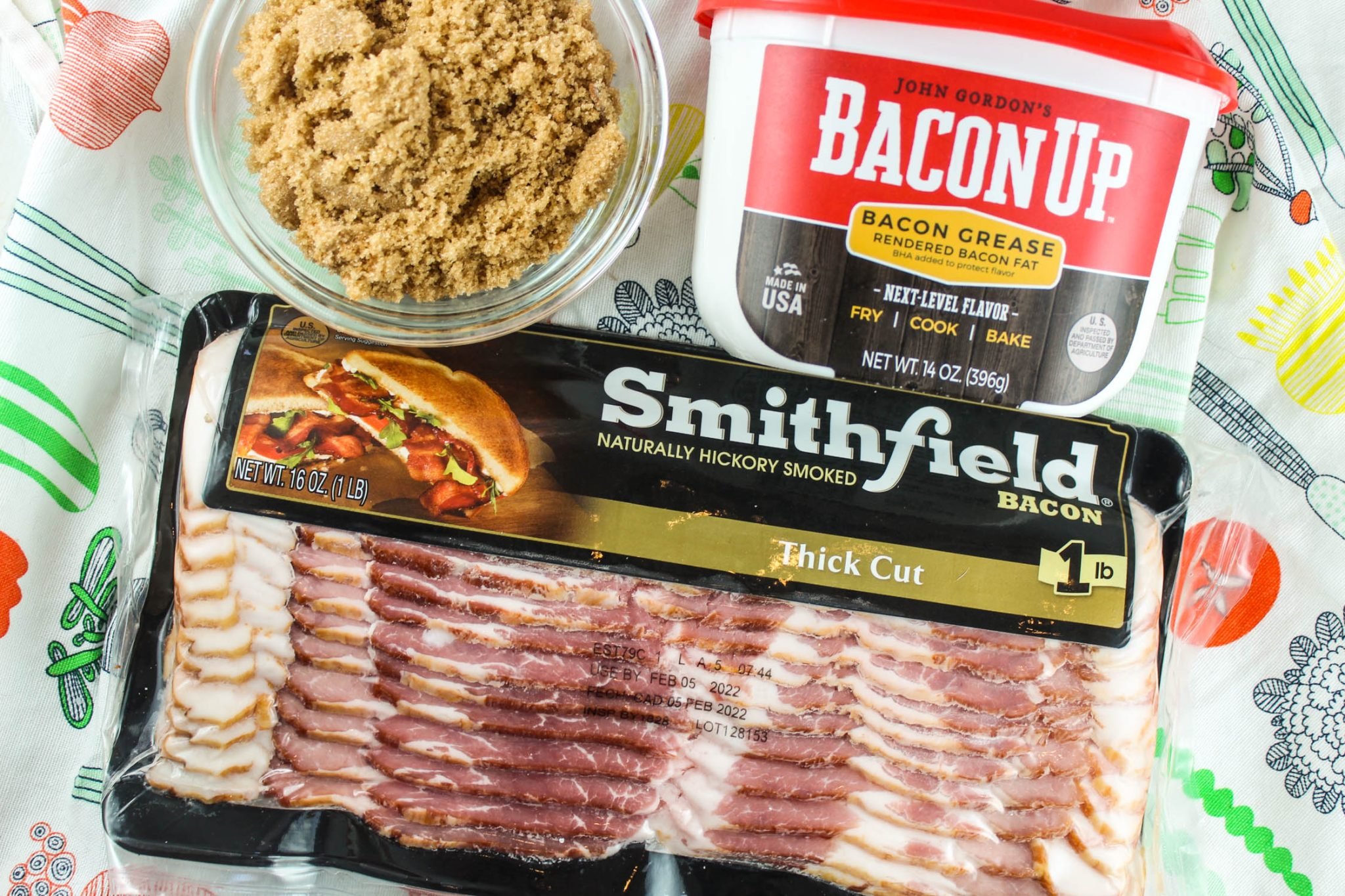 What's in Candied Bacon?
This easy recipe has very simple ingredients and the bacon is the most important part. When you're making candied bacon – the type of bacon matters! Be sure to use a high quality, thick-cut bacon. Thin bacon can't stand up to the brown sugar. That said – here's all you need:
1 lb thick cut bacon note: cooking times are for THICK CUT
1 cup brown sugar – light or dark will work
1/2 cup bacon grease – you can save up your own or buy it
OPTIONAL: If you like a little spicy taste – you can add some red pepper flakes or cayenne pepper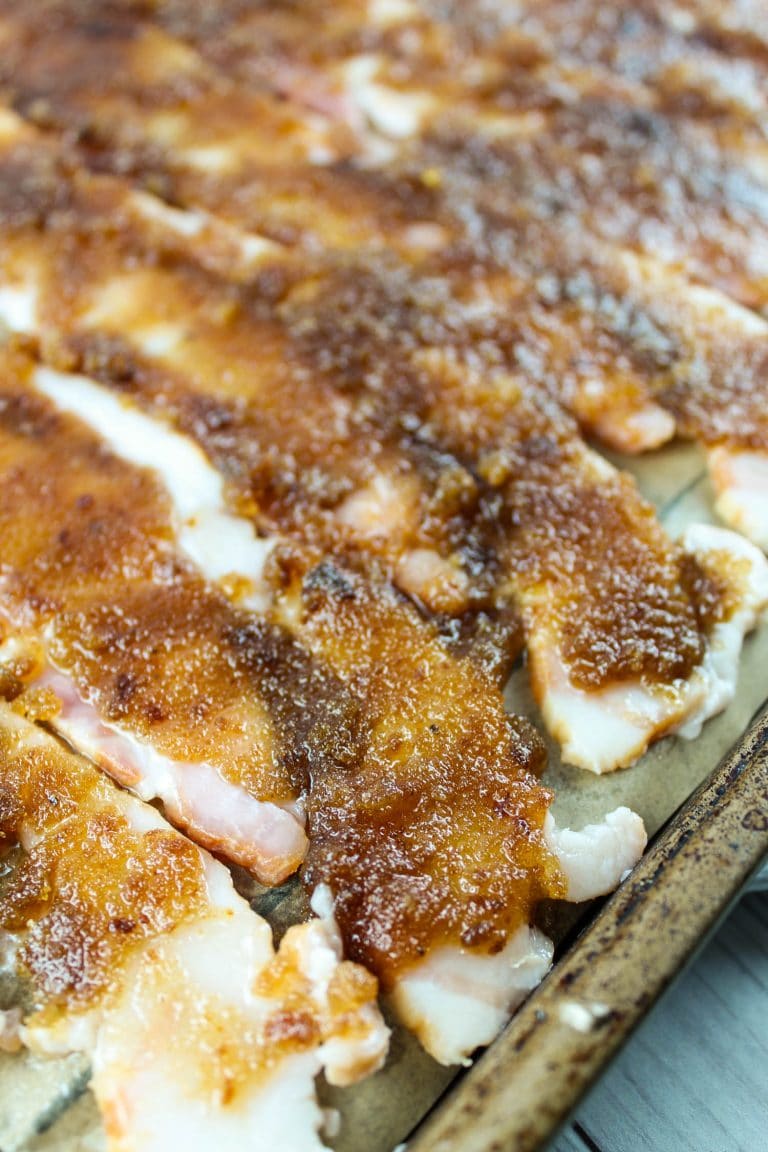 How do you make Candied Bacon on the Smoker?
When I made grilled bacon – I put the bacon directly on the grill grate – BUT for candied bacon – the best way is to use a wire rack and rimmed baking sheet. The candied part of the bacon doesn't adhere completely and you don't want all that goodness to come off when you remove it from the grill.
Preheat smoker to 300º F and be sure your hopper is full of pellets.
In a small saucepan, melt bacon grease and brown sugar together – stir frequently until it's the consistency of a milkshake – this should only take a couple of minutes

Do NOT overcook – once it goes from that sludgy mixture to sticking together and a little "gloppy" – it's unusable. If you get there – just start over with fresh bacon grease and brown sugar.

Place a wire rack on a rimmed baking sheet pan and lay bacon strips in a single layer on wire rack

OPTIONAL: Lay parchment on wire rack and poke holes for grease to drain through. Bacon doesn't really stick but it does make for easy clean-up.

Spoon brown sugar mixture onto top side of the bacon slices and spread out. Heavily coat each piece of bacon with the brown sugar mixture! You want a thick coating on the bacon pieces!
Once Traeger comes to temp, place baking sheet on grill. Let the bacon smoke for 45-60 minutes to your desired doneness. If you're a crispy bacon person – don't wait for the bacon to look "crispy" – once you remove the bacon from the smoker – it will harden up.
Remove pan from Traeger. Lay out a piece of parchment paper and transfer slices to parchment paper and let bacon rest for five minutes.

FOR BEST RESULTS, use a thin metal spatula – the slices will still be a little limp at this point.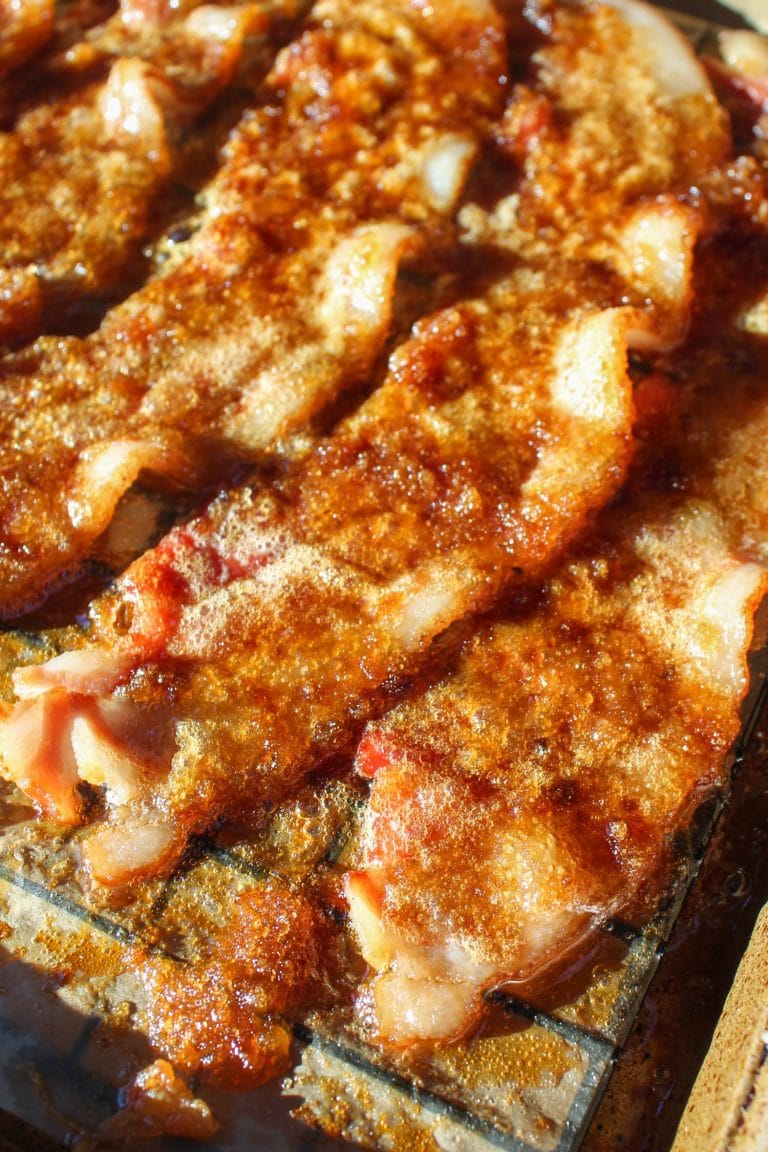 What if I don't have a smoker? How would I make this on a regular grill? Or what if I want MORE smoky flavor?
If you want more smoky flavor – you've got a couple of options! Both of these options work on a regular charcoal or gas grill – or will ADD MORE smoke to your smoker.
Wood chips – Soak them in water for 30 minutes before starting the grill. One cup of wood chips will last for about 20 minutes. Keep adding chips to the grill throughout the process.
Smoker Tubes – My friend Nick introduced me to the wonderment of a smoke tube! It's a metal tube with holes – fill that tube with Traeger pellets and then light it with a butane lighter. Once the pellets catch fire – let them get started – then blow the flames out. Set them in the grill with your food and shut the lid. The smoke flavor is all those tubes will leave behind!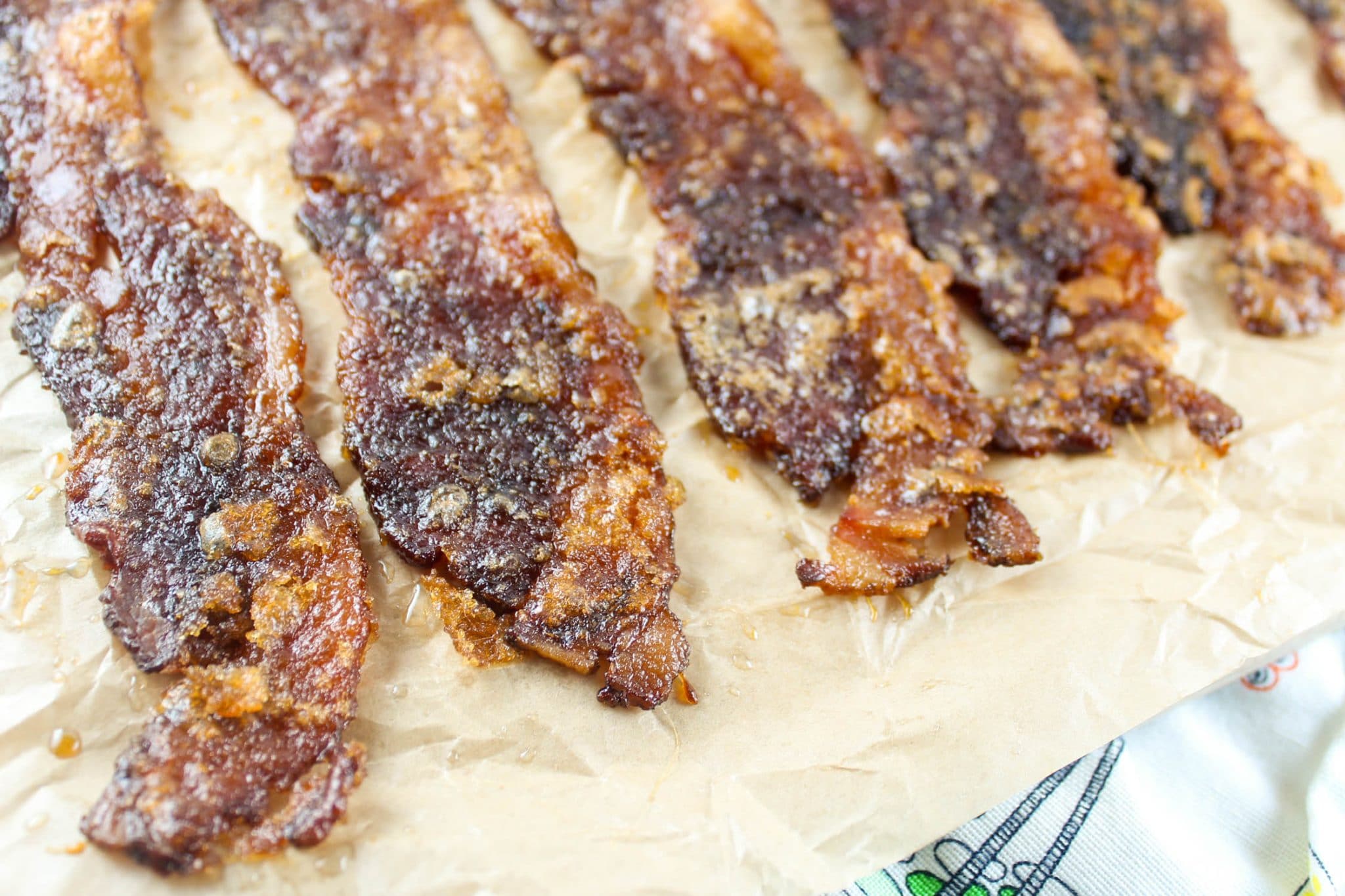 What kind of pellets should I use to smoke candied bacon?
There are many flavors of pellets that work in your Traeger pellet grill. I keep it simple and always use the Traeger Signature Blend which is a blend of Maple and Cherry. That said if you're looking for something specific for bacon – the best are Hickory, Apple Wood or Cherry.
How long does it take to smoke candy bacon?
At 300º it will take 45-60 minutes. I made this during the winter in Ohio – so it took 60 minutes and I'm an "underdone" bacon kind of girl. So check it at 45 min and see if the fat has started to melt away.
How do you keep candied bacon crispy?
With leftovers – the bacon will soften. To crisp it back up again – the best way is to reheat in the air fryer at 300º for 2-3 minutes.
How do you store and reheat leftovers?
Candied bacon is delicious but it's RICH – most folks will eat 1-2 slices. This recipe makes enough for six people so you might have leftovers! Store on parchment paper in zip seal bags in the refrigerator for up to a week. Reheat in the air fryer at 300º for 2-3 minutes.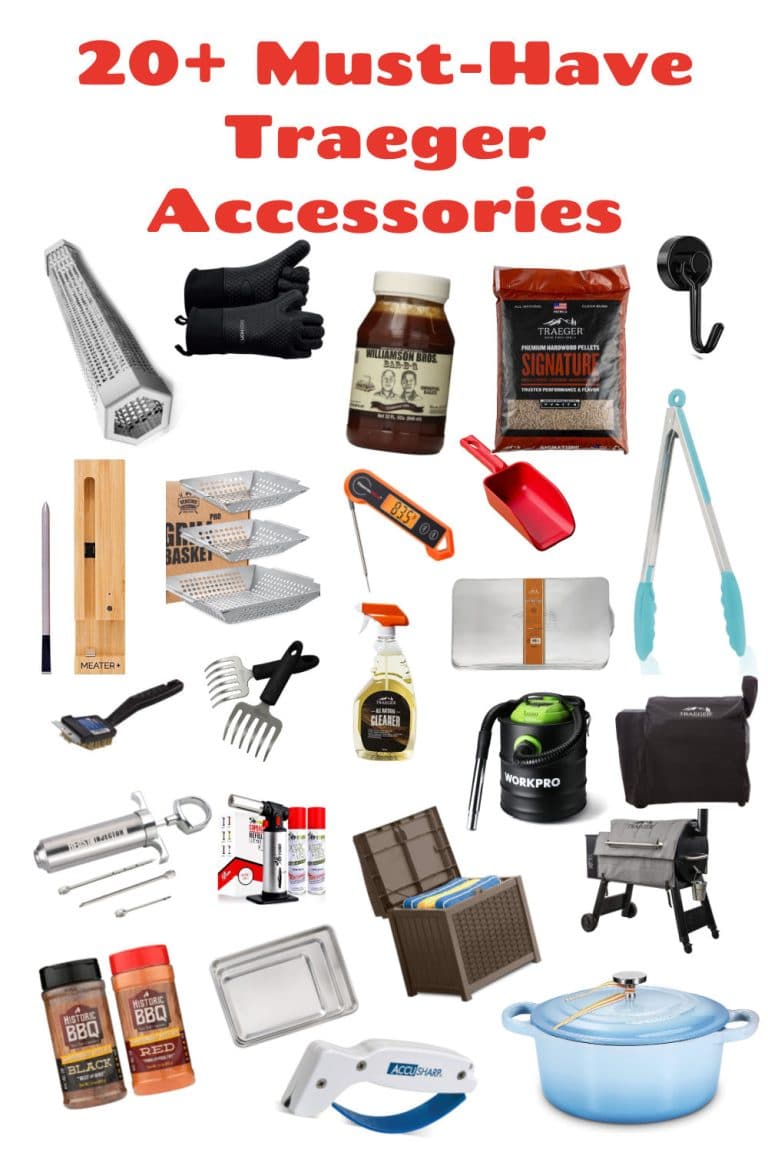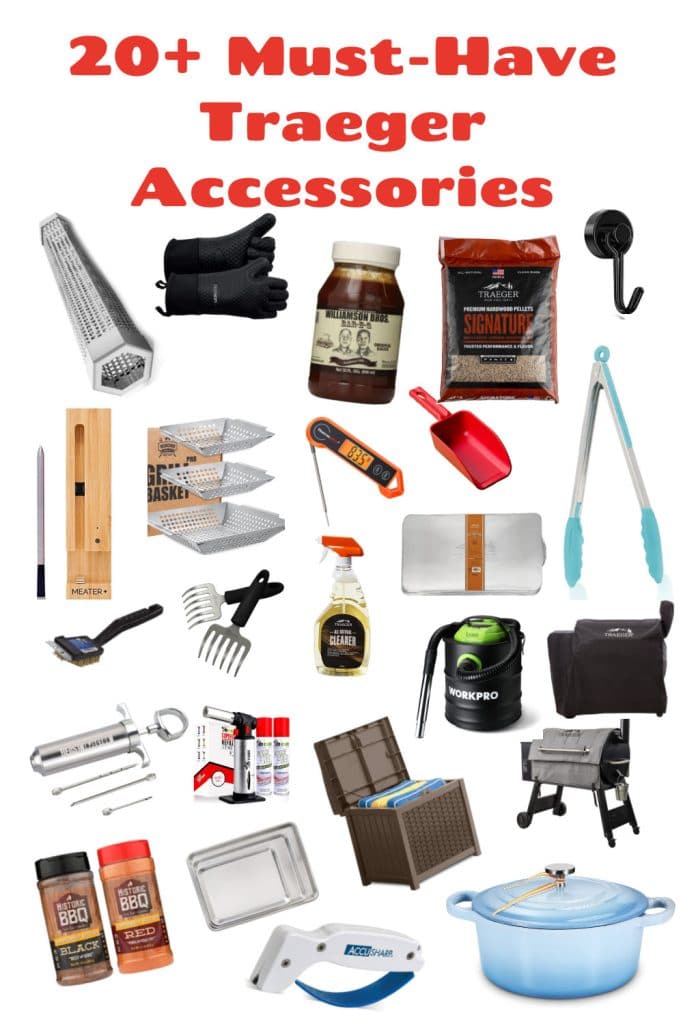 I absolutely love my Traeger Pellet Grill and you can pretty much use it right out of the box! But over the years I've definitely found that there are some Traeger smoker accessories that make everything a lot easier!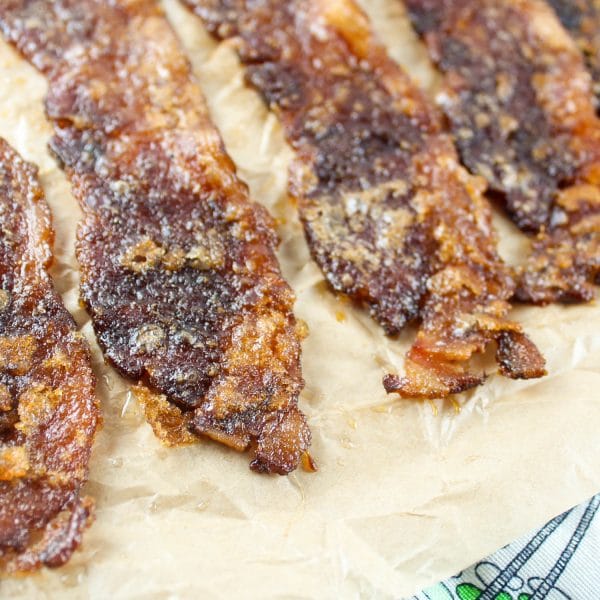 Smoked Bacon Candy on the Traeger
Smoked Candied Bacon is my new favorite way to eat bacon! I've made candied bacon – but putting it on the pellet grill and adding that smoky deliciousness – WOW JUST WOW! It adds a whole new dimension of flavor!!!!
Instructions
The first step is to turn on the Traeger and set to Smoke and leave lid open until Traeger starts to smoke.The smoke should dissipate in about five minutes.

After smoke is clear, clean off grill with brush so grates are clean. Change temp to 300 degrees F and close lid to preheat grill. Should come to temp in about 10 minutes. Be sure your hopper is full of pellets.

In a small saucepan, melt bacon grease and brown sugar together – stir frequently until it's the consistency of a milkshake – this should only take a couple of minutes

Do NOT overcook – once it goes from that sludgy mixture to sticking together and a little "gloppy" – it's unusable. You won't be able to spread it on the bacon. If you get there – just start over with fresh bacon grease and brown sugar.

1 cup brown sugar,

1/2 cup bacon grease

Place a wire rack on a rimmed baking sheet pan and place bacon strips in a single layer on wire rack

OPTIONAL: Lay parchment on wire rack and poke holes for grease to drain through. Bacon doesn't really stick but it does make for easy clean-up.

Spoon brown sugar mixture onto top side of the bacon slices and spread out. Heavily coat each piece of bacon with the brown sugar mixture! You want a thick coating on the bacon pieces – but no worries – you won't lose the flavor of bacon!

Once Traeger comes to temp, place baking sheet on grill. Let the bacon cook for 45-60 minutes.

Winter in Ohio – the Traeger had a harder time staying at temp – so it took the full 60 minutes

Remove pan from Traeger. Turn dial to shut down mode. Power down after 5 minutes.

Lay out a piece of parchment paper and transfer slices to parchment paper.

FOR BEST RESULTS, use a thin metal spatula – the slices will still be a little limp at this point.

Let rest for 5 minutes so bacon can harden
Notes
**We are not dietitians and recommend you seek a nutritionist for exact nutritional information. The information in the nutrition box are calculated through a program and there is room for error. If you need an accurate count, I recommend running the ingredients through your favorite nutrition calculator.**
Nutrition
Serving:
2
slices
Calories:
473
kcal
Carbohydrates:
30.5
g
Protein:
10
g
Fat:
34.4
g
Saturated Fat:
13.8
g
Cholesterol:
62
mg
Sodium:
583
mg
Potassium:
39
mg
Sugar:
28.1
g
Calcium:
24
mg
Iron:
1
mg