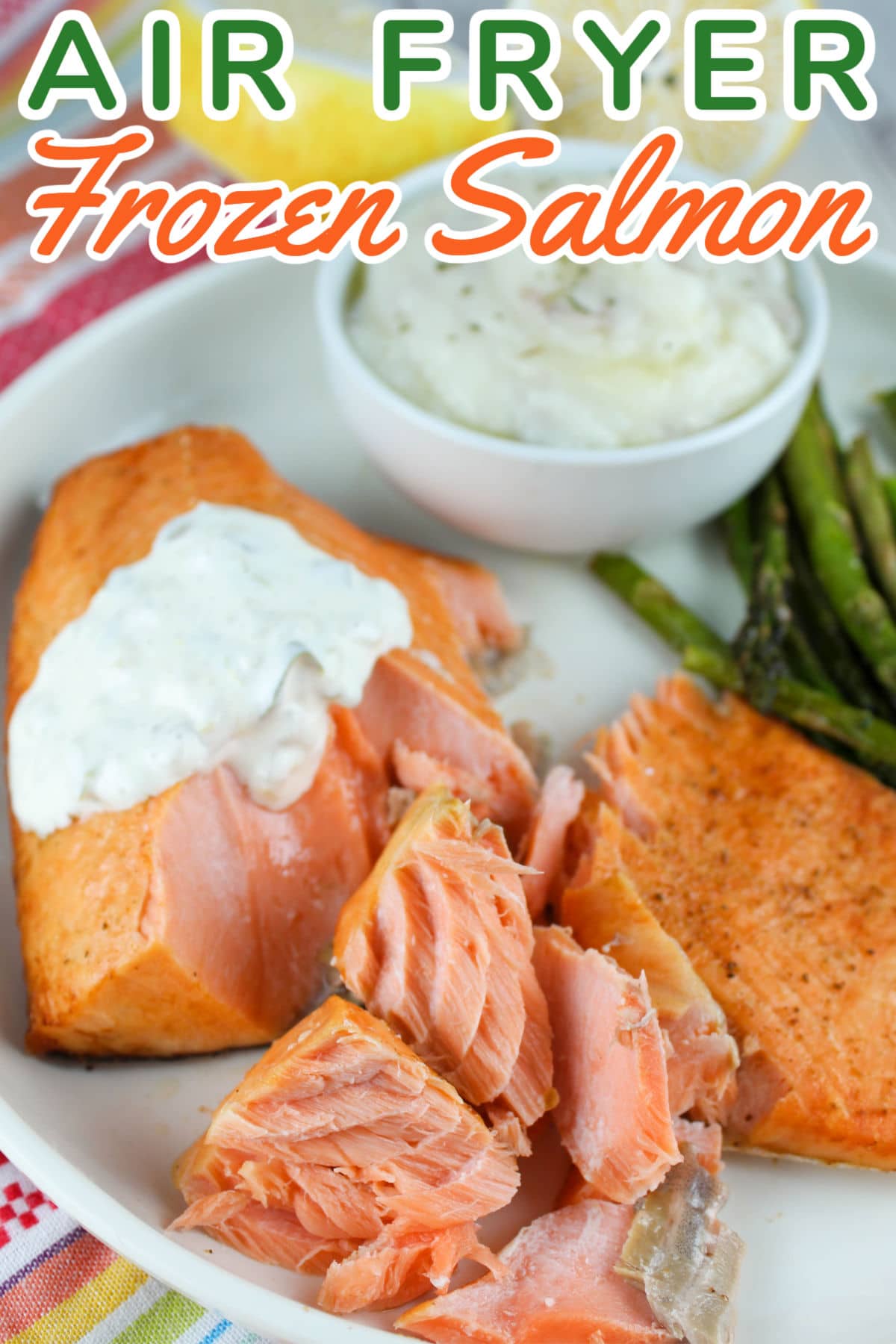 Air fryer frozen salmon is a great QUICK dinner on one of those busy weeknights when you haven't done any planning! Salmon cooks very quickly and this salmon recipe is on the table in less than 15 minutes and you can even add veggies while cooking salmon.
Cooking food from frozen in the air fryer isn't much different – except for the seasoning. Seasoning won't really "stick" to frozen – so it can be a bit tricky – but it still comes out delicious!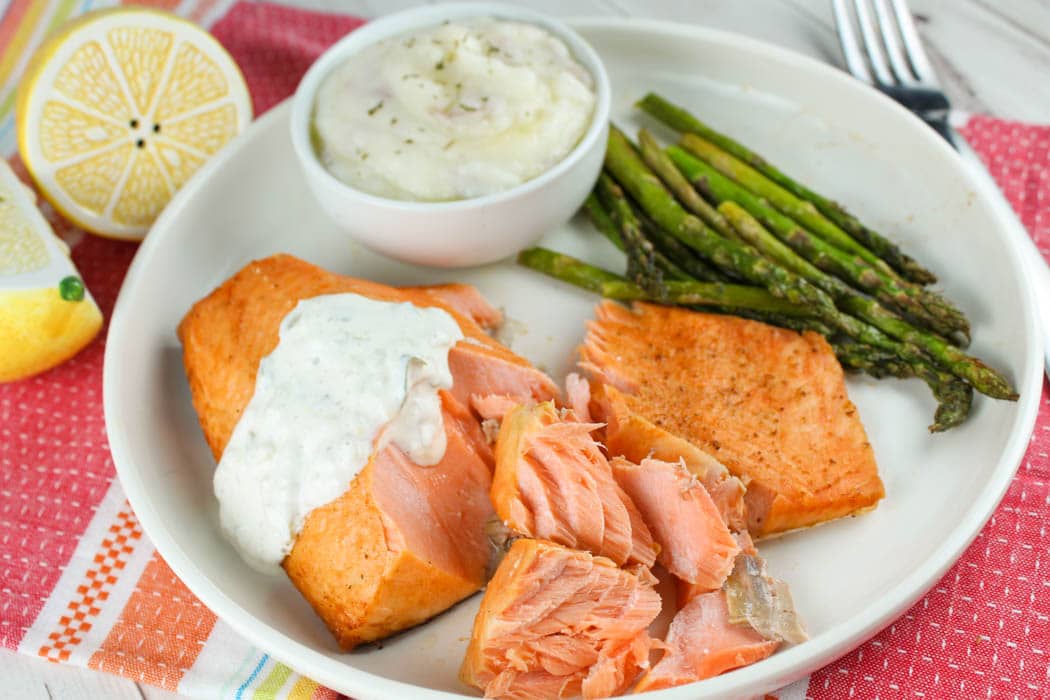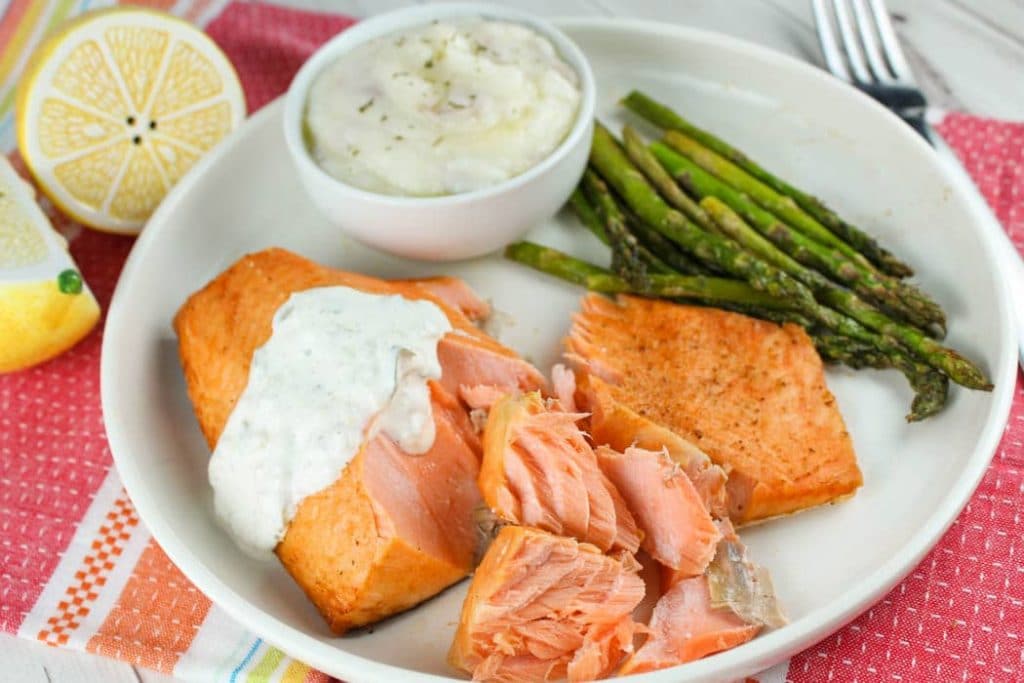 Ingredients for an Easy Air Fryer Salmon Recipe
Here's the thing – you really don't need much because salmon is so tasty on its own! All you need is:
1 lb frozen salmon filets

You can also use fresh salmon as well – it will just take less time to cook

2-3 tbsp favorite seasoning mix – I always tell people to use what they like but simple seasonings are best – cooked salmon has great flavor on its own – you don't need to cover it up!

I drizzled the top of the salmon with a touch of olive oil then sprinkled with a garlic lemon herb seasoning (garlic powder = yum!) – I like Old Bay Seafood Rub too
you can get fancier and baste the salmon – here are a few ideas:

BBQ salmon: a light bbq sauce like Williamson Bros.
Garlic butter salmon: pat of butter, dill sprig, sprinkle of minced fresh garlic, lemon slice and squeeze of lemon juice
Teriyaki Salmon: teriyaki sauce and sprinkle on fresh ginger
Brown Sugar Salmon: drizzle of honey, sprinkle of brown sugar
Do I need to thaw my fish fillet before I air fry them?
Nope. They'll thaw as you cook them. I just recommend waiting to season until they are partially thawed so the seasoning sticks. That said – if you want to thaw – you can rinse it in cold water or set the package in cold water for 30 minutes and it will likely be thawed. But – it's definitely not necessary!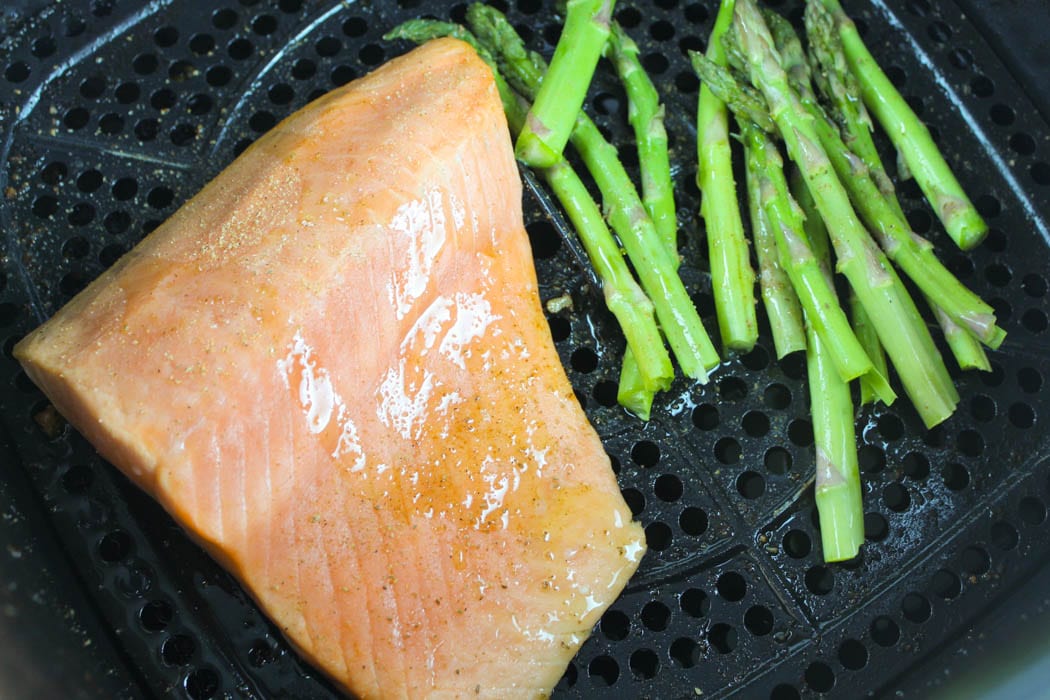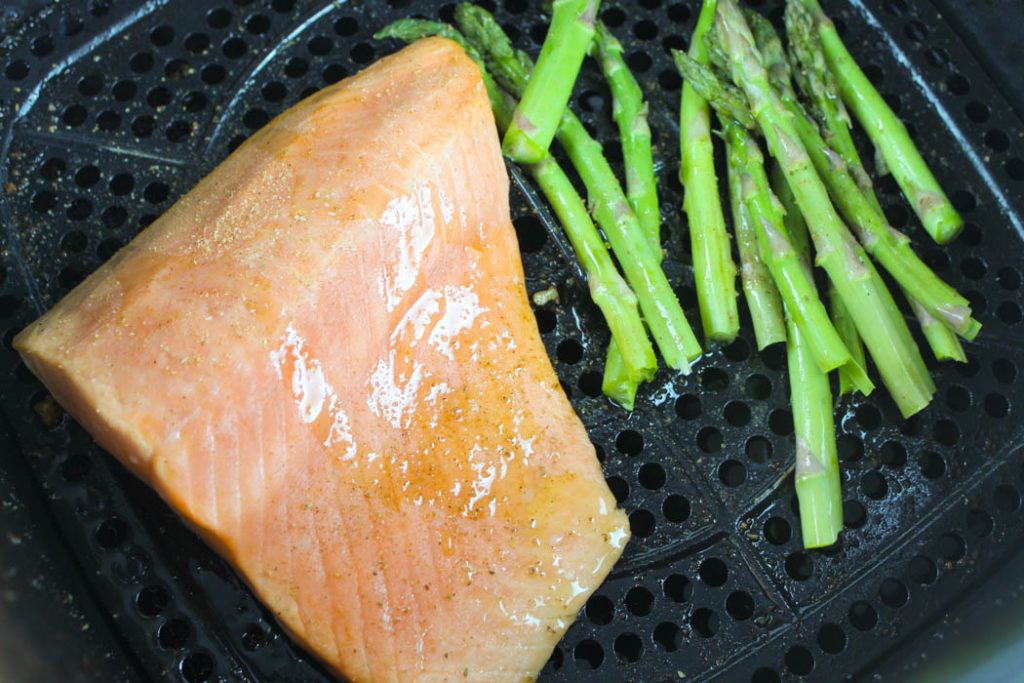 How to make Salmon in the Air Fryer
– From Fresh
Salmon is delicious on it's own and doesn't need much seasoning. Making it is very easy, start by:
Laying the fresh fish filet (skin sided down) in the air fryer in a single layer
From there, season the salmon.
Air fry at 350 for 10 minutes of cooking time. I like my salmon a little medium rare – I feel like it's more moist. See below for more info!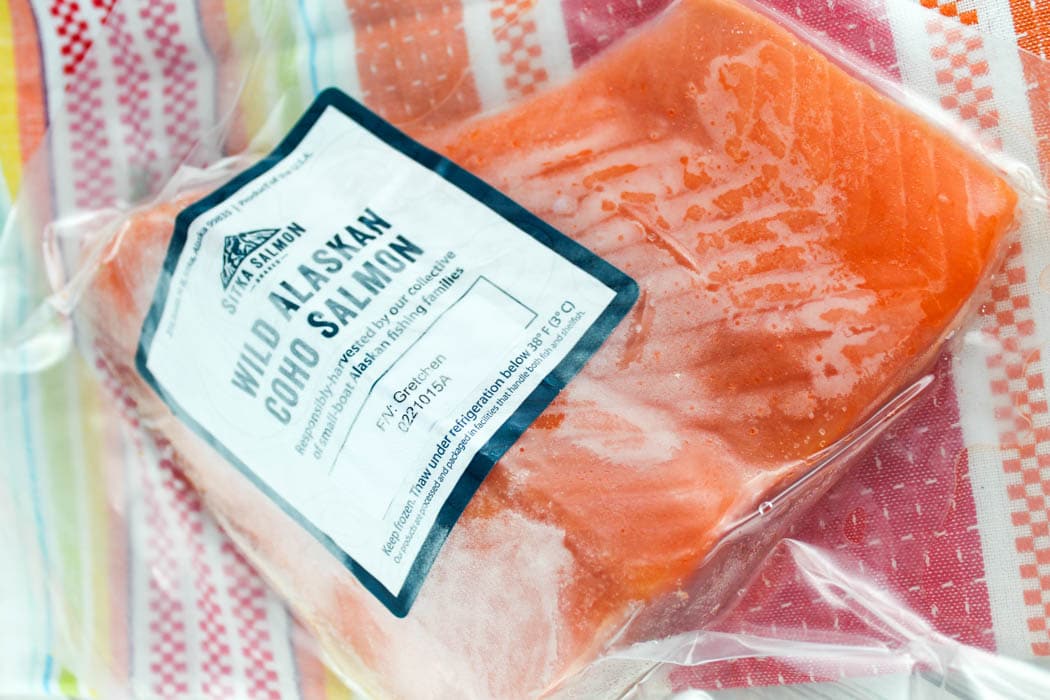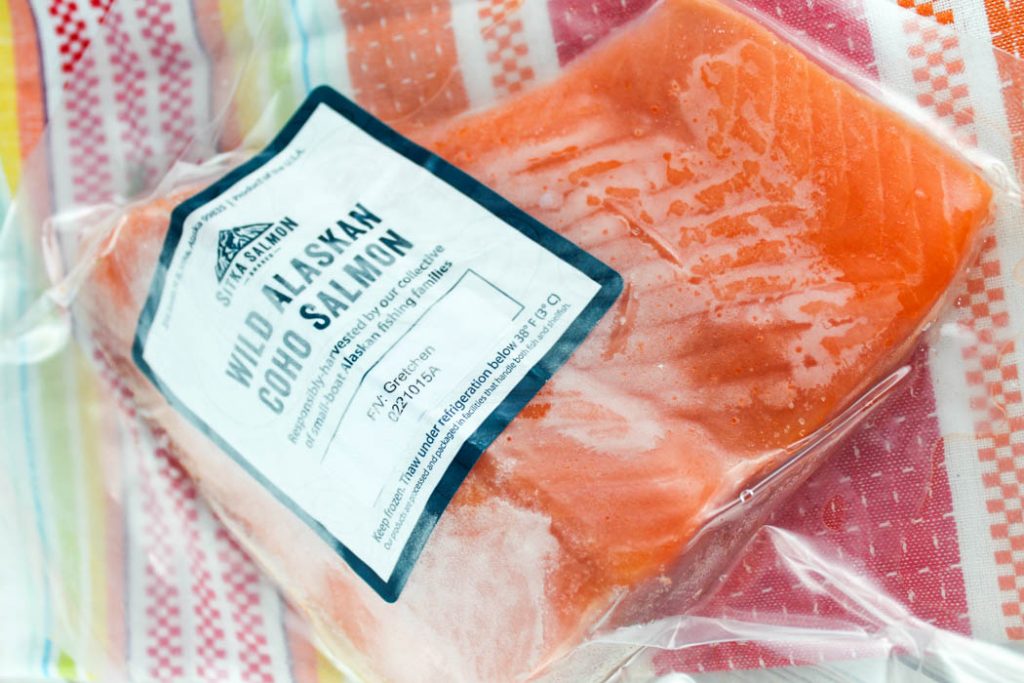 – From Frozen
For frozen, there's not much different!
Pop frozen salmon fillets out of the freezer, place skin side down in the bottom of the air fryer basket.
Air fry from frozen at a cooler temp so it's not trying to "fry" right off the git. Start the air fryer at 325 for 3-4 minutes.
At that point – open AF and season the top of the fillets
Bump up temp to 350 and air fry for 10 minutes more checking temperature with a meat thermometer. See below for more info!
Serve!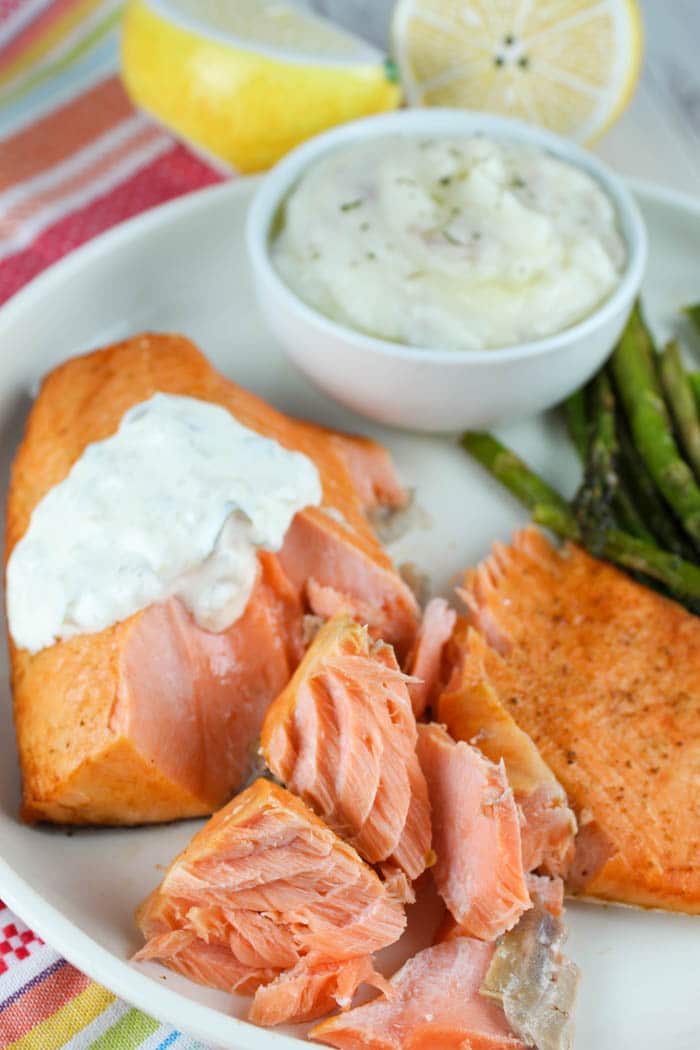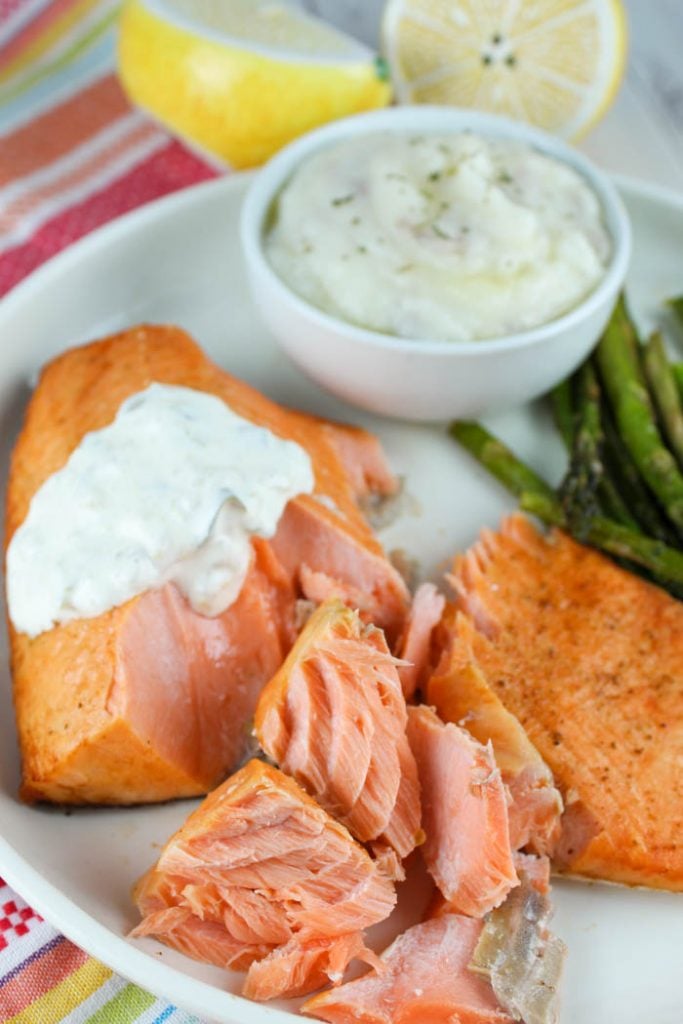 When is Salmon done in the air fryer?
Salmon is safe to eat raw – thus sushi – so it's really a preference thing as to when it's done. Serving it medium rare makes the most amazing salmon – it's a little softer inside and definitely NOT dry!!!
The best way to check your salmon is to insert a meat thermometer in the thickest part of the fillet and it should read an internal temperature of 120°F for medium rare or 130 degrees F for medium. Don't go above that! I promise – it'll be the best salmon you've tried!
Another great way to check the doneness is to flake at the thickest part of the salmon and see if it's done enough for your taste.

If you haven't had medium rare salmon – try a bite and see what you think! I think you'll like it!

The amount of time will depend on the thickness of your fillet – if it's super thin – check it sooner
How does the air fryer work?
It's similar to a convection oven – where a heating element heats up the air in the air fryer and the fan blows it around. The hot air circulates around your food to cook it at a high heat and thus you are air FRYING with no oil. It's also why you don't want to stack foods – you need that air to circulate around all sides to cook! The best part is that foods typically cook in half the time of a conventional oven!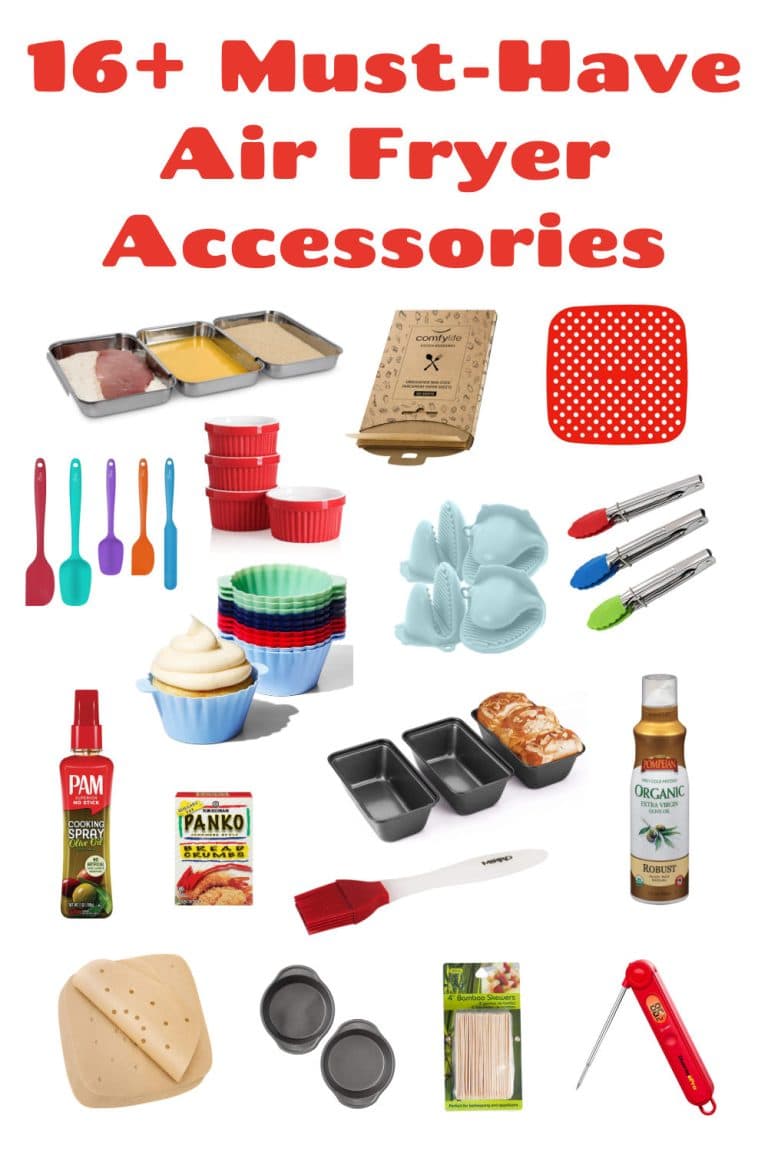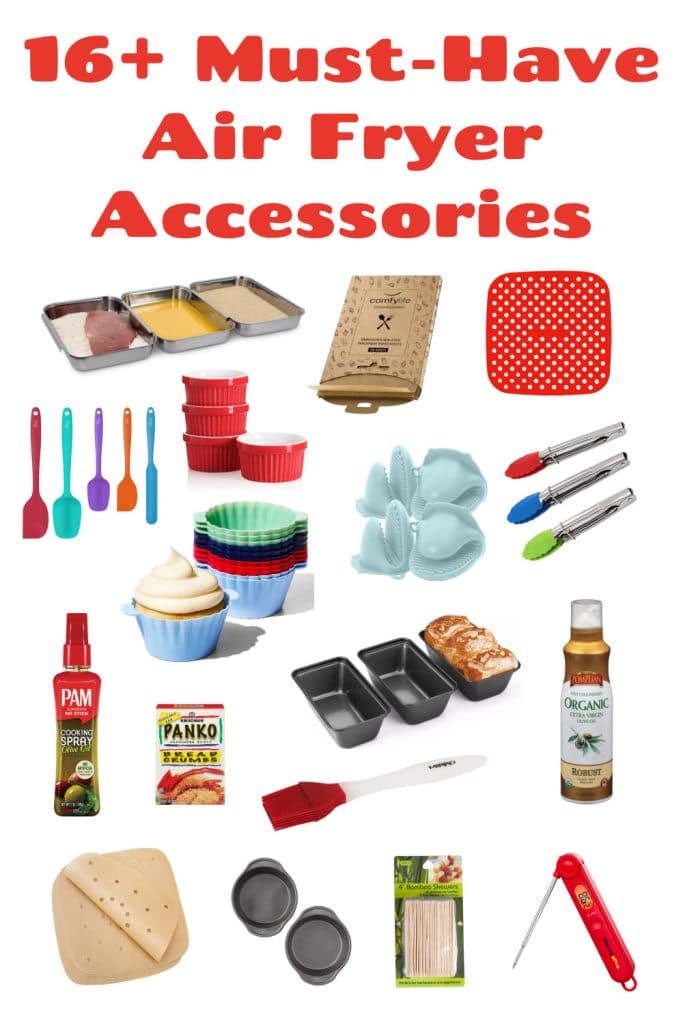 Best Air Fryer Accessories
Here's my ultimate list of best air fryer accessories – whether you have a basket- or oven-style! I've also included a price guide as well as my favorite recipes for those accessories.
Do I need to preheat my air fryer?
It's up to you and your air fryer. I have a basket-style and an oven-style. I never preheat the basket style. The oven-style requires preheat – you can't skip that step. You can put your food in right away – but I usually wait until it's up to temp. I find for baking – it's a little better to use a preheated air fryer so it's HOT when you put the food in – other than that – I don't usually bother.
How do you store and reheat leftovers?
Store any leftover salmon in an airtight container and refrigerate for 2-3 days. You can reheat in the air fryer for 3-4 minutes or the microwave for 2 minutes.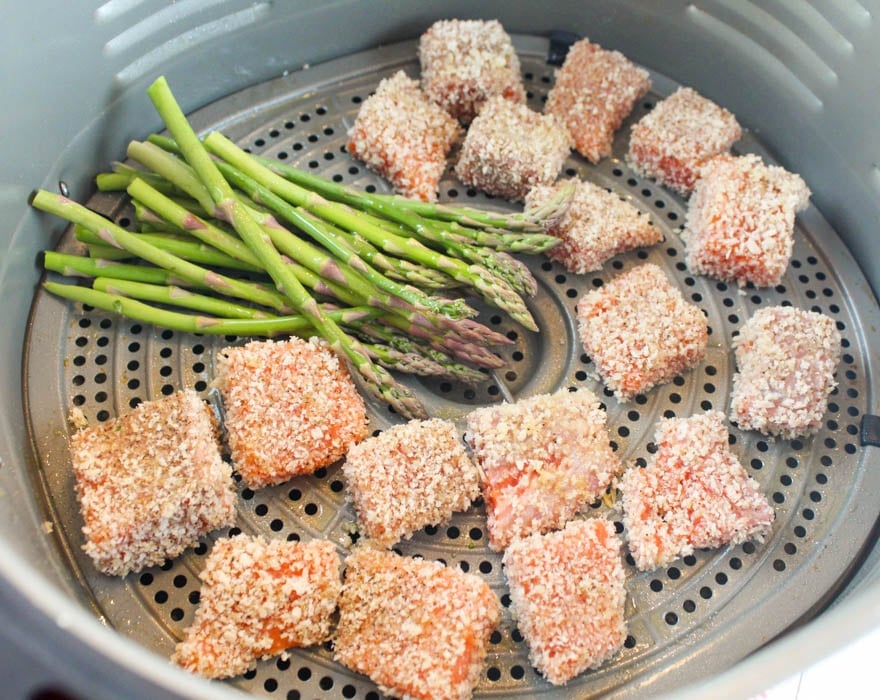 Other Salmon Recipes
Side dishes to serve with Air Fryer Salmon
More Easy Air Fryer Recipes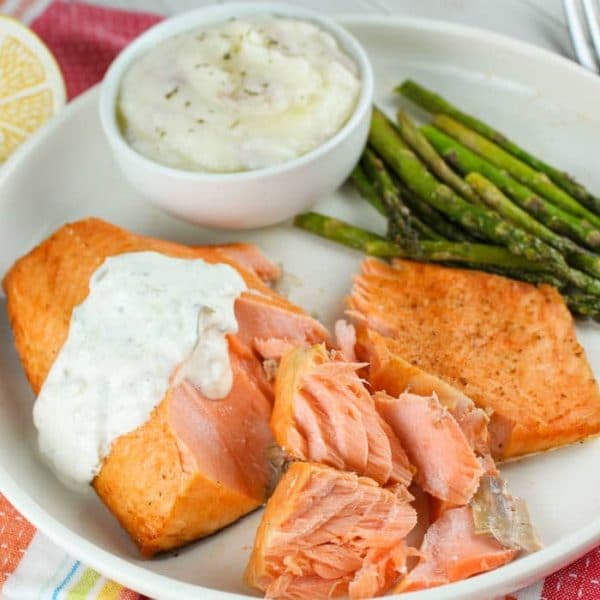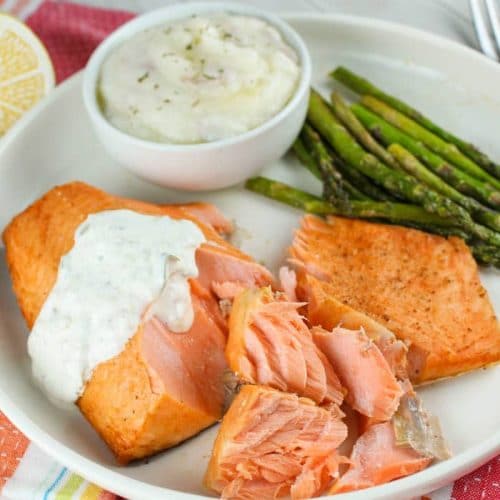 Frozen Salmon in an Air Fryer
Frozen salmon in the air fryer is a great QUICK dinner when haven't done any planning! It's on the table in 15 minutes and you can even add veggies while the salmon is cooking.
Instructions
Lay frozen salmon into air fryer

Air fry at 360 for 5 minutes

Open air fryer and season salmon with lemon herb seasoning

OPTIONAL: This is a great time to add veggies if you like

Air fry an additional 5 min
Notes
**We are not dietitians and recommend you seek a nutritionist for exact nutritional information. The information in the nutrition box are calculated through a program and there is room for error. If you need an accurate count, I recommend running the ingredients through your favorite nutrition calculator.**
Nutrition
Serving:
0.5
lb
Calories:
450
kcal
Protein:
45.3
g
Fat:
14.5
g
Saturated Fat:
2.2
g
Cholesterol:
126
mg
Sodium:
128
mg
Potassium:
1118
mg
Calcium:
27
mg
Iron:
2
mg