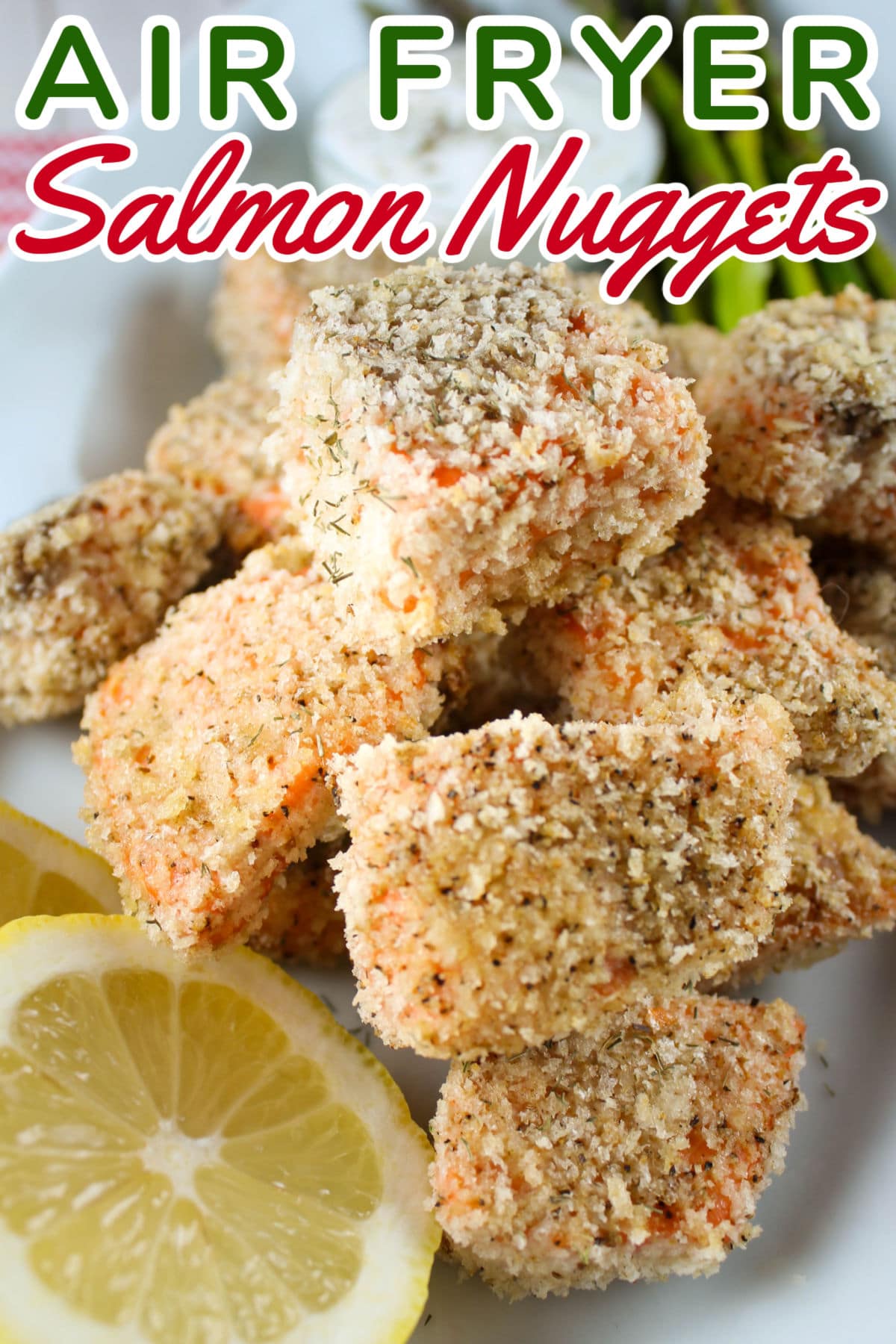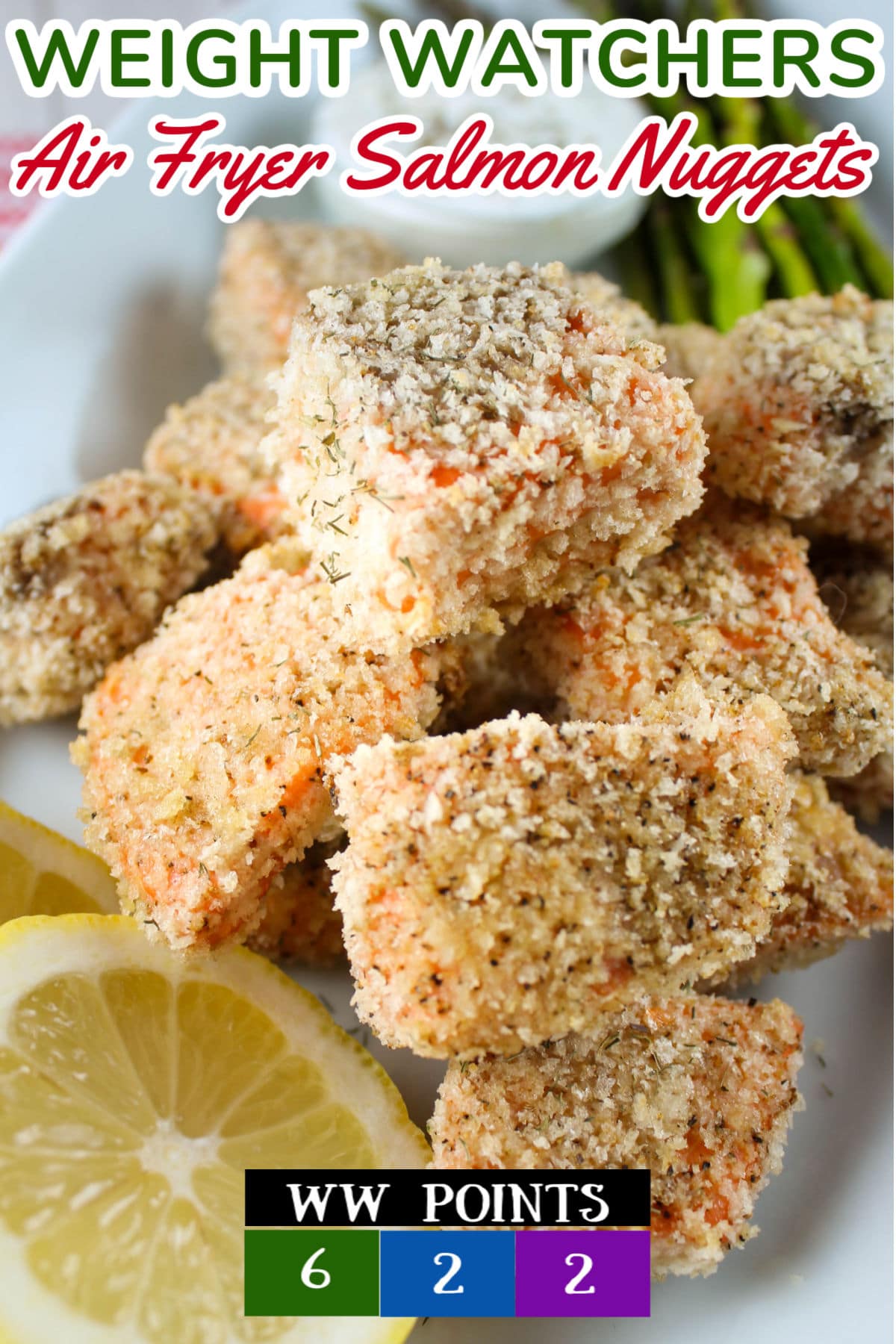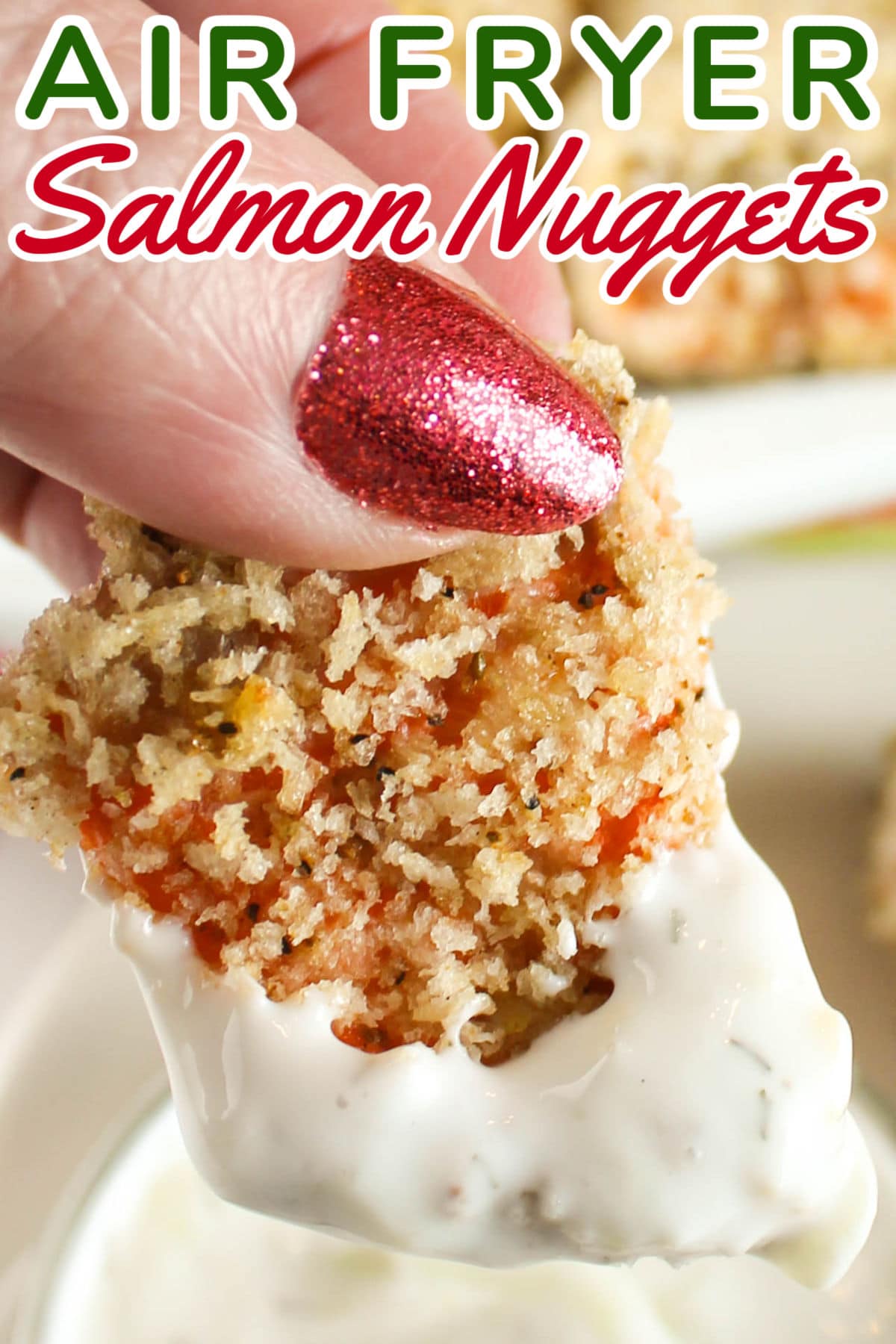 Air Fryer Salmon Nuggets are crunchy and delicious! Dip them in this quick Greek Tzatziki sauce and even the kids will be asking for more salmon. Pair with veggies for dinner and it's on the table in less than 10 minutes!
Jump to Recipe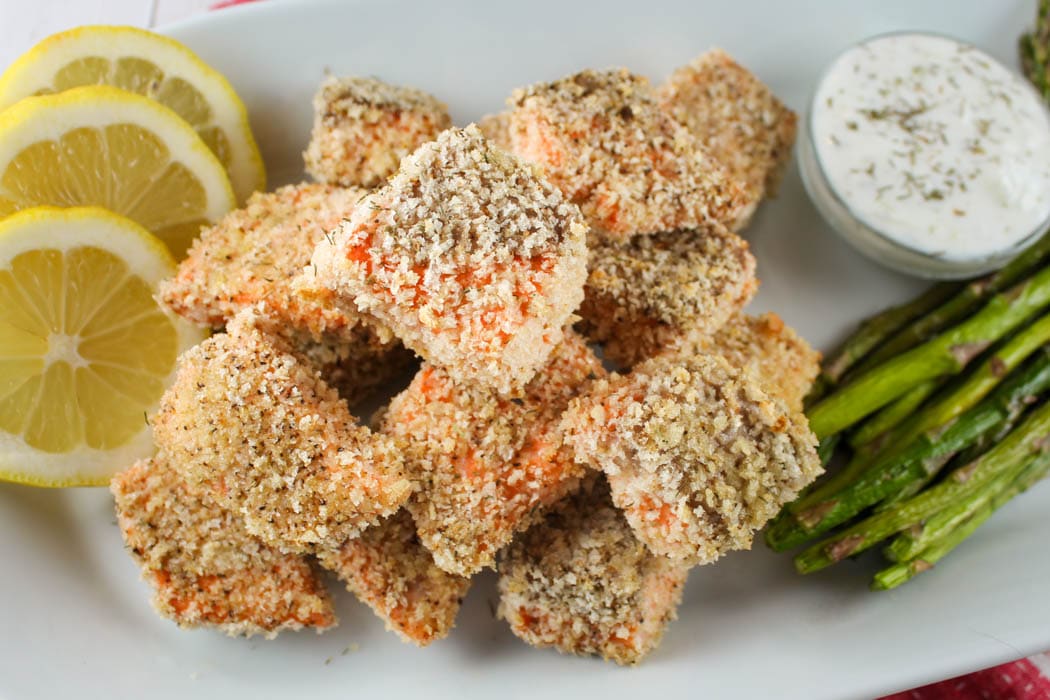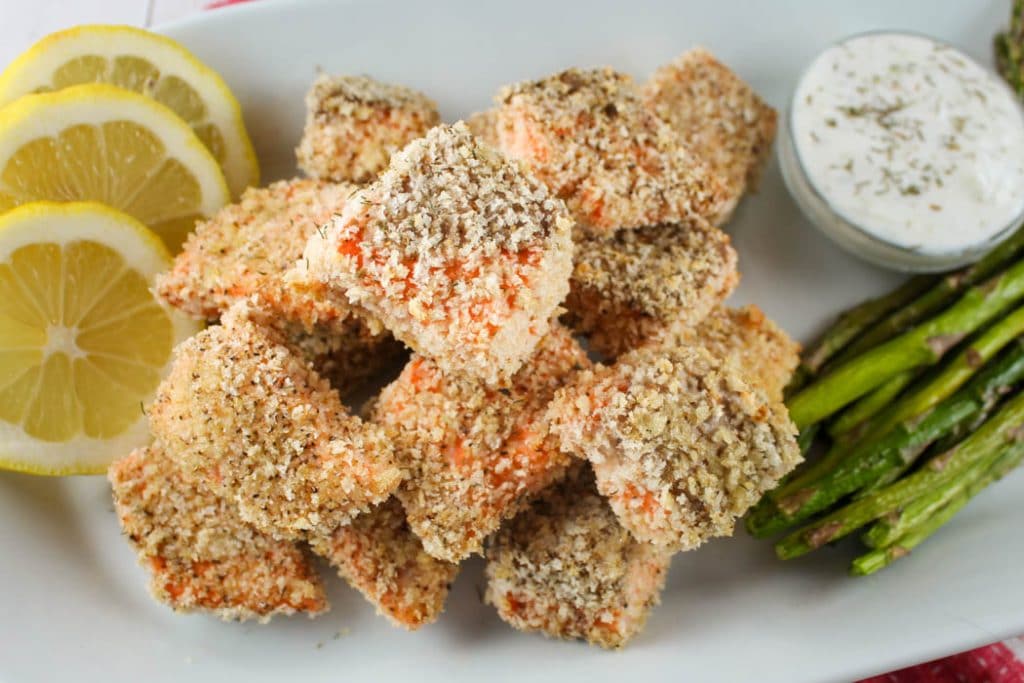 Salmon nuggets are a fun way to take on salmon and it's done in minutes. To save time, I put a frozen salmon filet in the fridge in the morning and then, after work, bread it quick and dinner is nearly done! Salmon cooks so quickly – it's perfect in the air fryer!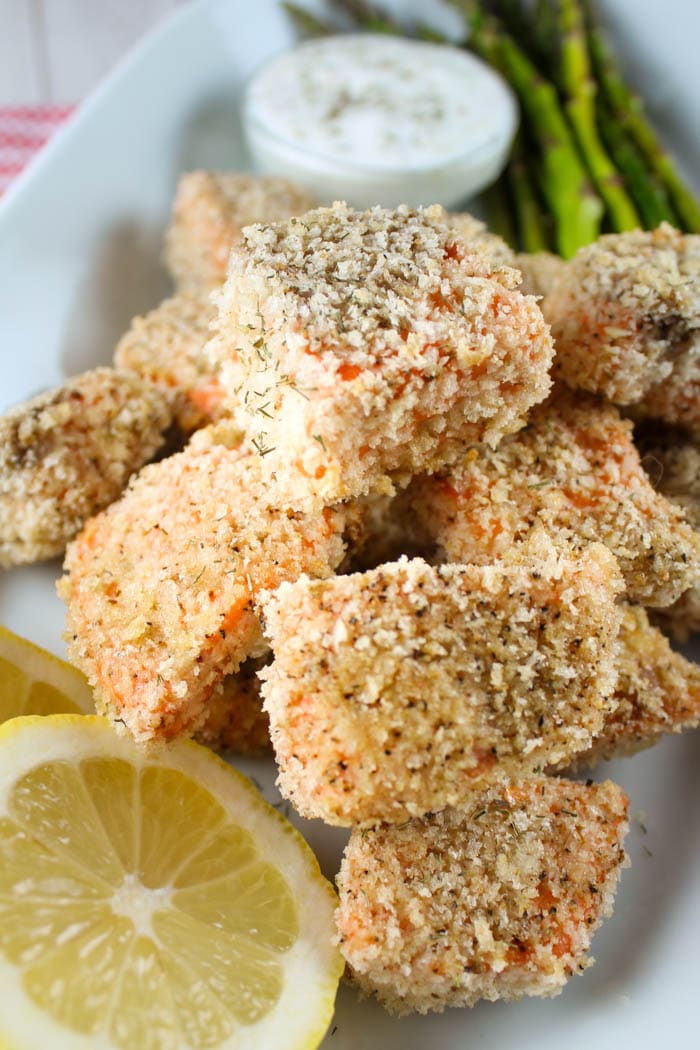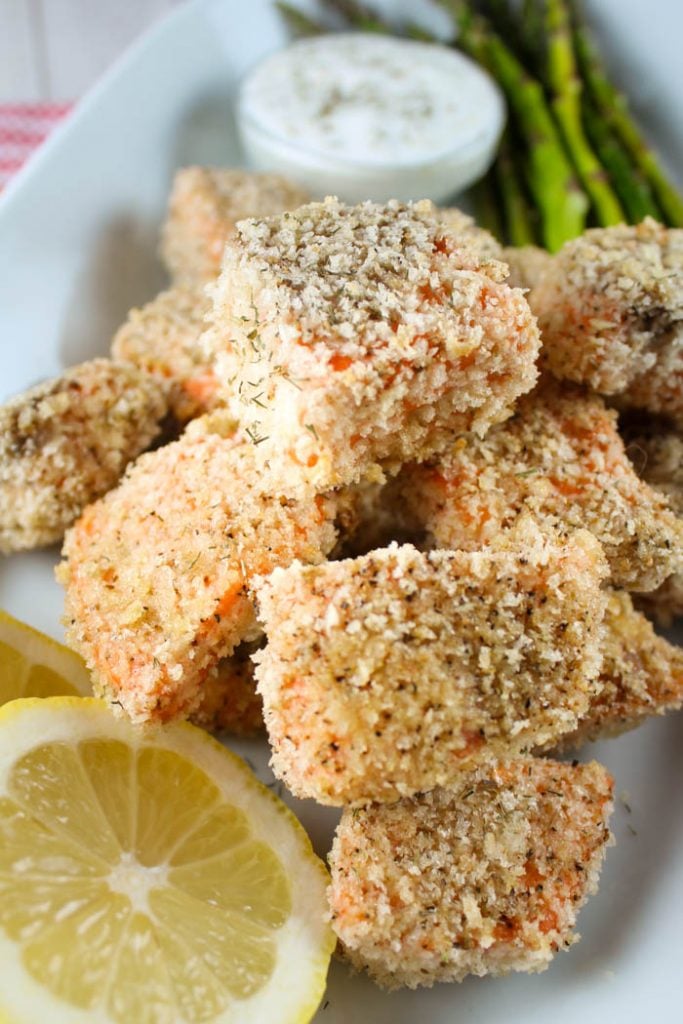 What ingredients do you use for breading fish?
My favorite ingredients for breading fish are egg whites, panko and your favorite seasoning. The egg whites are very low cal and you're just needing to dampen the fish so the breading sticks to the fish.
For the seasoning, you can mix the panko with your favorite seasoning mix. I like Greek seasoning but you could also use Lemon Herb (lemon is great with salmon) or even an Italian seasoning.
This light breading does not detract from the mild flavor of the salmon but adds a nice crunch!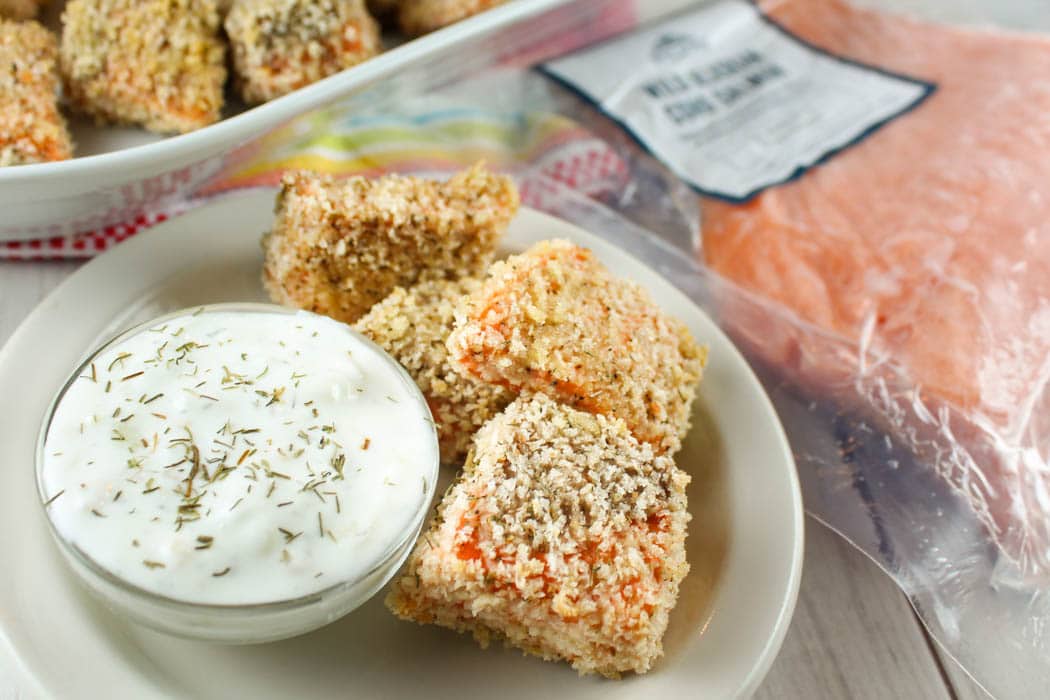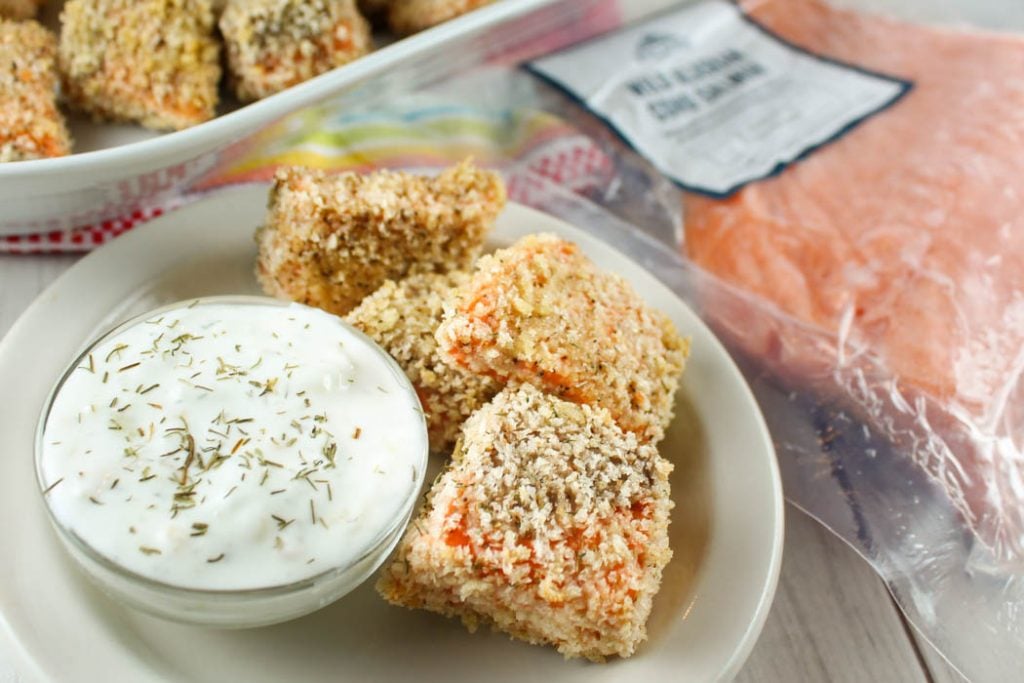 Ingredients for Salmon Nuggets
These salmon nuggets have just four ingredients! Salmon is a great source of protein, Omega-3s, potassium, antioxidants, and healthy fats – which we can all use more of!
Tzatziki Sauce – This delicious dipping sauce only has 5 ingredients, is ready in two minutes and has a very authentic Greek taste.
2/3 cup nonfat Greek yogurt
1/3 cup grated cucumber
1 tsp minced garlic
1/2 tsp salt
1 tsp dill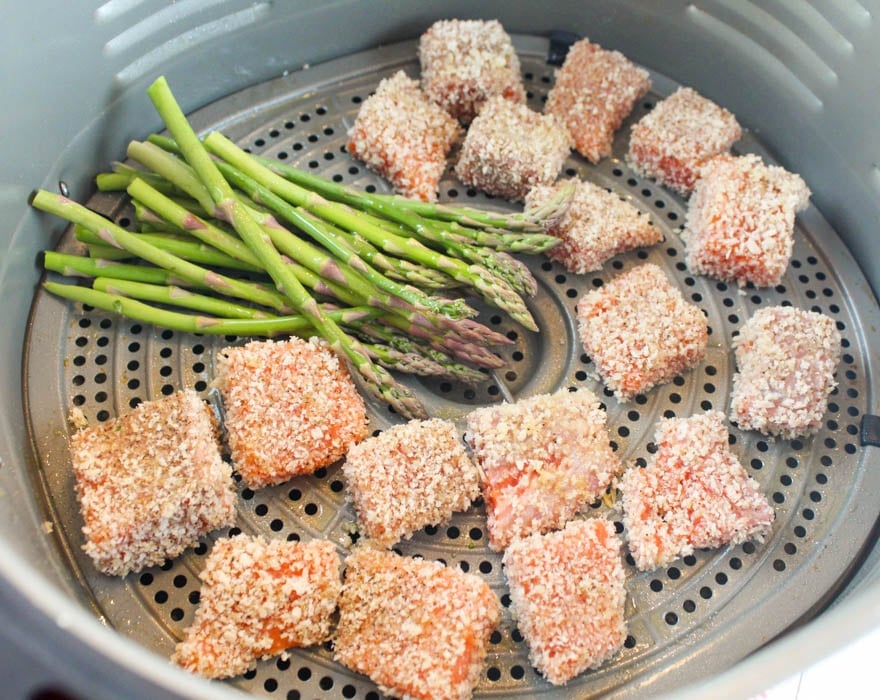 How to Make Salmon Nuggets in an Air Fryer
Healthy salmon nuggets are super easy to make – just bread them and go!
Slice your thawed salmon fillets into 1 1/2″ cubes
In one dish, beat egg whites and mix together panko/seasoning in a shallow bowl
Dip salmon pieces in egg whites and then panko/seasoning. Pat the seasoning onto the salmon.
Set breaded salmon bites in a single layer in air fryer basket. Spray with non-stick cooking spray to help them turn golden brown.
Air fry at 350 for 3 minutes and the flip and cook 3 minutes more – resist the urge to over cook salmon! Medium salmon has an internal temperature of 130ºF and is very tender!

Depending on the size of your air fryer basket, you might need to cook these in batches. If so – place cooked nuggets in covered pan to keep warm.

While the salmon nuggets are cooking, mix together Tzatziki sauce ingredients in a small mixing bowl and refrigerate until the salmon is done.
Remove salmon from air fryer and serve with a sprinkle of juice from lemon wedges and the Tzatziki sauce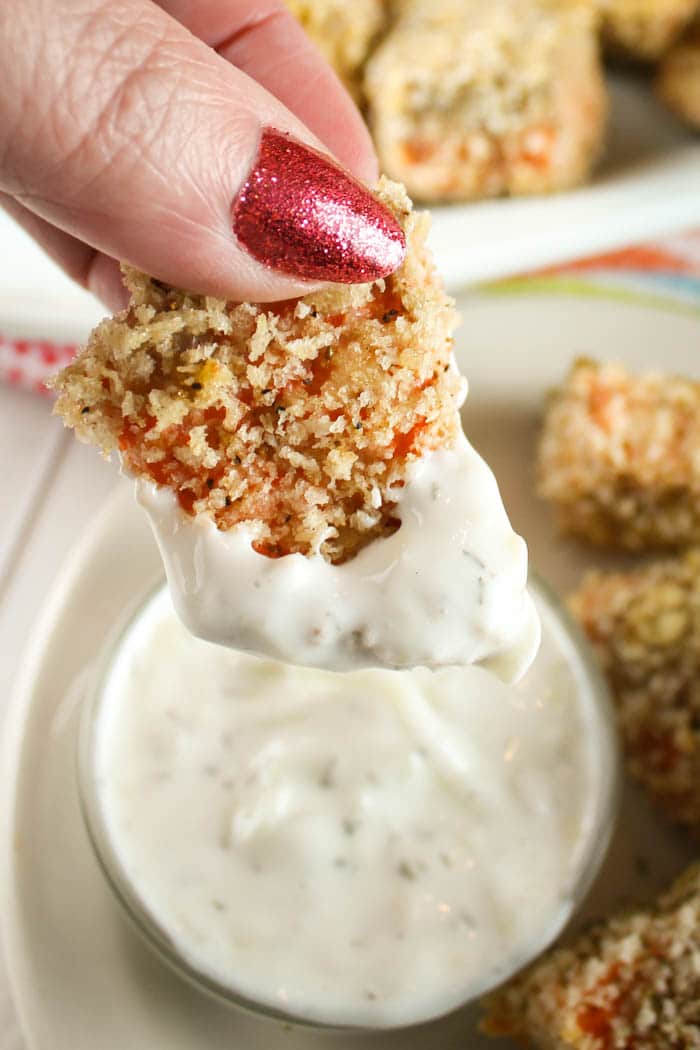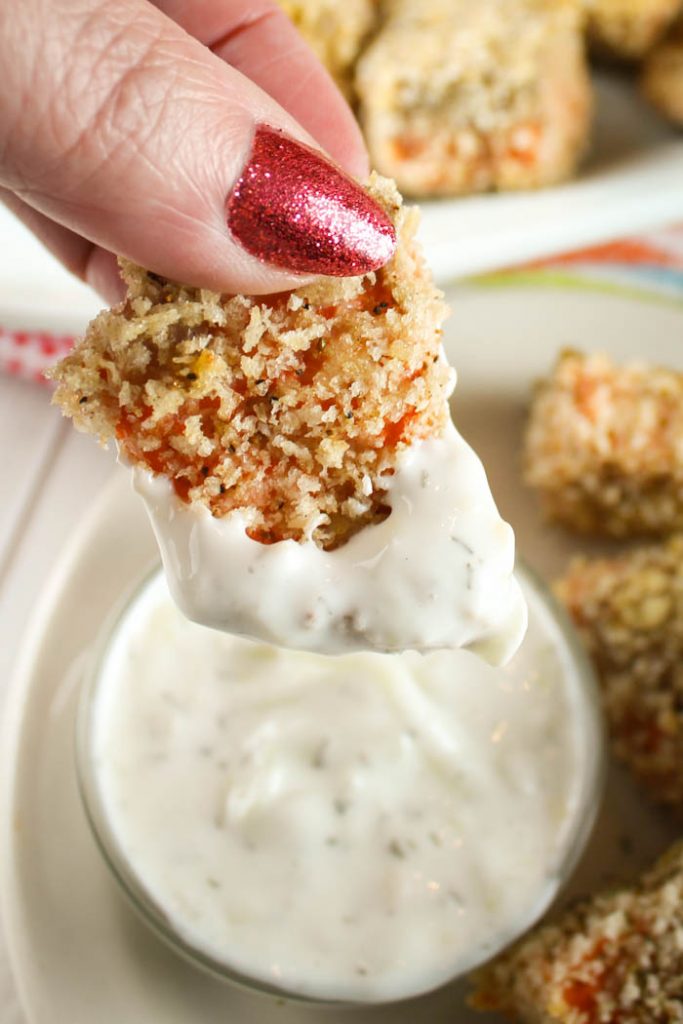 Tips, Tricks & FAQs
Do I need to preheat my air fryer?
Nope! I've never preheated and things come out great!
How long should you air fry salmon for?
These salmon bites only need 5-6 minutes but if you're doing a filet, you'll need to cook between 8-12 minutes.
How do you know when salmon is done in the air fryer?
Use an Instant Read thermometer and test your salmon at the thickest spot. It should read approx 130-135ºF for medium salmon. I URGE you to try salmon at medium or even medium rare – it's so much better!!!
What is the best salmon for this recipe?
Look for skinless salmon that is at least one inch thick. If you do have salmon with the skin on – you can remove it with a very sharp boning knife before you bread it.
Can you freeze these salmon nuggets?
Yes. I would recommend freezing them before baking. You can lay them on a cookie sheet and cover until they're frozen. Then take them off the sheet and pop them in a freezer bag. Then, when ready to make them – pop them in the air fryer frozen and heat for 3-5 minutes on each side at 350. I would not freeze them after baking as reheating will overcook them.
How do you store & reheat leftover salmon nuggets?
Store any leftovers in an airtight container. You can reheat in the air fryer for 3 minutes at 350º.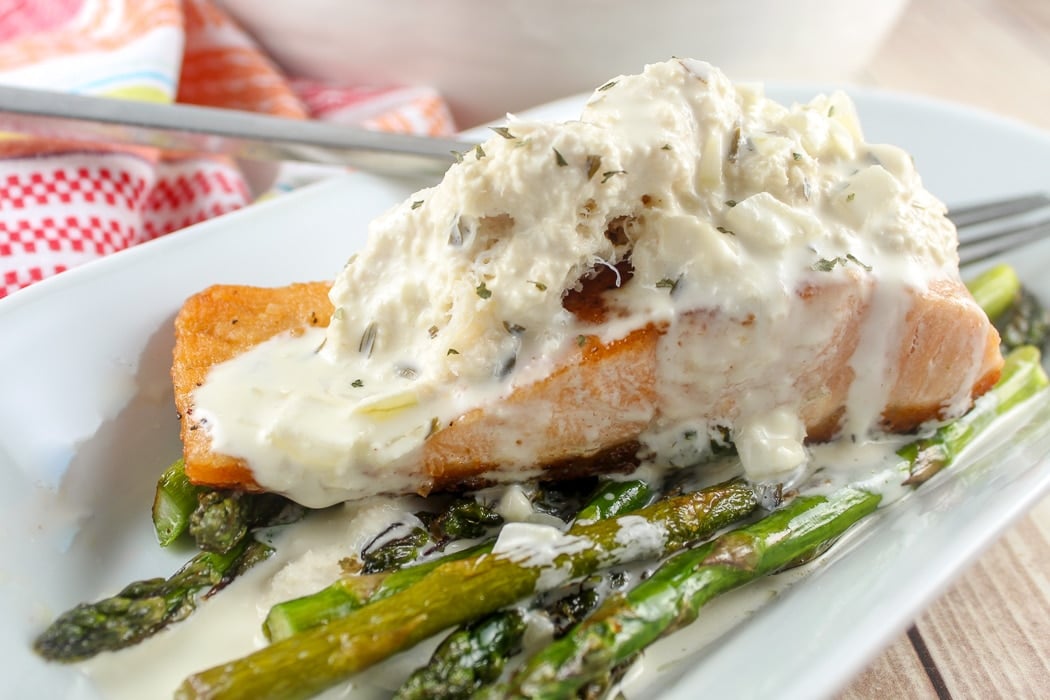 Air Fryer Salmon Recipes
If you are looking for salmon recipes – look no further – I've got a bunch – here are my faves!
What to serve with Salmon
These are some of my favorite side dishes to serve with salmon!
More Air Fryer Recipes for Fish & Seafood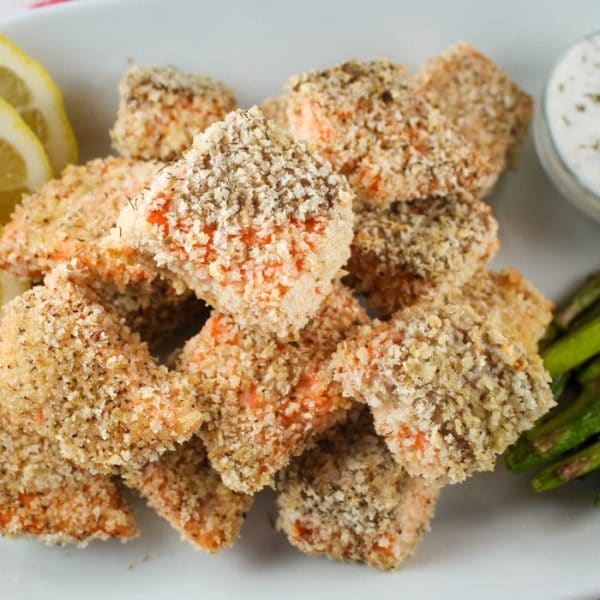 Air Fryer Salmon Nuggets
Air Fryer Salmon Nuggets are crunchy and delicious! Dip them in this quick Greek Tzatziki sauce and even the kids will be asking for more salmon. Perfect as an appetizer or pair with veggies for dinner – and it's on the table in less than 10 minutes!
Ingredients
Tzatziki Sauce
2/3

cup

nonfat Greek yogurt

1/3

cup

grated cucumber

1

tsp

minced garlic

1/2

tsp

salt

1

tsp

dill
Instructions
Combine the Greek yogurt, grated cucumber, garlic, dill and salt and refrigerate until serving

If your salmon has skin, use a boning knife to remove skin from salmon. Cut into 1 1/2" bite sized pieces. Try and find a thick piece of salmon as the bites should be about 1 1/2" cubes.

In a bowl, place egg whites. Then place panko and Greek seasoning in a plate and stir

Lightly dip salmon into egg whites, letting excess drip off. Coat salmon in panko & seasoning mixture and shake off extra.

Place salmon nuggets inside air fryer and spritz with olive oil

Air fry at 350 for 3 minutes. Flip pieces, spritz with oil and cook an additional 3 min
Notes
Try and find a thick cut of salmon so the bites are 1 1/2″ cubes
If you don't have Greek seasoning – you can use a Lemon Herb seasoning as a replacement
Weight Watchers Points

Green – 6
Blue & Purple – 2

**We are not dietitians and recommend you seek a nutritionist for exact nutritional information. The information in the nutrition box are calculated through a program and there is room for error. If you need an accurate count, I recommend running the ingredients through your favorite nutrition calculator.**
Nutrition
Serving:
6
bites
Calories:
210
kcal
Carbohydrates:
5.2
g
Protein:
29.2
g
Fat:
7.5
g
Saturated Fat:
1.1
g
Cholesterol:
51
mg
Sodium:
622
mg
Potassium:
527
mg
Fiber:
0.1
g
Sugar:
1.8
g
Calcium:
166
mg
Iron:
1
mg