Every once in a while I get a magical idea – and let me tell you – this was one of those days!!! I just made the BEST appetizer ever!!! I mean – do you like bacon? Do you like shrimp? Do you like Jalapeno Poppers? NOW PUT THEM ALL TOGETHER!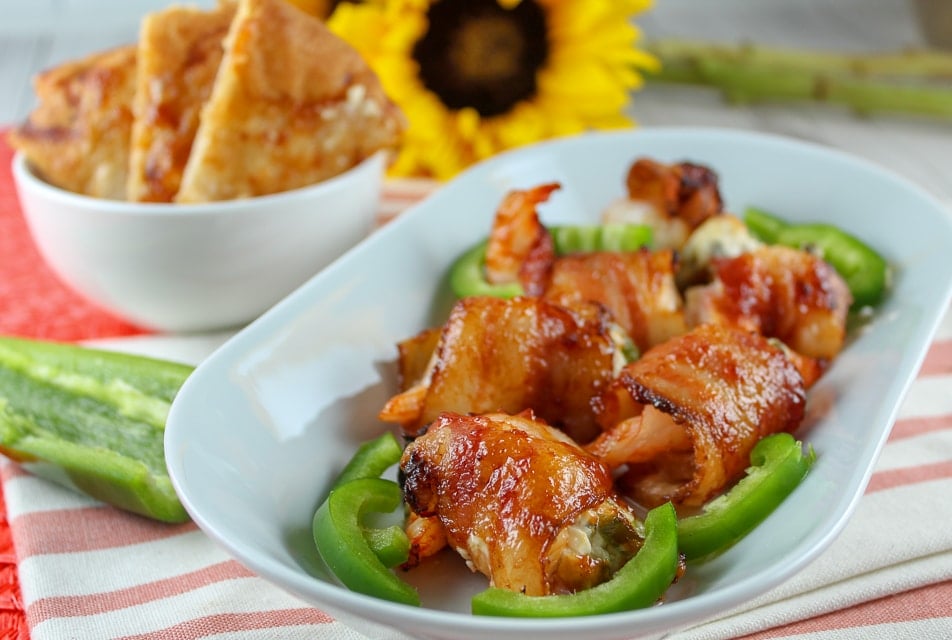 These bacon wrapped shrimp are stuffed with cream cheese – but I don't stop there – I even topped it with a little barbecue sauce! These little bacon wrapped appetizers will be the hit at any gathering you have! Or you could do like I did and just eat them for dinner. 🙂

How do you make Bacon Wrapped Jalapeno Popper Shrimp?
I chose to make these in the air fryer – it's so quick and easy – 15 minutes and they're done! But you could also make these in the oven – I would just increase the time to maybe 20 minutes. Really the shrimp will be done sooner but you want the bacon to start to get browned. You don't want the bacon crispy though – you just want it to be cooked through with crispy edges.
Other delicious appetizers: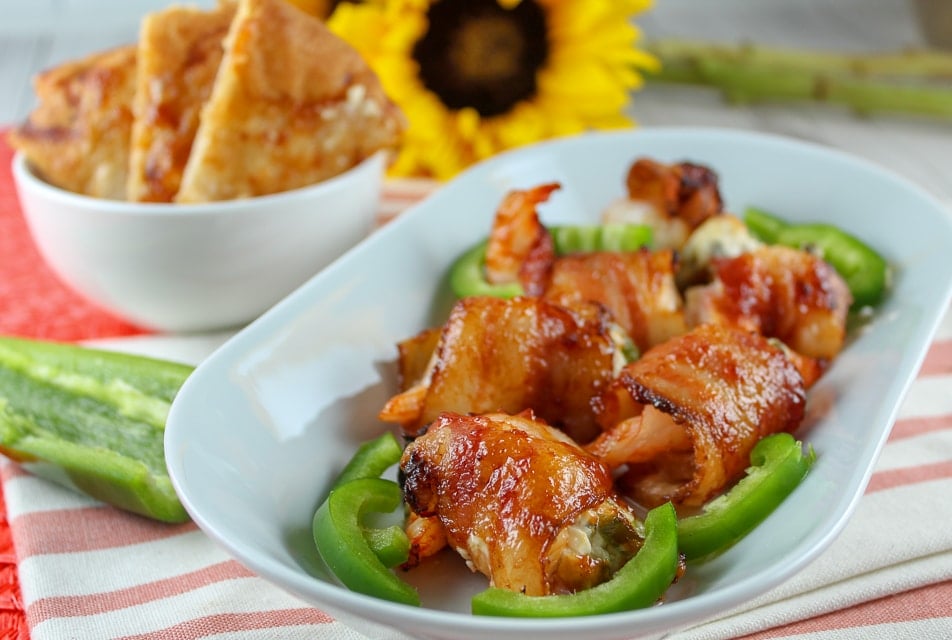 Bacon Wrapped Jalapeño Popper Air Fryer Shrimp
prep time: 40 M
cook time: 15 M
total time: 55 M
I took all my favorite things: shrimp, bacon and jalapeno poppers and mushed them together to make the BEST appetizer you'll ever find!! And then I popped them into the air fryer! OMG – you might just save them all for yourself! #bacon #shrimp #jalapenopopper
ingredients:
12 jumbo raw shrimp – the biggest you can get – no shells
6 slices bacon – sliced in half
3-4 Tablespoons cream cheese
thin slices of jalapeno (I used 1/2 of a pepper)
your favorite bbq sauce
1-2 pita rounds
instructions:
How to cook Bacon Wrapped Jalapeño Popper Shrimp
using a sharp thin knife – butterfly shrimp being careful not to slice all the way through – i just did the thicker end of the shrimp
schmear a little cream cheese into the opening – maybe 1/2 tsp
add a thin small slice of jalapeno
take half slice of bacon and TIGHTLY wrap the shrimp with bacon
refrigerate for 30 minutes
take one pita round (or a slice of bread) and place in the bottom of the air fryer under the rack to catch the bacon grease
place shrimp in air fryer and baste with a little bbq sauce
air fry at 350 for 8 min
flip, baste and air fry for 8 min more
depending on your air fryer you might need to do them in two batches – you don't want to crowd them
cut up the pita into triangles and serve with the shrimp – it's delicious
Recommended Products:
Air Fryer