This post is sponsored by Freddy's Frozen Custard and Steakburgers. All opinions are my own.
A few weeks ago – I saw a Facebook Video of a restaurant making Cheeseburger Fries and thought – where have these been all my life!?! I immediately put them as my next recipe to make – and they did not disappoint!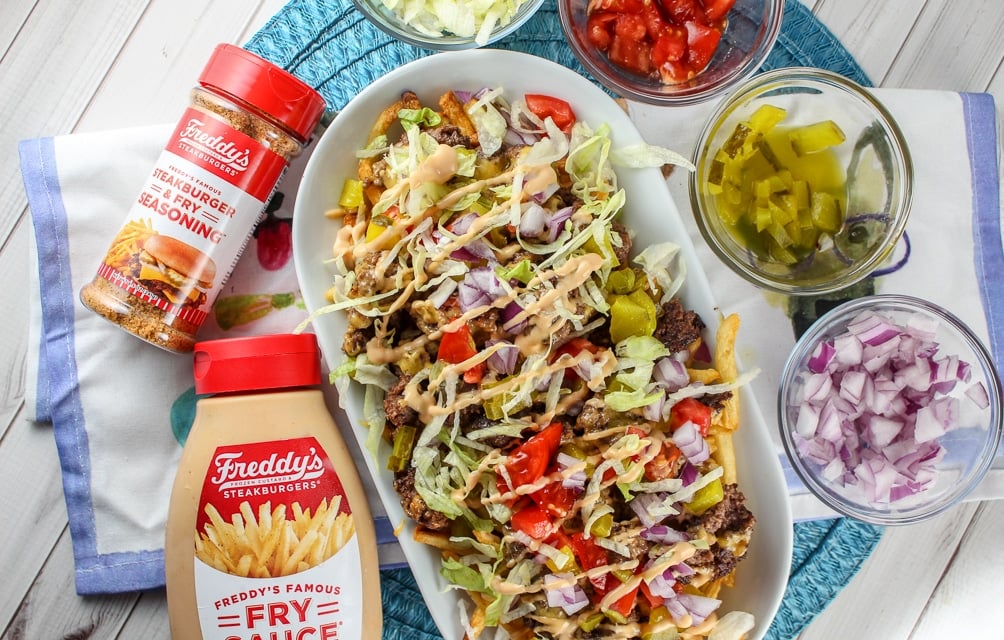 It's a deconstructed cheeseburger on a plate – they're like nachos but with fries! You can load them up with all your favorite toppings and I had to add two of my favorites: Freddy's Famous Fry Seasoning and Freddy's Famous Fry Sauce!
Look at that plate of amazingness! Crispy fries topped with chopped hamburger, American cheese, lettuce, tomatoes, onions, pickles and Freddy's Famous Fry Sauce!


I cooked the hamburgers with the Freddy's Fry Seasoning and it added a lot of zing to the meat! You have to try it! You can get Freddy's Famous Fry Seasoning or Fry Sauce online or at their restaurant. (They even have the sauce in a Jalapeno version!)
These Cheeseburger Fries will be a hit with the whole household! Literally every person I showed these pics to said OMG I NEED THESE NOW!!!! You can use any kind of fries with these too – I had skinny fries in the freezer so that's what I used.
If you're not familiar – Freddy's Frozen Custard & Steakburgers makes these amazing thin patty steakburgers and loads of frozen custard delights! They're one of my favorite "fast food" places – and the quality is amazing! They also have specialty burgers every month – I made one of them – the A1 Chophouse – so good!!!!
Cheeseburger Fries
Yield: 2-4
prep time: 10 M
cook time: 15 M
total time: 25 M
Cheeseburger Fries are like nachos BUT BETTER!!!! It's like cheesy fries but then you top them with everything you love on a burger! Why did it take me so long to discover this?! It's a great appetizer or movie night food – really it's good any night – and it's fun! The whole family will love them! #cheeseburger #loadedfries
ingredients:
1/2 bag frozen fries
2 hamburger patties (or 1/2 pound ground beef)
3 slices land o lakes american cheese
freddy's fry seasoning (or lawry's seasoning salt)
shredded lettuce
diced tomato
diced red onion
diced dill pickles
freddy's fry sauce
instructions:
How to cook Cheeseburger Fries
preheat oven to 375
bake fries according to package directions
when fries have 10 minutes remaining – heat skillet on medium high
add hamburger patties to skillet and brown
sprinkle both sides with freddy's fry seasoning salt
break up hamburger patties into bite-size pieces
add cheese and top with a lid to melt the cheese
remove fries from oven and plate
top fries with cheeseburger meat
top meat with freddy's fry sauce
add lettuce, tomatoes, red onion, dill pickle and a little more fry sauce
dig in!
Recommended Products:
Freddy's Fry Sauce
Freddy's Fry Seasoning