Recently I was out of town and my dog sitter was here and had some ingredients from one of those meal-delivery companies in the fridge that she forgot to take with her. She told me to just keep them and enjoy. But I had no instructions – just a bag of ingredients – so let's figure it out!!!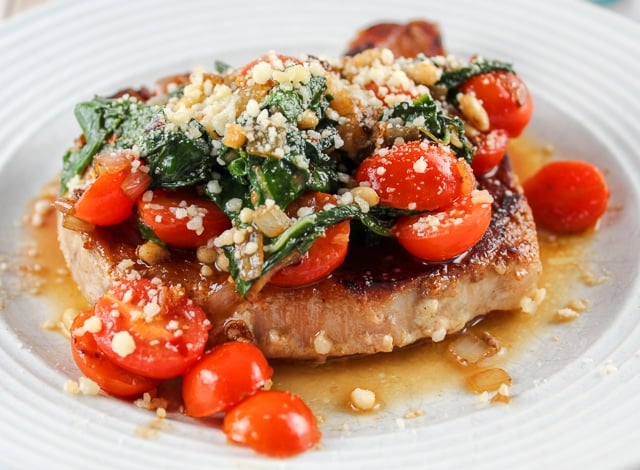 I had pork chops, Swiss chard, grape tomatoes, garlic, butter, pine nuts and Parmesan cheese. So what should I make – I just thought well – let's put it all together and figure it out. I was hungry and didn't want to monkey around for a long time either – so here we go!
I seared the chop first and then added in the garlic, butter and shallot – getting those flavors in right off the bat – giving them time to dig into the pork chop like I was going to. Then you finish with the chard and tomatoes – they just need a couple of minutes to soften.
If you don't have – or are afraid of Swiss chard (haha) – you can use spinach or kale too. I like Swiss chard though – you just tear the leaves off the tough stem and add them in. Spinach wilts really quickly and almost disintegrates – whereas chard holds up a little more.
This pork chop came out extremely juicy and delicious – and you'll notice that PERFECT blush of pink! I'm pretty good with cooking pork but I still always grab the thermometer and temp it to 145. I'll actually take it off at 140 – because it will continue to cook a bit.
Yield: 2
Garlic Butter Pork Chops (Keto!)
Pork chops are one of my favorites – the bone-in chops are so juicy and flavorful! Then add garlic butter and some veggies – it's a perfect keto-friendly meal!
prep time: 5 mins
cook time: 10 mins
total time: 15 mins
ingredients
olive oil
bone in pork chop
6-8 Swiss chard leaves
15 grape tomatoes, sliced in half
2 cloves garlic
1 shallot
1 tbsp pine nuts
2 tbsp butter
1 tsp salt
2 Tbsp shredded parmesan
instructions
Heat pan to high – add olive oil
Salt both sides of chop
Sear chop on both sides for 2-3 min per side – temp meat – when its between 125-135
Add butter then shallot & garlic – cook for 1-2 min
Tear chard and add to pan along with tomatoes and pine nuts
cook for 2 min until tomatoes are soft and chard wilted
Serve pork chop with all veggies on top and light sprinkle with parmesan cheese