I love quiche – it's the perfect Sunday food! You can make a quiche on a Sunday morning – have a slice or two for brunch and then you have leftovers for breakfast all week!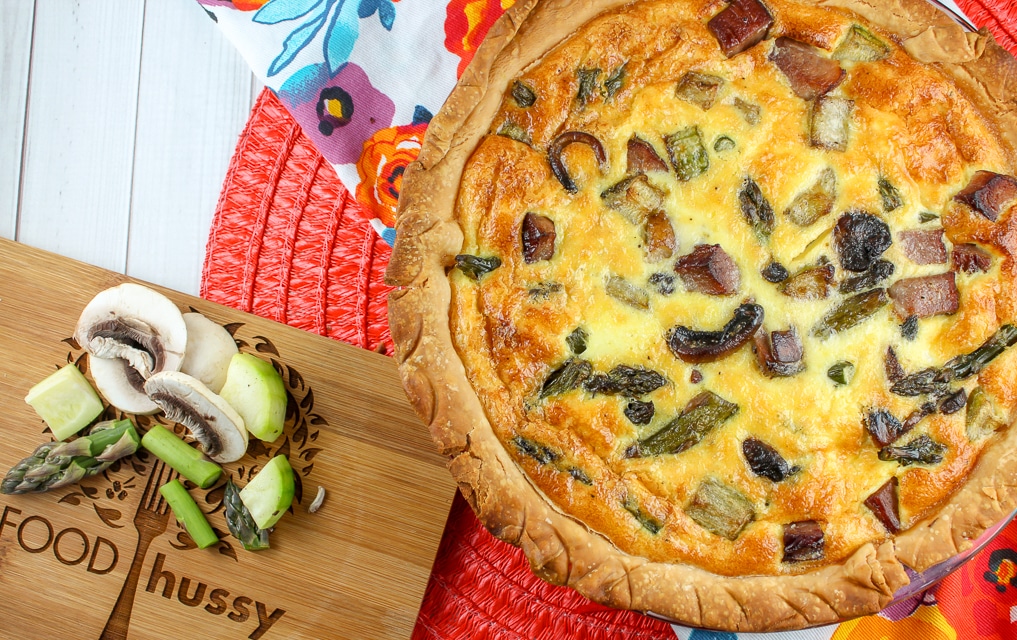 The best thing about it is that you can use whatever vegetables are in season – you can literally put anything in a quiche and it's delicious! But this time – I made a nice spring veggie quiche!
How to make quiche
Quiche seems fancy but is really easy to make. Start with a pie crust – I typically use a frozen crust. Then lightly saute your favorite vegetables – in this quiche I used asparagus, mushrooms and zucchini. Into the pie crust, add your favorite protein (I used ham – but sausage or bacon are always great), sauteed vegetables and some cheese. Then you mix together eggs, cream and salt & pepper – pour in the pie crust and you're done! Bake for 40-45 minutes and voila.
Can quiche be frozen?
Yes! You can freeze before you bake by mixing the filling and freezing it in a ziploc or plastic container. I prefer to freeze after baking. I'll slice it up and put it in freezer safe containers.
How to reheat quiche?
I prefer to reheat quiche in either my air fryer or toaster oven. It takes about 2-3 minutes per slice. You can always use the microwave but the pie crust gets a little soggy.
What to have with quiche?
Quiche is pretty much a meal on it's own – but a nice fruit salad always pairs well with it. Or you can make up a quick dip for fresh fruit you already have (strawberries are perfect right now)!
Spring Veggie Quiche
Yield: 6
prep time: 10 M
cook time: 40 M
total time: 50 M
Quiche is such a delicious comfort food and it's so flexible – every season you can have a totally different dish based on what's fresh at the time. Right now – my favorite spring veggies are ready to go like zucchini, asparagus and mushrooms! Yum!
ingredients:
1 pie crust
2 Tablespoons butter
1 small zucchini
4 oz. mushrooms
1 bunch asparagus tops
1/2 cup diced ham
1 cup fresh mozzarella pearls
4 eggs
1 1/2 cups cream or half & half
Salt & Pepper
instructions:
How to cook Spring Veggie Quiche
Set out pie crust – needs to be at room temperature. Preheat oven to 350.
Heat butter in a skillet over medium heat.
Saute veggies until slightly softened – 3-4 minutes. (still with some crunch – they'll cook more in the oven)
Place cheese and veggies into pie crust.
Whisk eggs, cream, salt & pepper in a bowl and pour over the cheese & veggies.
Bake at 350, uncovered for 40 minutes until a toothpick comes out clean.
Cool quiche for 10 minutes before serving.