I love summertime for all the fresh produce available! Every Saturday, I head to my local market and pick up 2 peaches, 2 tomatoes and 2 ears of corn every weekend. Sometimes though the peaches aren't quite ripe…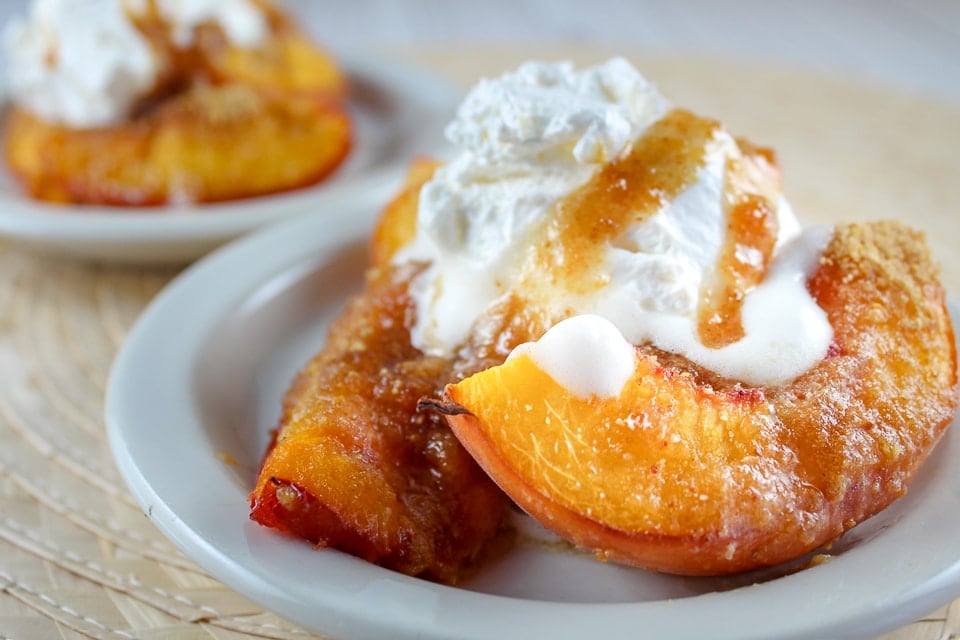 So what do you do with them? I have always wanted to try grilled peaches – but didn't feel like heating up the grill just for peaches. So – bust out the AIR FRYER of course!
What do Grilled Peaches taste like?
Um – magic! Seriously – they are melt in your mouth delicious! It's like the filling in peach cobbler or peach pie without the crust. They're juicy and sweet with a little buttery crunch – yum!
How to make Grilled Peaches in the air fryer?
It's ridiculously easy – as are most air fryer desserts! You quarter or halve the peaches and place them in the air fryer on top of parchment paper – skin side UP – and cook for 5 minutes. Flip and put skin side DOWN – top with crumble and cook 5 min more. Done!
Do Grilled Peaches need to be ripe?
Nope – the peaches have enough sweetness in them – ripe or not – the air frying softens and perks them up – making them perfect. I would probably use peaches that are a little UNDER ripe!
Can you freeze Grilled Peaches?
No – I wouldn't. They're going to get super mushy after freezing them. I also can't imagine having any left!
Can you reheat Grilled Peaches?
Sure – you can reheat these – since they're already cooked – I would just microwave them for 45 seconds or so.
Can you use canned peaches for Grilled Peaches?
No – I wouldn't. Canned peaches are already ripe and they would get too mushy in the air fryer.
What to serve with Grilled Peaches?
My recipe makes a little sauce to go on top of them – but it's perfect with a little Cool Whip or vanilla ice cream.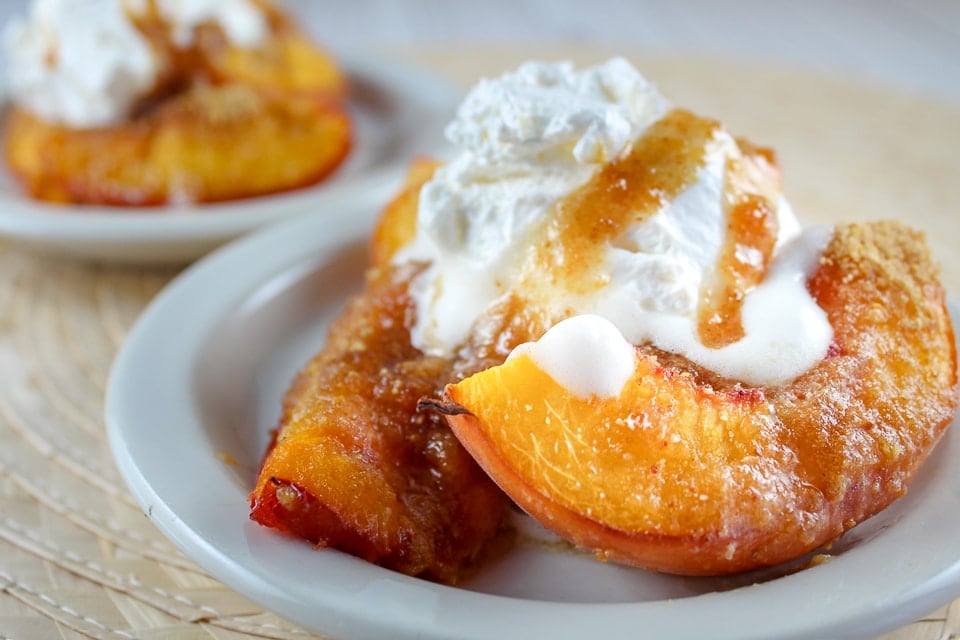 Air Fryer Grilled Peaches
Yield: 2
prep time: 5 M
cook time: 10 M
total time: 15 M
I love grilled peaches – but who wants to heat up the grill for 2 little peaches?! I found a better (and quicker) way – pop 'em in the AIR FRYER!!! I think they're even tastier because you make the sauce right along with the grilled peaches!
ingredients:
2 peaches
1/4 cup graham cracker crumbs
1/4 cup brown sugar
1/4 cup butter, diced into tiny squares
Cool Whip or Ice Cream
instructions:
How to cook Air Fryer Grilled Peaches
Cut peaches into wedges and pull out pits
In air fryer, set a piece of parchment paper on top of rack
Lay peach wedges, skin side up (on side) on parchment
Air fry at 350 for 5 minutes
Mix together crumbs, brown sugar and butter
Flip peaches skin side down
Spoon crumb mixture over top of peaches – try and keep the butter on top of the peaches as best you can
Air fry at 350 for 5 minutes more
Using a big spoon – spoon up peaches onto plates
Top with whipped topping
Spoon any excess butter/topping mixture from parchment onto whipped topping