I am a fan of a good Chinese Buffet – they all have such unique names like China Buffet. Hands down – my favorite two menu items are the sugar donuts and the Chinese crab casserole with celery.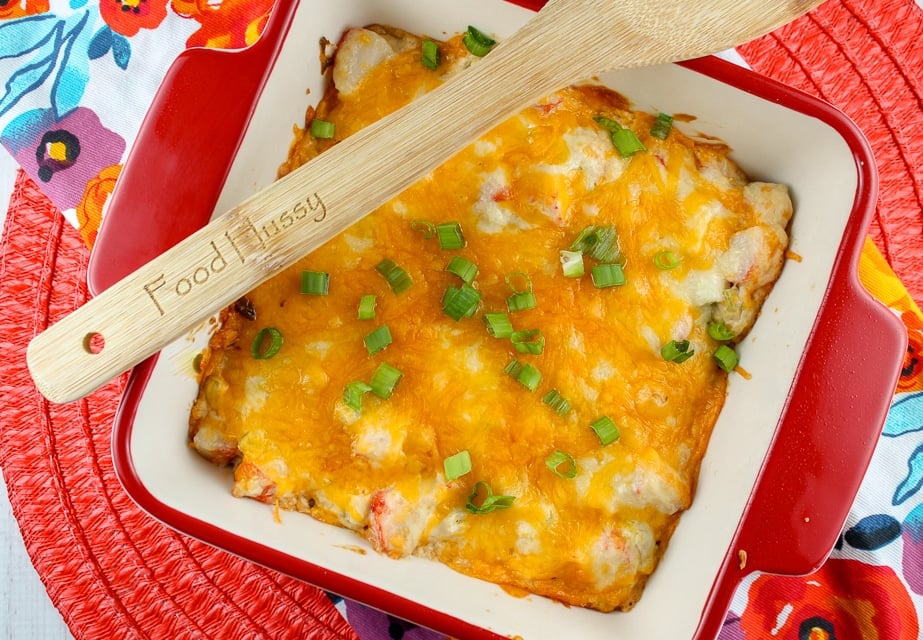 You know the one – with the imitation crab meat, celery and cheese!!! I'm kind of picky with imitation crab meat and usually just like it cold (it's a great Weight Watchers snack btw) – but this casserole is my exception. I love it!
How to make Chinese Crab Casserole?
It's a very simple recipe – you just grab all the ingredients and mix them together. Top with cheese and bake! I save a few of the green onions for the top after baking for added crunch.


Can you freeze Chinese Crab Casserole?
I wouldn't. There's a lot of dairy in this – and it's much better fresh. You can reheat it though! Since I'm by myself – I actually had this for dinner a couple nights in one week!
My first try at the recipe had too much cream cheese – so reduced the amount and remade and it was just right. This Chinese buffet crab meat casserole is my new favorite – creamy, cheesy, crunchy and crabby!
Easy Imitation Crab Recipes
Frankly my favorite thing for imitation crab is to eat it cold. It's delicious in some cocktail sauce and a 0 point snack if you're on Weight Watchers. But the other recipe I'll make with Imitation Crab is Pasta Salad! It's creamy and light – I often times make this and take the leftovers all week for lunch. And if we're talking about Chinese food recipes – there's no crab but don't forget my Lettuce Wraps!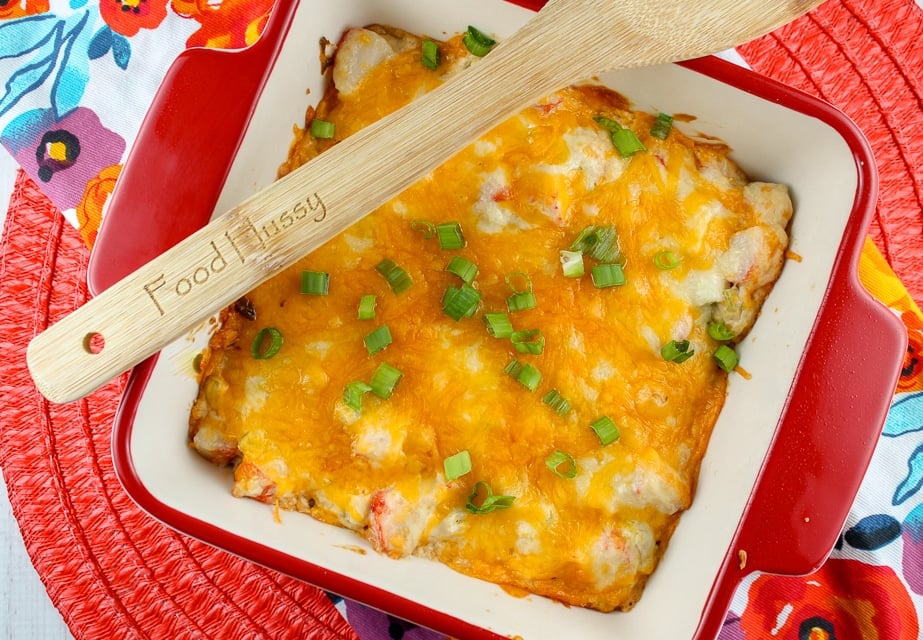 Copycat Crab Meat Casserole
prep time: 5 M
cook time: 30 M
total time: 35 M
About the only reason I go to a Chinese buffet is to get a bite of that crab meat casserole. I know it's fake crab meat. I know it's cheesy as all get out. I know it's DAMN DELICIOUS! It's just my favorite. #crabmeatcasserole
ingredients:
8 ounces imitation crab meat
1/4 cup sour cream
zest & juice from 1 small lemon
1 pinch garlic salt
1/2 cup mozzarella cheese
1/2 cup cheddar
1/2 cup celery, thinly sliced (2 small stalks)
1/4 cup green onions, thinly sliced (3 green onions)
1/4 (2 ounces) package cream cheese (softened)
1 tablespoons mayonnaise
1 Tablespoon Worcestershire sauce
instructions:
How to cook Copycat Crab Meat Casserole
Preheat the oven to 325 degrees F.
In a large bowl combine sour cream, lemon zest & juice, garlic salt, ½ cheese, cream cheese, mayonnaise, celery, onion and Worcestershire sauce. Mix well to combine and stir in the imitation crab meat.
Spoon into a greased casserole dish, top with the remaining cheese.
Place into the oven and Bake for 30 minutes or until the cheese is golden brown and the casserole is bubbly.
Recommended Products:
Pioneer Woman Baking Dish