I really love when Panera comes out with new menu items – they're always really tasty and people go crazy over them. So when I heard the first commercial for their new Warm Grain Bowls – I ran to Panera to try them!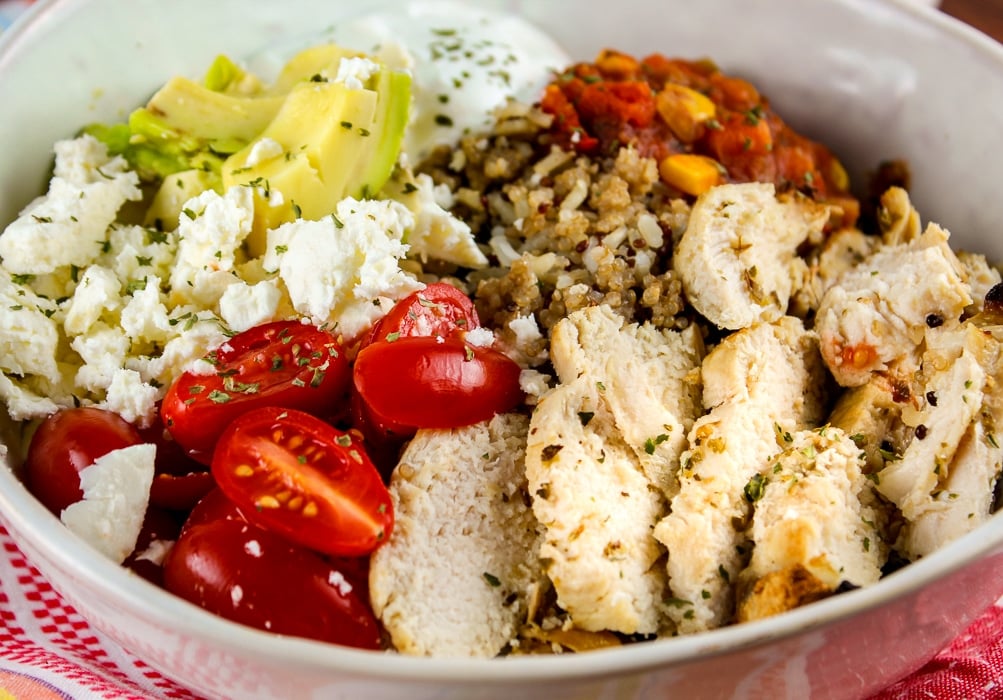 Review: Panera Warm Grain Bowl – Are the Panera Warm Grain Bowls good?
Panera recently came out with two warm grain bowls – pictured above. (Left – Baja, Right – Mediterranean) I went out right away and got both of them!!! I definitely liked them – the Med bowl has arugula and I liked the addition of the greens to it. I'll say – the Med was my favorite of the two – it's why I made it first! I loved the hummus in with the chicken. Their chicken didn't have much flavor but it wasn't dry – which was nice. I love all the ingredients in the Baja bowl – but it just didn't have as much flavor as the Med. I'm not a fan of brown rice and quinoa – but it was fine in these bowls – there's enough other ingredients to cover the blandness of brown rice and quinoa. (haha)
What are the ingredients in the Panera Baja Warm Grain Bowl?
The Panera Baja Warm Grain Bowl has the same base as the Mediterranean: marinated chicken, brown rice and red & white quinoa. The toppings are sliced grape tomatoes, feta, avocado, greek yogurt, corn & black bean salsa and salsa verde.
So I was looking for brown rice and red and white quinoa. Rather than buy all three, I found some in the freezer aisle! I got a bag of frozen and it heated up in less than 5 minutes in the microwave. Or Minute Rice sells a brown rice and quinoa in little cups as well that heat up in a minute.
These Panera Warm Grain Bowls are so delicious! I love that they're also healthy for me. I'm not the biggest fan of brown rice and quinoa but when you pile it up with all the other ingredients – it's not so bad! I mean – really – how can you go wrong with avocado and cheese!
Panera Copycat Recipes & Other Favorites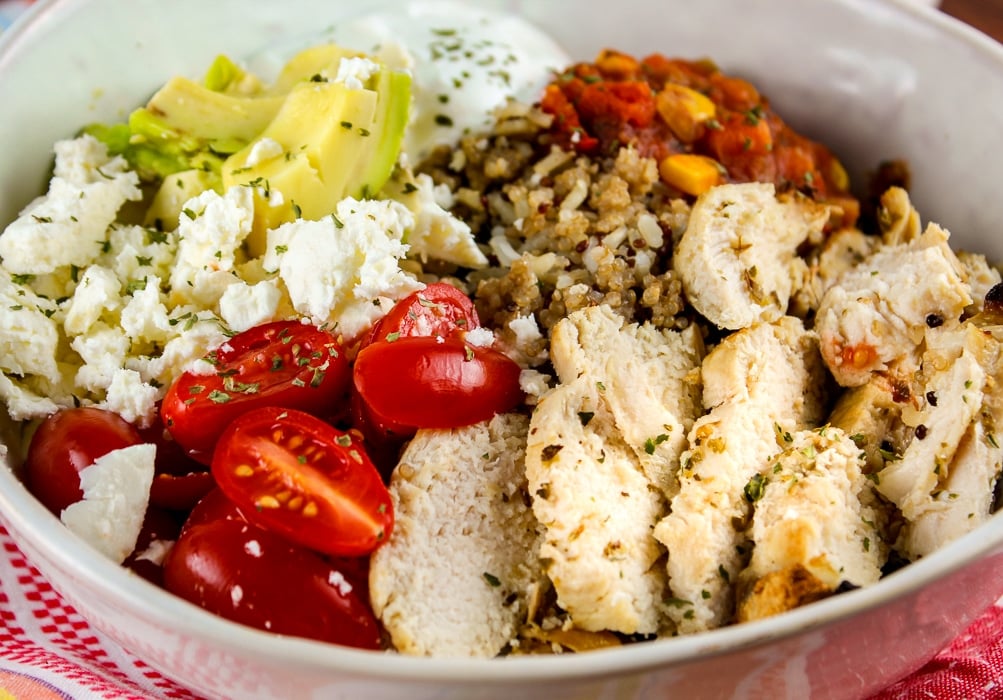 Copycat Panera Warm Grain Bowl – Baja
prep time: 10 M
cook time: 20 M
total time: 30 M
Panera has introduced their new Warm Grain Bowls – there are two varieties – the Mediterranean and Baja. I had to try them both! They're both delicious!!! This week I'm sharing my copycat version of the Baja – it's super easy to make and really tasty! So healthy!
ingredients:
2 cups brown rice and quinoa
2 chicken breasts
lemon/garlic marinade (My favorite!)
10 grape tomatoes, sliced
black bean & corn salsa
salsa verde
avocado
1/3 cup feta crumbles
1/2 cup plain greek yogurt
instructions:
How to cook Copycat Panera Warm Grain Bowl – Baja
Marinate chicken breasts in your favorite citrus/garlic marinade overnight.
Bake chicken breasts for 20 minutes at 350 until cooked to 165 degrees.
During last ten minutes of baking, microwave frozen rice/quinoa for 4 minutes in a microwave safe bowl.
Prep veggies: slice tomatoes and dice avocado
When quinoa is cooked, divide between two serving bowls
Remove chicken from oven and let rest for 5 minutes
Top quinoa/argula with tomatoes, salsa and avocado
Slice chicken and place on top of quinoa.
Add a heaping spoonful of yogurt to the bowl
Top with crumbled feta and salsa verde
Recommended Products:
Minute Rice & Quinoa
Mojo Criollo Marinade
Serving Bowls
Did you make this recipe?
Tag
@foodhussy
on instagram and hashtag it #foodhussyrecipe