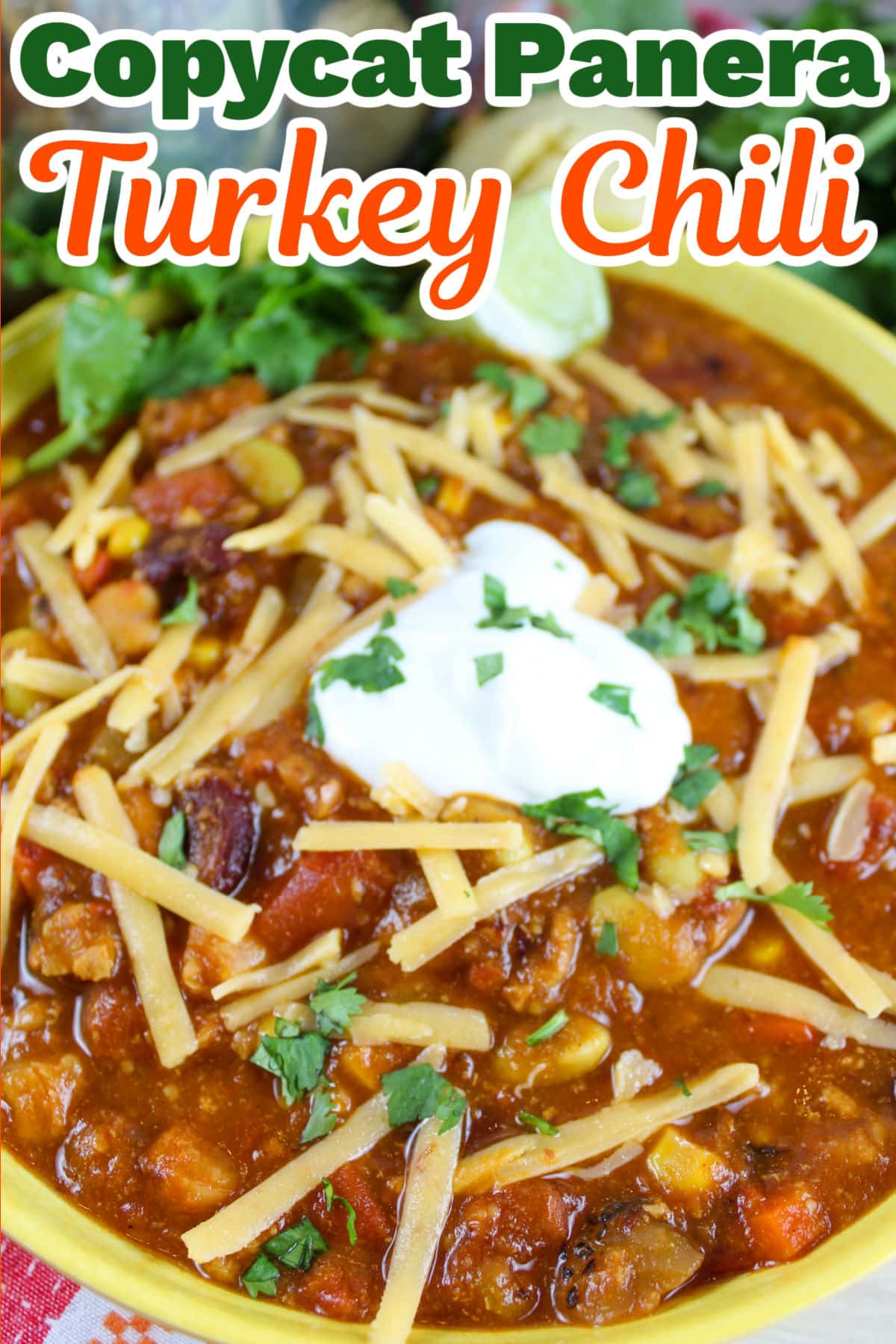 Panera Turkey Chili is a favorite in our house! You can make this hearty, chunky chili at home in no time! Filled with 10 different vegetables along with ground turkey – you will love every bite and it will taste just like the restaurant version!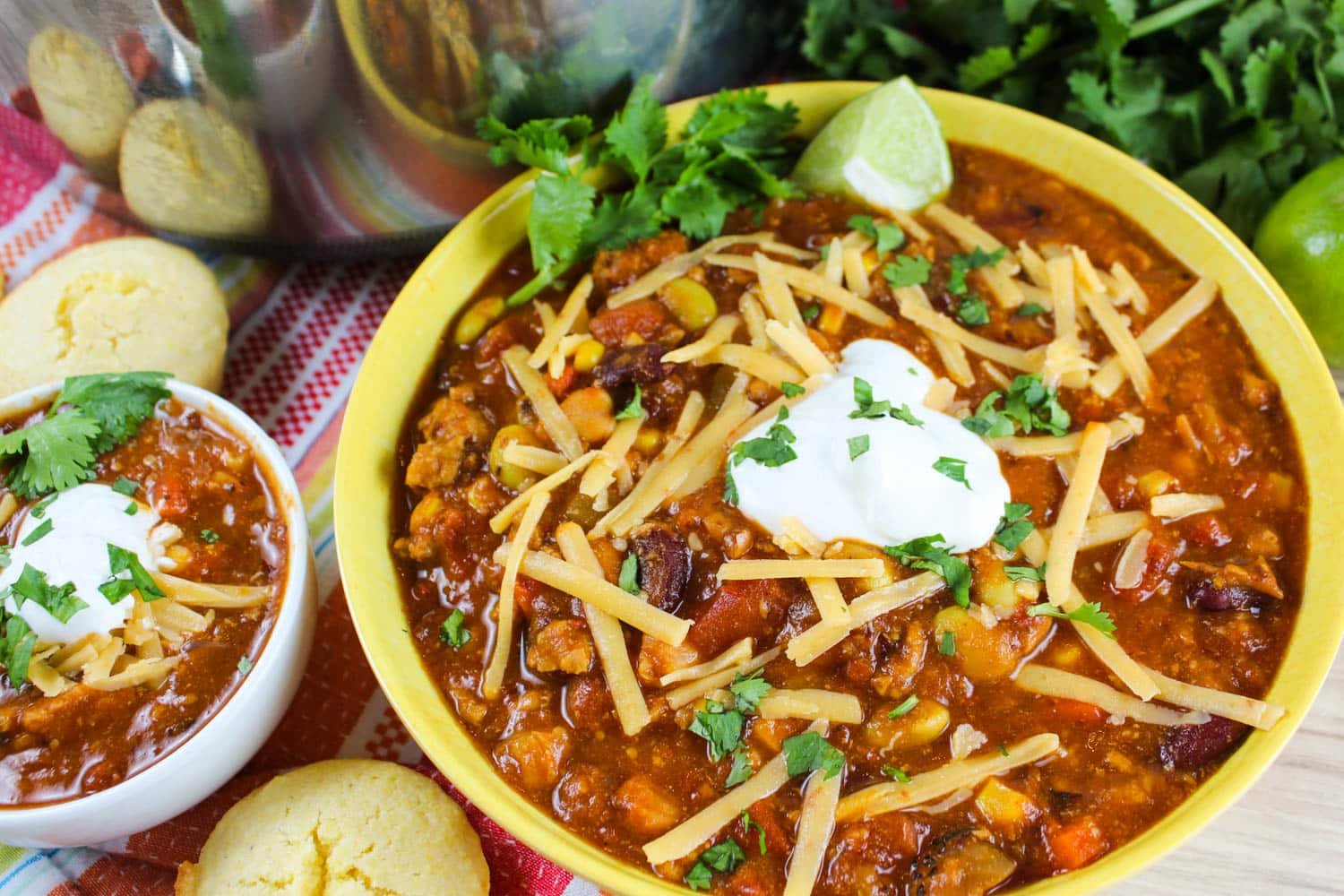 What You Will ❤️ About Panera Turkey Chili recipe
I love how many vegetables are in this chili – this isn't just meat & beans! You've got the usual suspects like onions and tomatoes – but then Panera Bread gets crazy with tomatillos, chick peas and edamame!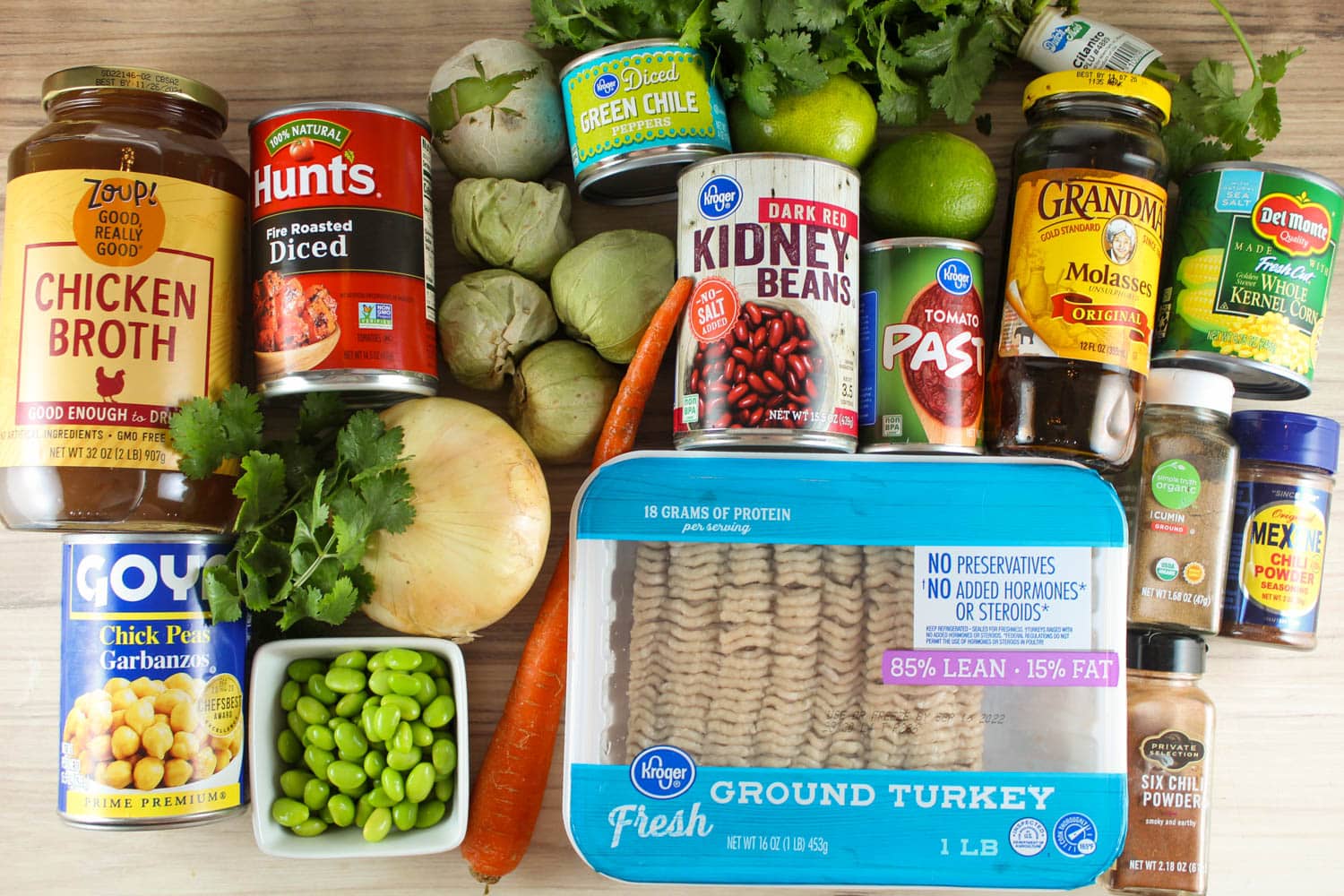 Panera Bread Turkey Chili Ingredients
This Chili has quite a list of ingredients but that's what I love – it's definitely not your "normal" chili. That said – if you don't have 1-2 – it's fine to leave them out! 😉 Here's what you'll need:
Ground Turkey – I went for regular ground turkey – not turkey breast – to have a little more fat in the meat
Veggies

Onions – you'll want to use sweet yellow onion
Carrots
Tomatillos – I used fresh for these – you could use 1/4 cup of green salsa if you want a short cut
Chick Peas, drained (or Garbanzo beans)
Diced Tomatoes
Tomato Paste
Dark Red Kidney Beans, drained – use any kinds of beans you like – kidney, pinto, black
Green Chilies – canned diced green chilies here
Edamame – I bought frozen pods, heated in microwave and shelled
Whole Kernel Corn – I used a drained can of corn

Seasonings

Garlic
Salt
Ancho Chili Powder – could also use other chili spices like chili powder, chipotle, cayenne pepper or blend them together!
Cumin
Onion Powder

Pantry

Olive oil
Chicken Broth – you could also use vegetable, turkey broth or beef broth
Molasses – you could substitute with brown sugar
Corn Starch

Garnish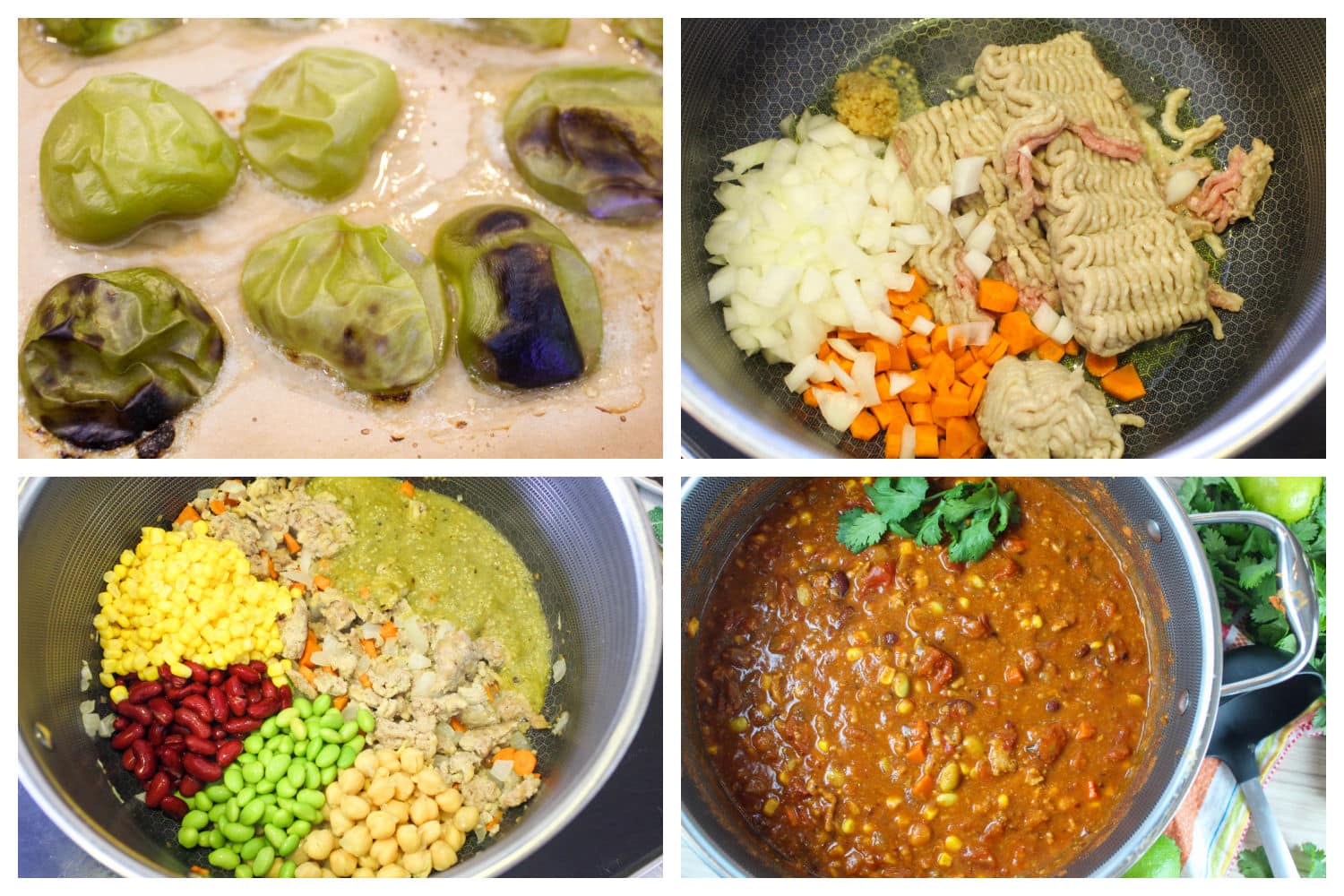 How to Make Turkey Chili like Panera
While the recipe has a lot of ingredients – it's really simple to make! We do take a couple of extra steps to make it special by roasting the tomatillos and thickening the chili with mashed beans. Let's get started:
Turn broiler on high, then line a large baking tray with parchment paper. Remove the husks and stems from the tomatillos and wash them thoroughly (they're sticky!) Cut them in half and place them cut side down on the foil, then char under the broiler until darkened, roughly 15-20 minutes. (or 12 minutes in the air fryer.)
Remove tray from the oven and let cool 5 minutes. Place tomatillos in a blender and puree for 30 seconds. Set aside.
Preheat Dutch oven or a large pot on medium heat on stove top.
Add oil, turkey, onion, carrot and garlic and cook 15 minutes chopping and stirring often.
Add roasted tomatillo puree, 1/2 can of chick peas, 1/2 can kidney beans, chicken broth, tomato paste, diced tomatoes, green chiles, edamame, corn, salt, chili powder, cumin, onion powder and molasses and mix together.
Bring to a boil. Reduce heat to medium, cover, and cook 20 minutes.
Take remaining beans, remaining chick peas, corn starch, 1/2 cup liquid from chili and place in blender and pulse into a thick paste. This helps thicken the chili so it's just like Panera's version!
Add paste to chili in dutch oven and stir
Cover and cook 20 minutes more
Serve with cilantro, lime juice, cheese, sour cream, diced red onion, and avocado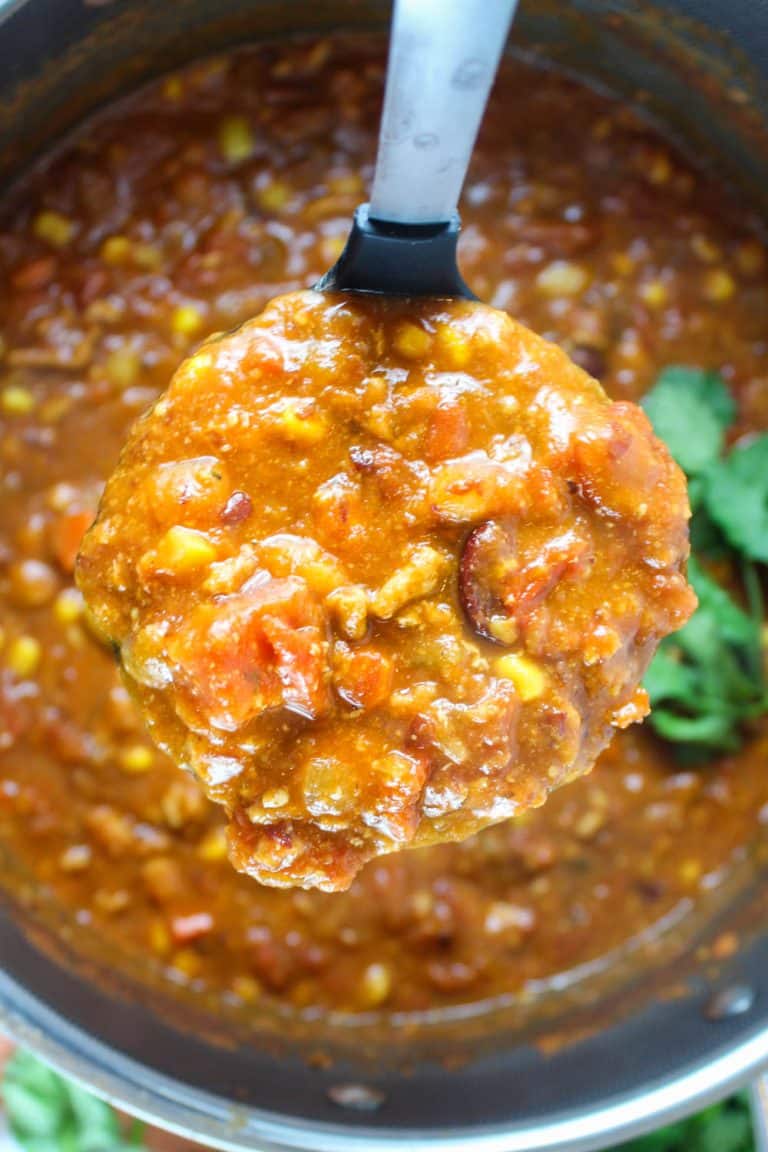 This post contains affiliate links which I make a little money on purchases. Thanks in advance! I am an Amazon associate as well as a member of other affiliate programs.
Tips, Tricks & FAQs
Does Panera still have turkey chili?
Yes – it is seasonal – so when the leaves change – you can usually find turkey chili at the restaurant. Or just make it whenever you want with this recipe!
What does Panera Turkey chili have in it?
It's loaded with goodness! You've got ground turkey – plus – tomatoes, onions, carrots, edamame, kidney beans, chick peas, green chilies, corn and tomatillos. There are also seasoning and staples like chicken broth, molasses, ancho chili powder, salt, garlic, cumin, onion powder and corn starch.
Is Panera's Turkey Chili spicy?
No – when you feed the masses – you don't risk making it spicy. But at home – you can make it as spicy as you like! Add more of that delicious Ancho chili powder or hot green chilis for more spice!
Does Panera Turkey chili have dairy?
Nope – just soy from the edamame.
How do you make turkey chili thicker?
I used two techniques for thickening up this chili. I reserved 1/2 can of chick peas and 1/2 can of kidney beans and pureed them with 1/2 cup liquid from the chili. I also add corn starch to this mixture. Then – pour that back into your chili for a thicker mix!
How many calories are in Panera Turkey Chili?
There are 200 calories in a cup of Panera's Turkey Chili. Mine has 361 but it's much more packed with veggies than the store-bought.
How do you store and reheat leftover turkey chili?
Store leftovers in airtight containers (I like these glass ones) and refrigerate up to a week – or in the freezer up to three months. Reheat in the microwave for 2-3 minutes.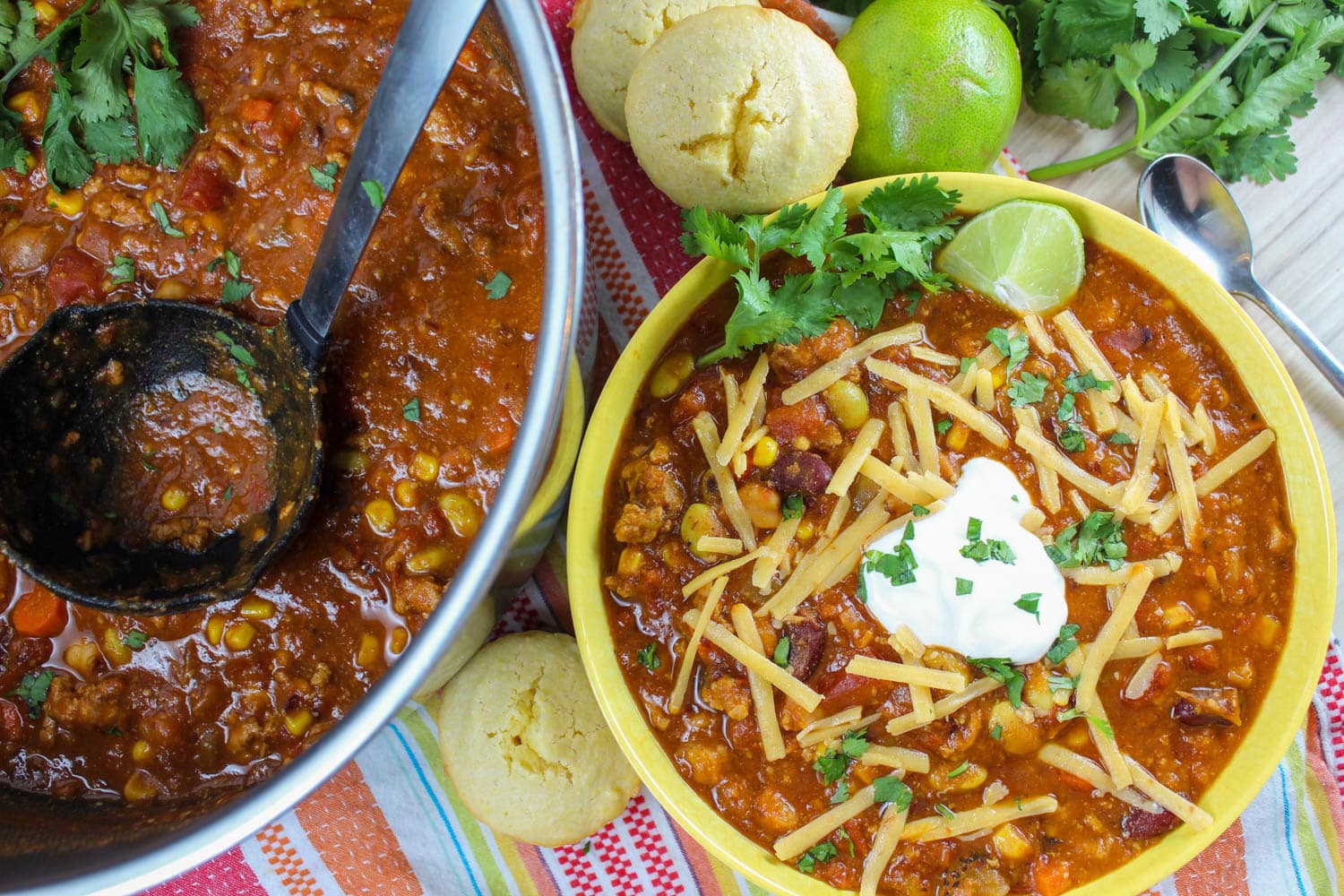 Recipe Variations
Protein – this recipe obviously uses ground turkey but you could easily substitute ground beef, chicken, pork – or even leave it out all together!
Spice Level – This chili is fairly mild, ramp up the spice by adding fresh hot peppers when you saute the onion and carrots or add more chili powder later in the recipe. You could also sprinkle in red pepper flakes.
Slow Cooker – Brown the turkey, onion & carrot – then add the rest to a slow cooker and cook on low for four hours.
What to serve with Turkey Chili
More Panera Recipes
More Chili Recipes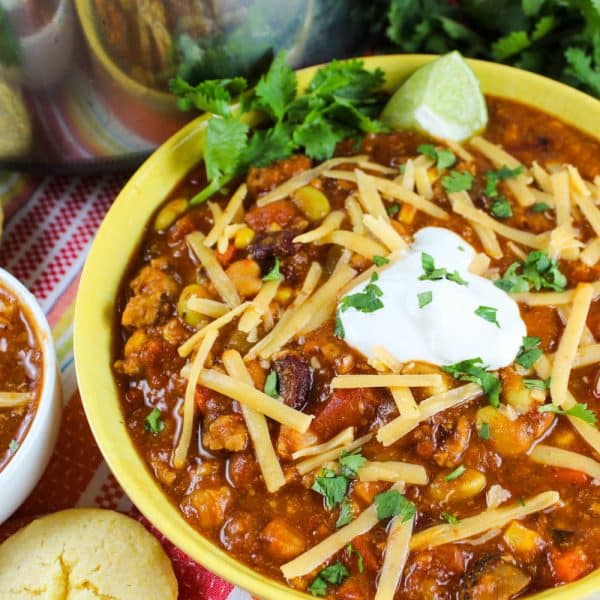 Copycat Panera Turkey Chili
Panera Turkey Chili is a favorite in our house! You can make this hearty, chunky chili at home in no time! Filled with 10 different vegetables along with ground turkey – you will love every bite and it will taste just like the restaurant version!
Ingredients
5

tomatillos

1

lb

ground turkey

2

tbsp

olive oil

1

medium

onion

diced

1

medium

carrot

diced

1

tbsp

minced garlic

32

oz

chicken broth

15

oz

chick peas

or garbanzo beans

28

oz

diced tomatoes

6

oz

tomato paste

15

oz

dark red kidney beans

4

oz

diced green chilies

1/2

cup

shelled edamame

1

cup

corn

1

tsp

salt

1

tsp

ancho chili powder

1

tbsp

cumin

1

tsp

onion powder

1

tbsp

molasses

1

tsp

corn starch

1/4

cup

fresh Cilantro

1/2

lime
Instructions
Turn broiler on high, then line a large baking tray with parchment paper. Remove the husks and stems from the tomatillos and wash them thoroughly (they're sticky!) Cut them in half and place them cut side down on the foil, then char under the broiler until darkened, roughly 15-20 minutes. (or 12 minutes in the air fryer.)

Remove tray from the oven and let cool 5 minutes. Place tomatillos in a blender and puree for 30 seconds. Set aside.

Preheat Dutch oven or a large pot on medium heat on stove top.

Add oil, turkey, onion, carrot and garlic and cook 15 minutes chopping and stirring often.

1 lb ground turkey,

2 tbsp olive oil,

1 medium onion,

1 medium carrot,

1 tbsp minced garlic

Add roasted tomatillo puree, 1/2 can of chick peas, 1/2 can kidney beans, chicken broth, tomato paste, diced tomatoes, green chiles, edamame, corn, salt, chili powder, cumin, onion powder and molasses and mix together.

32 oz chicken broth,

15 oz chick peas,

28 oz diced tomatoes,

6 oz tomato paste,

15 oz dark red kidney beans,

4 oz diced green chilies,

1/2 cup shelled edamame,

1 cup corn,

1 tsp salt,

1 tsp ancho chili powder,

1 tbsp cumin,

1 tsp onion powder,

1 tbsp molasses

Bring to a boil. Reduce heat to medium, cover, and cook 20 minutes.

Take remaining beans, remaining chick peas, corn starch, 1/2 cup liquid from chili and place in blender and pulse into a thick paste. This helps thicken the chili so it's just like Panera's version!

15 oz chick peas,

15 oz dark red kidney beans,

1 tsp corn starch

Add paste to chili in dutch oven and stir

Cover and cook 20 minutes more

Serve with cilantro, lime juice, cheese, sour cream, diced red onion, and avocado

1/4 cup fresh Cilantro,

1/2 lime
Notes
**We are not dietitians and recommend you seek a nutritionist for exact nutritional information. The information in the nutrition box are calculated through a program and there is room for error. If you need an accurate count, I recommend running the ingredients through your favorite nutrition calculator.**
Nutrition
Serving:
1
cup
Calories:
361
kcal
Carbohydrates:
49.6
g
Protein:
25.3
g
Fat:
9.2
g
Saturated Fat:
1.4
g
Cholesterol:
39
mg
Sodium:
621
mg
Potassium:
1365
mg
Fiber:
12.4
g
Sugar:
10.6
g
Calcium:
92
mg
Iron:
6
mg