Who doesn't love the creamy, cheesy goodness of hashbrown casserole?! I made a
new recipe
last week with one of my favorite cheeses – Jarlsberg and it's delicious! I decided to add one more crucial ingredient and now – it's a main dish!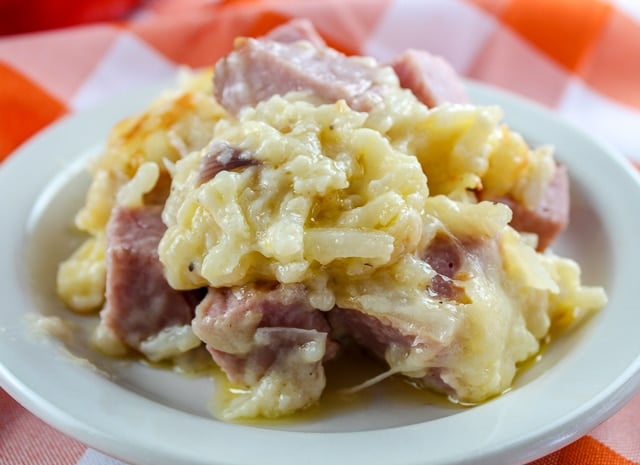 With the upcoming holiday – everybody is going to have some leftover ham – so dice it up and pop it into this delicious cheesy hashbrown casserole and you have a new dish. It's so good – your family will love it! (And they'll never know they're eating leftovers!)
Can Cheesy Ham & Hashbrown Casserole Be Made Ahead of Time?
This super easy casserole can definitely be made ahead of time! All the ingredients just mix together in a bowl and then go into the baking dish! So – you could easily make this in the morning and then just pop it in the oven when you get home! (Or make one of the kids do it!)
Cheesy Ham & Hashbrown Casserole is such a delicious dinner – it's warm and comforting and with the red onion – there's a little crunch to it – and very cheesy! Everybody will love it!
Can you make Cheesy Ham & Hashbrown Casserole with Frozen Hashbrowns?
Yes! I used the fresh hashbrowns in my recipe (below) but you could easily substitute frozen hashbrowns if you wanted to. Don't have Jarlsberg cheese? You could use Swiss! Or whatever cheese you like best (CoJack would be great too!)
Can you freeze Cheesy Ham & Hashbrown Casserole?
This Cheesy Ham & Hashbrown Casserole is going to be a repeat recipe in my house for sure! I love making a big batch and then portioning out the leftovers into smaller containers. Then – in the freezer they go!!! Take one out and pack it in my lunch bag for work! I hate having to eat the same leftover for days!
I hope your family loves this Cheesy Ham & Hashbrown Casserole as much as I do!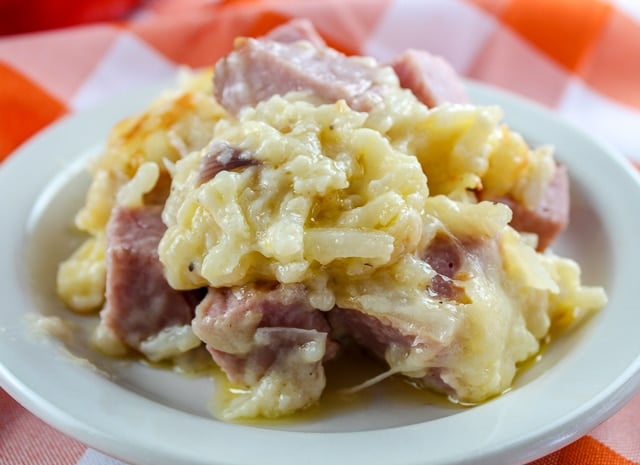 Cheesy Leftover Ham & Potato Casserole
prep time: 15 M
cook time: 45 M
total time: 60 M
What do you do with your leftover ham? Whip up this amazing cheesy potato & ham casserole! I took my favorite cheesy potato recipe and added some of my leftover diced ham to it – and it's perfection! #cheesypotatocasserole #leftoverham #hashbrowncasserole
ingredients:
2 cups Jarlsberg cheese, shredded
1/2 cup mayonnaise
1 tsp lemon juice
1/3 cup red onion, diced
1 can Cream of Chicken Soup
1 tsp salt
1/4 tsp Black Pepper
1/4 cup Sour Cream
1 bag about 20 oz Simply Potatoes Hash Browns
1-2 cups diced ham
3 Tbsp Butter melted
instructions:
Grease 8×8" baking dish.
Preheat oven to 350.
In a bowl mix mayo, lemon juice, salt, sour cream onion, soup, black pepper and 1.5 cups of cheese
Add hash browns, ham and melted butter. Mix well.
Transfer to prepared dish.
Bake 40 minutes until bubbly
Top with remaining 1/2 cup of cheese and bake 5 more minutes.