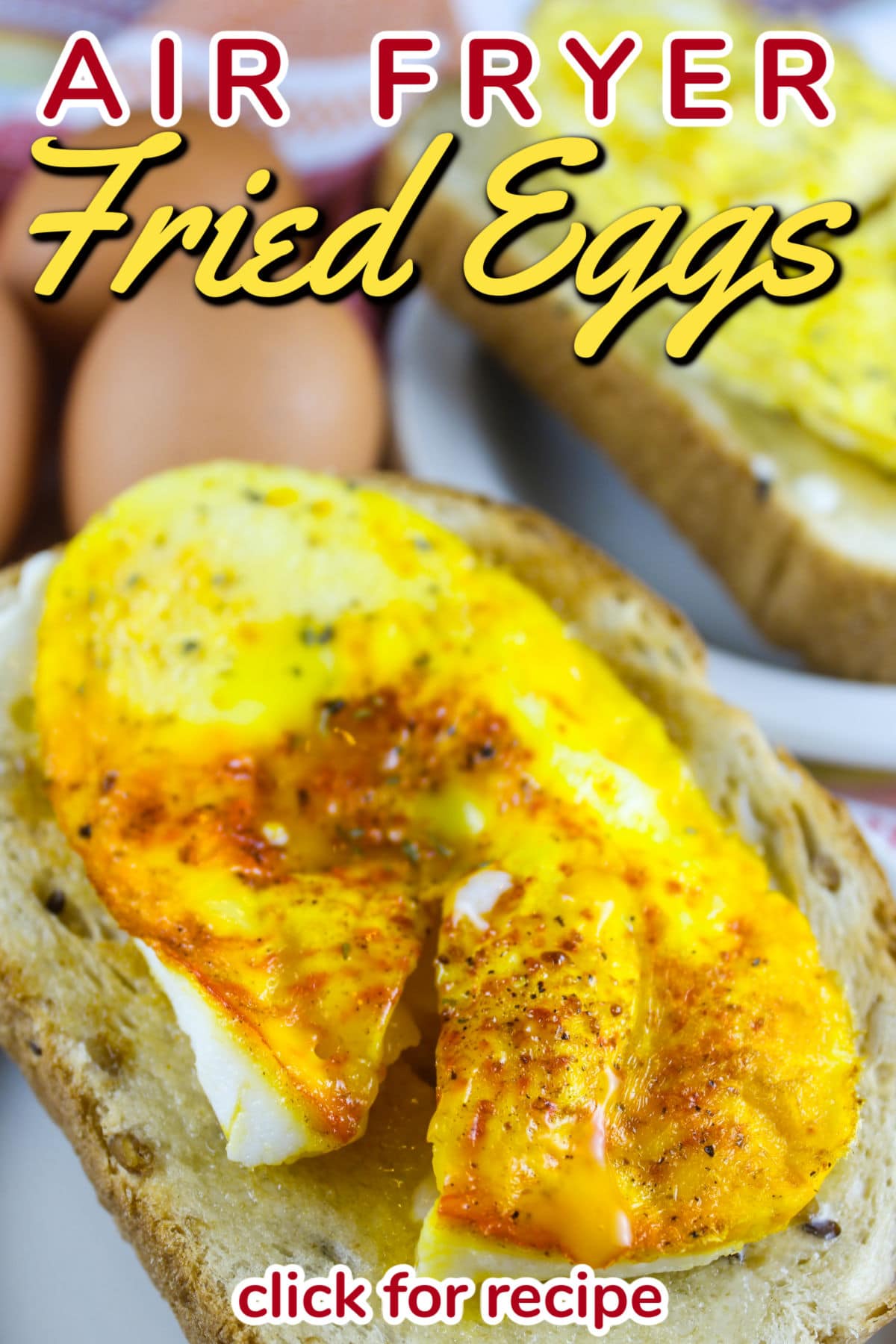 Making a fried egg in an air fryer is SO EASY!!!! I love this easy air fryer breakfast recipe for many reasons but the best part was that the yolk came out runny – just how I like it! The best part was just how easy this simple recipe is!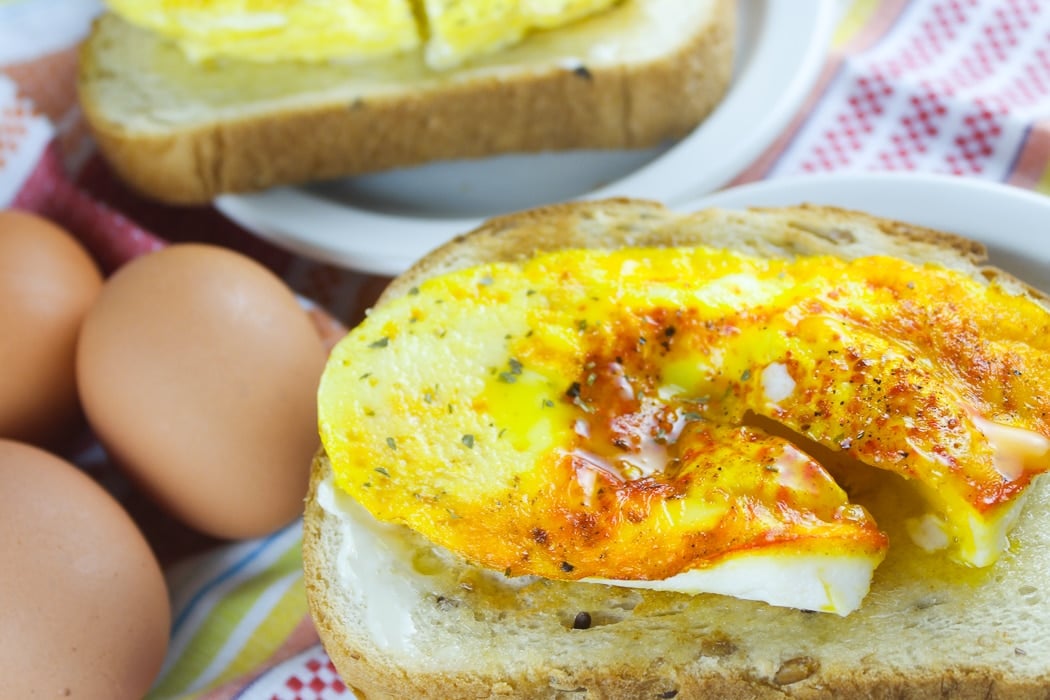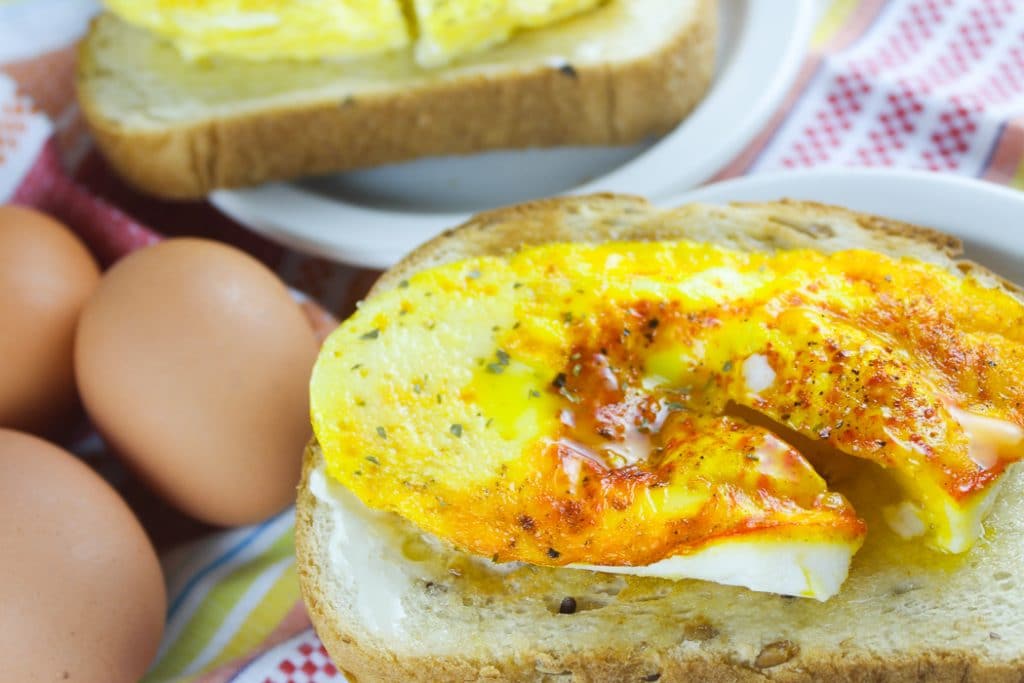 I've done other air fryer egg dishes from hard boiled to deviled eggs and scrambled – so I figured it was time for a fried egg in the air fryer!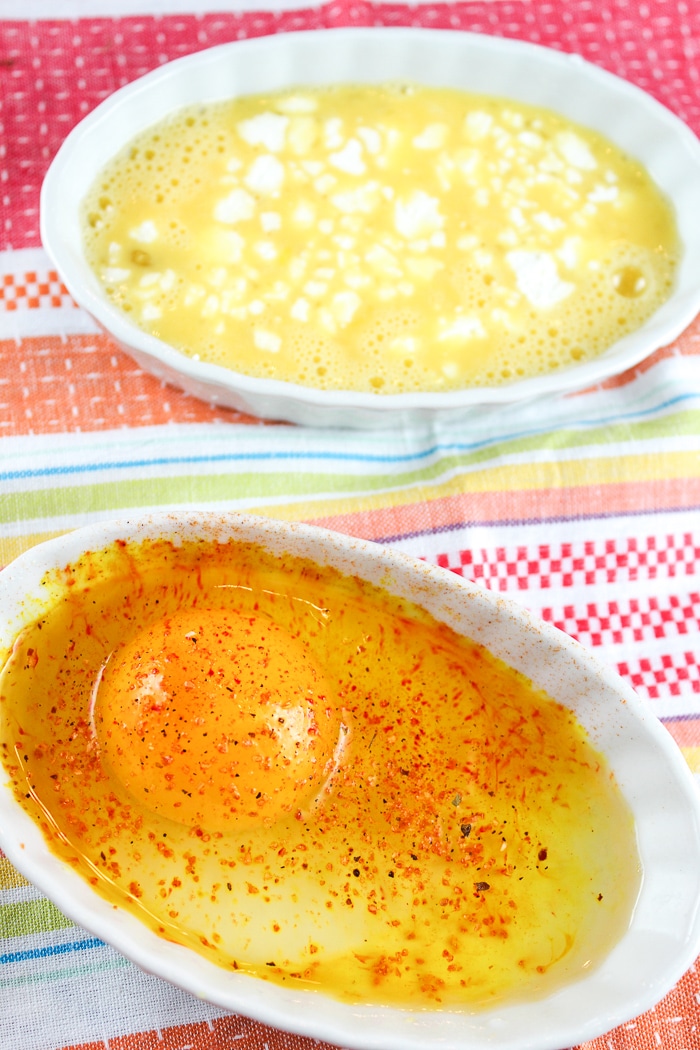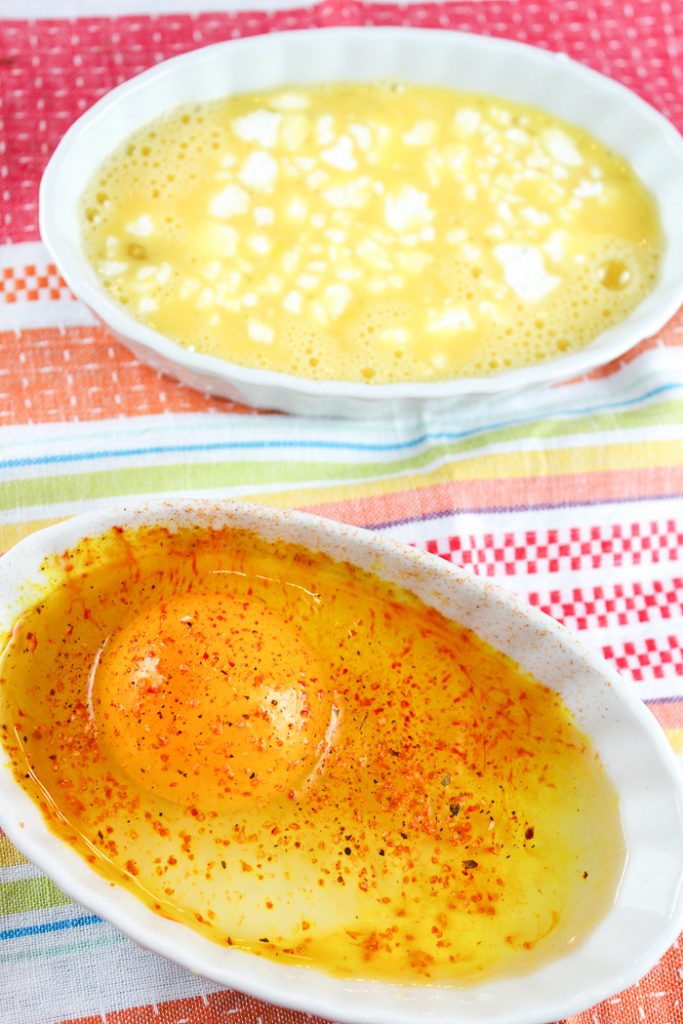 How to Fry an Egg without oil? (Make your fried egg in an air fryer!)
The easiest way to fry an egg is in your air fryer!!!! I love a fried egg on toast – it's my #1 breakfast choice and I have it probably 3 days a week! Here's the info for this "fried" egg recipe:
Step 1: Find a little dish or ramekin that fits in your air fryer basket. There's no need for a special air fryer pan – just find any oven-safe dish.
Step 2: Spray the dish with non-stick spray
Step 3: Crack your egg & season (I like to use Tropical Sazon or Everything Bagel Seasoning)
Step 4: Place your dishes on the air fryer rack – then air fry at 350 degrees for 5-6 min cooking time
The egg whites are perfect with this method and if you like jammy eggs – 4-5 minutes is the perfect time! Like the yolk hard – add an extra minute or two. I also did a little scrambled egg (with cream) and tossed some goat cheese in! It's a great way to make light and fluffy scrambled eggs every time!
What air fryer do you use?
I actually have a basket air fryer and an air fryer oven!
For the basket, I started with a Philips XL but have since moved on to using my Paula Deen 9.5 qt for nearly everything! I love it because of the SPACE! There's never a need to batch cook things – and everything fits in a single layer – it's the best! The Philips was great for 1-2 people and has more bells and whistles (like digital read thermometer & timer!).
For the oven, I have an Instant Pot Omni Max – it's made by Instant Pot (but is not a pressure cooker) – thus the name. The oven style are nice because you have more area in the oven for dishes or things that need to lay flat. I like this unit because it has a variety of settings beyond "air fry" so I can use it for baking, reheating and more!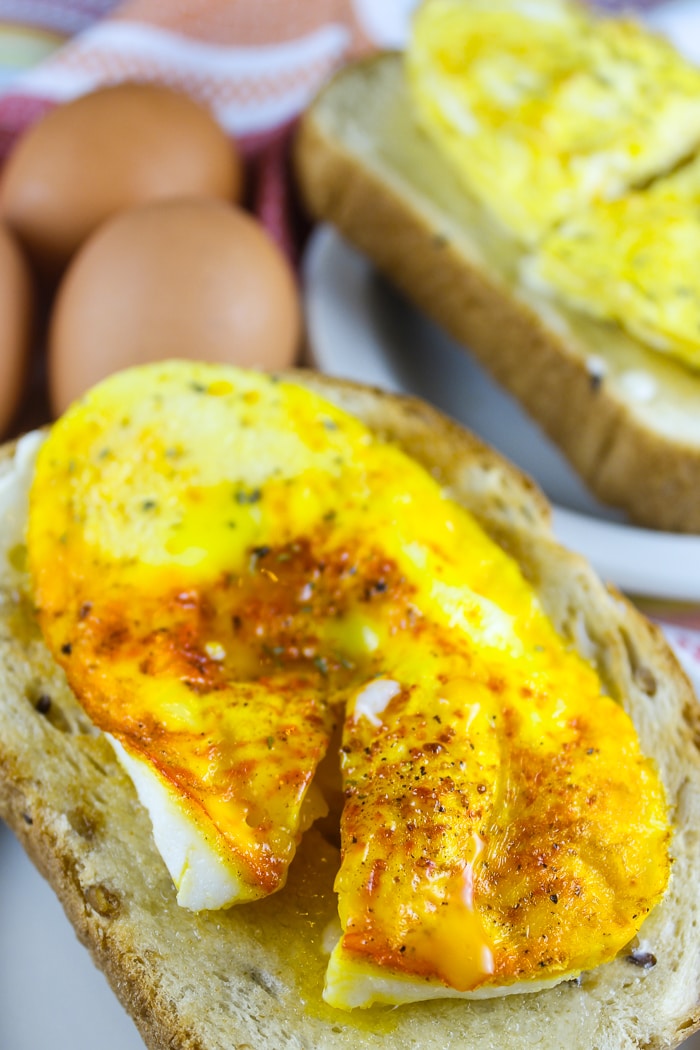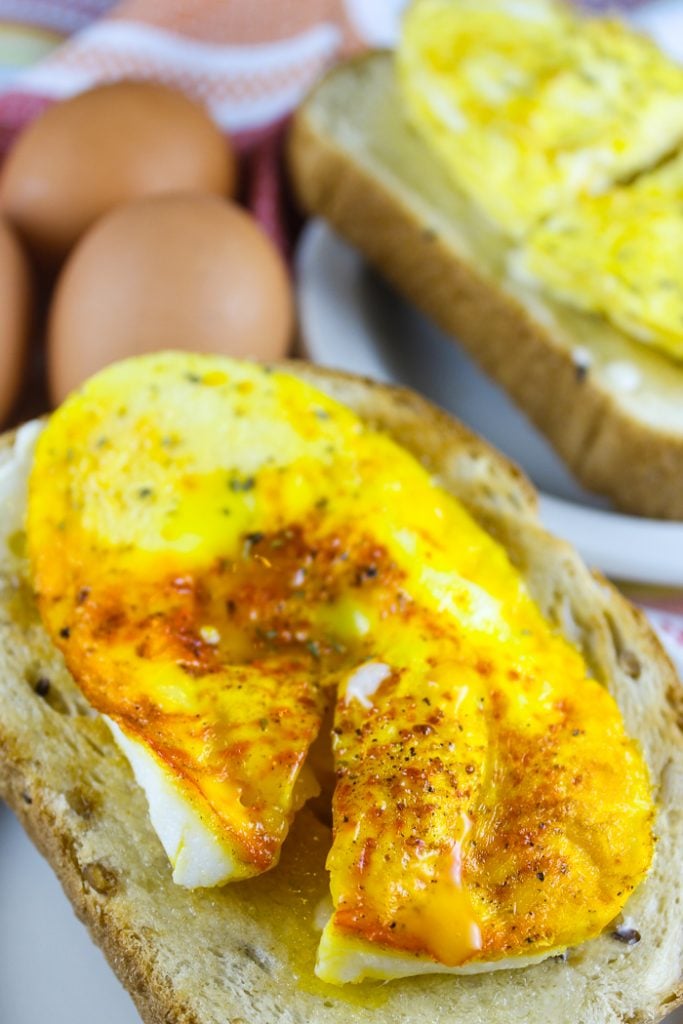 How can you serve an egg?
Fresh eggs are one of the easiest ways to have a quick breakfast – and they're so versatile! Here's a bunch of ways you can make eggs in minutes!
Sunny Side Up – If you're making an egg is a skillet, this is a runny egg that you do NOT flip! It's that perfect egg white with the bright yellow yolk. You have to cook the white a little longer to get it done all the way through but your yolk will still be runny.
Over Easy Eggs – This is my egg-preference and pretty- much how it turns out in the air fryer at 5-6 minutes (even though there's no flip). But technically, you do sunny side up but then flip it very quickly before serving. As soon as the whole white is cooked and firmed up, give it a quick flip and take it off the heat. Leave it flipped for maybe 30 seconds and then flip back to get that perfect runny yolk! I like to use a decent amount of oil in the skillet for this so it slips around and the yolk doesn't get stuck and break
Over Hard – Same as above but instead of removing from heat – keep it on once you flip it until the yolk hardens – maybe 1-2 minutes
Scrambled – I did air fryer scrambled eggs too! Beat egg and add a little cream or cream cheese along with salt and pepper and whisk. For best results, heat over LOW heat! Fried eggs – hot & fast, scrambled eggs – LOW AND SLOW!
Soft Boiled – Like a soft yolk? The easiest method ever – just lay your eggs in the air fryer for 11 minutes at 250 degrees. Runny yolk city! Like a hard egg yolk – there are different times in the link that share how long you cook for different style eggs.
Hard Boiled – Easy peasy! Want a harder egg – Air fry for 17 minutes of cook time! Here's all the info for air fryer hard boiled eggs.
Poached – The one way I can't get right! It's cracking an egg into boiling water and the yolk is runny but the whites are set. I've tried. And tried. And I'll keep trying.
Can Fried Eggs make you fat?
Eggs are a great source of protein – so they won't make you fat on their own. If you use a ton of oil – it won't help though – but thats why these Air Fryer Fried Eggs are your best friend! This easy method only needs a spritz of non-stick cooking spray!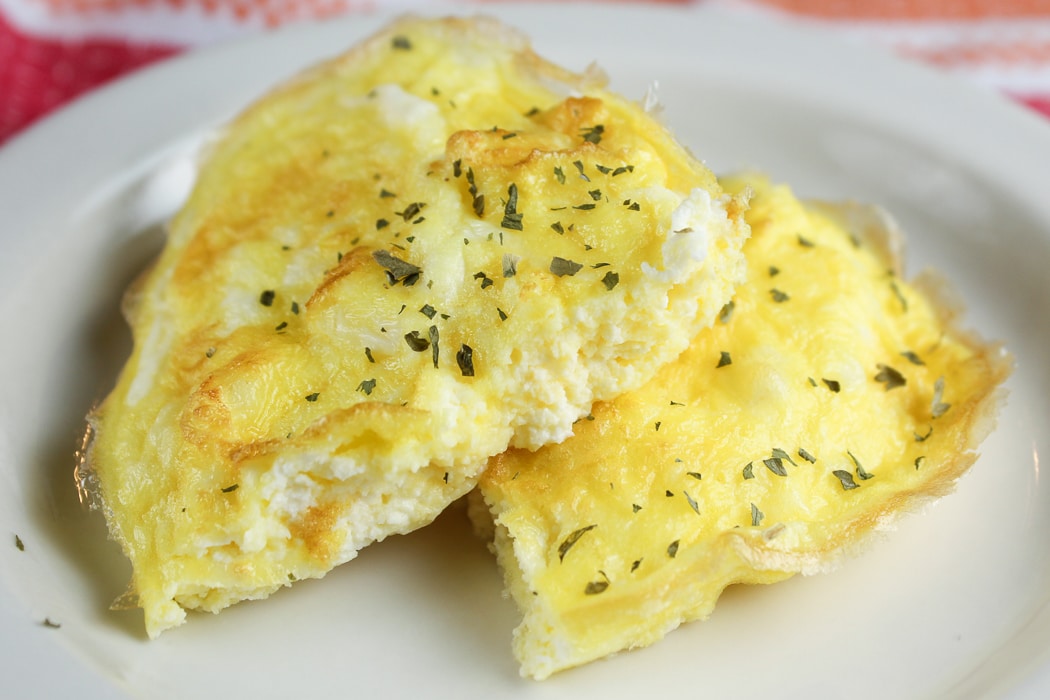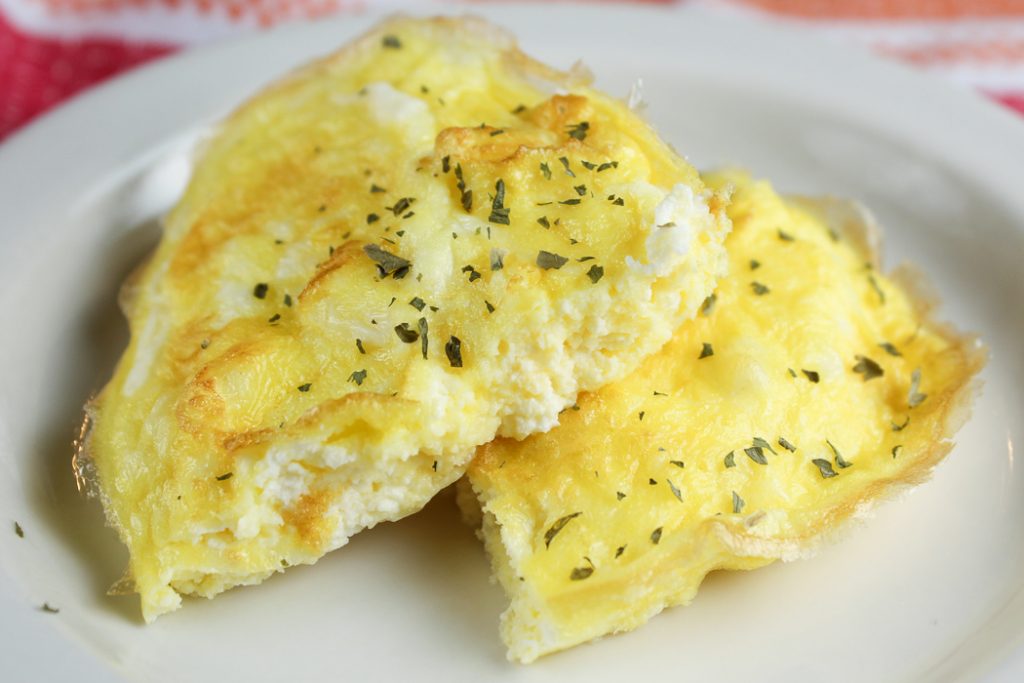 Recipes to make Air Fryer Eggs
Air Fryer Breakfast Recipes
More delicious Air Fryer Recipes
If you're looking for Air Fryer Recipes – be sure to join my Air Fryer Facebook Group! Here are a few other favorite recipes: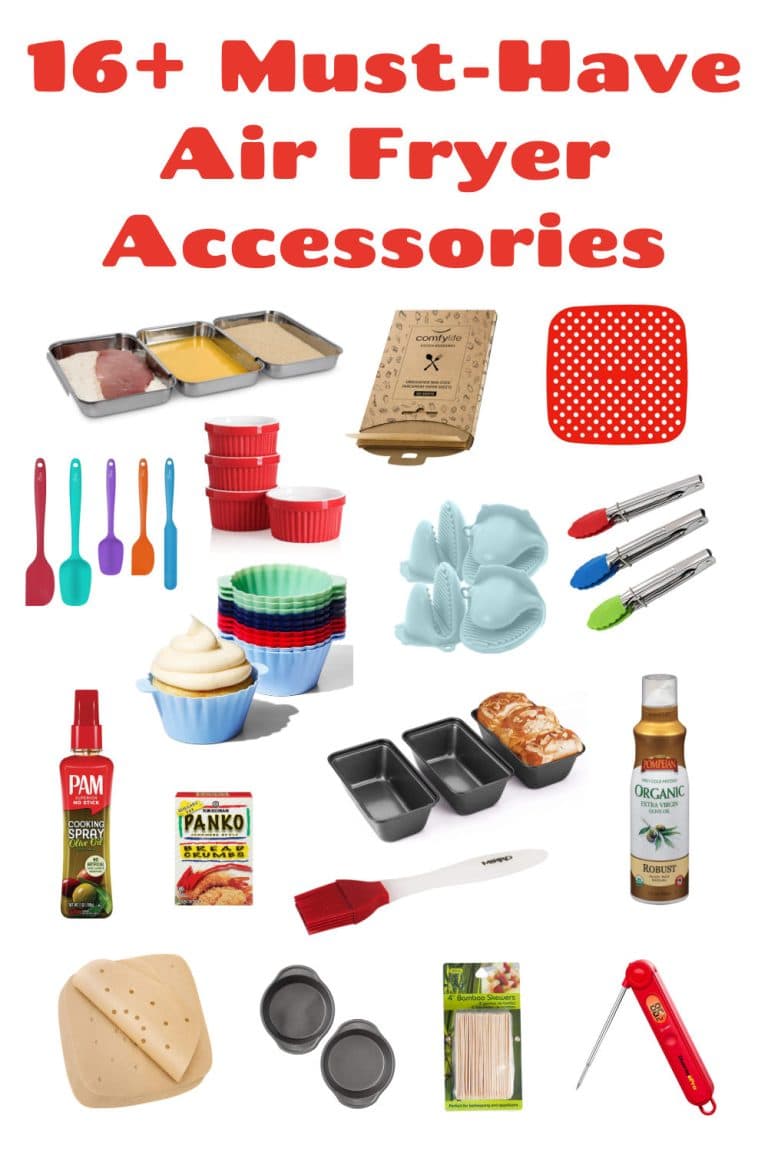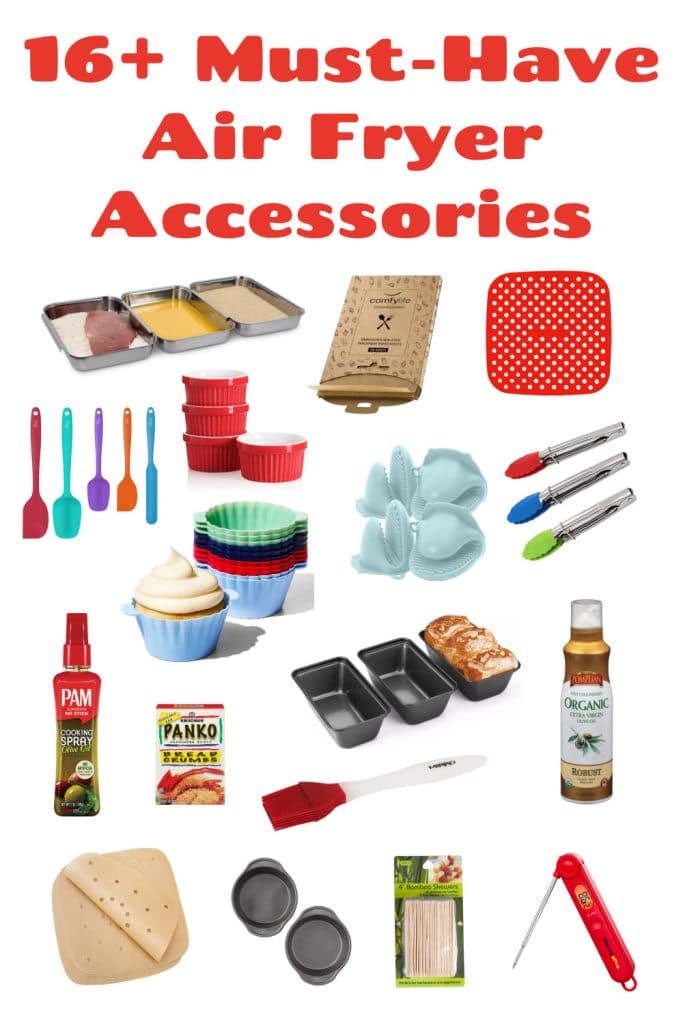 Here's my ultimate list of best air fryer accessories – whether you have a basket- or oven-style! I've also included a price guide as well as my favorite recipes for those accessories.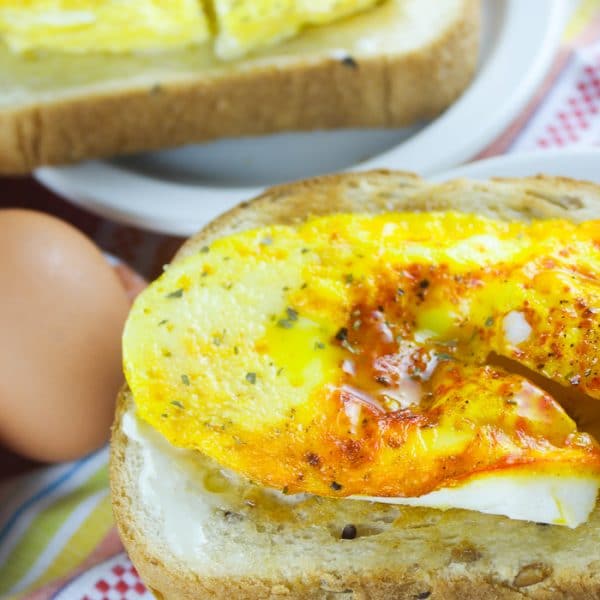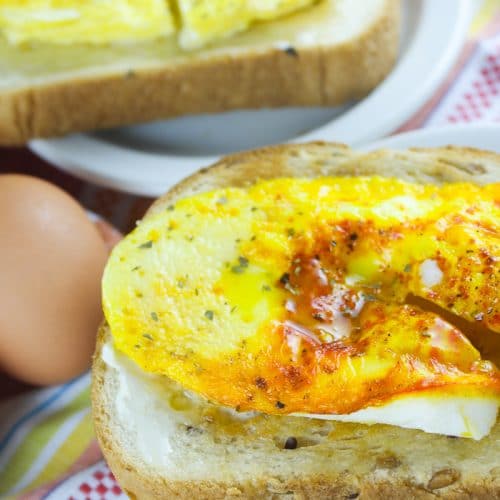 Air Fryer Fried Egg
Making a fried egg in an air fryer is SO EASY!!!! I loved it for many reasons and the best part was the yolk came out runny – just how I like it! The best part was just how simple and easy it is!
Ingredients
2

eggs

Tropical Sazon

(or favorite seasoning)

nonstick Butter-flavored spray
Instructions
Spray creme brulee ramekin (or any little bowl/dish/mug) with nonstick butter spray

Crack egg into ramekin and sprinkle with your favorite seasoning

Place ramekin in air fryer

Air Fry at 350 for 5-6 minutes (for runny egg, 6-7 for hard yolk)

Carefully remove ramekin with tongs and using a small silicone spatula, run the spatula around the edges and slip the egg out of the ramekin
Notes
Weight Watchers Points:
Green – 2
Blue & Purple – 0
Nutrition
Calories:
63
kcal
Carbohydrates:
0.3
g
Protein:
5.5
g
Fat:
4.4
g
Saturated Fat:
1.4
g
Cholesterol:
164
mg
Sodium:
62
mg
Potassium:
59
mg
Sugar:
0.3
g
Calcium:
23
mg
Iron:
1
mg