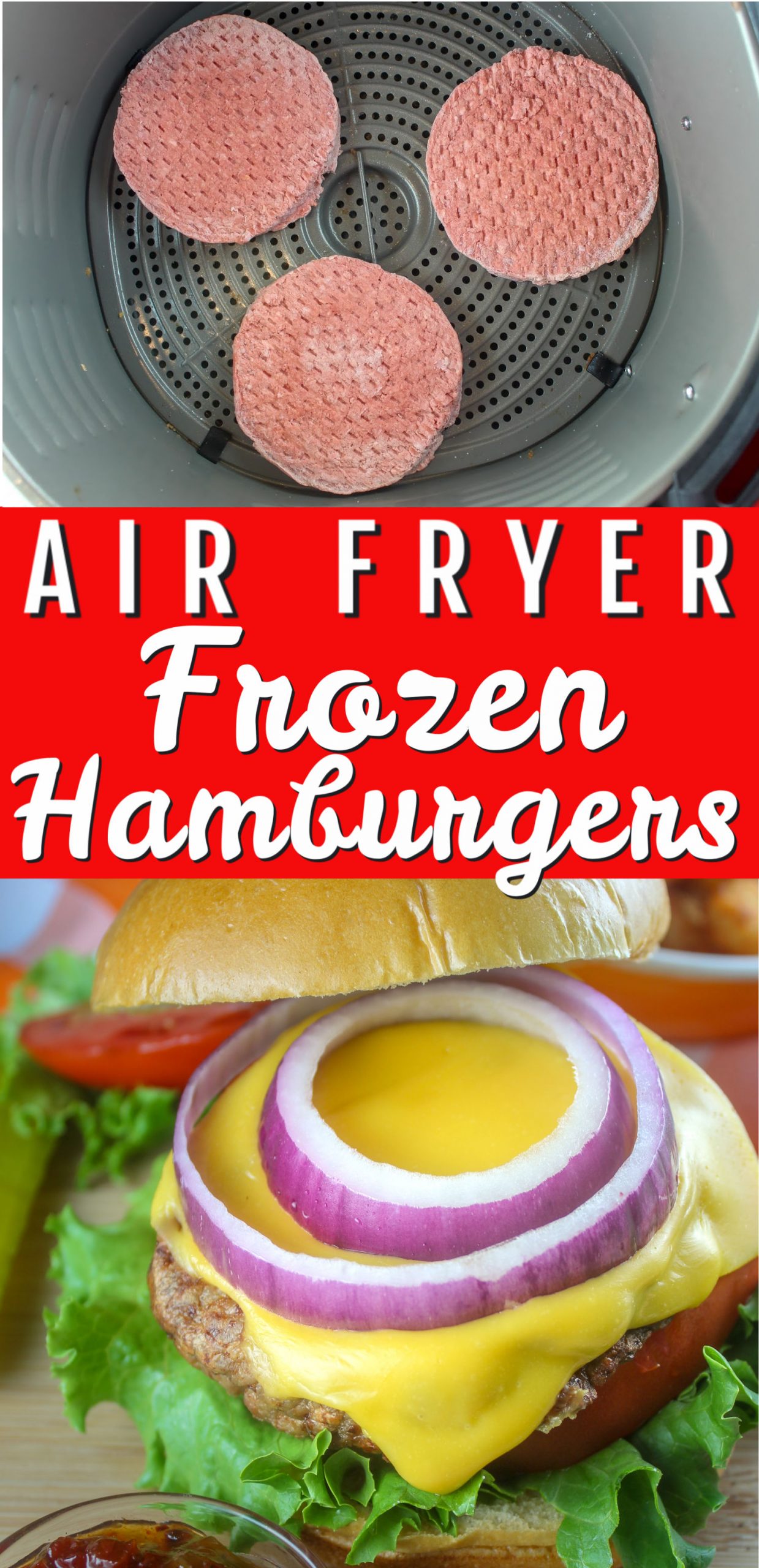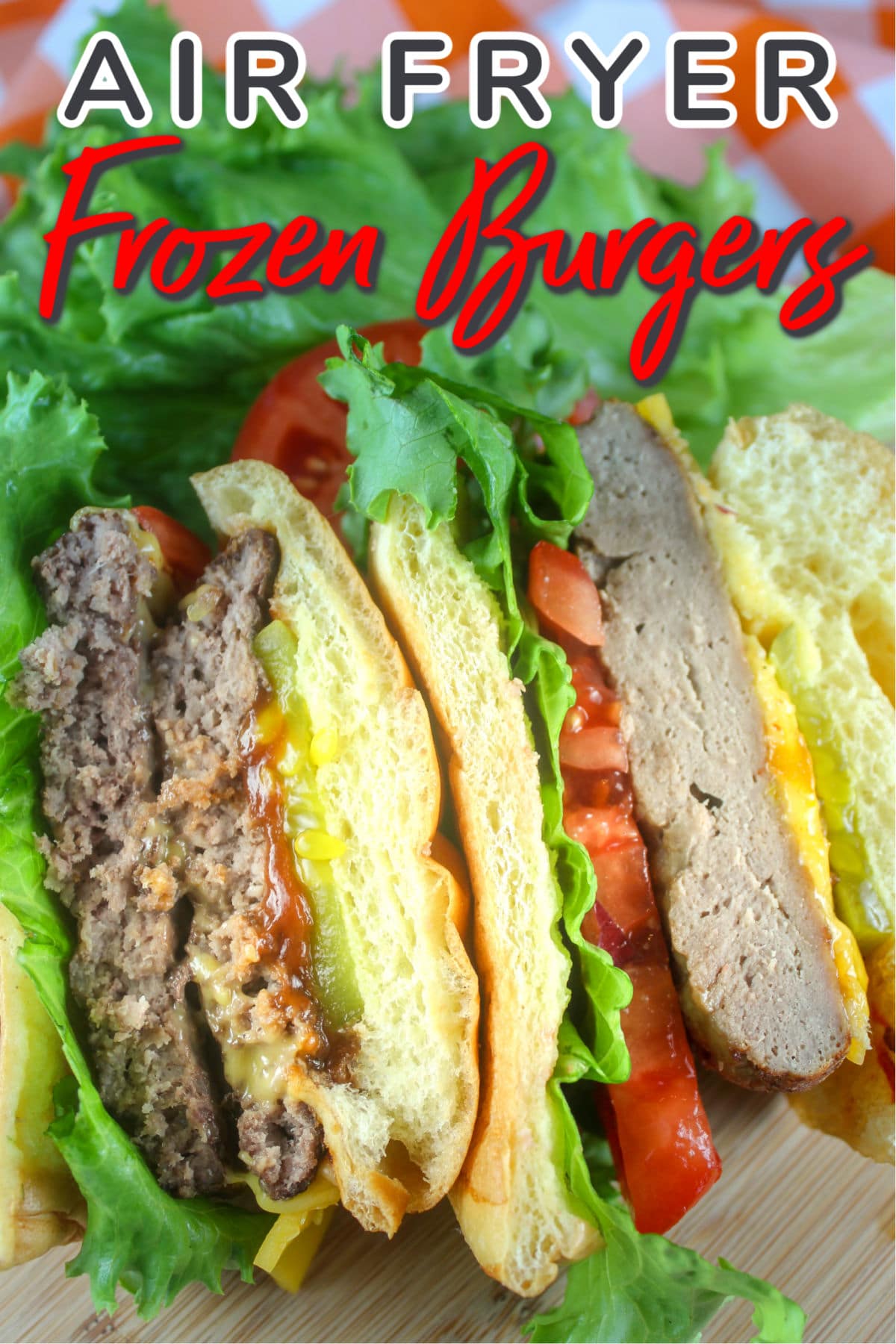 Want to know how to make frozen burgers in air fryer? It is super simple in this tutorial. Just follow the steps and you will have your own perfect hamburgers right out of the freezer in the comfort of your own home.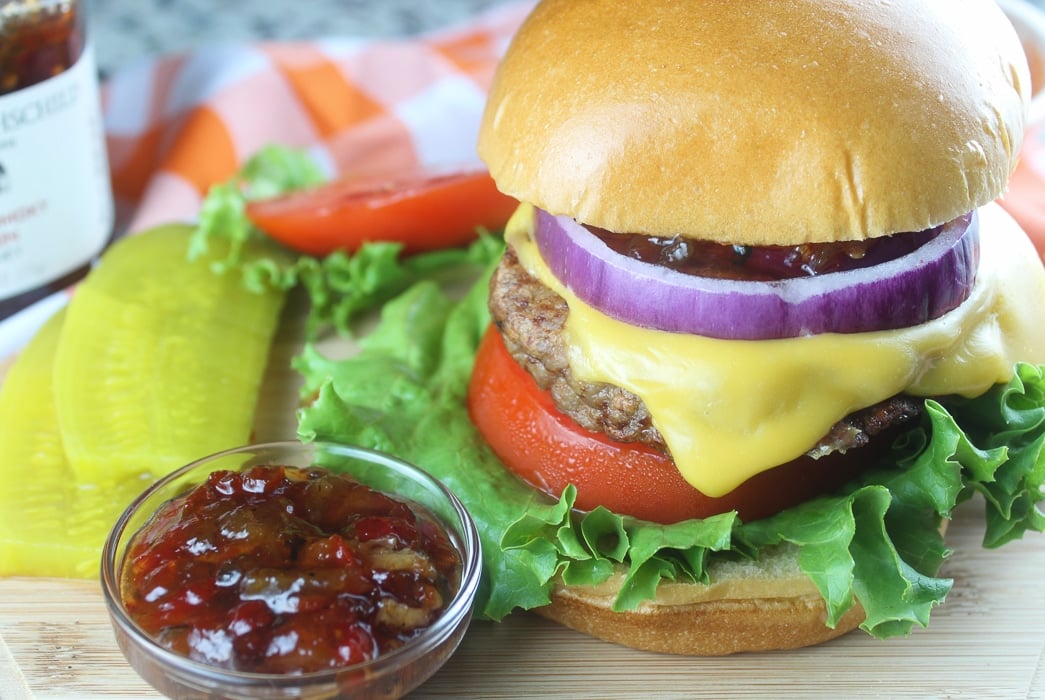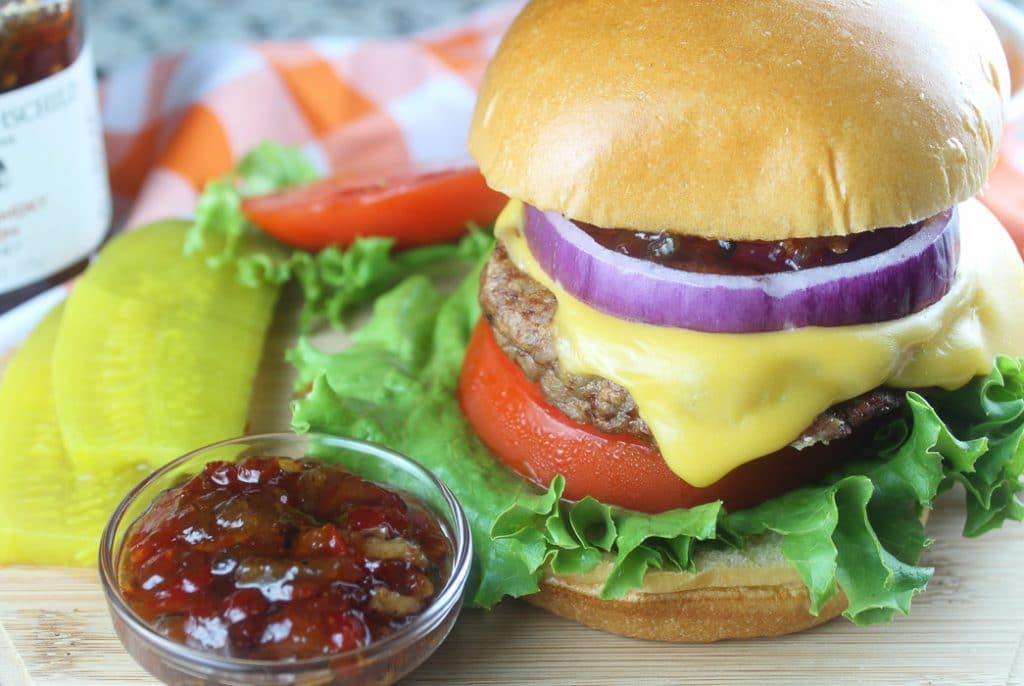 What You Will ❤️ About Hamburgers in the Air Fryer
Quick Dinner! Some days I just have 15 minutes for lunch between meetings and an frozen burger in the air fryer is a sure-fire delicious meal in minutes!
Customizable! Everybody can top their burger however they want! That's really what makes the burger anyway.
No Mess! There's no greasy frying pan to clean up – especially if you set parchment paper in the air fryer – just toss it and it's clean.
Bacon or Tots! If you want bacon on your burger – pop it in with the burger! Want tater tots? Pop them in too! They all take about the same time!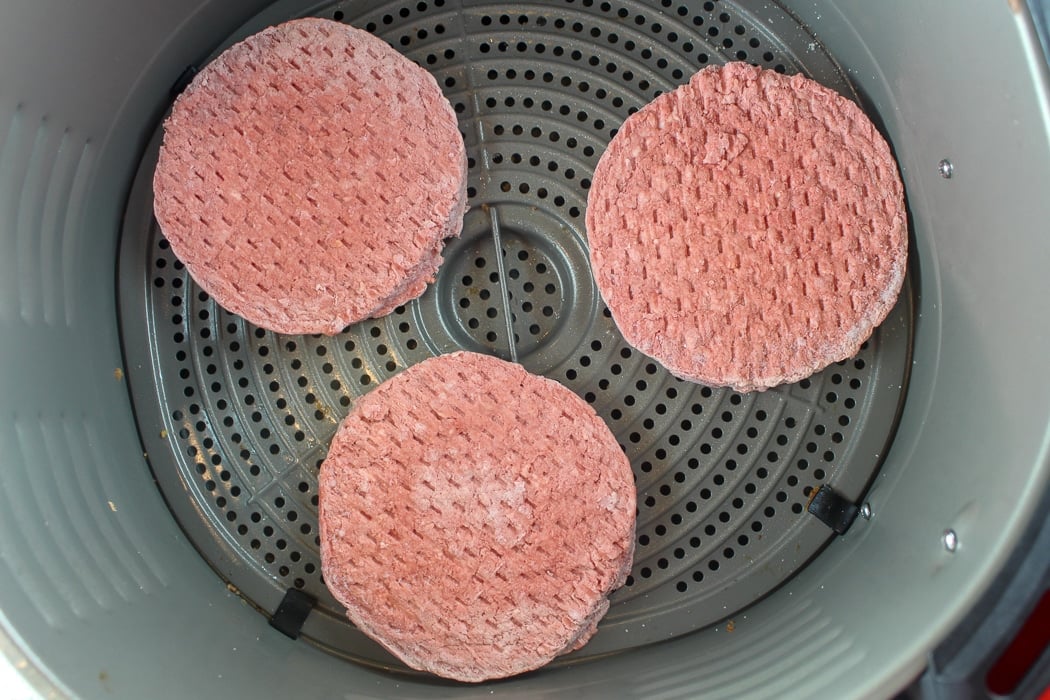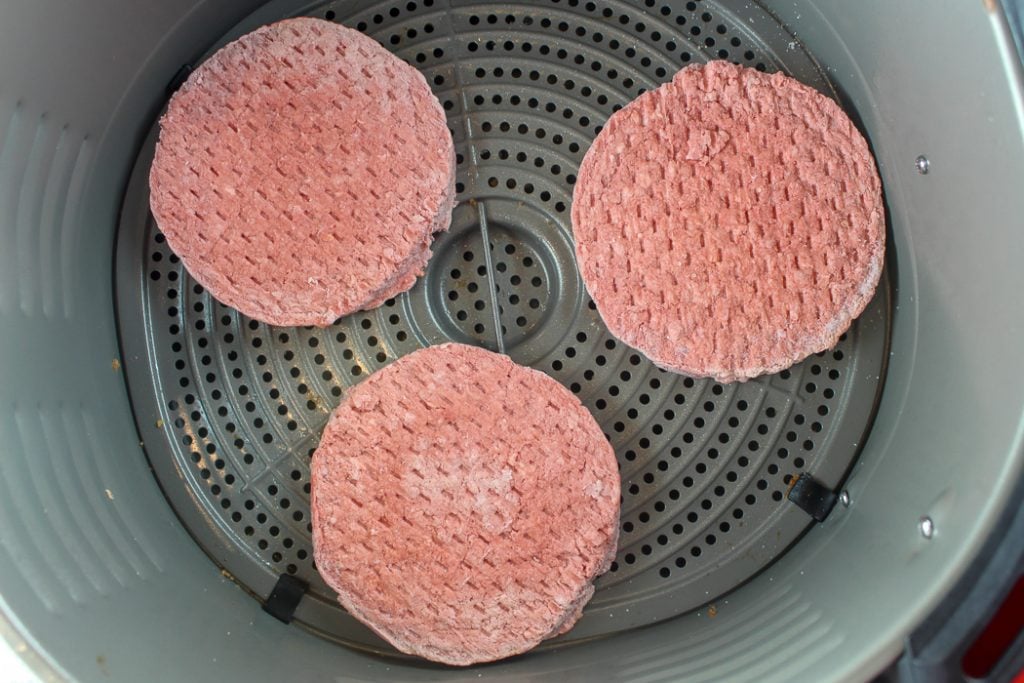 How to cook a frozen hamburger patty in an air fryer
I've made burgers from fresh hamburger in my air fryer and they're tasty but I have to admit – there is ALWAYS a box of frozen burgers in my freezer! I can't help it. My favorite brand are the Bradshaw Burgers (as in Terry) – they are sooooo good!
So to make frozen burgers in the air fryer – you:
Take the beef patties out of the freezer
Put it in the air fryer basket
Cook for 14 min at 350 – flipping halfway thru!
Want cheese? Lay room temperature cheese slices on burger and turn heat down to 300º and air fry for 2 minutes to melt it a bit.
Top with all the goodies: mustard, ketchup, bbq sauce, mayonnaise, onions, tomatoes, lettuce & pickles!
This post contains affiliate links which I make a little money on purchases. Thanks in advance! I am an Amazon associate as well as a member of other affiliate programs.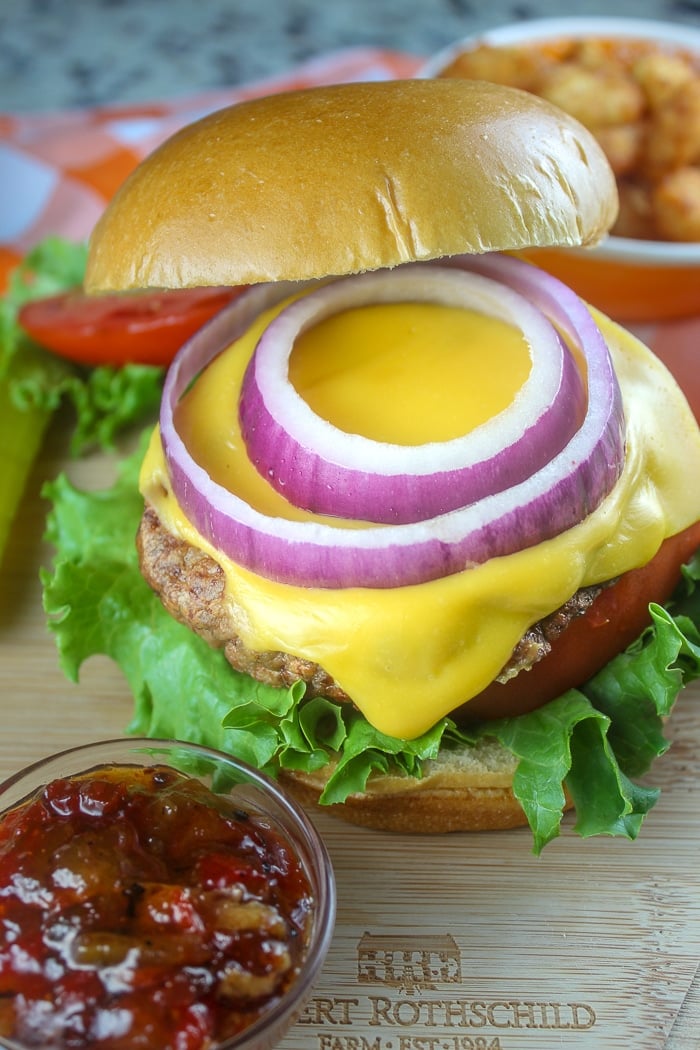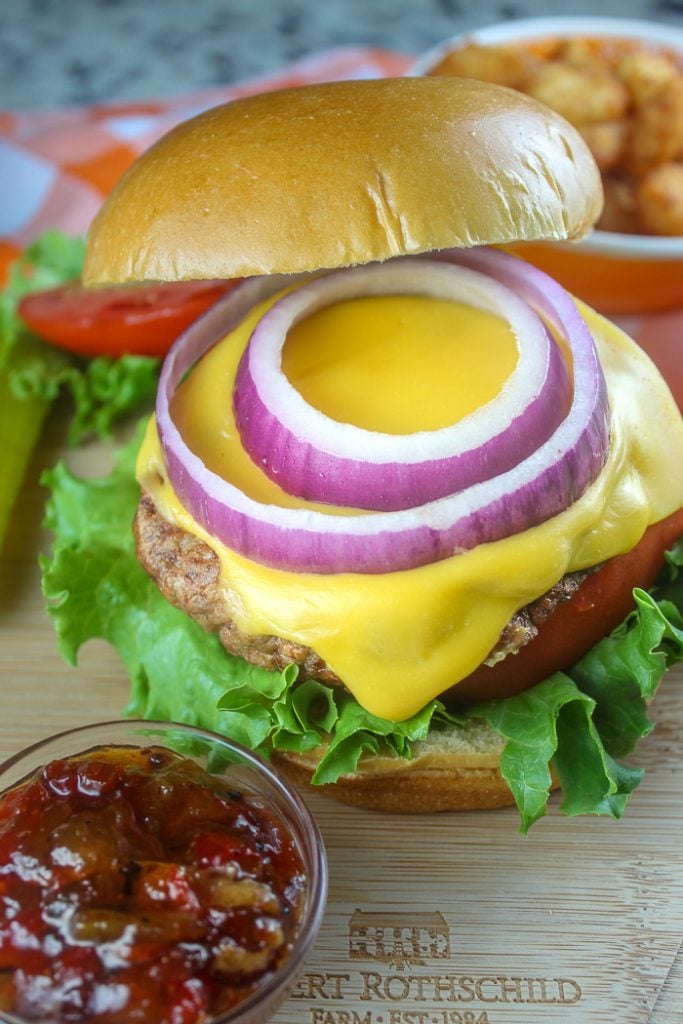 How long to cook frozen hamburger patties in an air fryer
I've found that 350º for 12-15 minutes is good but it's always good to temperature check meat the first time you're making something. The internal temperature should read 160 degrees. (Here's my fav instant read meat thermometer and it's under $15!)
Can you cook beef burgers straight from frozen?
Yes! There's no need to thaw or defrost your hamburger patties – just pop them in frozen.
Should I season my frozen hamburger patty?
Seasonings like Montreal Steak Seasoning or Salt / Pepper / Garlic Powder are great on hamburgers but they won't really stick when the burger patty is frozen. Sprinkle the seasoning on at the halfway point when you flip the burger – then it will stick!
What about frozen turkey or veggie burgers?
Air Fryer Frozen Burgers don't have to just be beef – there are sausage burgers (with cheese), turkey burgers, and yes – even those "plant-based" burgers. With any burger – try it out the first time and undercook – you can always add a few more minutes.
Should I line my air fryer with aluminum foil?
I don't typically line my air fryer unless something is particularly sticky – and has a sauce. The reason being – the surface is non stick – so it's easy cleanup. And you want the air to circulate – that's why the tray has all the holes – so the liner blocks that air flow.
How do you store & reheat leftover frozen burgers?
I recommend just making what you're going to need for dinner – but if you need to store leftovers – use an airtight container (I like these glass ones) in the fridge for 2-3 days. Reheat in the air fryer at 250º for 4-5 minutes.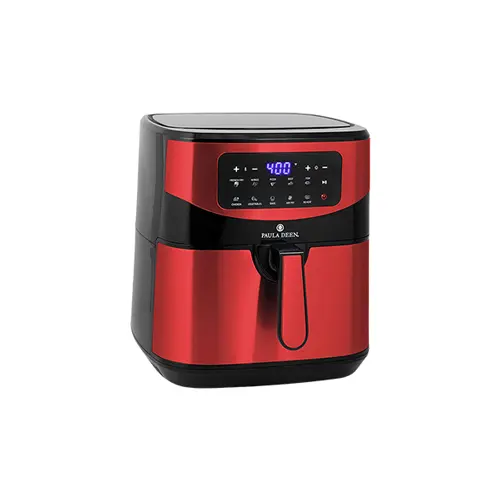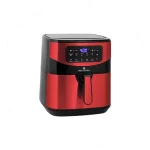 This recipe was made using the Paula Deen Air Fryer.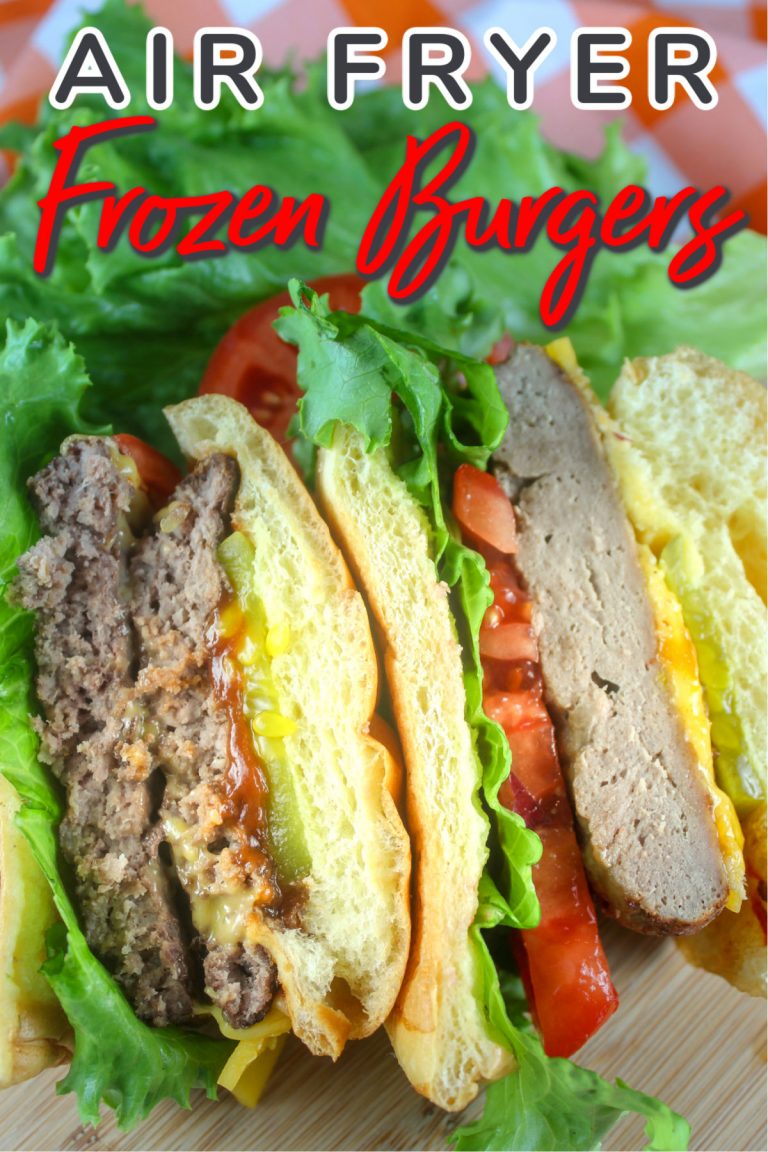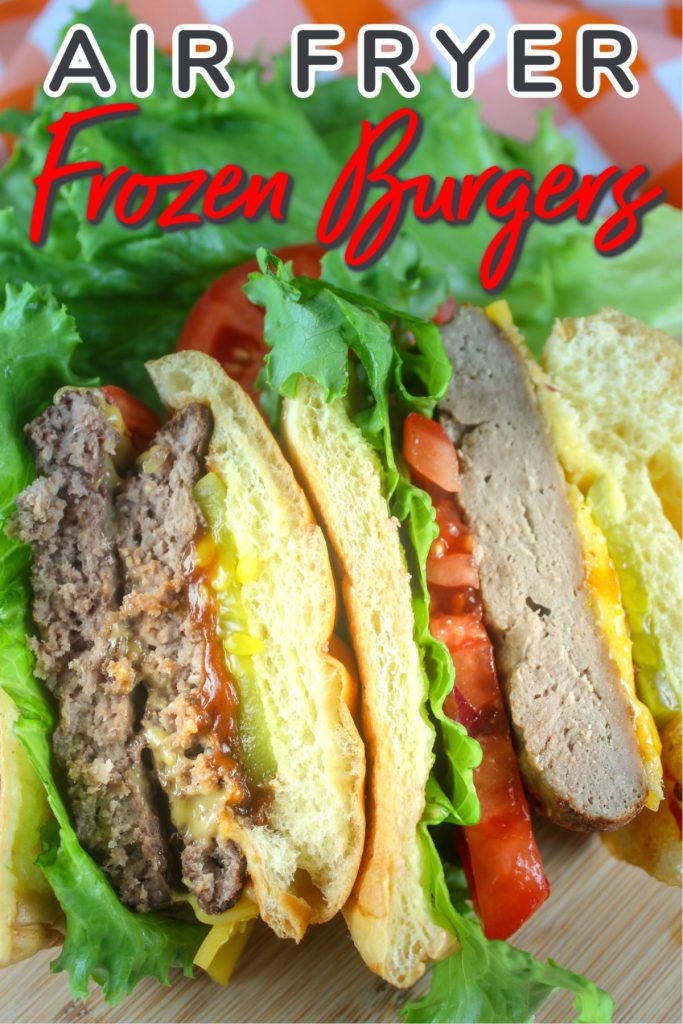 The Best Burger Toppings!
Crunch – you need the crunch from lettuce and onion
Cheese – grab your favorite cheese! Mine is Land O'Lakes American (stop buying the plastic wrap cheese!!! Trust me!)
Tomatoes – fresh tomatoes, ketchup or bbq sauce – all are welcome on my burger!

Freddy's Fry Sauce is a great combo of mayo, ketchup & seasonings and is great on a burger!

Tart – you also need something tart like pickles and mustard for a contrast to the cheese and tomatoes!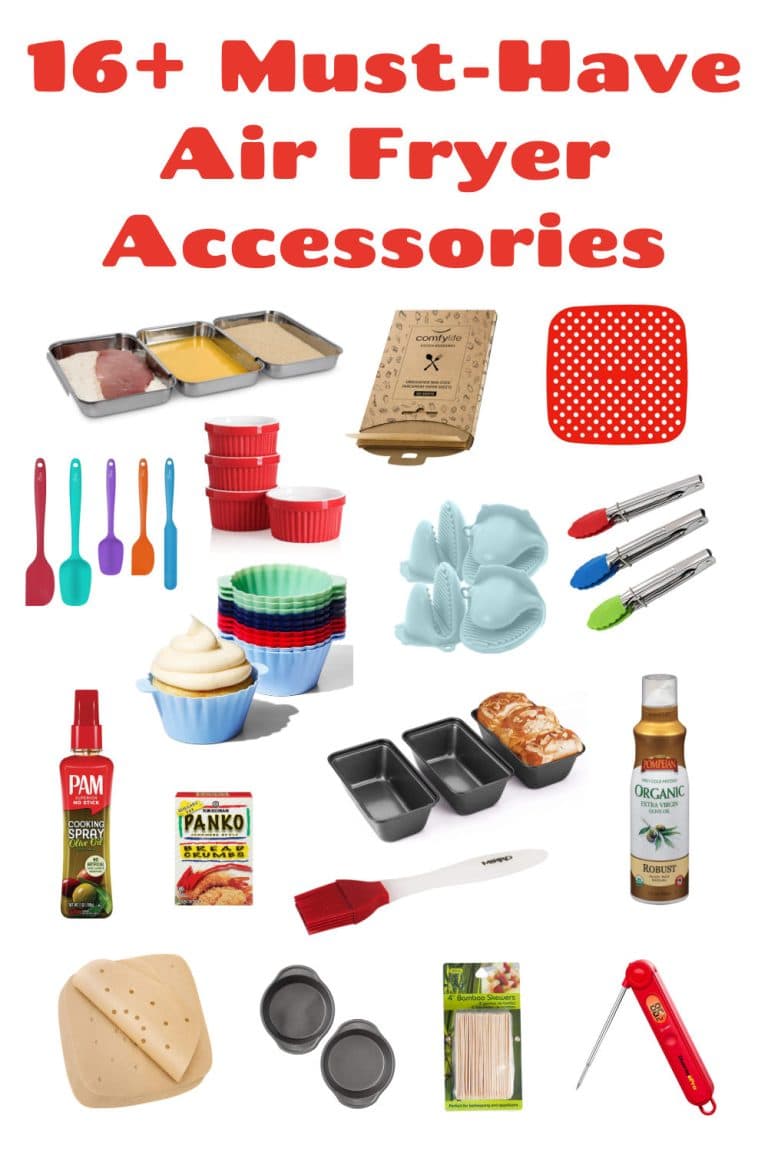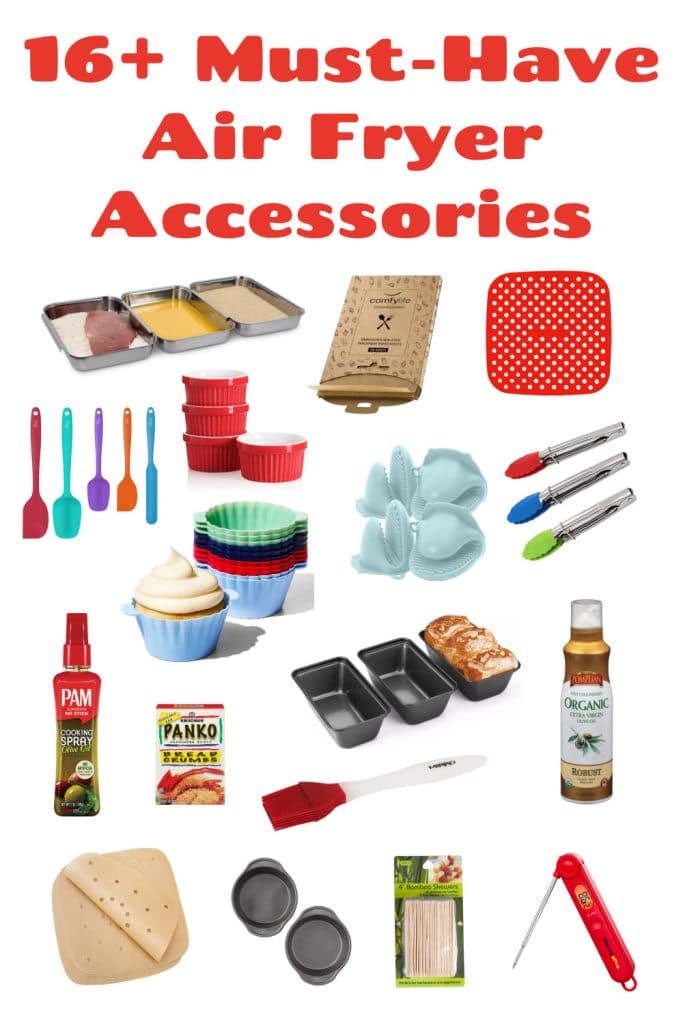 Best Air Fryer Accessories
Here's my ultimate list of best air fryer accessories – whether you have a basket- or oven-style! I've also included a price guide as well as my favorite recipes for those accessories.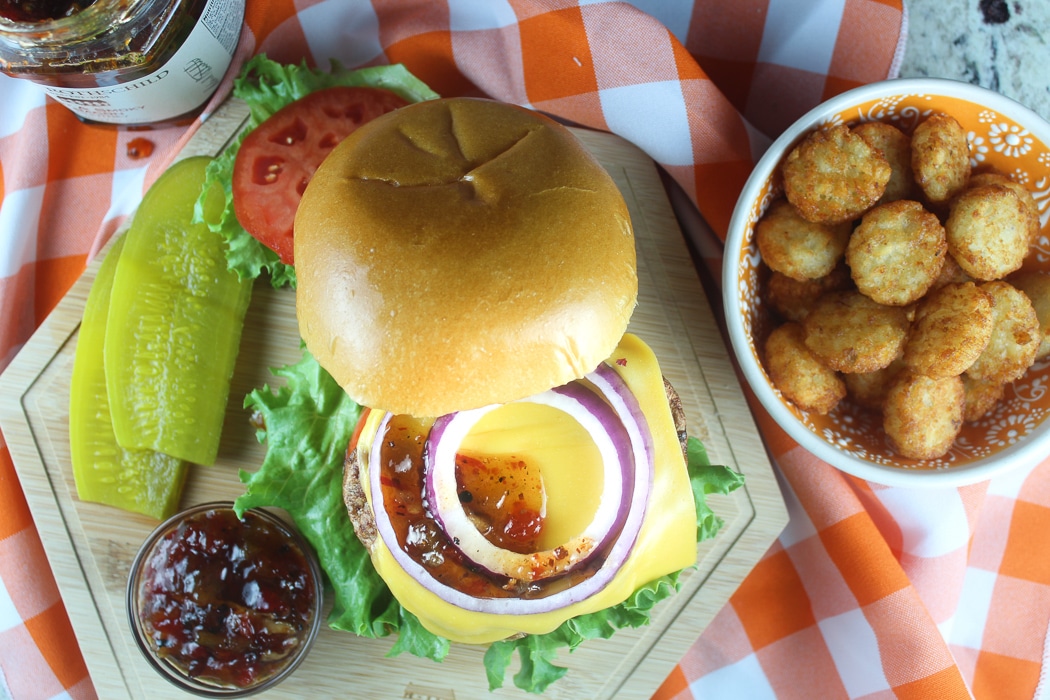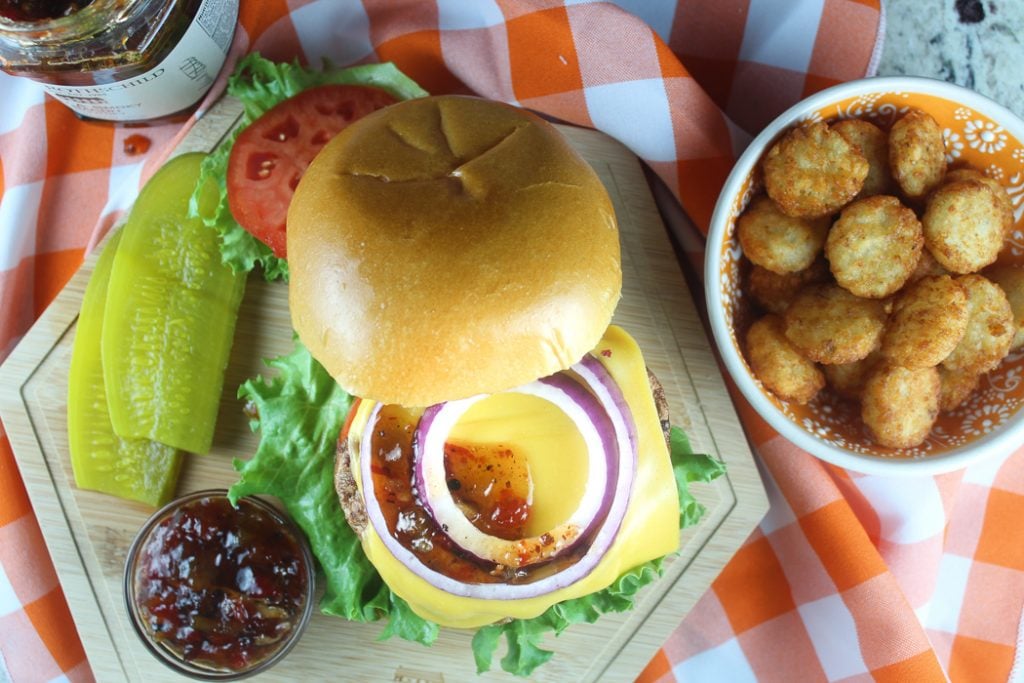 What sides go with air fryer burger recipes?
Salads to serve with burgers
Other Easy Air Fryer Recipes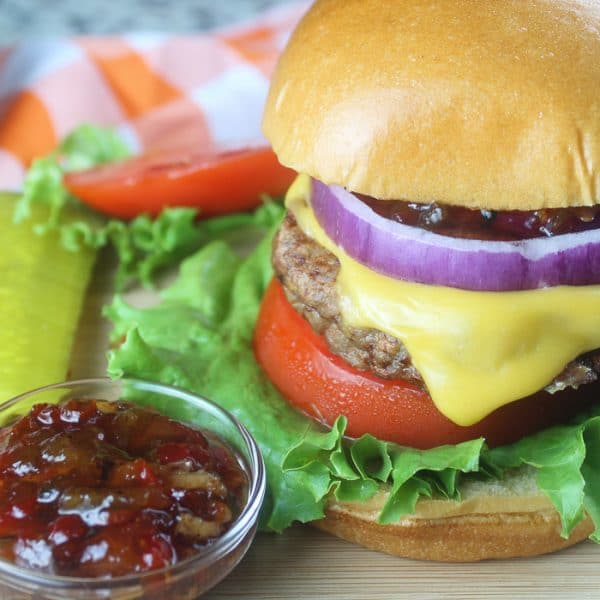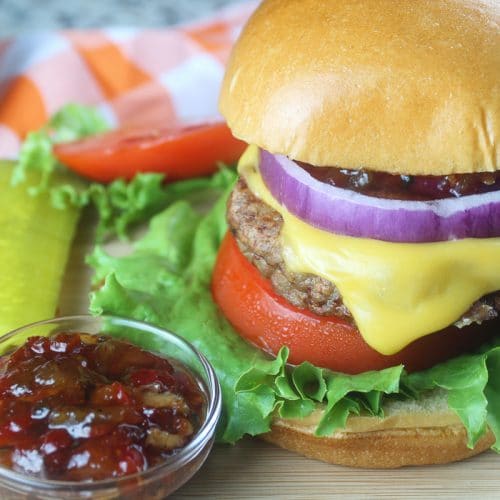 Frozen Burgers in the Air Fryer
Dinner just got easier – making frozen burgers in your air fryer means burgers in 15 minutes with no work! Freezer to table in no time!
Ingredients
4

frozen burger patties

4

hamburger buns

lettuce

pickles

tomatoes

onion

cheese
Instructions
Lay frozen hamburger patties in air fryer

Air fry at 350 for 7 minutes

Flip patties and air fry additional 7 minutes

Remove patties and serve!

4 frozen burger patties,

4 hamburger buns,

lettuce,

pickles,

tomatoes,

onion,

cheese
Notes
Beef patties shrink more than turkey patties
If trying to melt cheese on top, lay room temperature cheese on and air fry for 2 min at 300º or put in microwave to melt for 30 seconds
**We are not dietitians and recommend you seek a nutritionist for exact nutritional information. The information in the nutrition box are calculated through a program and there is room for error. If you need an accurate count, I recommend running the ingredients through your favorite nutrition calculator.**
Nutrition
Serving:
1
burger
Calories:
279
kcal
Carbohydrates:
21.8
g
Protein:
18.8
g
Fat:
12.3
g
Saturated Fat:
4.5
g
Cholesterol:
55
mg
Sodium:
248
mg
Potassium:
190
mg
Fiber:
0.9
g
Sugar:
2.7
g
Calcium:
64
mg
Iron:
3
mg